This is perhaps my least favorite part of the movie.  Not because it is boring or unbeautiful or anything, just because it feels like the part that fits least with the rest of it.  I can make it work (as I will explain below), but it isn't quite the perfect fit with no struggle that the rest of the film is. (full index of Jab Harry Met Sejal posts here)
Previously, Anushka and Shahrukh were officially "just" a tour guide and his client.  But they became closer through starts and stops on the surface, fighting, talking, admitting things to each other.  He is angry about having to work for her when he was ready for time alone, she is frustrated and scared about being alone in Europe and looking for a lost ring that could end her engagement/life plan.  Both of them break through their usual barriers because of the unusual situation they find themselves in.  On a deeper level, there is something there that literally ties them to each other, they cannot be more than 20 feet apart without one of them getting up to follow the other, and the distance keeps getting smaller and smaller over the course of the film until they can't be more than 4 feet away from each other without getting uncomfortable.  This whole thing just reached it's peak the night before, they were in a dangerous stressful situation (chased by thugs after a bar brawl) and instinctively clung to each other, including her waking up in the middle of the night and going over to sleep curled up against him.  The next morning, they both have a bit of an emotional catharsis when he sings his Punjabi songs for her and she sings back the traditional good girl "Radha" songs she has been taught, until eventually they are singing and dancing together and the two songs merge.  Afterwards, he pulls away from her, returning to reality where he has no right to touch her.  And she rejects that, instead offering that the rest of the time they are traveling together, she will be his "girlfriend".
Now, the SUPER SUPER important thing I talked about in my last post is that "girlfriend" means something very very specific to Anushka, and she knows that Shahrukh will understand exactly what that specific thing is.  "Girlfriend" doesn't mean they are in love or making out or anything.  It just gives him permission to be slightly freer with her than a well-brought up protected woman like her would usually allow a man to be.
(that's why he looks so puzzled in this moment.  She is slightly breaking the "girlfriend" rules, this is more than holding hands or leaning on his shoulder, this is something else)
And that's what we see in the beginning of the next scene.  They are riding the train and Shahrukh is resting his head on his hands and studying her face when she catches him at it and he immediately looks away.  And she says "no no, I am your girlfriend!  Look as much as you want".  She poses for a moment, batting her eyelashes.  And then he rearranges himself so he is facing her directly, and she turns to face him, and they both kind of widen their eyes so they are obviously starring at each other, and we pull back outside the train window as they go through the countryside, and the love song starts.
See, this is the kind of thing Anushka means when saying "I am your girlfriend".  Without that status, a man outside her family wouldn't even be allowed to look at her face, especially "just" a tour guide.  When she catches him looking, I don't think she sees that he is falling in love with her, I think she just sees that he is looking at her a fraction longer than acceptable, and jumps in to offer that he is allowed to look longer than that if he wishes.  And then turns it into play acting, batting her eyelashes in a pretense of being a sweet girl in love, while he still stares at her, actually falling in love.  And then finally they turn it into a game, no longer playacting in love (well, playacting on her part, real on his part), but just two people looking at each other.
See, what seems odd to me in this whole section is that she appears so unaware of him and what she is doing to him, and he has this swoony over the top love song already.  And love acting already.  It just doesn't make sense!  There is no build to the film if he is already all in to this degree at this point.  But, see, there IS a build to the film.  A definite build of their relationship going from "there is some unspoken thing between us" to "there is now a spoken thing, a special bond" to "somehow without noticing it, you have become vital to my happiness" to "I am terrified of separating from you to the point of lying and denial".  And you can't just skip to the end with this song, with all the lyrics about "I keep you where I keep my faith".
It's an incredibly pretty song, my favorite from the film purely in terms of how it sounds (sound and visuals would be "Radha"), but it's also very, well, what my friend called "cheesy".  Just swooningly romantic, as are the visuals, Shahrukh studying her face as the world speeds by, then continuing to watch her once they reach the cafe in Budapest.  And finally, after she asks him to "act like a boyfriend", the over the top way he kisses her forehead, spins her around, all of that is just too too much for this point in the film.  How can we have any emotional response to the "Yaadon Mein" song if he is already this in love pre-interval?
(Also, Arijit Singh here.  Who always sings his internal dialogue in this film, while other singers do the diegetic songs.  Interesting!)
But, we do have that response.  Post-interval, a lot of what we are seeing in this section here is kind of erased.  You could go straight from the last scene in Prague to "Beech Beech Mein" and the film might actually work better.  And that's how it plays out for the audience, after "Beech Beech Mein", this section never comes up again even by implication, their relationship kind of goes back to where it was before.  And yet I don't feel like this section, particularly the song, is necessarily totally untrue to their characters.  So how do I reconcile that?
I think Shahrukh is playacting a little bit here too.  Anushka offered to be his girlfriend, but he never said aloud that he would try being her boyfriend.  She is there for him to touch, to look at, to talk with, in a way a woman like her would not usually allow.  But she is asking and expecting nothing from him necessarily.  And yet, without saying it, he is also trying out being her boyfriend.  He studies her face and thinks about her, trying to follow his reaction.  She offers to let him keep looking, and he lets his fantasy take flight, pretending that she really is his, that he really is that "cheesy" romantic guy that is his imaginary vision of what being a boyfriend is like (remember his reaction early on that Anushka's boyfriend isn't treating her well by leaving her to travel alone).
This is the only way I have found to make sense of the little dialogue interval in particular.  First, Shahrukh has this swoony romantic track playing in his mind, but we see that Anushka isn't exactly swoony and romance fodder just then.  She is frowning and clomping around, and thinking about her fiance and looking for her ring and nothing else.  He is projecting this romance on to her, but it doesn't really fit.  Not like it will in "Yaadon Main" when it doesn't matter where they are or what is happening, they are so in love.
And then Anushka comes up and asks him to "be" her fiance, to come down the steps and greet her and help her remember what happened next, where he took her.  His response is "really?  this will help?"  she insists, so he does it.  In a very bland way, just runs down the steps and greets her and says "this way".  The sound is also a little out of whack here, we can hear very clearly the tourists talking in the background.  The whole effect is very unromantic and unfantasy.  Anushka is tired and frustrated, Shahrukh is polite but not very interested, there are people around.  And then Anushka asks him to try again, to do it as though he were her fiance, after all she is his "girlfriend" now, it's allowed.
And that's when the music swells, he takes a moment at the top of the stairs before running down, kisses her forehead (surprising her), then spins her around until his arm is around her shoulder, gently leads her through the crowd, spins her again around a tray, and again onto the seat, maintaining eye contact only with her the whole time.  Until the end, faces barely touching, eye to eye, on a love seat.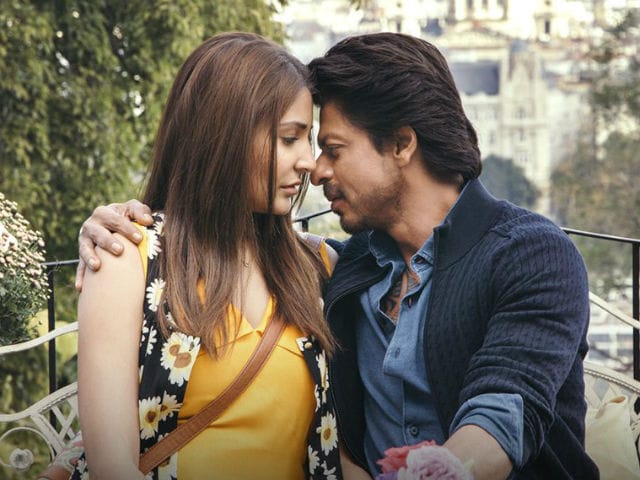 Okay, what's up with all this?  Maybe you have a better explanation, but what I see is that he is trying on the fantasy, and then she breaks through it, making a request that jolts him back into tour guide/helpful friend mode.  Until she gives him permission to go back into the fantasy and he decides to really let loose, to feel what it would be like to be that innocent boy with the girlfriend who loves him.
I guess that would be the other difference from "Yaadon Mein".  That time, there was no coming back.  This time, he is just testing the waters, he can go back to "tour guide" mode whenever he wants.  That's why the talking sequence is in the middle, to show how he can fall in and out of reality (complete with loud American tourists), unlike the later love songs when there will be no stopping them.
But then there's the bit after the song ends.  Which is just STUPID!!!  I've been struggling and struggling with it, and no matter how I turn it, it is a break from the characters for the sake of an interval cliffhanger that is then forgotten.
The first part is okay.  Anushka takes a deep breath and says sincerely, still with her face close to Shahrukh's, "I wish you would give lessons!  I would be set for life if [fiance] acted like this."  Shahrukh smiles kind of ruefully, pulling himself out of his fantasy, and says "sure!  Get him up on facetime now, I will do it".  Anushka laughs it off and stands up, and then while she is standing Shahrukh turns and kind of stretches up to be close to her face again and softly sings "Dhak Dhak Karna Lage" and then adds "Your lips are softening, your breath is faster, it is pleasing."  The subtitles didn't quite catch it, but he is doing this little alliteration thing with the "s" sound, which is kind of hypnotic and also makes you focus on small movements of his mouth.  Yeah, he is a very experienced seducer.  He probably worked that line out a long time ago.  And it works perfectly on Anushka, she is caught in his gaze.  And he knows it and kind of sighs and says "Now the [Raula] starts".  And Anushka still holds his gaze and says softly "So?"
(This is also a cool little moment of their age difference.  Beta came out in 1992.  Shahrukh is supposed to be in his late 30s, he would have watched this song over and over as a teenager.  But Anushka looks blank, it's possible she missed it entirely, growing up in the 90s)
And he rejects her.  Stands and turns away, and then turns back and says something that I can't remember (Grrr!). And Anushka laughs and says "Don't worry!  I am selfish.  I may say I am your girlfriend and play sweet and nice, but in the end, I am going to get married.  You can come to the wedding, November 25, Bombay.  Oh, but you won't, right?  You will be too sad?"  Shahrukh kind of smiles ruefully and just takes it, then says sincerely "someday you will have to leave.  Promise me you will put your ring on your finger and go without looking back".  Anushka laughs again and says "High hopes, eh?  Don't worry, I am not the type to fall for a tour guide."  Shahrukh has had enough and says "We'll see."  She echoes it "we'll see!"  And then as she starts to crawl on the floor looking and "Beech Beech Mein" starts in the background, Shahrukh starts to walk away and then turns back and bends down to meet her eyes since she is on the floor and says "Game on?" and she says "Game on!"  And the song rises, and Interval!
At least, that's how I remember it.  This section is really hard to remember, partly because I am watching through my fingers thinking "why are you both being so horrible????" and partly because, well, it just doesn't make sense!
I think, after many watches, the problem is that it goes on too long and goes to far.  The initial moments are perfect.  Anushka translating her attraction to Shahrukh in that moment to "I wish my fiance were like you" because she is still too scared to think the obvious thought, "I wish I didn't have to be with my fiance and could be with you instead".  And Shahrukh kind of smiles at that, because he sees through to the thing she really means, but is also kind of sad that she is still too innocent to see through it.  Both because it means she isn't openly coming on to him, and because it means she is still too innocent for him to justify coming on to her himself.
The follow up, that's because he is giving in for just a second to his desires, acknowledging what he is feeling instead of holding it in.  And it works, immediately and completely.  Anushka has no protections against him, the smallest taste of seduction and she is completely won over, falling into his eyes and saying "so?" in a kind of breathless hypnotized why when he indicates that they shouldn't do this.
So far so good.  Feels realistic to their characters, Shahrukh has been playing with the boyfriend fantasy and is going slightly too far with it, Anushka is unprotected and there for his taking if he wants her.  Which is why he backs off, because it would be wrong to take advantage.  And then Anushka gets offended and lashes out.  Again, all of this is fine.  She feels rejected and disappointed and so retreats to her confident rich girl persona, attacking him and laughing at him like a servant boy.
It's when it keeps going that I feel like this isn't right.  Shahrukh is playing this as sincere and emotional, and Anushka is playing it as needlessly cruel.  He is too far advanced, and she is too far regressed.  Most of the film is magical in how it shows them slowly moving forward until they meet in the middle.  They are both unpleasant terrible people at the beginning, in totally different ways.  And then she gets less spoiled and he gets less bitter, and it works out.  But here, he is being super in love and noble and perfect, warning her away and trying to make her promise to leave without looking back.  And she is being incredibly childish and thoughtless, making fun of the "girlfriend" idea that has already come to mean so much to both of them, making fun of him.  Why?
(Girlfriend!)
Well, I know why.  It's because the interval requirement caused fake drama.  The normal thing, what they really wanted to convey in this scene, is that moment of rejection followed by retreat on both their parts.  That Anushka is still too immature and too much in denial to say "yes, you are right, I am falling for you and in danger of forgetting my fiance."  She will retreat to "no no, it could never happen, I love him and I am getting married", or else we can't explain her still traveling with Shahrukh in the second half when she should know better than to be alone with him.  We, the audience, need to have her denial confirmed in order to believe the rest of it.  And Shahrukh needs to retreat back to his nobility, to show the audience why he is resisting his obvious power over her, that he is sincerely afraid of ruining her life.  Not because she will stay with him (he isn't there yet), but because she will break her engagement and be unhappy with herself.
All of this, fine so far.  What ruins it is the need to end on this challenge, like "hardy-har-har little lady, I will seduce you!" and "oh no no no sir, I shall protect my virtue!"  Totally not true to these characters!  Just a way to suck is in so we will come back after the interval.  Like they don't trust us to want to see the end of the story just because we care about these people.
The natural interval point is after "Radha" when Anushka proposes being his girlfriend.  That's a natural turning point in their relationship that will bring us back in.  And then we can open with the way things shift back slightly when they get back to the hotel, then a brief conversation and "Hawayen" to tell us the interval is officially over, then the lower key version of their confrontation as the first "real" scene of the second half, and then "Beech Beech Mein".  But, that doesn't fall exactly half way through the movie, so they had to dredge up some other drama.
What actually ruins it isn't the challenge itself, but the work they have to put in to get there.  Anushka has to be really cruel and awful and tip over to that rich brat type that Shahrukh would want to cut down to size in order for him to accept the challenge.  And Anushka also has to go back to being completely unaware of her attraction to Shahrukh, all that work that was put in to carefully build her subconscious awareness just thrown away, in order to claim that she can hold out against him.
And from the other side, Shahrukh has to be way way too tormented before he can bring himself to admit his feelings enough to trigger Anushka's challenge.  And that means he has to be like totally in love, and aware of being in love, much sooner than he should be.  At this point, he should still be able to kind of laugh her off, like he does in the first moments of the scene when he notices her attraction.  He shouldn't be all "NO!  I mustn't![hand to forehead]" kind of acting.
The only way this scene kind of works for me is if we jump to the end.  Shahrukh is saying he can't go to Anushka's wedding and ask her not to get married, because she asked him 3 times and he turned her down.  And I've been puzzling over those 3 times.  There's right before she leaves, she asks him what he wants.  There's the Portugal scene, when she says "let the [raula] happen" and then he turns away.  There's the moment in the first club when she asks if he finds her sexy.  But what if one of those 3 times is this moment?  If Shahrukh recognized that her pushing about if he would be too sad to come to her wedding, telling him that she is going to marry her fiance and be happy, she isn't foolish enough to run off with a tour guide, was actually an invitation.  She wanted him to say "yes, I will be sad.  no, don't marry him.  Yes, run away with me."  It would turn her speech from mean to an invitation in a strange way, and his tormented reaction from "you're torturing me!" to "I am forcing myself not to respond".  I don't know if that is the right way, but it is an interesting way to read this scene.
Oh, and one final thing, this is the scene that for me most clearly evokes the shadow of DDLJ.  This is DDLJ with an aware Kajol and Shahrukh.  A Kajol who is needling Shahrukh with her purity, with her impossibility for him.  And a Shahrukh who is being forced to say his feelings clearly, not to leave it with a wordless headshake that no, he won't be at her wedding.  And Imtiaz must have known he was doing it, I mean, having her invite him to the wedding and then say "oh, you won't be able to come?  too sad?", it's a little commentary on that classic moment.