For her birthday (/to take advantage of Kat being trending news today), Shahrukh posted her first look from Zero and a little introductory statement on his twitter.  So, let's obsess over it!  The way we do.
First, in the continuing saga of "Shahrukh is trying a new PR tactic", this is a very nice and polished message he has put out about Kat, but the key is "polished".  Different from his sweet message to Anil at 2am when he was too tired to even tag Anil correctly, coming home from Sonam's wedding.
This one, this was clearly crafted in advance, surely with Shahrukh's input but still crafted, and timed just right.  So we can analyze every bit of it as part of the Zero promotions.
And here are the two images, first the card: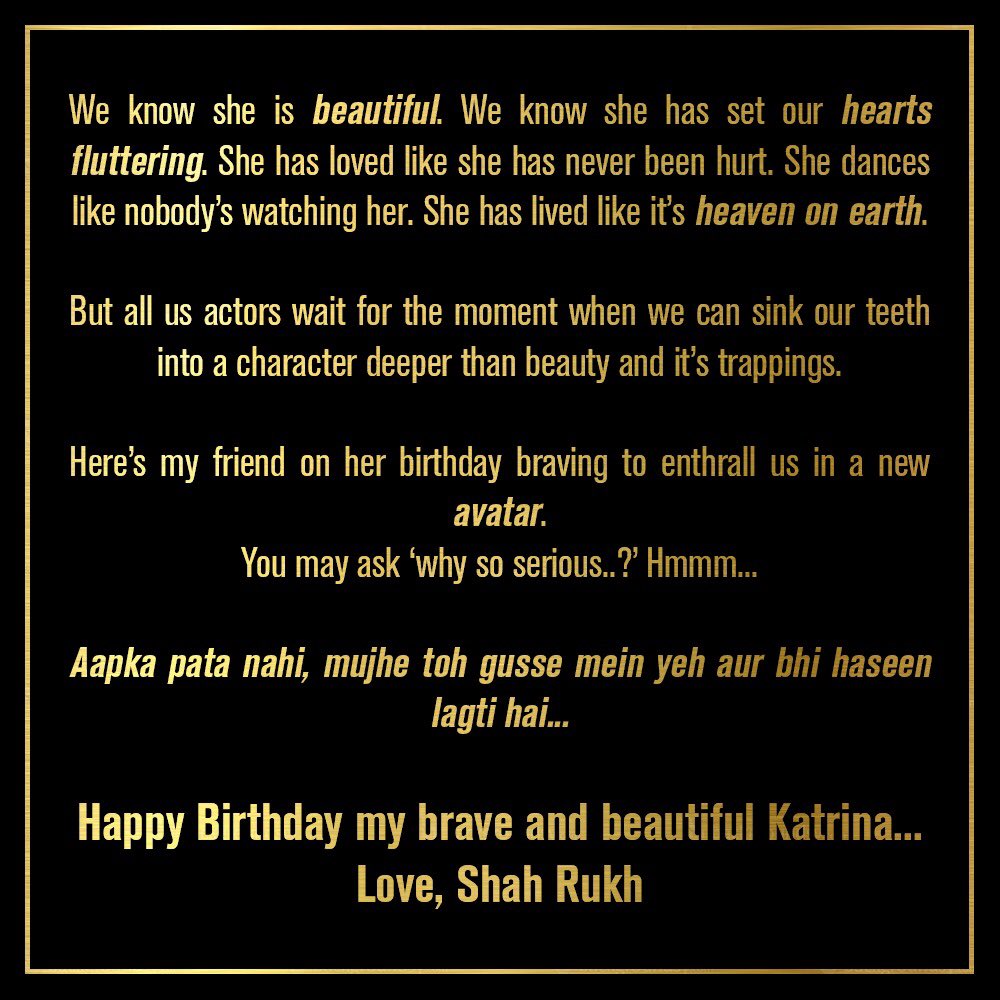 And then the image: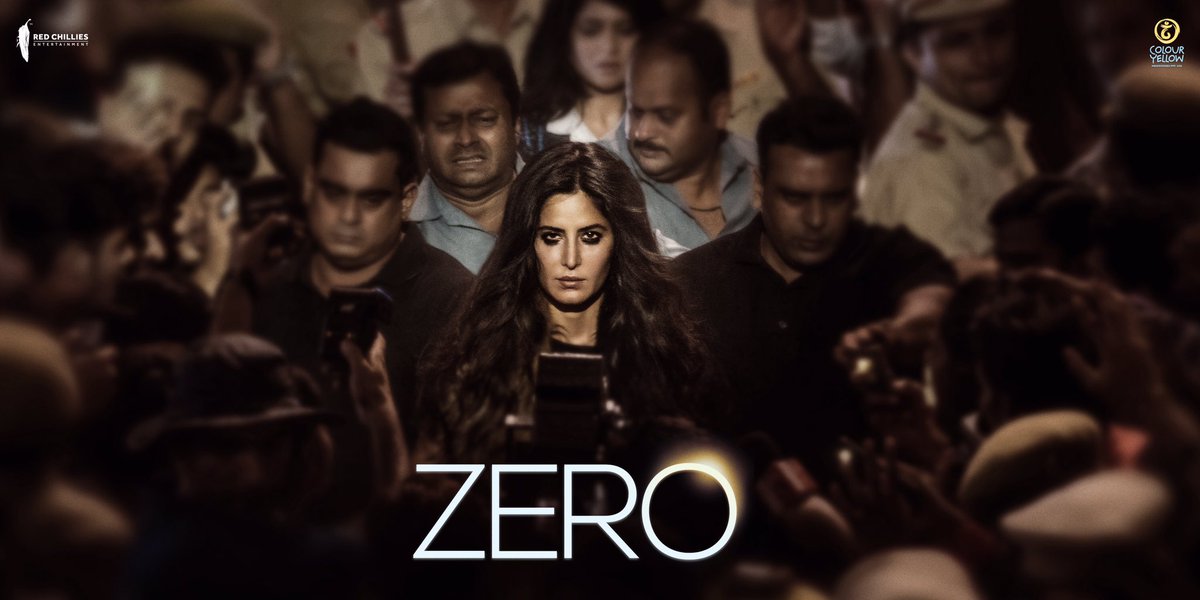 So, they are positioning Katrina through the message and the image as being something "different" in this film, something we haven't seen before.  She is known as beautiful and happy and so on, so they are selling ugly and unhappy.  Well, not "ugly", not as an insult like that, but someone who is a little different than the beautiful package that is selling her.
It's good promotion for the audience that might be feeling a bit of a Katrina overdose, this is a different kind of Katrina part, she is really stretching herself as an actress.  Heck, it worked on me!  I've seen moments of goodness in her performances, I want to see what happens when she is given a tough role, and styled down, and has an intense serious director like Aanand L. Rai to work with.
And then there's the actual image.  There are cameras in the foreground, which imply what the rumors promised, she will be playing a movie star or some kind of celebrity.  And she has this crowd pushing behind her and looks unhappy to see the cameras.  I'm going to guess it is an image of her in character dealing with crowds and cameras at an airport or similar, not an image of her in character on a film set.  So the "real" Katrina-the-character, looking bleak and unhappy.
We already know Shahrukh's character is supposed to be her fan, and we have all those interviews about the littlest person making a difference and following being good luck and so on.  I am going to take a leap and suggest that Katrina-the-character is a miserable troubled actress, and Shahrukh's cheerful character shows up in her life and helps her.
That feels kind of Aanand L. Rai-y, dealing with celebrity and movie stars as real people who sometimes are difficult and angry and unhappy.  Another Aanand quote about the film is:
"The story of the film is celebrating a perfect love story of two imperfect people. Though the protagonist of the film is a dwarf but more than the physical disability of an individual, the story talks about the space of emotional incompleteness of our life."
So, based on these images, it is possible that Shahrukh's character is physically incomplete, but Kat's is emotionally incomplete and he completes her.
Or not, could be something totally different, what do you think?