I already put up my No Spoilers review, you can read that if you want to avoid spoilers.  Most of the fun of the movie is in the action set-pieces which I can't really spoil, so you don't have to be that careful about it, read this review if you want.  Oh, and this review is a little short because I am planning to do a semi-scene by scene for this film.  Probably more like first half/second half, but the structure and visuals were interesting enough that I want to dissect them piece by piece over the next few days.
Whole plot in two paragraphs:
Ronit Roy is a noble king planning how to keep his kingdom independent from the encroaching British East India company lead by Lloyd Owen.  But Lloyd kidnaps his young son and forces Ronit to sign a surrender.  And then kills the whole family anyway, only their little daughter escapes thanks to a last minute rescue from the noble family retainer Amitabh Bachchan.  Some years later, Amitabh and grown up Fatima are running a band of rebels with secret support from the neighboring king who is publicly friendly to the British.  Meanwhile, Aamir is a trickster who specializes in infiltrating groups through his charm and compliments and then betraying them, first a group of travelers to a gang of thugs, then the thugs themselves to the British.  The British have the bright idea to set him to bring them Amitabh.  They find him in the crowd at a performance by his girlfriend, the naach girl Katrina Kaif.  Aamir has them free his friend Mohammed Zeeshan Ayyub, a Hindu pandit with the ability to read signs.  Aamir follows Mohammed's guidance and they end up on a ship when Amitabh and Fatima attack it.  Aamir joins in the fight at their side and when he is injured, they take him back to their secret hide out.  Aamir has no luck winning over Fatima, but Amitabh trusts him and shares his vision with him of a better future.  Only then they go into town to get more supplies from the palace and Aamir is stopped by his British contact and betrays Amitabh.  They have a massive fight scene, but Amitabh still trusts Aamir when he sees there is no other choice, prepares himself to sacrifice himself by blowing up the ship in the harbor while he gives Aamir the responsibility of taking care of Fatima in his place.  INTERVAL
Post-interval, Fatima has a ceremony for Amitabh, and then Aamir goes to the British and offers them a map revealing the rebels secret hide out.  Only when the British arrive, they are ambushed by the rebels following a plan Aamir prepared.  Fatima now trusts him and gives him Amitabh's sword, but Aamir runs from this true emotion and only returns when he stumbles upon another ambush coming.  The rebels go on the run and go to Katrina for help.  With her, they make up a plan to kill Lloyd Owen at his Diwali party.  But at the last minute, Lloyd Owen reveals that Amitabh did NOT die and in fact he has him captured and tied up.  They continue with their plan, a performance ending with Fatima leaping forward to shoot Lloyd only to discover Aamir gave her an unloaded gun.  Aamir turns all the rebels in to the British and they are all arrested.  But then Aamir brings laddoos to celebrate and gives them to the guards, who all pass out, drugged.  The rebels escape the jail and in one last grand battle, Fatima kills Lloyd Owen.  In the end, Fatima and Amitabh raise the royal flag on the fort again, while Aamir and Mohammed escape on a stolen ship planning more grand adventures, only for some boxes to shift and reveal Katrina is with them as well.  They decide to go to England and see if they can steal everything from the British there.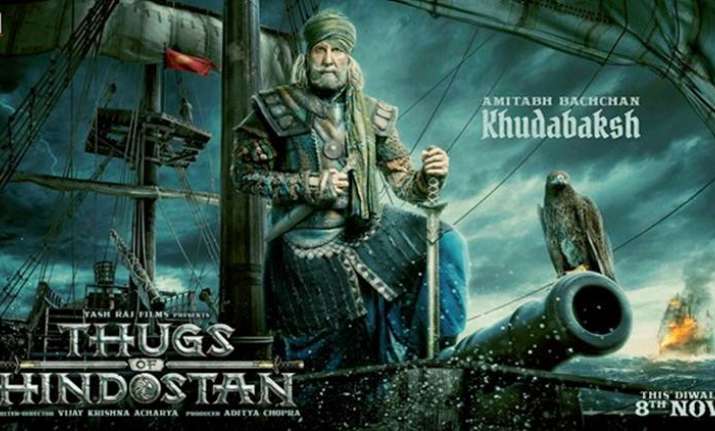 So, the big problem with this plot is that Aamir doesn't belong in it.  The story it should be is of the brave heartbroken Princess determined to save her country and her people with the support of her loyal guard Amitabh.  We get glimpses of that story, most notably in a scene in the first half when she wakes from a nightmare to find Amitabh there and he promises that if she calls out for him, he will return even from the gates of hell to comfort her.  It's not a promise or a scene between a noble princess and her soldier, but between a foster father and his daughter who love each other deeply.  The emotional peak of the film is when Amitabh is revealed to still be alive and Fatima, unable to go to him, instead sings back to him the lullaby he used to sing to her.  These are the people I care about, these are the interesting unusual noble worthy people.
And then there's Aamir.  We are supposed to care about his journey from being an amoral rogue to finding something worth fighting for.  But, why?
(Why does Aamir get so much screen time in this song and Fatima so little?)
Let's talk Han Solo.  Han was amoral and didn't care about the rebellion and so on and so forth.  But he was also brave and confident and skilled and very very smart.  And he may not have cared about the rebellion, but he did care about people.  He may say he doesn't, but he really does.  This movie doesn't seem to get that, that sometimes when people say they don't care, they are lying.  and if they aren't lying, they aren't very sympathetic characters.  I don't have any fun watching Aamir if I don't have some reason to like him.
There was another way I was sure this movie would go for the longest time which would have resolved it all.  In the Memoirs of a Thug book, the final change in the narrator happens when he discovers that one of his victims is his own long lost sister.  We don't see the death scene of Fatima's young brother (he is blown off the end of a cannon, but the film doesn't show it).  I was sure it would turn out that Aamir was her longlost brother, given amnesia by his injuries and not knowing who he is until a late in the film discover.  Which would also be very Star Wars, but there's a reason Star Wars did it like that, there was a special heartbreak and happiness to these two orphan lonely suffering people discovering they had family after all, they shared something more than friendship.
But there is no reveal of a longlost brother.  Or of a secret rebel mission.  Or anything else.  Aamir's character is exactly what he seems on the surface.  That's the problem with this whole film, it is all surface, no surprises underneath.
(This song is exactly what you think it will be)