Well, this is hopeless, I can't bring myself to do real serious writing when instead I could be sitting on the porch reading a book. So I am going to steal an idea from Reflects On Life and open up a discussion: favorite movies you watched in 2019?
Make up your own rules! This can be only 2019 releases, or it can be movies from any time that you watched in 2019. It can be only Indian, or Indian and everywhere else. You can have as many categories as you want. Just go crazy!
Here's my contributions:
The Notebook: My favorite romance of 2019 (so far). Sweet, simple, and different. And I really felt a connection between the characters.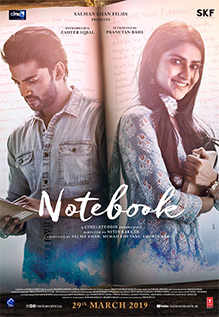 Bharat: My favorite big historical movie of 2019 (so far). Kept a clear hand on the sweep of history, nice stories, excited moments.
Ek Ladki Ko Dekha To Aisa Laga: My favorite family movie of 2019. Nice family friendly plot, good message, warm feeling.
Favorite non-Indian movie I watched in 2019: The Late George Apley. It's just a silly silly spoof of Boston manners and, as some one who regularly visits Boston, it warmed the cockles of my heart (so much so that I wrote a fanfic)