I has another thought! And I think it is a good thought, but maybe you will disagree. Or maybe you will have more thoughts.
I was watching Cake, the Pakistani movie I am reviewing next week, and there is a sensitive understanding servant character that reminded me so much of Shahrukh's sensitive understanding servant characters, and that sent me down a whole rabbit hole of thinking about why he played that kind of role in so many movies.
In a culture with a strong gender divide, there is a strange loophole in the servant-mistress relationship. Servants are everywhere in wealthy households, a well-brought up young woman might never consider wearing less than three layers in front of a man, being alone with him in a room, or ever breaking through her "proper" behavior, no emotions, no demands, always sweet and silent. But at the same time, the "houseman" will fold her underwear, listen as she tells raunchy jokes with her girlfriend, know her better than any other man in her life.
But then, he isn't a "man" exactly, society sees servants as just that, "servants", not people. And that isn't a cruel way to live, they are employees after all. In this intimate setting, having those invisible boundaries can be healthy and fair to both sides. And the intimacy that most often arises is one of sympathy and friendship directed from employer to employee. They listen to their little family troubles, give gifts, give understanding, tread the fine line of switching between treating them as friends or family, and then employees again. A young woman may ask her maid why she is crying, and then offer to give her money to help pay her rent if she needs it. But five minutes later, she will ask her maid to hand her a dress. Because that is her job after all, and it is best to remember these places.
Shahrukh's films take this to another level by focusing on the relationship between a young man servant and a young woman of the household. Along with the strange loophole of intimacy in this one particular relationship between a woman and a man, there is also a feeling of power shifting moment by moment. She is rich, she has a higher overall social status. But on the street, a young woman alone is entirely reliant on the man with her to protect her. At the same time, as a man, Shahrukh has the power to choose his own life, to break free and do whatever he wants, to live and love where he will. While a wealthy young woman is ultimately controlled by her family.
Shahrukh's particular appeal to a female audience is that he understands woman, not just the person they present to the world but who they are inside. And that he will always protect and serve them. That particular message comes through over and over again in the films where he plays the young man in forced intimacy with a woman, protecting her and honoring her wishes and understanding her better than her own family.
That pattern, Shahrukh serving and protecting and knowing a woman, comes up over and over again whether he plays an official servant or not. DDLJ, Chennai Express, Dilwale, Om Shanti Om, and on and on. But I find it particularly striking in the films where he chooses to play the servant roles. His stereotypical persona is that of the rich urbanite, the NRI success. But in fact, over and over again, he has chosen to drop to a lower economic and class level, to take a step back and behind his heroine.
Here, I'll show you what I mean with film examples:
Raju Ban Gaya Gentleman: Shahrukh's first two films had him playing the loving support to the heroine, but in both cases he was a wealthy charming powerful man. In this film, he is a struggling boy from the village. The heroine given him is his equal, Juhi. But the more unusual relationship is between him and his wealthy powerful boss, Amrita. While he and Juhi struggle to find time and places to be alone, as Amrita's employee they can even travel to hotels together without raised eyebrows. Amrita delights in her ability to be herself with him, and falls in love because he seems to truly like her, the real her. Maybe it is this romance that made Shahrukh start to think of taking more servant roles?
Karan Arjun: Kajol and Shahrukh's second movie together, he plays the lowly stable boy teaching her to ride. Their romance is very quick and only has a few scenes, but that dynamic is heavily present. Kajol is used to being trapped in her rich world, she revels in a stable boy who lets her be herself. And going off for "riding lessons" is a handy excuse at home, no one would suspect a romance with a boy who lives in the stables.
Koyla: 3 movies in a row with the same dynamic, perfected. Shahrukh is the stable boy again, this time the ignored and forgotten and abused stable boy. And Madhuri is the trapped and unhappy young wife. She has the jewels and the big room in the big house, but ultimately she has no more power than the lowly stable boy Shahrukh. She seeks him out, trusts him not to hurt her because he is so humble, but also wants him to protect her because he has the freedom and strength of being a man.
Yes Boss: Shahrukh is a servant again. The abused and trusted servant of a rich man. And Juhi is the new girlfriend, the lied to and ultimately powerless (although he gives her gifts and treats) girlfriend. They are thrown together again and again, she trusts him because he is her boyfriend's servant, he would never be disloyal or disrespectful. And he is tormented by his sense of inferiority and loyalty to his boss that keeps him from "saving" Juhi although he wants to.
Pardes: This is an interesting one for exploring how the servant-mistress dynamic can change again and again. When Shahrukh first arrives, as the earliest visitor from the groom's side, he takes control of the household. Mahima teasingly rebels but ultimately obeys him. However, once the groom's family arrives and approves of Mahima, Shahrukh is pushed aside. He is now below Mahima, as she is increasingly brought into the family of his superiors. And yet the familiarity lingers, Mahima cannot shift so quickly from seeing Shahrukh as a friend, and as someone she respects, to merely a "servant". Shahrukh tries to return to his role, but again and again is called forth to be a friend, and ultimately a Man, by Mahima.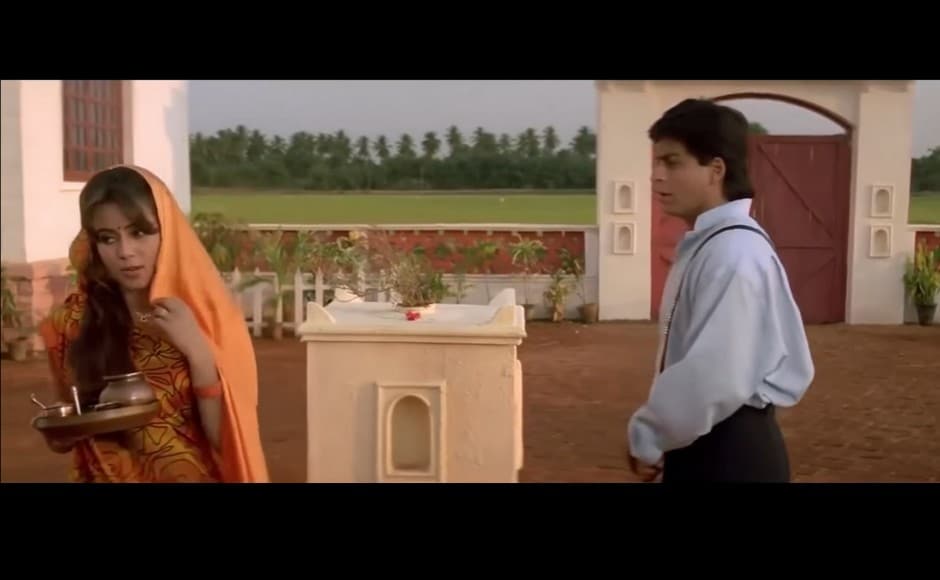 Duplicate: Like Karan-Arjun, this is barely part of the film, but still there. Sweet good Shahrukh is hired by hotel manager Juhi. She loves the way he wants to serve her and please her. And we can see how she rejects the advances of Mohnish Behl, her superior who makes demands, in preference for Shahrukh, the sweet man who doesn't expect anything. The gender dynamics equal out, Shahrukh is a grown man but does not take advantage of that role, is happy to accept his place as Juhi's employee, and that is what she likes about him.
Ra.One: Forget that Shahrukh is a robot. He is also a servant. Kareena takes responsibility for him, but also orders him around and instructs him. And he takes her orders and wants to please her. Kareena does not reveal her weakness even to her son, but she can't hide it from Robot Shahrukh, he is just always there. And that is why he grows to love her, because he sees who she really is underneath it all.
Jab Tak Hain Jaan: This is the most class explicit version. In this case, Shahrukh is so very far below Katrina in class that he has lost her fear of her. While the men who work for her father, or who meet her in social situations, might be overly polite and cautious, Shahrukh doesn't care. And Katrina doesn't care either, while with other people she may be proper and correct, with Shahrukh and her friends she can be herself. What does it matter what a waiter thinks of her? She is free.
Jab Harry Met Sejal: A fascinating one! The power in this film is upside down and sideways, and yet ultimately it is all driven by that complete security a wealthy Indian woman feels with her servants. Shahrukh is intelligent, well-traveled, and on his home turf. And he is an experienced man. Anushka can't speak the languages, has never been alone before, and can't even go outside without getting lost. But Shahrukh is an employee of her family, and a fellow Indian, so Anushka and her family look at him and see him as "safe", as just a servant. And Anushka casually offers him intimacies she has never offered her fiance, but has probably given her whole life to a rotating group of houseboys and cooks and other male employees. Slowly Anushka comes to see him as an equal and a man, and yet her family never worries or suspects, because how can a servant be dangerous? And Shahrukh never crosses the line, because Anushka's intimacies have lead him to see her as a person, someone he feels the need to care for her. Which ultimately is part of what protects all these wealthy young woman, the basic human decency and care for someone who you know so well and see so much of.
Zero: The Shahrukh and Katrina relationship is fascinating here, because of how it ends. Shahrukh fully accepts, even welcomes, the servant-mistress dynamic. And because of that, he finds himself unable to break free. That's another thing that happens in life, the people who spend their lives serving others, come to live their lives through those they serve. It's not always the money or the security that keeps them there. Shahrukh cannot leave her, not until she forces him to go.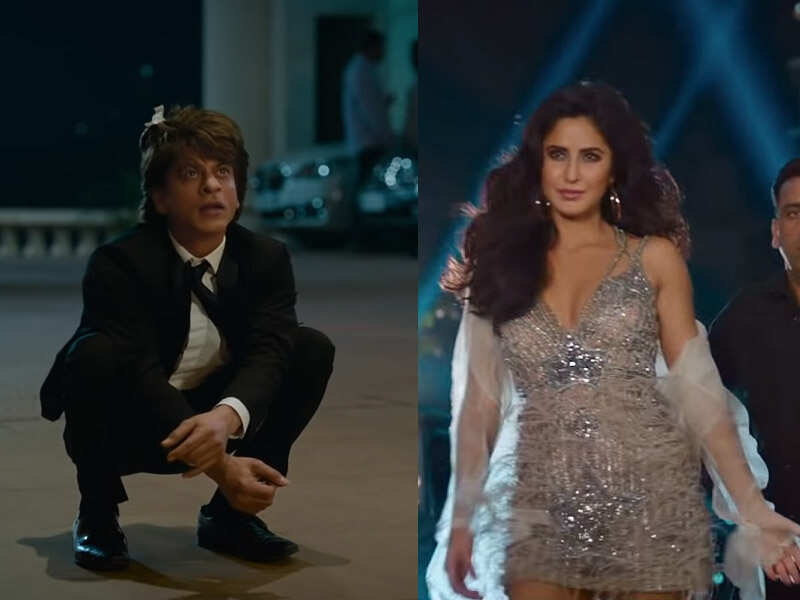 Okay, that's all I've got! There were other movies I debated including, like My Name is Khan or Om Shanti Om, but ultimately I decided to limit it to just the ones that were straight up servant roles.