Once again, sad news to wake up to! There was a similar year in 2013, death after death after death. I found that kind of touching because it was the 100th anniversary of Indian film and all of these greats went on their way out with the anniversary. But 2020? I don't see any meaning to that.
In Rishi's memoir, he wrote that he is not a good father, he wants to be better, but he knows he is better than his father was. And he wrote that he made mistakes as a husband, mistakes as a friend. Mistakes as an actor as well, he was too spoiled when he started, too confident. But he wants to be better. That is a remarkable thing. How many men, born into enormous privilege as he was, wealth and fame and career success, even love, all handed to him, would acknowledge that they are flawed and need to be better? Would struggle with their flaws? Would honestly see their flaws and state them to the world?
Rishi started acting as a child, as is the Kapoor tradition, and he had an immediate charisma onscreen. He became a major star with one film, his first film, and he was spoiled by that, he casually bought awards because he thought he deserved them, he was rude to directors because he thought he was a star. When he had his first major failure, he went into a deep depression, lashing out at those closest to him and skipping work while films were left waiting for over a year. And then he came back. He was an alcoholic, his marriage was a sea of fights and police calls, his wife left him. And then he got healthier and better and she came back to him. He was a remarkably arrogant man, but also a man able and willing to say when he was wrong and try to change. Such a strange combination, such a rare combination.
As an artist, it lead to an amazing career. In the 1970s, he did anything and everything, put on a charming smile and twinkling feet and played the young hero over and over again. In the 1980s, after his depression and failure, he came back with a little more depth. He became the king of romance, charming smile was still there but now combined with the tortured sorrow of love unreturned, or the bravery of the lover remaining faithful. Rishi was proud of this, that all of Hindi film had turned to action and he was keeping the romance genre alive. How refreshing! Outside opinion did not matter, he was proud of his work, and thought the work he was doing was important, and so loudly said that fact without any fumbling or apology.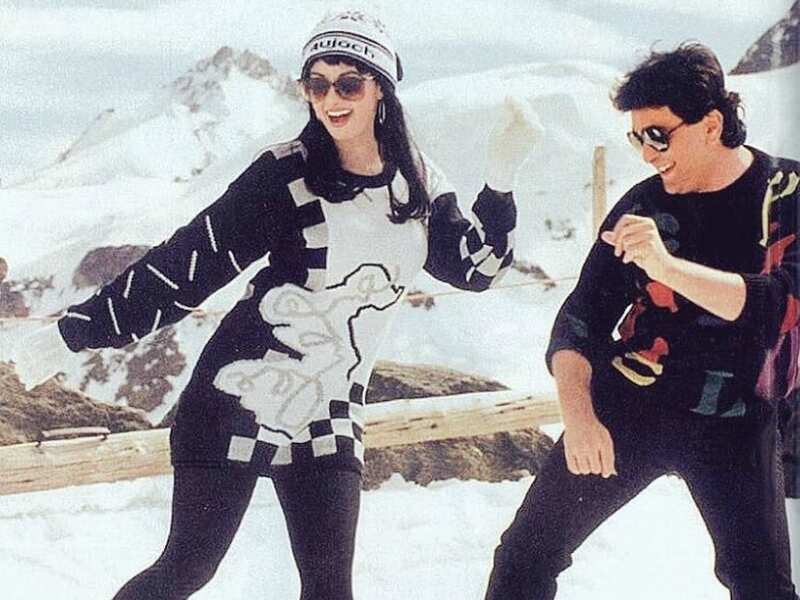 By the late 90s, when he was clearly too old to play the lead, he switched to father roles. He was only in his late 40s, younger than the Khans are now as they continue to play romantic leads. Once again, this is not the expected thing, this is not what he "should" be doing. But he did it, because it felt right. 10 years of charming funny friendly fathers, and then Agneepath. Charming friendly funny Rishi Kapoor becomes a terrifying vicious killer and human trafficker. His youthful smile and charm becomes the charisma that lets him lead a gang. It's a brilliant performance, and completely unexpected. Charming young lover actor to charming father has happened before (although usually not that young). Charming young lover actor to vicious gang lord is far less expected.
Rishi seems to have decided in the past ten years that he was not going to waste time on uninteresting roles any more. He played the lonely lead in 102 Not Out, he played the villain over and over again, he played the grandfather and patriarch in Kapoor & Sons. Each role was a challenge in a different way, never something he had done before.
He was a difficult man, with strong opinions, and no worry about offending someone or hurting feelings. But he was equally willing to turn that backwards on himself. To call himself a bad husband, a bad father, a bad friend, a bad actor. Even someone who was just plain wrong.
There's a small incident that, for me, illustrates what was special about how Rishi approached his work, and his life. After filming Kapoor & Sons, Rishi gave an interview where he was asked about working on the film and gave his honest opinion that he hated it. Rishi was trained to be a one take actor, back when he started film stock was limited and expensive. So he gets in character, pulls together all his emotions, and lets loose one perfect take. For Kapoor & Sons, the director wanted multiple takes, all identical, so he could stitch them together. Rishi in his interview said that he thought this was ridiculous, he's not a robot who can do the same thing over and over, that's not how acting works, and a good director would just do it in one take. And the director knows perfectly well how he feels because they fought about it all the time. Classic Rishi, anyone else would make nice and lie in the interview and say "oh, filming was delightful". Or some people would complain in the interview but never tell the director. Rishi, always honest. He finished the movie too, he fought every day on set but he didn't walk away.
Here's the thing that makes Rishi just a little bit more than an honest grumpy man. After that interview, the movie came out, and Rishi saw it in full edited together. And then he went on twitter to say he was wrong, he understands what the director was doing, and the director was right. That's what makes me sad he is dead. Someone who is capable of reversing themselves, immediately and publicly, on something as small as a nasty interview about directing methods, that is an unusual person. That is someone I want to keep watching and see what he does next, what personal growth he will make a goal in future, what honesty he will give about himself.
We need Rishi's in the world, we need people to show it is okay to say "I made a mistake and I will be better". We need people who don't care what others think, who will be proud of making romances when everyone else was making action films, or will happily say they are beef eating Hindus as their family have always been, or that their father was a brilliant artist and a terrible father. And we need artists who are unafraid to try anything, risk everything, just to be better.