This is more of a thought experiment post. I want to try looking at all of Karan's films through the lens of parenting, specifically BAD parenting, and see what we come up with.
Let's say, for the sake of argument, that Karan has a fraught relationship with his mother in which he feels always guilty for disappointing her, and always worried about making her happy. If that is the case, how does it play out in his films? Or does it play out in his films?
At first I thought Kuch Kuch Hota Hai was the one that disproved this theory. Farida Jalal is supportive and sweet and joking with Shahrukh. Reema Lagoo is softly understanding and wise with Kajol. But then I remembered, the letters. Rani wrote letters to her daughter giving her instructions, including the pressure of making sure her father married the woman he was meant to be with. On the one hand, this could be a simple plot device, no deeper meaning. On the other hand, it could be a sign that Karan sees nothing wrong with this. A parental relationship that is about the child working to make the parent happy.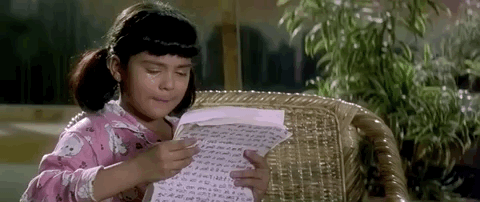 In most Indian films, a child's responsibility to a parent revolves around what they do with their lives. Study hard, become an engineer, marry the person I pick, and so on. But in Karan's films, the responsibilities revolve around what happens in the parent's life. Little Anjali has to get her father married to the woman he loves so he will be happy, that is her purpose in life.
Kabhi Khushi Kabhi Gham is of course the most explicit about it, "it's all about loving your parents". Amitabh expects Shahrukh to take over his company, marry the girl he chooses, do everything that would make him happy. And the first time Shahrukh steps out of line and Amitabh talks to him, his big argument is "you have put tears in my eyes". Yes, he talks about tradition and so on as well, all the reasons Kajol is a bad choice, but the clincher is "you have put tears in my eyes". Forget the logical arguments, Shahrukh can't be with Kajol because it would make Amitabh unhappy.
I don't like the standard Indian film parenting that insists on controlling every aspect of their child's lives, but at least in that version there is a basic argument of "I know what is best for you". You aren't forcing your child to be an engineer, or marry this person or that person, to make you happy. It is because you know what is best and will make your child happy. At least, most of the time. There are still a fair number of movies that argue "go through with the wedding to the person you hate! It will make your father smile!" But in K3G, this conversation is about Amitabh being sad and Shahrukh making him sad and that is why Shahrukh must change.
KANK has the bad parenting that is so bad we all recognize it as such. Shahrukh is just terrible to his little boy. The film acknowledges that, sort of, there are scenes where his son is afraid to talk to him, and at the end of the film Shahrukh is a better person and is patiently waiting for forgiveness. But the level of anger he gives to his son is far beyond the acceptable level, and the film seems to treat it more along the lines of "slightly disconnected father". Shahrukh is unhappy, so he takes it out on his son, this is normal and fine and regular. Not something the audience should be upset about. And of course there's also Amitabh in there. Forget the part where he has inappropriate sexual conversations with his son, there's the way Rani felt pressured to marry Abhishek, and then to stay married to him, in order to please Amitabh. Once again, this wasn't a marriage of "do this because I think it will make you happy", this was a marriage of "do this, because then I will be happy."
Skipping MNIK because it is too sad, that brings us to SOTY. Interesting thing with SOTY, those bad parents are finally being called out, all over the place. In the middle of the movie, we have these glimpses of all our students going home to their families, and all of their parents give them bad parenting. They ignore them, they pressure them, they insult them, it's all bad. Varun's whole plot is about confronting his father's bad opinion of him and rising above it. But the most important parenting is Rishi, as the principal. He isn't bad, exactly. He is fair in his judgements, punishes students when they need to be punished, runs a good school. But the Student of the Year competition is his favorite part and it succeeds by driving students against each other. At the end of the film, that's what he is called out for, using students to entertain himself even when it damages their own friendships. Once again, it isn't about doing something because it is good for the child, but because it makes you happy. Feeding your own joy. And in contrast, the conclusion of Varun's storyline is when Sid does something specifically NOT to please Varun's father. It's not about helping Varun, it's about making his Dad sad. The converse of the usual story, making the parent happy with no consideration for if it is good or bad for the child.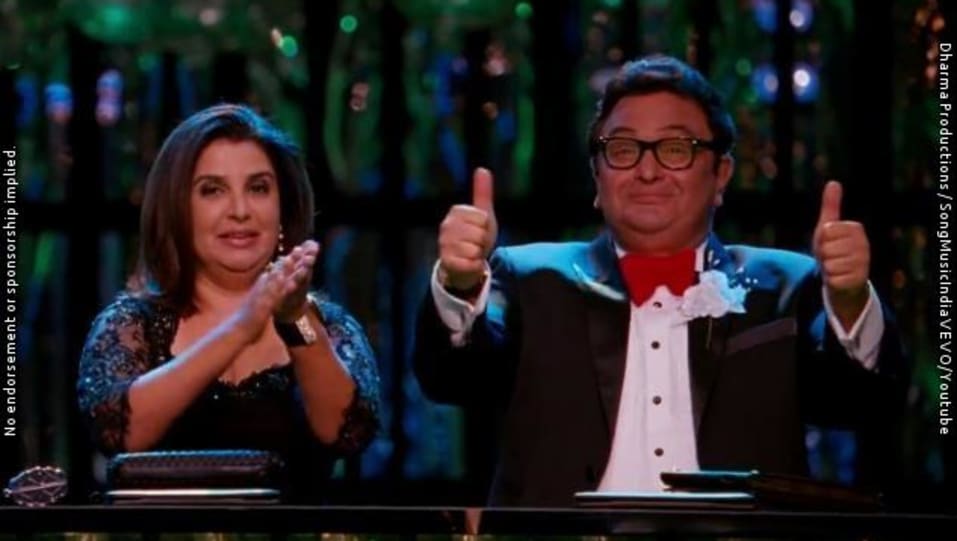 And finally, Ae Dil Hai Mushkil. In which our hero and heroine have broken free of their parents completely. We don't get any real details on what happened, just that they both come from rich families and have both chosen to break away and live their lives apart from their parents. The most significant moment is at the end, when Anushka plans to fly back home to her parents and Ranbir rushes to the airport to stop her. In both their minds, going home to her parents is a sign of total despair and basically suicidal. There is an acceptance between the characters that her parents don't love her, won't take care of her, and she cannot be happy with them. Ranbir is going to the airport to "save" her from this terrible fate, and Anushka is planning to do it in a self-sacrificing desperate way. It is understood between them that true love, acceptance, and happiness comes from friendship. Your parents can only give you misery and rejection.
I don't know if this theory is the best or not. It's possible Karan is simply showing parents as the flawed sometimes selfish people they are, there's no grand meaning about parents who take and take instead of give and give. Or about children who find their parents a place of disappointment and unhappiness instead of joy and love.
What do you think?