I was feeling bad for writing such light weight posts lately, and then I remembered, oh right, I watched 3 movies this weekend and wrote 6 full length reviews (2 each) for them.  Just, not everybody was interested in those reviews, so for some of you this is a pretty light week.  To make up for it, I pulled out some of the more general discussion sections of my reviews of Karwaan and cobbled together a Hindi Film 101 out of it.
Can we just take it as a given that a lot of upper middle class men have the means and opportunity to make movies?  And therefore feel they are writing the most deep and important story ever when they write about dissatisfied upper middle class men who want to be artists because it is their story and they are the Center of the Universe?  And that this is reinforced by other upper middle class men who review movies and produce movies and so on and so forth?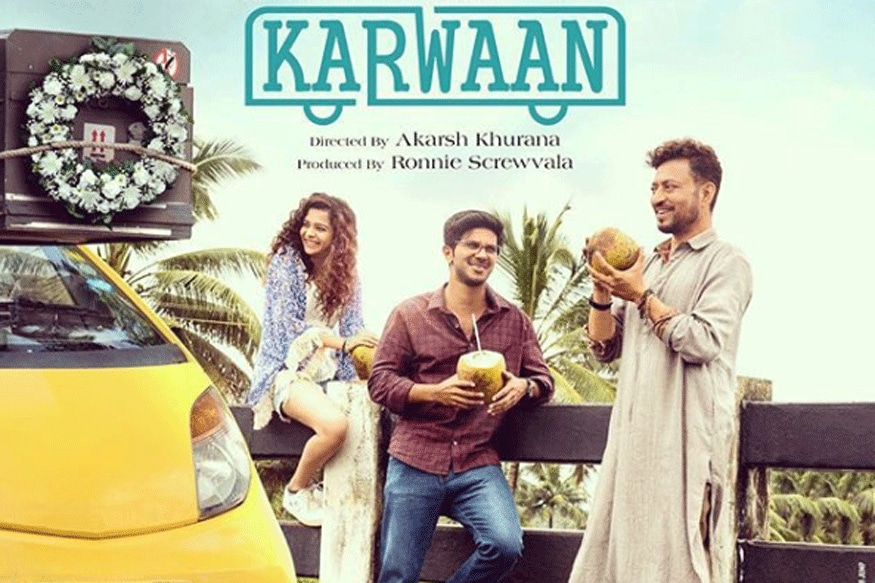 (Much of this was original written for my reviews of Karwaan, but it's really about more than that movie, so I wanted to put it in a different forum in addition)
Moving on from that basic premise, what does this mean in terms of the actual end product?  It means there is a deep understanding and sympathy for our main character, which isn't a bad thing.  And it means the filmmakers are given the freedom to do the kind of in depth character study film that doesn't usually get funded.  Because all the upper class men they go to for funding react with "my GOD!  It's the most important story in the HISTORY OF THE WORLD!!!!  Tell me more about office worker angst and feeling trapped in a suit and tie, and PLEASE PLEASE add in something about father issues!!!  I will give you ALL THE MONEY.  Oh and please see if you could get a second generation actor who has never had to struggle for his art to play the lead, that would be just peachy".
Okay, now I'm getting irritable again.  What I meant to say, was that a filmmaker with a deep grasp of his central character and supportive investors who let him make a true character study isn't a bad thing.  It would be nice if those same films with the same kind of support could be made by female and lower class filmmakers, but oh well, we can't have everything.
One of the questions I sometimes find myself asking halfway through a film is "what makes these characters deserve to have a movie about them instead of other characters?"  I don't ask that question when watching, for instance, Dishoom.  Because, no doy, they get to have a movie because their lives are filled with song numbers and explosions.  Or even Fanney Khan, where the plot was so over the top that just by being a part of it, the characters deserved a film.  But a movie like this, where it is a character study of every day people who never get into car chases or anything fun like that, then I start to wonder.
(Obviously I want to watch a movie about these two)
And often these kind of "Come on DAD!!!!!  Why can't you understand?  I just want to waste all your hard earned money pursuing my art because it makes me happy!" films do not pass that question.  Tamasha, for instance, I have no idea why I was supposed to be interested in that story.  There was a guy who was unhappy with his life, it expressed itself in kind of an odd way and messed up a perfectly normal young woman he was dating (who never got any backstory of her own), and then he became happy with his life and won back his girlfriend.  How is that a movie?  That's just freshman year of college.
Wake Up Sid, that movie I love.  Because it's not a story about Ranbir growing up (although that is the title), it's a story about Ranbir realizing his privileges and earning his happy ending, and it is just as much Konkona's story, not something we have seen before, a young woman with drive and direction finding herself in her own way.  2 States, that's another good one, because art is what our hero does in between living his life.  The film doesn't argue that merely wanting to be a writer and needing to work in the meantime is worthy of a film.  If anything, that is treated as the least interesting part of it.  Pyaasa, obviously, is on a whole other level.  That's not someone who feels trapped by his regular life and wishes to be an artist, that's someone who has never been able to NOT be an artist, it's something he has to do just like breathing.
And then there's Karwaan, the most recent example.  This is a film about 3 people, supposedly.  And yet only one of them really gets the focus. (SPOILERS follow, but not much more than what was already in the trailer)
Irrfan is the son of an abusive father who stood up to him at a young age and was thrown out of his home as a reward.  He somehow pulled himself up to surviving as a mechanic, and is still generous and kind enough to drive Dulquer all over India.  Oh, and when he mentions Dulquer helping with gas money, ha-ha, everyone has a good laugh because why should Dulquer ever pay for anything?  Irrfan is even footing the bill for this whole trip.  Irrfan falls in love at first sight and woos a woman over the course of one night.  And then he magically meets her again and convinces her to run off with him, saving her life as he was unable to save his mothers.
Mithila is a teenager struggling with a possible unplanned pregnancy, whose beloved grandmother has just died and who is traveling across country with two total strangers.  She and her mother and grandmother ran a hotel together as a strong all female team.  She is strong enough to push down her own grief and deal with the practical matters of the journey, the only one smart enough to think about getting dry ice for the body.
And then there is Dulquer.  Who kind of wanted to be a photographer.  And was a jerk to his college girlfriend.  And isn't very good at his current job but gets to keep it along with the very high salary that comes with it because his daddy set him up in the company.  His father, who never hit him, never raised his voice, supported him in comparative luxury, and then wrapped up and handed to him a job that thousands, millions of others, would kill for.  Oh, but he also wasn't 100% supportive of Dulquer's plan to be a photographer.
(Also, there's pretty songs)
Now, which of these 3 people sound like they deserve to be the lead of a movie?  The brave suffering and still deeply good mechanic?  NO!  He's too low class to matter, his whole wa-wa over an abusive father and moneylenders who want to kill him and the woman he wants to save from an abusive marriage merits merely a wry amused smile from our hero.  After all, the lower classes aren't "real" people, they are just sort of Shakespearean fools sent to amuse us and teach us life lessons.
(Ha-ha, let's watch Irrfan change a tower and instagram about it)
What about the young woman struggling with the possibility of an unplanned pregnancy?  And also handling this unexpected trip and the grief of her grandmother's death? Well, she's a woman!  They aren't real people either.  They are unpredictable and sometimes wise and they exist to fluster men and send them on journeys like some kind of Lady of the Lake from King Arthur.
Obviously, the journey that matters is Dulquer going from being unhappy with his job and awkward with the pretty girl in his building, to quitting his job and dating the pretty girl.  Everything that Irrfan and Mithila go through is just for his benefit.  Seriously, we go straight from Irrfan convincing a woman to run for her life from an abusive husband even if that goes against society, laws, and her religion-to Dulquer quitting his job.  That's the dramatic build, a woman running for her life is an 8, but a middle class young guy quitting his office job is the 10.
SPOILERS OVER
I am aware that this is how a narrative works. Everything is centered on the central character, thus the term "central character".  All conversations circle back to his/her journey, all events matter primarily for how they move his/her story forward.  But that only works if the central character is the most interesting character, if their story is the most important story.
But too often in too many of these films, there is no effort made to justify anything.  The central character is the most important, the most interesting, purely because he is male and upper class.  And this isn't a problem just limited to Indian films.
General speaking, when you are making a character driven story, the idea is either that you are making a universal story, or an unusual story.  Either one will work.  A universal story would be an English/Vinglish.  It's an unusual film, yes, and a wonderful film.  But it is about a family like many others, a homemaker like many others, something everyone can immediately instinctively understand, and a lead character we can instinctively sympathize with.  And an unusual story would be something like Masoom, an unusual situation that very usual people find themselves trapped in.
(Not for nothing, English/Vinglish also included a background of a whole classroom of people with their own problems and stories, in addition to Sridevi)
Ever since film became "respectable", something the upper classes can watch and work in, there are more and more stories that are positioned as "universal" because they are about upper-middleclass men feeling unfulfilled.  That is assumed to be the default state, the office worker who feels like he could be/should be more.
There were a lot of films like this in America in the 1950s, there was even a phrase coined for it, "The Man in the Grey Flannel Suit".  Which makes sense, that was the era when the population for the first time had the luxury to be dissatisfied with their employment.  And I suppose the same could be true of India now, with the growing office worker class there is also a growing number of dissatisfied office workers.
But there's a difference between sincerely exploring the cost of rapid urbanization and the growth of the mega city and the office worker class, and simply focusing on one unhappy tech person as though they are the center of the world.  Bangalore Days, for instance, looked at the new tech boom from 3 directions.  The de-classed manual laborer, Dulquer, who was looked down on although he came from a good landed family and had a good job because he lacked degrees and worked with his hands.  Nivin, who idealized the rural past before finally learning to let go of it and understand and embrace the freedoms of his present.  And Nazriya who bore the female cost of this, being married off into lonely luxury at a young age thanks to her (older but still comparatively young) husband being successful enough to afford to live alone.
Bhavan Joshi was another one I appreciated.  Our hero's dissatisfaction was not because he felt unfulfilled in his own happiness, but because he was looking out at the larger world and seeing how the whole country was falling to superficial concerns and easy answers, not just his own life.  We are all part of a connected whole, the story of one person can be/should be the story of all people.
Or, not.  There is also the temptation to simply make a story about a man who reminds you of yourself and assume it is universal because you assume your story is universal.  Cameron Crowe in Hollywood is a master of this kind of tale and has been selling it to the public since the 90s.  It has been less common in India until recently because of the need for a film to sell itself to a wide audience, a family audience encompassing husband and wife, and children, and elderly parents.  But now, as the multiplexes and urbanization bring in the possibility of films aimed at only the higher classes, there is a sudden birth of the "woe is me" tale of the unfulfilled rich man.
It's easy for anyone making a movie to make the protagonist into someone like themselves and assume the audience would all relate to it.  After all, we all see the world through the lens of our own story, we are all protagonists in our own lives.  But it tends to be only upper middle class men who actually get to make their films, the films that do not bother to provide a larger meaning to the story, a bigger reason that this one story should be told.  They are the ones so convinced of their own importance, and with the power to get these films made and released.
An upper class man, he has the advantage of never being forced to see the world from the view of someone else.  And so he never realizes there is any other view possible, that there are other people with their own concerns, separate from him.  That his tragedies are just that, HIS tragedies, not tragedies for the world.  And it is that view that films of this type promote, that the tragedy of the upper class young man is not just the greatest tragedy, but the only true tragedy.  The problems of everyone else in the world are merely amusing and not true tragedies.  And so when I am watching these movies, the characters and stories that speak to me are not treated by the film as "real" stories that happen to "real" people.  The maid in the background is a punchline.  The girlfriend/wife is another problem to be overcome.  The mother is a faithful support, but never seems to have her own needs.
Conversely, you can still make a darn good film with a main character who is trying to find himself, so long as you recognize the needs of the other characters and weigh them against our hero's.  Lakshya is a surprisingly good film which at first glance looks like yet another tired coming of age movie.  Hrithik is the hero and it is his story.  But the film makes sure we see that his love interest Preity has her own concerns and her own journey and is living a full life, not merely existing as part of Hrithik's.  His father, his mother, all sorts of other people in the film blossom out into a full existence.  And the film itself shows Hrithik's own weaknesses and flaws, the dramatic build is in him learning about himself and overcoming those flaws, not in the whole world arranging itself around his perfection.
(Notice this song is 70% Hrithik, but 30% Preity, living her life on her own with her own problems and her own successes)
You can also make a darn good person out of an uppermiddle class man, so long as he is aware that the real world doesn't revolve around him either.  My father is a privileged man and when he started to feel his life was empty of meaning, he didn't take off and go on a personal quest, he started volunteering one night a week to help out at the local homeless shelter.  That's one example, I could give you dozens more among men I know in my life, men who reacted to feeling unfulfilled by turning inward, and then turning outward.  And sometimes, often, by realizing that feeling unfulfilled is simply their lot in life and they should accept that.  It is the one small pain that comes with all the pleasures of being at the top of society.  The other 99% of society is too busy trying to survive to take a moment and think about emotional fulfillment.
That's the power of these films of course.  For the uppermiddle class male community, emotional and spiritual and artistic fulfillment is the main problem, because it is the ONLY problem.  And so if you are in that class, a story about someone like you wrestling with these problems because the most riveting and important film you have ever watched.  And so these films keep getting made and getting reviewed and everyone talks about how powerful they are and important and so on and I watch them and think "what am I missing?  Why does this have no effect on me?"
But then, I'm not an uppermiddle class man, am I?  That's the real problem, the problem is with me.  I am not a person who is supposed to be "real" according to this narrative, whose desires and interests are supposed to matter.  I am not part of the imagined audience for these films because the people making them never think of me at all.
And I am sick of it!  I am sick of these movies that expect me to care about characters without giving me a reason to just because they are wealthy men.  And I am sick of all the terrible people in real life who think of women only in terms of additional burdens to be controlled and not as people, that working class minorities exist only to work for them and are not allowed to have needs of their own, and that the worst thing in the world is always what they are going through, not anyone else.
(And this is why Luck By Chance is wonderful.  It shows that familiar hero's journey, but through the eyes of the person he climbed over on the way up, the person who he saw only as a reflection of himself)
Sometimes it's not really fair to the individual films.  They can be well-made and amusing and all the rest of it, and I do not enjoy them merely because they are part of a long history of such films, not because they are a problem on their own.  Certainly I wouldn't tell anyone else not to like such films.  Just, while you are watching them, remember it is a fantasy world and out here in the real world there are worst things that can happen than existential angst while sitting in your comfortable apartment watching your wide screen TV.