I am going to do my best to attempt a starting point of class and film in India. Not caste, I'm not even touching caste, just class. And a little bit Kangana too, but again just an attempt at a start with her.
Usual Disclaimer: I have no special knowledge, I am just doing my best to try to translate the untranslatable details of culture into English.
Kangana Ranaut is 32 years old. Her first film role was in Gangster, when she was 17. She worked steadily since then in roles small and large. Her first FilmFare Award was for Gangster. Her first National Award was for Fashion, 4 years later, she also won a FilmFare for that. In total she has won 3 National Awards and 4 FilmFare Awards. Since her first movie 15 years ago, she has made 32 films. 30 of them were in Hindi, 1 in Tamil and 1 in Telugu. By the basic metrics of awards and roles, she has had a good career and has power in the industry. And yet, somehow, she doesn't feel like she fits in, she has publicly expressed a sensation of being excluded.
Kangana was born in Himachal Pradesh, a primarily rural state with some famous resort areas, in a small rural town. Kangana grew up on the family estate in the family mansion. Her great-grandfather was an MLA, and her grandfather was a member of the IAS. MLA is an elected position with a certain amount of power and prestige. IAS is a career long bureacratic position with less prestige and power, but still a lot, more than any bureacratic position in America would have. To put this in American terms, think Congressman and State Senator or City Council Member.
Kangana was sent to school at the DAV College in Chandigarh, miles and miles from home, as a teenager. The instruction in these schools is in English and they have a high record in the general tests, it is a good start for an impressive career. Kangana failed out of the school. Instead, she decided she wanted to be an actress. Her parents paid for her to go to Delhi at 16, supported her financially and paid for her acting classes. She also modeled occasionally during this time. She decided she wanted to go to Bombay and try to be a film actress. Her father disapproved of this decision, and so she decided to stop taking money from him. She lived in Bombay on her own earnings as a model, before getting her first role in Gangster.
Let's pause here and look at what we can learn from the basic known facts. Kangana has sold herself as a poor girl without the privileges of the film stars. Her family background is far more privileged than anyone in the film industry, with a very few exceptions. Saif Ali Khan, of course, on both sides of his family, the intellectual landed Tagores and the royal Pataudi family. Perhaps the Kapoors have a similar landed estate background, but they lost everything in Partition. Otherwise, the film industry is made up of the children of struggling merchants, small farmers, anyone who might have come to the city in desperation. Farming in India is not necessarily an easy task, the fact that Kangana's family has managed to survive and thrive on their ancestral land indicates a certain amount of wealth and power. As does the politically connected background.
Class follows you in some ways where ever you go. But class is hard to predict. Part of it is knowing the "right" way to be and the "right" things to say. And part of it is the confidence you carry with you, the surety that you are in the right and everyone else is in the wrong. The people of the Hindi film industry, within the film industry, know exactly how to be and what to say and what to do. They know the kind of jokes you can and cannot make, the clothes you should and should not wear, and they can tell instantly if you aren't "right" like they are. But the thing is, being "right" in the film industry doesn't necessarily give you any power or confidence anywhere else.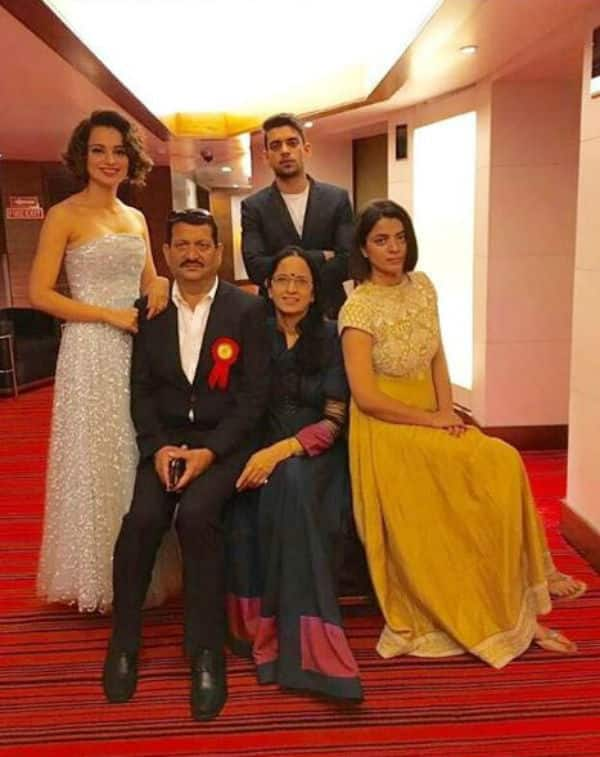 Pretend that films don't exist. In that case, Saif Ali Khan with his royal/political background is the top of the social scale of India. Below him would be the Bachchans, with their intellectual world on both sides of the family and their political connections. And then Kangana and the Kapoors and a few others, not royal and not intellectual, but landed families who were the top in their area. And below that is the great seething mass of struggling regular folks. Dilip Kumar, his family had fruit orchards, but they weren't the top family in their area. Shahrukh, his family was friendly with folks in politics in Delhi, but not part of the top layer of society like the Bachchans were. Salman's family, they were former mercenaries who settled in north India just a few generations back. The Bhatts, they were Gujurati merchants buying and selling whatever they could. In this world, Saif would meet Kangana's family at larger events where they bowed and scraped before him. And Kangana's family would meet Dilip's and Shahrukh's and Akshay's and all the others, as their employees or tenants or salespeople, the ones who came to the steps of their mansion.
There's also the question of real power. Kangana's great-grandfather being an MLA, and her grandfather being in the IAS, that gives them a level of real power in the world that in some ways is greater than what a movie star would enjoy. An MLA or an IAS officer could call up the police and get their child released from jail, can blackmail a powerful businessman into supporting them, can get a bank loan. A movie star can't necessarily do any of those things. And if you are willing to bend the rules a bit, you can make a lot more money a lot more quickly working for the government than you can working in film.
But of course we live in a world where films exist, and where a very particular class structure of the Bombay world exists. In this new world, class markers coming from fluency in English and in the general global world. Knowing the right clothes to wear, knowing the right things to say and when, and so on. It's not limited just to film, it's the whole urban elite of India who have these particular barriers to entry unless you can pass them. Until recently, Hindi film was not part of the urban elite world, it was part of the urban scrounging world, actresses seen as little better than prostitutes. It's only since liberalization and the rise of the multiplex and the diaspora audience that somehow the film industry has changed classes, as an entire community. The lower level workers are increasingly disappearing, being replaced by "professionals" with degrees and certificates in things like costume design and lighting and so on. And at the upper level, as the money flowed in, so had more upper class workers, the types who went to college overseas and returned with beliefs and behaviors out of synch with the rest of India. A generation ago people like Anushka Sharma or Ranveer Singh might have been settled in a career as doctors, or lawyers, or set up with a small business. Now, respectable children of army officers or wealthy businessmen are set off into film.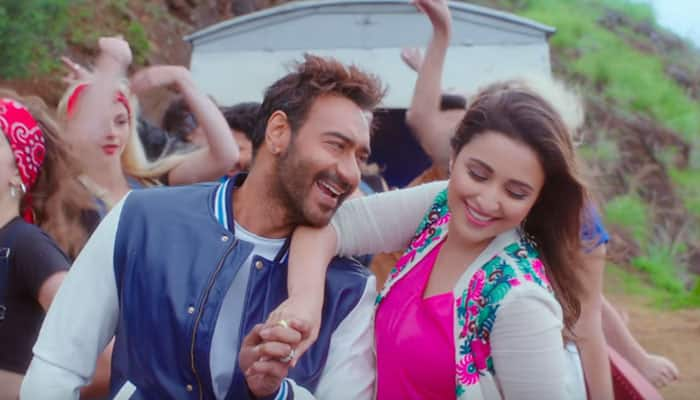 How do you jump into this new class? Or make sure your children can find their place in it? For a lot of the film folk, it came naturally, it was just a matter of the rest of the world catching up to how they already lived. Film people, even during the closed off pre-liberalization era of India, were looking outward. Bootleg copes of foreign films, imitating foreign fashions and foreign songs, it has always been part of Hindi film. Filmmakers might have a harder time faking the old landed family or royal family version of class, but just pretending to be part of the global elite, they've been doing that forever. Alia Bhatt dresses the same way her sister Pooja did in the 90s, but what was fun and funky and a little bit scandalous on Pooja, is now high class and proper on Alia.
If you have the money, you can also always buy class, move with the times. Instead of sending your daughter to a proper privately run all female college, along with singing lessons and handmade modest traditional clothes, you now send your daughter overseas for school and make sure she has proper real international brand clothing. The content has changed, but you are still just paying people to make your children fit however they need to fit now. The rich folks of India are now trying to fit with the world of film, and they have found a way to pay their way in through foreign degrees and going to the right parties and connecting with the right directors, and taking those jobs away from the struggling illiterate masses who used to fill the industry. Because now a film job is the "right" kind of job to have. Maybe not as an actress, but assistant director or art director or costume design, that is all a very appropriate thing to put on your resume before you marry well, or move into working for your father's company.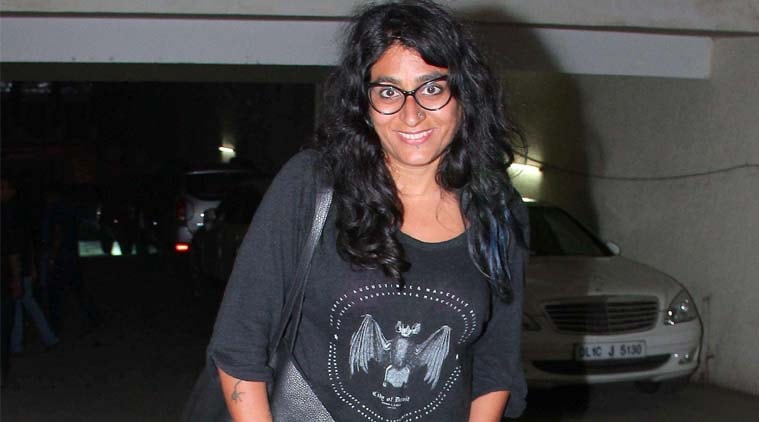 Let's go back to Kangana. She was sent to a school as a teenager that puts a high focus on English language skills. She was also sent to school in a large city, not kept at home in her small town. She went from there to Delhi, an even larger city, and took acting lessons, paid for by her family. And then finally Bombay. She grew up in a small town, yes. But her family gave her the kind of opportunities that allow someone from her background to have a chance of succeeding in this new world. Fluency in English, confidence in an urban setting, these are the tools that are needed now in order to maintain the same class level to which she was born.
And let's look at the timeline. Kangana goes to boarding school for high school, fails, goes to Delhi for acting training with the financial support of her family, quits that and breaks it off with her family, moves to Bombay, gets her first big break acting job in Gangster. And according to what we know, the basic dates, all of this happened within one year. Kangana sells a storyline of her family throwing her out in shame and having to survive on her own. But that doesn't quite hold up. If her family supported her financially in Delhi after she left school, and if she got her first job at 17, then that means at the most we are talking about a few months between her family cutting off support and her getting her first role. This is not a poor village girl fighting the world for survival, this is a well-off young woman from a well-off family trying to find herself.
But it's hard to see that, because there are so many other elements that go into making up class. Kangana is from a village, maybe if she had succeeded in high school and stayed in the city, maybe if she had spent a few more years focusing on mimicing the behavior of the urban women around her, she could have arrived in Bombay with her class symbols made invisible. Or if she had remained in her village, she could have maintained a superior attitude, looking down on the film folk who have no old names and no old lands and no old political power. But instead there is a clash of class, Kangana is both looking down and looked down upon simultaneously.
The same is true for Indian culture in general and how it handles the Hindi film industry. I say "Hindi" not "Indian" here because the Hindi industry is a little bit different from the other industries. It's based in Bombay, a city with no heritage and none of that older "class" element. And it is made up of Hindi speakers within a Marathi speaking region, all of them also outsiders and removed from their entrenched areas of power. But at the same time, these are the people with the most fame in the biggest city in the country. There is a jealousy of the stars, with their glamorous lives and expensive parties and fame and so on. And they have the real power of popularity and fame, the ability to start a fire with just one quote or comment in an interview. But at the same time, they aren't part of the quite right community. The entrenched powers who transitioned from local landlords under the royal era, to the trusted local confidants in the colonial era, to the political powers now, they are far closer to Kangana than they are to these upstart film folks.
I'm not trying to give a simple answer here, to say that one side or the other has more or less power There's no simple answer of insider-outsider here, just as there isn't in any society, class is a layered construct that constantly shifts based on a variety of elements. The outsiders can become the insiders and vice versa, at any moment. This is just my attempt to start a conversation, to set up some kind of framework for understanding that society and class and power cannot be simplified to sound bites.