Once again, I ended a series on a Tuesday!  So I am going to give you a little longer to decide what you want to read about next, and do just a little one-off for Thursday.  And, for the first time, I am going to attempt to cover Amitabh.  Except he is so big, I think I will try to do it piecemeal.  Starting with The Coolie Accident, mentioned in my Rekha coverage.
Disclaimer: I don't know any of the people involved personally, I don't even know full details of everything that occurred, all I can do is give you the sort of sense of the importance of this incident in film history and Indian history.
In 1982, Amitabh was going through a bit of a rough patch in his career, but he was still AMITABH. Zanjeer had come out 8 years earlier, Deewar 6, Sholay 5.  And he had plenty of hits besides those as well.
While Amitabh at this point was doing a variety of roles (sad poet in Kabhi Kabhi and Silsila, for instance), he was mostly known for his action roles.  And his action roles tended to follow a similar track.  He would be part of a small but happy family.  Something would go wrong, and he would need to take on responsibility for the family at a young age (usually in a childhood flashback).  He would struggle and fight against fate to build a life for himself and those who rely on him.  Something would go wrong towards the end and, although he could fix it by saving himself, that would bring pain to others.  And so he has to sacrifice his life and happiness for the support of others.
And in the middle of all these action roles in which he was constantly dying for our sins, it happened in real life!
That's one half of it, the way this accident on set played into the narrative everyone knew onscreen, the half unrealized sense that if Amitabh was injured, it wasn't just a normal injury, it was somehow something done for "our" benefit.
But the other half of it is that Amitabh was just SO BIG at this point!  So big, like all the stars combined.  And I don't mean movie stars, I mean like the stars in the sky.
In my book, I used the idea of Gods to talk about movie stars.  And it kind of works, if you think of how the Hindu pantheon works, or Catholic Saints.  Of course, there is one overall concept of God.  But there are multiple paths and faces by which you can relate to him.  Today, we have the 3 Khans and most people use one or the other.  But a few like Akshay or Ajay or someone else instead.  Now, close your eyes and try to picture a world in which everyone only had one star.  The way I feel about Shahrukh, or you might feel about Salman or Akshay or someone else, everyone felt that way about only one person.  That's what Amitabh was like, he wasn't just "a particular face of God", he was every face, every pathway, everything.
(Speaking of pathways and bigness, this is the mural of him that was painted around the corner from his house.)
That's what made it hard to understand if his power was waning or waxing.  People were looking at box office figures and trying to draw a conclusion from that.  But it wasn't in the box office figures, it was in the way people felt about him in their hearts.
And that's what the Coolie Accident revealed.  The importance Amitabh had (and still has, I remember the stories back when he had a health scare in New York a few years back) for his followers is like nothing that had ever happened before, like nothing that may ever happen again.
On 26 July 1982 (a day which will live in infamy!), Amitabh was filming in Bangalore.  He was doing a fight scene against Puneet Issar.  He was supposed to he thrown against a table and then push off of it.  Puneet hit him at a different angle than expected, and he ended up landing hard against the corner of the table.  He took a moment, and then completed the scene and that day's shoot.
Later that day, he collapsed suddenly, complaining of great pain, and was rushed to the hospital in Bangalore.  And later to the hospital in Bombay where he could be close to his family.
He recovered (obviously), but it took weeks.  During that time, among other things, Puneet Issar was given police protection because of the number of death threats he was receiving.  And Manmohan Desai, director of the film, realized he had to re-do the ending because he couldn't have Amitabh's character die after the whole nation had just gone through this trauma in real life.  He also decided to freeze the frame on which the accident occurred and write the date across it.  When the film was finally shown, audiences would cheer or prayer or cry, however they felt, when they saw it appear.
I already talked in the Rekha section about Jaya, how she was there every day, only leaving his side to travel to various Temples and Mosques to offer her prayers.  But what about the rest of the family?  Abhishek and Shweta were only 8 and 6, I believe.  They were brought in to see him once, when he was conscious (he spent most of the time in a semi-unconscious state).  In a recent interview, Abhishek remembered how his father joked about the tubes going in and out of his body, how this one was for root beer and that was for lemonade.  What I found interesting is that there was another interview with Amitabh, and he remembered the exact same thing.
It reminded me of more recently, when Amitabh was in the hospital in New York, Abhishek went to see him post surgery wearing a Superman shirt.  He told reporters later that he did it because his father was his superhero.  And, weeks after this, Amitabh was asked something about that day, and he immediately said, "Oh yes, Abhishek showed up in that Superman shirt, because I am his superhero, I knew right away."
Those stories don't feel like PR processed things which they rehearsed and figured out together.  It feels more like the closeness of families, when you have these jokes that you know between the two of you so well, you don't have to talk about it.  Or stories that are shared so often, no one can remember whose memory is whose.
Abhishek and Shweta got to meet Amitabh only once during this time, but there were plenty of others who came as well.  Rajiv Gandhi, son and grandson of a Prime Minister and future Prime Minister himself, canceled a diplomatic trip to the US and rushed to his side.  Then Prime Minister Indira Gandhi, who had known him since he was a little boy, came to the hospital as well.
And around the country and the world, fans prayed for a miracle.  Stories abound of massive icons made in his image, huge pilgrimages taken on his behalf.  What sticks in my mind is a personal story from Susmita Dasgupta, who wrote a book on Amitabh.  She was a big fan at the time, but she remembers that her uncle, who had never cared for him, suddenly took to his prayer mat and was praying 5 times a day for Amitabh's health.  It was more than being a "fan", Amitabh was a national icon, a monument, a symbol of all of India.  His popularity as a film star may come and go, but there was something at the core of it all that could never go away.
And this went on and on.  It wasn't like he had an accident, had a surgery, recovered.  No, he had a surgery, died, came back, went into a coma, hovered between life and death for days, and then, finally, the announcement went out that he had fully recovered and was leaving the hospital.
When he came out, it was like he was reborn in his powers.  Hundreds were there to greet him.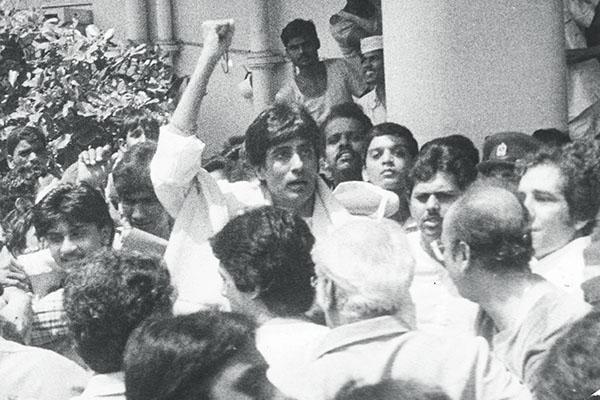 It was after this point that his Sunday viewing routine started.  So many people gathered in the road outside his house to see him, that he felt the need to regulate it.  So he started a new system, every Sunday the gates open, he stands on a platform and blesses the crowd, and then they close again and the crowd dispurses.
I got to see Amitabh's house, where he does these viewings, on my last trip to India.  We went on just a regular Tuesday, and the road was deserted.  He's on a kind of busy street, on a corner, and we drove right by.  On Sundays, you can't even get down the road, it is so full of well-wishers. And this is every Sunday, for the past 34 years.
It feels like, the significance of the Coolie Accident wasn't just that Amitabh was reborn, it's that he was reborn for us, by us.  Suddenly there was a new sense of possession in how the people felt about him.  Our prayers brought him back to life, he is "ours" now.  And we are "his".
We are reminded of this pact every year on July 26th.  Amitabh tweets it as his "birthday" and thanks us all for our prayers that brought him back to a second life.  And he receives "birthday" wishes from all his fans and followers in response.
"The Coolie Accident" is just one of many major incidents in Amitabh's life, it was followed by his failed political career, his failed corporation, his re-invigoration of Indian television and advertising, Mohabbatein, Sarkar, etc. etc.  And preceded by his marriage, his bursting on the scene in Zanjeer, even his birth in which he was named following a vision.  Heck, his involvement in Indira Gandhi's assassination is in there too!
But it is the one fixed point around which his life revolves to this day, marking before and after.  Before the accident, he was just a star, and no one was quite sure how to measure how big a star he was.  Afterwards, he had become a God.
Oh, and there was one other long term consequence.  Amitabh received over 30 bottles of blood transfusions.  One of which was tainted with hepatitis B.  He currently is surviving on only 25% of a liver, and it is a recurring issue for him.  So he still needs our "prayers".
When I was reviewing Wazir, I found myself referring to his death scene as "If Amitabh ever dies".  It really does feel like he might not ever die.  Because he is living so much now thanks to the powers of his well-wishers, if we all just keep honoring and caring for him, he could life forever.