Success!  I found the Kangana Koffee!  Despite it being "not available in your region" on the HotStar website and "content pulled at the request of…" on most other sites.  I did finally find it on one site, which I am keeping to myself, and successfully watched it!  So now I can talk intelligently both about the episode and about Karan's recent comments.
I think I'm going to start with the end?  Recently at a talk at the London School of Economics, Karan gave his perspective on Kangana's comments about him, to his face, on the latest episode of Koffee.  He said:
"She was my guest and I had to hear what she had to say. She has a right to have an opinion….I appreciate that she (Kangana) had a great perspective and point of view and everyone lauded her when she came on my show and 'gave it off to Karan' — according to what everyone said — and I am like, 'Of course', because I have been gracious enough to keep everything. I cut out none of it. I kept all of it, as it is. I could have edited so much out of it, as it's my show. But I said, 'No, let the world see this. This is her opinion, she must say it and voice it'. I gave her the platform."
So naturally, I had to see this episode!  Especially when Karan went on to give specific examples of what Kangana had said:
When she says 'Flag bearer of Nepotism', I just want to say her, I am glad she knows what it all means. I don't think she has understood the entire meaning of the term. What is nepotism… am I working with my nieces, nephews, daughters, cousins? And what about those 15 filmmakers, who are not from the film industry, who I have launched and who did the movies. That we're not going to talk about! Tarun Mansukhani, Puneet Malhotra, Shakun Batra, Shashank Khaitan… they all come from no film background. You give these people film careers and they have a platform to stand on and that's the reverse of nepotism
And finally, the mic drop headline comment:
I'm done with Kangana playing the woman and victim card. I am done! You cannot be this victim every time and have a sad story to tell about how you've been terrorised by the bad world of the industry … leave it.
So, okay, I don't want to say I went into this episode with an open mind exactly.  Because I had read Karan's remarks before I watched it.  I wouldn't say I went into it prejudiced exactly either.  Maybe that I went into it with awareness.  Ultimately, this is about kindness and courtesy.  Not because you want something from someone else, or because of the "movie mafia", but because this is another person in the room with you and they deserve to be treated kindly.  Karan explained his reasoning, that she was his guest and he had to sit there and take it because she was his guest.  And he has let us know that even though in the moment he didn't show it clearly to the camera, her remarks were hurting him.
Karan couldn't show it as the host of his TV show which meant that, in that room at that moment, Kangana had all the power.  She could do whatever she wanted, and the 3 men with her would just sit back and let her, because they were gentlemen.  In all kinds of other rooms, of course, Kangana has no power.  And that's where her bitterness and comments came from.  But honestly, even in those other rooms, she must have gotten SOMETHING!  Because look at where she is!  If she really was as powerless and put upon as she claims, then how could she be the major star she is now?  So, yeah, I agree with Karan a little more than her.  You cannot be a victim over and over, as your career keeps shooting higher and higher.  At some point, it has to stop.
One final example before I get into this more.  Look at Jacqueline Fernandez!  She is as much an outsider as Kangana.  She had at least one (if not more) sad romances in her past in which the power dynamic was slanted towards the man.  Her career has lagged and lagged much more than Kangana's.  But she was delightful and cheerful and charming on her episode of Karan, showing by her attitude and comments that she was aware of the favor Karan was doing by having her own the show, and grateful for it.  And generally grateful for Karan's interest in her and courtesy towards her, which he offered for no particular reason besides just to be nice.
The same was true of Nargis Fakhri, of Frieda Pinto, of dozens of other outsider actresses that we have seen on Karan's couch.  Heck, how about the Dangal girls! No one can argue that they didn't get their chance on merit alone.  We don't get to see how he is with these actresses off the couch, but we can assume it is something similar, courteous and giving them a chance he doesn't have to offer.  If nothing else, we know he is kind and generous enough to arrange for them to appear on his show and get the inevitable career bump, not so trapped by nepotism to keep the Koffee Kouch for only his closest friends.
And now here is Kangana, who uses her opportunity on his show to insult him, and everything he believes in, to his face.  Maybe it is just social tone deafness, but it is a pretty extreme example of it.  Even if she isn't able to read faces and body language, couldn't she just think about the words that are coming out of her mouth?
It's not just Karan either who is showing by his body language and reaction that he is uncomfortable with what she is saying.  As almost always, Karan had two guests at once.  He likes that, because it keeps the conversational ball going, and it's fun chemistry.  But this time, not so much.  Saif was sitting on the very very edge of the couch the entire time.  And he spent most of it looking just physically ill at how this was going.  Over and over again, Kangana would come out with some clunker, and Saif would try to rephrase it, to soften the edges so the conversation could continue.  The poor man!  The poor poor man!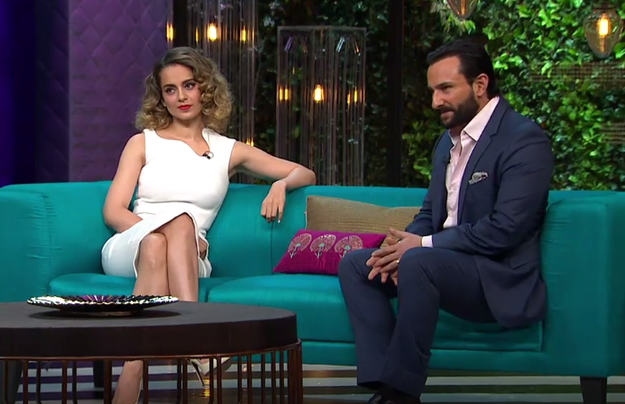 (Poor Saif!  A baby at home, and now this at work!)
It starts right from the beginning.  Karan gives Saif a soft intro about how he was the guest on Karan's very first taped show, back when they were making Kal Ho Na Ho, and there is some nice commentary about how long it has been and so on.  And then Kangana goes straight into the point she wants to make, how her first interaction with Karan was when he told Adi to turn her down for a role (I think.  She was talking very fast here, and sort of jumping around in the story, so I got confused).  And how Aditya has apologized to her now for the mistake he made.  And how meaningful that was.  Karan and Saif both try to move past this, the implication that Karan owes her an apology, Karan kind of jokingly saying that he is apologizing now, that he just did in her intro, and Saif backing him up.  But Kangana just smiles and doesn't engage.
And it just keeps going!  Karan asks some soft question about if Kangana has friends in the industry, the same kind of question he asks everybody.  It's a good one because it is so open, if you have an anecdote locked and loaded about anyone you know, this is your opening.  But Kangana doesn't go that way, instead she talks about how you can't "really" be friends with anyone in the industry, all those friendships are false (essentially).  Which, again, LISTEN TO YOURSELF!!!  You are sitting with a man who married his co-star, and another man who considers those he works with his family and his family are those he works with.  Saif jumps in to say something general about how he has had "lovely experiences" with friendships, and then moves into a sort of rambling commentary about traveling and being recognized.  It's clearly just a placeholder, something to say while the situation calms down.
Karan bounces the ball over to Saif and asks about the Taimur controversy.  Saif is ready for this, clearly something he wanted to say while he had this platform, and explains that they liked the name as a Persian name, they wanted something unusual because so many names had already been used at some point in both their families, they were aware of the historical Timur but their name was from the Persian tradition, not that one.  It's not the most riveting or convincing stuff, but it does the job of explaining his position, and clearly he had pre-arranged with Karan to ask this question so he could say his little piece.
And then Karan tosses the ball to Kangana to try to include her in the conversation.  And instantly she goes into this whole thing about negativity in the world today, and how there is so much hatred and so on and so on.  Which is depressing for a talk show, but also kind of takes the focus off of Saif and Taimur where it should belong.  And kind of puts it back on Kangana, you know?  Maybe she didn't mean it that way, but it sure feels like she is saying that the negativity poor baby Taimur suffered on the first day of his life, and his innocence in the matter, is equivalent to the experience of a movie star with bad press.  Really, Kangana?  You are LITERALLY as innocent as a newborn babe?  And as defenseless and as unfairly brought into controversies?  That's kind of a big statement to make.
Karan brings it back to Kangana for specific questions, asking her about Alia's comment as to how she always has such great airport looks but no one ever knows where she is going!  It's another good open question.  Talk about fashion, talk about plane travel, talk about your vacations, anything!  But instead, Kangana, goes back to how Alia only said that because Karan had asked her a leading question, it was Karan's fault for asking this thing.  All this while Karan just has to sit there and smile and shuffle through his cards and try to figure out what he can ask next that may save this disaster of a conversation.  And Saif continues to look like he might throw up.
The next question, finally, gives Kangana something she wants to talk about.  Karan asks if she feels she has lost out on something because of her refusal to be at awards shows and so on, if it affected her career by her absence?  It's an intelligent question, he's not talking about the value of the awards themselves, just the value of being talked about.
And Kangana gives a good answer, but one that I think kind of missed Karan's point.  In a telling way, the same way she is missing the point of this entire Koffee appearance.  Karan, I think, was asking if she felt she was missing out both on the public love for her, and on making those industry connections and fellow feeling.  And Kangana turned it right into money.  And "values".  She talked about how her "values" don't let her do ads for fairness creams, or other kinds of campaigns.  And her "values" don't let her do live shows.  But it pays off, because the few brands that do come to her are willing to pay 3 times as much. She didn't see what I think was Karan's question, about the "payment" she is getting in friendships with her fellow film people, and the "values" they are promoting of inclusion by presenting a united front.  The same way she seems to be missing the real value of this TV appearance, that it can serve to solidify her relationships with all sorts of people, as well as making the public fall more in love with her.  It's not just a platform for her to air her views.
(she did show up for her National Award.  In a really great dress!)
And her final comment of this period, a question about what she is like on set.  To which she says that if a set doesn't have creative conflict, it's not right.  There should be conflict.  She doesn't want a director who just tells her what to do, she wants to fight over it.  Which, firstly, explains why directors and co-stars have such a hard time with her!  And secondly, is yet again a MASSIVE insult to the man sitting opposite her, who has invited her onto his show.  Everyone knows that Karan's sets are full of good feeling and closeness and talking it out.  He doesn't fight, he discusses.  At the end of the shoot, everyone is closer than at the beginning.  So, Kangana is either saying that Karan isn't creative enough to fight.  Or that he is too egotistical to listen to someone else's opinion enough to fight with them.  This is just my opinion, but I don't think she sat there and planned to insult his working methods.  I think it was just a lack of awareness of how what she was saying was coming across.
It's more like it's just random words and thoughts coming out of her mouth with no thought as to the person listening to them.  She probably thought she did a wonderful job and they all had a great time.  And probably thinks that Karan's comments afterwards are more unfair clique-y meanness.  Because he didn't say anything at the time, and everyone on the show says stuff like that.
What's really interesting is that, if Kangana weren't on the show, the big story would be Saif.  During the shots round, when they have to take a shot of something (surely not alcohol.  Maybe cold coffee?) every time they've done something Karan lists, there is a debate whether two women kissing means they are gay, and whether two men kissing means they are gay.  Saif repeats multiple times that two women can kiss and not be gay, but if he ever kissed a man, he would be gay.  Karan doesn't let this go, he leaps in to clarify that sexuality is a continuum, people can be curious, can be questioning, and so on.  And Saif is not willing to agree.
But, see, they can understand each other.  At a level below the smiles and laughter for the camera.  Saif sees at a certain point that this is legitimately painful for Karan, and backs off.  And Karan sees that Saif is not going to be convinced right now on camera, and moves on.  I'm sure Karan talked to Kareena and she talked to Saif and this was not the end of it.  But they handled it as friends, both on the show in the moment and later.  They held back during the on camera segment because they were on camera, and that meant they both had to be polite, so it would be an unfair advantage for one of them to press the point since the other would have to give in for now.  And later, I am sure this is something that will be discussed and worked out in private, not through a public statement.
Meanwhile, Kangana is now relaxed enough to reach the big finish with her statements, to completely cross the line with no idea that she is even crossing it.  Karan asks her the name of the biopic question he always asks (I think because Kindle is sponsoring this season?), and she takes it and says that in her biopic, when she writes it one day, Karan will be the villain.  The flag-waver for nepotism, the movie mafia, snooty.  Karan kind of jokes and says that's okay, so long as it is just for book sales.  And Kangana doesn't quite join in the joke, like she doesn't get it that Karan is asking her to back-off, just like he had just indicated to Saif.  That this is something which matters to him, which hurts him, and she needs to say for now, while the cameras are on, that it would be just for sales and she really loves him.  And then they can talk about it later, off camera.  But, she doesn't back off and make nice in front of the public.  And so he isn't doing it either, she brought it out on camera first, and he is just following her lead.
And then we end with a few minutes of Shahid, and everyone breathes a sigh of relief.  It really makes you see how painful the rest of the episode was to see how much easier it is once Shahid shows up.  Now Karan has two people who know how to have a conversation to help him out.  And Saif has someone to help him on the Kangana patrol.  And it is a patrol!  Oh my goodness!
The whole reason they are on this show is to plug Rangoon.  And it is hugely gracious of Karan to help them out this way.  And Shahid seems aware of that as soon as he comes out, much more relaxed and open even than he was on his own episode.  He sits in his own chair, by the way.  Everyone else can sit 3 on a couch on Koffee, Saif and Shahid and Kangana can't stand to be that close to each other.  Or at least not with Kangana, Saif and Shahid seem fine.  There is a little back and forth and talk about filming, and then Karan jumps into how he has heard there are some very sensuous scenes in Rangoon, can you talk about that?  And Kangana takes offense!  That he is reducing their Art to just sexy scenes!
(See the nice 3 feet gap everyone keeps around Kangana?)
KANGANA!!!!  HE IS TRYING TO SELL YOUR MOVIE!!!!  IT'S NOT ABOUT YOU!  It's not about her in ANY WAY!!!  He isn't saying she is a bad actress or just a sex symbol, he is talking about all three of them just now.  And he is talking about them in context of their film and scenes in their film.  And he is doing it to get people to buy tickets!  That's it!
Shahid gets it right away and jumps in as soon as Kangana finishes defending herself.  He helps Karan to get her un-offended by talking about the different kinds of sensuousness and how it is part of their characters and so on and so on.  And, finally, with an almost visible sigh of relief, Karan ends with a blatant Rangoon plug and washes his hands of all 3 of them.
You know Tejaswini Ganti?  Who wrote Bollywood: A Guidebook?  She wrote that in the middle of a massive research period.  And the final result of all the research was a huge academic text called Producing Bollywood.  She did two major research trips, each of them involving almost a year spent interviewing people and observing film sets, and then turned it into this amazing book.  Now, I promise I am going to tie this back to Kangana.
(It's a great book, even though she hides some of the names so you have to guess who she is talking about)
Ganti tells a story about an acquaintance who helped her out on her first research trip back when she was a young grad student.  He was an aspiring filmmaker, he helped her get into studios and onto sets.  And then Ganti just sort of talked to people, the dressman and the lowly ADs.  They gave her a job as a continuity person, she had her notebook and wrote down who was wearing what.  They didn't pay her, but they let her hang out on set all day and take notes.  And eventually the director noticed her, and then the actors.  And she sort of got to know people.
Several years later she came back for another research trip, she had stayed in touch with some people from the first trip and was able to get back into the studios and work towards some big interviews.  She was curious about Yash Raj, so she asked one of her contacts to her get in touch with Pamela Chopra because she wanted to get her perspective.  She spent hours interviewing Pamela (and the interview is fascinating).  And then Pamela suggested she talk with her son Aditya, and so she got the call to interview Aditya (the biggest possible "get" in Hindi film journalism).
Now, she met up with that earlier acquaintance again.  And he complained about how his career was still going no where, it was all about who you knew, it wasn't fair.  And he couldn't believe it when he found out that she was interviewing Aditya.
Now, see, here is an objective example.  Ganti did nothing that relied on connections or nepotism.  And at the "start", she had even fewer connections than this acquaintance.  He had to help her out.  But then she took time to build relationships and get to know people.  She was sincerely interested in all of them.  And, eventually, it paid off.  Not because she "cheated", but because she used a skill she had to help her out, the skill of making nice conversations and building friendships.
And I think that is what Kangana is missing here.  Where she sees unfairness and nepotism, based on how this televised interaction went, I think it is just a basic lack of social skills.  And not like "oooo, she used the wrong fork!" social skills (again, see Jacqueline!).  But awareness of how your words are affecting others and the price you pay for that in loss of friendship.