That isn't really a fair title, it isn't exactly Ghajini.  It is a lot more than that, taking all of the "serious" versions of memory disorder films and making them into a joke.
Nani is so great.  He is so willing to make a fool of himself, and he does it so well!  There is no hesitation, no effort to make himself into a "hero" for the audience, he just wants to entertain and serve the plot.  And at the same time, he does the work of a real "hero" in a film, easily carries the whole thing on his shoulders, pulls us into the plot and makes it work for us.
He is also very very good at picking films.  At least from the little I have seen.  Everything I have seen him in, Eega to Ninnu Kori, works very well for his particular talents. Too well sometimes, Ninnu Kori ended up being a bit of a sad ending for me just because he was so clearly more interesting than the other hero.  So watching a Nani movie means you will get a great performance, you will get a good script, and you will get an actor who is able to show both of those in the best possible light.
In particular with this movie and Krishna Gaadi Veera Prema Gaadha , Nani is poking good-natured fun at the kind of hero and kind of movie that other actors specialize in.  The noble saintly hero, the evil rival, the authoritarian father, and so on and so on.  Only it is all slightly slanted, a bit kooky, just enough to reveal the insanity behind even the "normal" version of these stories.  What hero is that perfect?  What father that firm, what rival that evil?  No, makes much more sense when it is consciously crazy, when it is saying "this world is false and so are these people and aren't we silly for believing in them"?
What makes it really fun is that the same actors playing the spoofy version are the ones who play the "serious" version in other films!  If you wanted to see Ajay in a slightly larger role and a slightly lighter role than he usually gets, this is the film for you!  Same with Murli Sharma.  Oh, and then there's our heroine.  She's fine, didn't really jump out at me, Lavanya Tripathi.  Of course, she also has to struggle a bit because she is the one being fooled, not the one doing the fooling, which makes her role a lot less interesting.
Everything else is the same "normal" but bigger sort of thing.  The songs are the same love songs we would always get, but put in this odd world.  The love story is the same, the general outline and complications and so on.  The first meeting is straight out of Ghajini, probably not a coincidence, and I am sure there are other references I missed to other films.
But mostly what makes it soar is the plot, the incredibly simple set-up and the many many complications that layer on top of it.  A less ambitious film would have been happy with just one of these ideas, but this film was shooting for the stars, idea after idea gets stacked on top of each other, and Nani neatly juggles them all.
SPOILERS SPOILERS SPOILERS SPOILERS SPOILERS SPOILERS SPOILERS SPOILERS SPOILERS
We open with a classic opening.  A dying old man, who wants to make peace with his son before he goes.  A young grandson who ties together the two older generations.  Or, does he?  No, he doesn't.  Young Nani gets distracted and forgets to deliver the message, making the grandfather unable to clear his conscience.  Only the whole thing is filmed in bright colors with quick editing and slightly over the top acting.  It is all a joke, all of life and tragedy and everything is a grand joke.  People can be distracted by a shiny object from the most important thing in the world.
That's what the whole film is about.  Our hero is a charming intelligent fellow, but he cannot keep his mind on one thing for more than 5 minutes, he is constantly distracted.  Not in a medically clear way, like in Ghajini with the complete erasure every few minutes, but just like humans are only more so.  You are on the way to an important appointment, and you run into a friend and start talking, and forget.  No huge tragedy or need for medical explanation, it's just human nature but more so.
And our hero is a little too human to be a hero, but also more human in other ways.  That's his introduction, Murli Sharma is looking at photos for his daughter and picks Nani out because he "looks like a hero".  But then he tries to arrange a meeting and Nani is very unheroic.  That is, very unfocused.  A nice enough fellow, but if he runs into a friend on the way to meeting a potential father-in-law, he will sit and talk with him for 4 hours and completely forget the original purpose of the meeting.  Nani is handsome and charming and brave and all of these heroic things, but instead of using those skills to defeat evil and so on and so on, he is using them to hide his own weaknesses.
He has the perfect magical meeting with the heroine, just like in Ghajini, she is helping children cross the road while he is stuck in traffic.  And then he pursues her, completely forgetting that he is supposed to be on the way to donate blood to his sick boss.  And donates blood anyway, just because he follows her to the hospital, but accidentally donates it to the wrong patient.
Lavanya sees this as saintly, he donated to her young dance student, a total stranger, and didn't even care enough to give his name.  She falls in love with his forgetfulness, in a way.  The way he does good things and then moves on without thinking any more of them.  Of course, she doesn't realize that he doesn't think any more about anything he does, he isn't capable of it.
Throughout their romance, she keeps seeing the "hero" in him and he keeps playing that up.  Brings a fake little brother to take her dance classes, and when he is identified as a beggar, declares that he just wanted to help the beggar learn to dance.  Accidentally drops his keys in a beggar's bowl, and accepts her interpretation that he gave his motorcycle to a beggar.  Forgets to wear shoes, and tells her that he gave them away to a poor old man.
It reaches the culmination in the sequence when he plans to go to her house on her birthday to declare his love, but instead ends up being there to see her sister-in-law in labor and rush her to the hospital.  With many accidental twists and turns as he gets lost, forgets where he is going, gets distracted by conversation, and so on and so on.  To Lavanya, this is an amazing heroic action.  To him, it is something he barely pulled off.  On the other hand, at least his intentions were good in this case.  He did want to get her to the hospital, want to help her.  And he managed to overcome all the obstacles, including those of his own mind, to make it happen.  He may not be quite the hero that Lavanya sees him as, but he also isn't completely not a hero.
Ajay is the opposite.  He starts out appearing heroic, perfect, and so on and so on.  A hero cop, mature and competent and excellent marriage material.  We can see why Lavanya's father Murli thinks he is a good prospect.  But that same night that Nani reveals once and for all that at heart he is good, Ajay reveals he is bad.  Lavanya is mistakenly arrested as a prostitute, and Ajay shows up to free her and declare that she is his "wife-to-be" and force an apology from the arresting officer.  It all appears very noble and wonderful.  Until Lavanya and her father leave, and Ajay pays off the arresting officer and casually declares that that should fix it, she will learn to appreciate him and agree to be married.  Ajay can do what he set out to do, has no human errors, but his intentions and what he sets out to do are bad.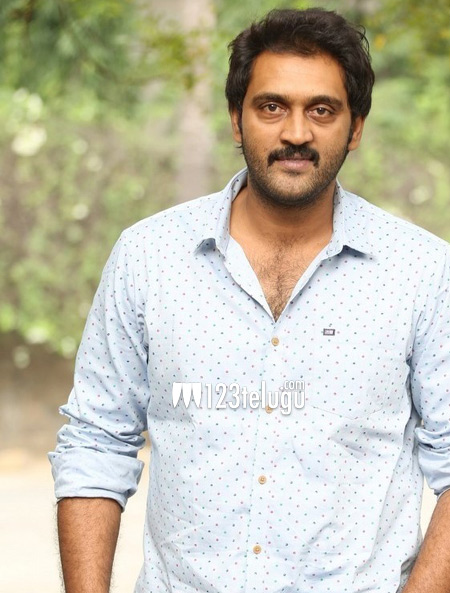 (Ajay, you've seen him in stuff)
This would be enough plot for most movies.  Our forgetful hero playing tricks to hide his problem while romancing the heroine, that's almost enough plot for 3 hours.  Add on a rival who is playing his own tricks, throw in a fight scene, and you could be done.  But no!  There's more!  See, in order to avoid an engagement to Ajay, Lavanya declares she is in love and her father, being a reasonable man, goes off to meet the family of the man she loves.  Only, he hates Nani, because of the original failed engagement, so rather than reveal Nani as the potential groom, his family lies that he is just a relative and the real groom is his friend from work.  And so we have yet another plot!  Nani making it appear to Lavanya that he is the groom, while the rest of her family thinks it is the other man.  And trying to avoid and explain away suspicions when he and Lavanya are caught together.
All of this is delightful, but what makes the movie really worthwhile is the final twist.  Murli eventually figures out everything, breaks the engagement, and Lavanya ends up being kidnapped by Ajay.  At which point Murli calmly goes to Nani's house and tells him he has known everything almost from the first.  He knew Nani was in love with Lavanya, and he knew Nani was struggling with his memory lapses.  He waited to see what would happen, and now this is the final test.  Can Nani manage to rescue Lavanya without getting distracted?  If so, it will prove that he is capable of being her husband and taking care of her.
This is so brilliant!  First, that Murli wasn't the ridiculous blind and over-protective father, he was playing that role, in fact he was reasonable and understanding and wanted his daughter to marry the man she loved, so long as that man could take care of her.  And second, that he is a whole different kind of ridiculous, setting up a very filmi kind of challenge for our hero, can he rescue the heroine from kidnapping?  The challenge is ridiculous, and so is the expectation that Nani can carry it out.  The assumption is that his memory lapses are the only reason he couldn't.  Otherwise, obviously, true love will win out and he will be able to beat up all kinds of people, find the hiding place, rescue her, and so on and so on.  It's kind of a joke the characters are sharing with the audience, we are all part of this artificial world with strange standards, like the characters we fully believe that Nani can do all this because he is the hero after all, so long as he can overcome his other issues.
And he does it!  After a brief faint in the direction of failure when he seems to forget what he is doing, but in fact it was just to trick the henchmen.  After a whole movie of him playing the hero to hide his infirmity, now he is using his infirmity to hide his heroism.
That's the point, the whole thing is just poses.  There is no "hero", there is no "villain", it is all in how it is presented, in what we see of it, in what we remember of it.  That's what makes it so funny, this film, and all films once you stop to think about it.
(Also, the songs are hilarious.  The over the top saintly classical song for early in their love story, and he over the top fantasy sexy song for later)