This is the second part of the story that always happens.  After the twitter messages, the personal visits start, and the stories of people comforting or helping directly.  And then tomorrow (probably) will be the final story, the funeral and wake.  At which we will see what public statements are made by who attends and how.  Well, not quite the final story.  It doesn't end with the funeral.  These bonds we are seeing now aren't just for show, they will be followed up by serious commitments and lifelong support in Sridevi's memory for the people she left behind.
More logistical details of Sridevi's death and her family are beginning to come out and they are, frankly, heartbreaking!
The whole family had come together for this wedding in Dubai, and then scattered back to their various filming responsibilities.  The Kapoors are an extremely hardworking family, a virtue which turned into a curse in this case.  Almost no one was actually in Bombay.  No one except for 21 year old Jhanvi, who had conscientiously skipped the Dubai celebrations in order to work on her debut film.
While Jhanvi heard the news of her mother alone in Bombay, her father and sister were in Dubai.  Her uncle Anil and cousin Sonam were shooting for their film in Chandigarh, and her brother Arjun was in Amritsar.  Jhanvi was alone in the family apartment.  Can you imagine?  Getting a call in the middle of the night that your mother has died, your father will not be home for days, and you are all alone in the home that used to be shared with your family?
So, Jhanvi did what I think we would all wish we could do in dark and lonely times, she called Karan Johar!  And Karan immediately went to her and helped her leave the house and go to her uncle Anil Kapoor's house where (presumably) her aunt Sunita was at least at home.  Karan has been there ever since, and called over Manish Malhotra to join him in keeping vigil.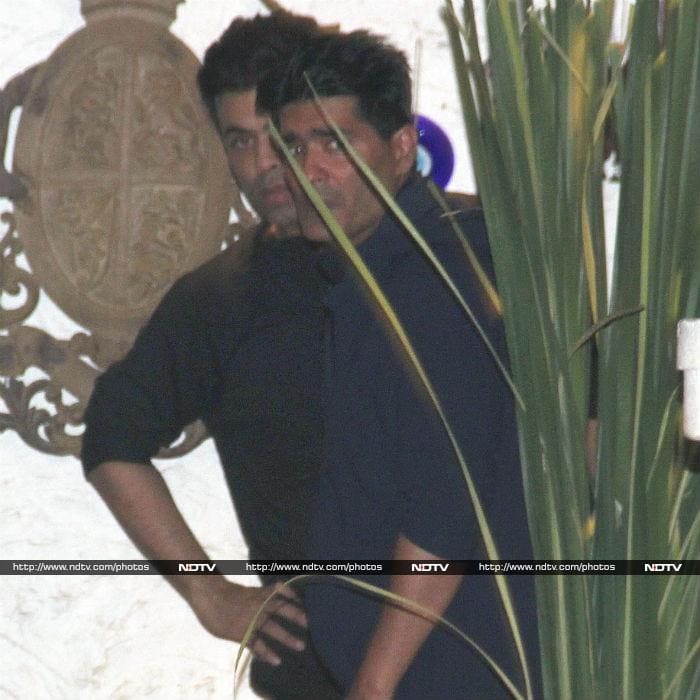 Always seen visiting, along with Neelam Aseem (mother of Janhvi's co-star in her first film) were choreographer Vaibhavi Merchant, and Rani Mukherjee, and Rekha.  It's an interesting combination of people.  Vaibhavi I assume is someone who has a real connection with the family.  Because there is no obvious reason for her to be there, no film they are working on together or anything like that, but at the same time she has been working in the industry for so long and in such a variety of ways, I could easily believe that she formed a bond with either Jhanvi or Sridevi in some way.
Rani Mukherjee felt like someone who was there partly as her own person and partly as a representative.  The Chopra family has a long connection to the Kapoors and Sridevi, and Yash Raj is the leading studio.  Rani had to make an appearance right away to let them know that her family, and her studio, would be standing by.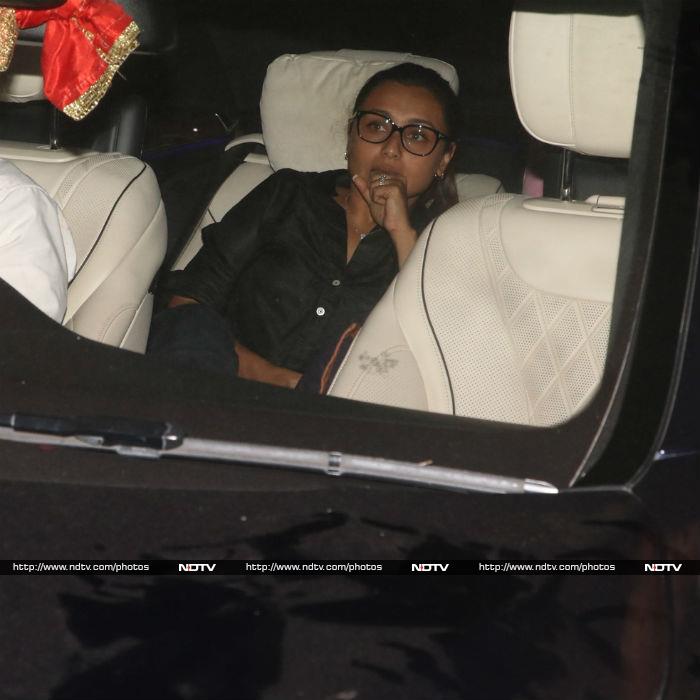 And then there's Rekha.  Who (so far as I know) never acted with Sridevi.  But they shared a unique bond of experience.  Both from the south, both came to Hindi films and became superstars.  Both came to have very private lives in recent years.  Rekha isn't someone who usually makes these visits of condolences, but I can see why in this case she wanted to make an exception.
And finally, Arjun Kapoor.  The biggest question mark in all this.  He was one of the first of the family to arrive and went directly to Anil Kapoor's house to see his sister.  So Jhanvi is now with Karan Johar, Manish Malhotra, her brother, her aunt, and various other family members.  Anil Kapoor and Sonam landed after Arjun (I believe) and went directly to her, while Sanjay Kapoor flew back to Dubai to help his brother Boney with the logistics of bringing Sridevi back home.
Meanwhile, in Dubai, there was an issue in getting the body released from autopsy so it could be flown home.  This is what has delayed Boney and Khushi from returning.  In order to better facilitate travel once it is released, Anil Ambani has sent his private jet to whisk them back to Bombay immediately.  Anil's wife Tina Ambani, back when she was an actress, was friendly with Sridevi and they are now bound by marriage, the family wedding in Dubai was between Tina's niece and Boney's nephew.
And so, as sometimes happens, this tragedy comes with the blessing of confirming and strengthening existing ties and building new ones.  Karan Johar, it is clear, will from now on be a 3rd parent for Jhanvi just as he is for Alia Bhatt.  You don't stay with a girl for 24 hours while she grieves her mother without forming the kind of bond that never ends.  Rani Mukherjee, Vaibhavi Merchant, Rekha, Neelam Aseem, they all bring a promise that Janhvi will have a variety of supporters big and small in the industry in her future life.  And Arjun Kapoor, who said of his relationship with her "We don't really meet and spend time together, so it doesn't really exist" is there too.  Clearly a relationship does exist, at least now.
None of these relationships, of course, will replace the mother Jhanvi and Khushi have lost.  But it is always nice to know that there are people out there who love you.