Welcome back!  The last post focused on an overview of celebrity media from the big picture perspective, how the fans and media found each other and grew.  Now, let's shift to looking at what this is like for the Stars and bringing it through to today where media and Stars have come together and turned into one entity
Disclaimer: I have no particular knowledge, this is all based on publicly available information and my own conclusions.  You can feel free to disagree!
In my last post I talked about the evolution of the media which took film stars from totally unknown in their personal lives, to having a crafted perfect media image, to being torn down by the gossip media looking for crazy scandals, to the new era in which media is never ending, the internet demands constant celebrity content.
But, what does this mean for the people being covered by the media?  Let's talk about it based on a sampling of weddings, one of the biggest events in Indian society and for celebrities too.
Starting with Raj Kapoor.  Raj was married after his first movie had come out, and he was the son of Prithviraj Kapoor, and marrying the sister of Prem Nath who was already a famous actor and married to a famous actress Bina Rai.  Today, this wedding would merit constant coverage with updates every few minutes.  In 1946, it merited one tiny paragraph in the proto-film magazine, FilmIndia (which was put together and published by one dedicated author, and included Hollywood and Indian content).
Raj Kapoor, the talented and versatile son of Prithviraj Kapoor ended his career of wild oats by marrying Miss Krishna Khanna in the second week of may in Rewa and like millions of others in his country, will now settle down to a quiet domestic life, contributing substantially to the population of his nation.  We hope the new Kapoors arrive in twins.
It's pleasant, it's cheeky, it's personal.  Filmindia was based in Bombay and its single editor and writer was a well known local figure.  The circulation at it's highest was 32,000, which is respectable, but not really comparable to FilmFare's estimated 170,000, or CineBlitz's 184,000.  This was the era when the film news was really for the insiders, the stars and the reporters (well, reporter, just the one) were all friends, and the tiny audience for this news felt like they were friends of them as well.
Raj Kapoor got married and the community who cared about him, that little club of insiders, heard about it.  But no photos, no intimate coverage, just a calm announcement of what happened.  The same sort of announcement you might find in a hometown paper.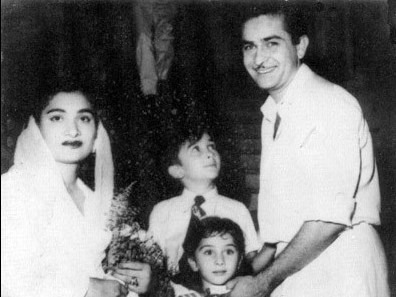 (Can't find a photo of the wedding, but here they are a few years later.  Isn't Krishna pretty?)
What I find really interesting is that the announcement is also strangely impersonal.  Raj is described as "ending his career of wild oats".  He was only 21, it was hardly a career.  And Krishna was only described as "Miss Krishna Khanna", no mention that she was the sister of Prem Nath, or had a distant family relationship to Raj before marriage.  It's just bad reporting, the names are put in and some general comments, but nothing really specific.
And now let's look at Dilip Kumar and Saira Banu.  Dilip was Raj Kapoor's best friend, married 20 years later, and when he was a much much bigger star.  The media were very much part of this event.  In fact, they helped inspire it.  Dilip and Saira were in love and engaged, and all of India was in love with them.  Reporters followed them everywhere they went, looking for photos.  It wasn't anything they were used to before, usually they could go about their lives with only minimal notice from the press.  And so, to end the madness, Dilip and Saira decided to move up the wedding and just get married as soon as possible.
The reporters were there at the wedding yes, but so was everyone else in the industry.  It was a big wonderful joyous event, every major figure was there.  Raj Kapoor arrived on his knees, following up on a promise he had made to crawl to Dilip's wedding if he ever got married, but a promise made in a media interview, not to Dilip.  Didn't matter, saying it to the newspapers was the same as saying it to a friend.  Nasir Hussain, a director and another guest, took his unit to the wedding to stand on top a van and photograph the events for posterity, essentially volunteering to be media for the day.  And outside, thousands of fans and reporters gathered and eventually friends of the groom arranged for food from nearby restaurants, so all of them could be fed.  Rather than trying to keep them out, to make a difference between media, fans, and guests, they were all brought in to become the same, all guests on this wonderful day.
In this era you didn't "handle" the media, or worry about them, because there was no "them" and "us".  Dilip's younger sister worked for FilmFare, popular director KA Abbas got his start as a film reviewer, everyone mixed in together.  Dilip's complaint about the media was simply that they were overly excited about his engagement, not that they had any malice towards him.
And now let us leap forward all the way to the 90s.  I could pick any wedding from this era, but I will randomly pick Kajol's.  We have a few photos of her wedding circulating, but not news photos.  These are clearly personal images from inside the event.  It was a small wedding, took place on the terrace of Ajay Devgan's family home.  There was no mob outside the building, no news photographers waiting, no nothing.  Because now the press were very much not invited guests, but they were also very much expected gatecrashers.  If you wanted a private happy wedding, you made it truly private, you did it at home without many famous guests and you flew under the radar.
Picking another one at random, let's look at Karisma Kapoor a few years later in 2003.  It was not a quiet private family affair.  It was a Kapoor wedding, it was an event, everyone even vaguely connected to the industry attended.  But at the time, the only part of the affair open to the public was when the family went outside to wave to the media and be photographed.  It wasn't an unfriendly interaction, but it wasn't intimate.  The media were outsiders to be placated with a few photos but not allowed into the inner sanctum.
And then, finally, the biggie, Aishwarya and Abhishek.  Which was a complete disaster.  They somehow wanted both big and small, private and public, at the same time.  The invites were out, the press knew it was happening (unlike various other last minute weddings which went almost unnoticed).  And this was a very big wedding, famous model Aishwarya Rai with a scandalous personal life marrying Amitabh Bachchan's son.
The media was hardly an element for Raj Kapoor's wedding, it was an invited guest for Dilip Kumar, and had become an awkward friend to avoid by keeping your wedding secret for Kajol, and for Karishma it was a distant acquaintance that could be placated by a friendly greeting.  But for Aish and Abhi, the media was The Enemy, something standing in the way of their Dream Wedding.
Ajay Devgan went to his wedding by stepping out onto the terrace of his apartment, got married, and went back inside.  Abhishek rode a horse down the street.  They invited everyone from Anil Ambani to Sanjay Dutt, but didn't plan on how to control the crowds outside the venue.  In the end, the police had to do a lathi charge at the crowds.  Very different from Dilip Kumar providing food for them.
(You can't do this, and then get angry when people pay attention to you.)
Abhishek and Aish's wedding was a symbol of the lowest point of media/star relationship in India.  The Internet had brought in a constant need for content, and helped with access.  News traveled at the speed of light, and so did the reporters and fans who followed it.  You could run, you could try to hide, and it would just make it worse.  The media was everywhere, and more importantly, it was everyone.
In a way it was a return to the early years of film, when the media was immersed in the Bombay film community and the Bombay film community was immersed in the greater Bombay community.  Only now reversed, instead of the film media being tiny (just the one guy), now it was the film stars buried in a sea of media, and instead of the film stars being integrated into the larger society (college kids who read Filmindia were also going to college with the children of stars), now it was the media which was intertwined with a larger sea of the greater population.
The internet media lead to a building of a community even before the growth of Facebook and Twitter and Instagram and other "social" medias.  Comments sections, chat rooms, listserves, just the ability of email to rapidly spread news, it all lead to a new bond between content creators and readers.  You would read a story, then comment on that story and become part of it, or write it up yourself and repeat it to your other online communities, or just email a link around to everyone you knew.  Suddenly you had ownership of this story, you had a commitment to it.  And when you saw Abhishek riding a white horse, or celebrities arriving at Aishwarya's house, you related to the people being held back by the police because you were anxiously waiting for them to post their stories or pictures, so you could repeat them and send them around to all your friends.
When Ranbir Kapoor stole a photographer's phone, or stars threatened to run down the paparazzi outside crowded parties, the public more and more took the side of the media rather than the star.  Famous people were remote, privileged, out of touch.  While the media was our friend, the clever person who made us laugh and responded to our comments, who we had helped make famous by publicizing them, we liked them and wanted them to succeed.  We don't like the famous people any more.
(He and Ayan were going to dinner, reporter/photographer was following them, Ranbir called him over and asked to see his phone and then drove off with it)
Slowly slowly, social media started a shift.  Amitabh Bachchan, who had spent years boycotting the press, fell hard for Facebook and Twitter, it allowed him to communicate directly with his followers, helped him create what he calls his "EF" (extended family).  The other stars joined in, posting their lives online for all to see, slowly wooing us back to them and away from our other crowd of Pinkvilla and Redditt and so on.
But there was a problem.  How do you let people into your life without really really letting them in?  That perfectly constructed star identity that controlled every story, can you let go of it by just being "real"?  Social media just became a new place to create a star identity.  There was still a line, and people could tell.  Ranveer Singh could post videos of himself dancing in traffic, Priyanka could post selfies from her film sets, Varun could post messages to fans, but what were they like in real life?  When the cameras were completely off?
This came up on an episode of Koffee with Karan last year, a discussion between Karan and his guests (all top celebrities) of how parties aren't parties any more, they are opportunities to take and post selfies and then leave.  Stars have become their own publicists.  They can't just live life any more, they have to document it.
And that is what was exciting about Sonam's wedding.  The cameras were never turned off, but no one was thinking about them.  People were at a party, enjoying themselves, and they didn't have anything to hide from the world.  There was no "us" and "them", there was no fear, or embarrassment, or calculation, it was just joyful and easy.
Hopefully this is the future.  A strange sort of return to Dilip Kumar's wedding when the fans and media were given food and made part of the celebration.  Now, we are offered photos and videos, invited in again, to feel that these celebrities see us as friends instead of enemies.