Yes, that is a click bait title.  I'm not even sorry.  Because, it's true!  It did really terrible box office, for a major release, especially compared with the other films that are in week 3 and 6.  (as always, figures from bollywoodhungama courtesy of renttrack)
Race 3 released on 284 screens in America, about the same as Sultan and slightly less than Tiger Zinda Hai.  And just like Sultan and Tiger, it made around $4,500 per screen.  That's not nothing, that's probably more than any Hollywood film is doing.  But Bajrangi Bhaijaan made far more than that on far fewer screens.  $4,000 is kind of the lowest acceptable amount for opening weekend for a Khan film, and both Salman and Shahrukh have been hitting no more than that for the past few years.  Salman considerably less with Tubelight, only around $2,000 per screen.  While Shahrukh never dropped below that, at least not in overseas opening weekend.  Second weekend, big big drops, but opening weekend is still around $4,000.
(Yes, even Jab Harry Met Sejal did decent business overseas opening weekend)
That's America, but the story around the world is about the same for Race 3.  $5,000 per screen in Canada, which is pretty pitiful for Canada Land of Expensive Movie Tickets.  $8,845 in Australia which would be impressive if other films weren't pulling in double figure thousands.  Same in New Zealand, around $9,000 which is less impressive compared to what other movies are doing.
In all of this there are two real outliers: the UK and Germany.  $5,000 per screen in the UK which is BIG BIG money for the UK.  And $1,700 per screen in Germany which is almost unheard of.
I think there's probably a real simple explanation for this.  Both the UK and Germany have a large Muslim population, which is still not big enough for there to be a lot of Eid options, and this was a holiday release.  Not like they all went "oooo, I love Salman and therefore want to celebrate Eid with him", more just "It's a holiday and this is the biggest movie that is playing and a nice way to celebrate".  Meanwhile in places with smaller Muslim populations (like Canada) or places with more variety in how to celebrate (like America, where a big new Telugu film released and a bunch of other Hindi films were still playing), there was less of a holiday bump.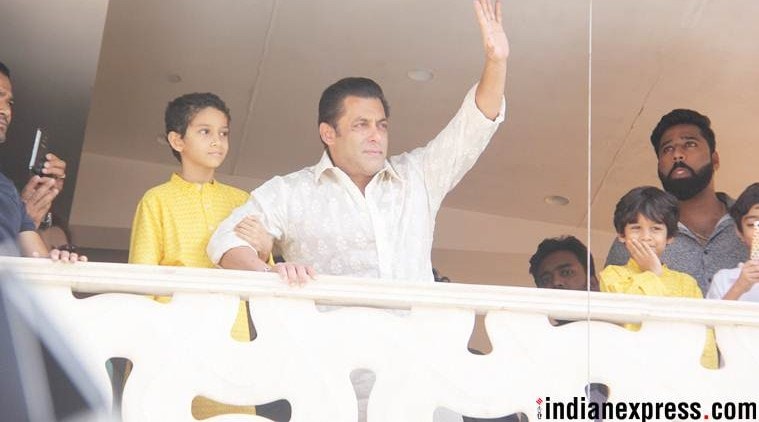 (Salman, of course, spent Eid with his family)
But the bigger question is what is going on with the box office for Salman in general.  There's the Eid bump, that was certainly present at the theater I was in, people all dressed up and in a holiday mood.  And there's the general Salman bump, he is still popular with the audience and a big name to help with promotions.  But the movie itself just couldn't live up to that.  I saw it opening night and it was sold out in a theater that never sells out.  Alicia reported when she went to the theater late on Saturday, there was a line waiting to get in.  So it's selling out, at least in the evening shows in some theaters in the first two days.  But these overall box office figures are telling me that it's not selling out the daytime shows, or the Sunday shows.  Or else that theater owners are straight up lying about box office figures, but that is pretty unlikely in America with the way distributors work.  So what I am left with is that Salman can still really really open a movie, but doesn't have the staying power even into day 3.
If my theater were only part full on Friday, then I would say $4,000 is probably a stable figure for every show.  But since it was completely sold out, and this was at the non-Indian theater that doesn't ever sell out for Indian films, then I would guess over all something closer to $10,000 per screen for opening night.  Holiday bump, Salman bump, all of that combined.  And Alicia saw something similar at a more desi theater on Saturday night.  So to drop down to $4,000 per screen means there has to have been a really massive fall between Friday and Sunday.  I would guess all theaters sold out Friday, desi theaters doing decent business Saturday for the die hard fans, and then nothing selling anywhere on Sunday.
This is a gentler version of the fall we saw with some of the Telugu films, literally record breaking opening nights, empty theaters by night two.  It's not quite there, more like a good opening and then half full theaters, not the completely stunning turn around.  But it's the same overall trend, a big push towards a big opening followed by a rapid decline.
It's also part of the trend in Telugu films and Hindi films where the star power just can't drive the box office the way it used to.  Or maybe it never did really drive the box office that way, it was just an illusion.  If you look at the heyday of valuable star films, per screen not just the total box office that is artificially inflated by screen count, they are twice as big, or even 3 times as big as what Race 3 did.  Chennai Express, 3 Idiots, Dabangg, Bajrangi Bhaijaan, these were movies that got people in the door thanks to the names on the posters, but kept them coming back because they were high quality.
(Yes, even Chennai Express.  That is a great soundtrack, memorable dialogue, and two good central performances surrounded by experienced character actors)
The star names used to be a guarantee of a certain level of quality.  Sure, maybe the plot was still ridiculous, but the dialogue would be fun with lots of one liners, the songs would be spectacular, the rest of the cast would be mindblowing, and there would be that certain extra level of charisma that only a major star can bring.
And now we have Race 3.  There's Salman, and surrounding him are a bunch of has-beens and never-weres (cruel, but true).  The soundtrack is a joke, truly terrible music.  Matched by equally terrible visuals.  There is not one line of dialogue I can remember.  And that is on top of one of the most ridiculous plots I have ever seen.
Race 3 is the culmination of a long slide for Salman.  I keep going back to Bajrangi Bhaijaan because it is the last time I can remember a truly great Salman film.  Great role for him, great story, great dialogue, great songs, great cast, everything falling into place.  And then Sultan was enjoyable, but just not quite as good.  I don't find myself listening to the soundtrack over and over again, or referring back to the song videos.  I remember enjoying the dialogue at the time, but can't remember it now.  Same with everything really, performances were good and so on and so on, but they didn't leave any impression.  Prem Ratan Dhan Payo was good, but no where near as good as his previous Sooraj Barjatya films.  That's what I thought at the first, and then thought "no, that's just nostalgia", but then I rewatched them and even Hum Saath Saath Hain has something PRDP is just missing.  Tubelight was a disaster in every way.  Okay, the soundtrack was decent.  But everything else was terrible.  Tiger Zinda Hai was a good movie, but it wasn't what I think of as a "star" movie, only two songs and none of the sort of fun over the topness that a big star film used to promise.
(I listen to this song at least once a week.  I can't remember the last time I listened to a song from Sultan or PRDP)
And now we have Race 3.  Unlike Tiger Zinda Hai or Tubelight, Race 3 had the possibility of being a big star film.  It wasn't some serious geopolitical drama semi based on a true story.  It was big and fun and silly with lots of space for great songs and great star entries and great one lines.  And it just wasn't there.
Race 3 is doing much much much much better than Tubelight, which tells me that the audience right now wants that old-fashioned big star film again.  But it is not doing as well as Bajrangi Bhaijaan, which is telling me that the audience didn't feel they found that big star film in this.
So, where are they finding it?  Let us turn our eyes to Veere Di Wedding in week 3 and Raazi in week 6.  Veere is making $2,250 per screen in America, Raazi is making $1,250 in week 6.  I don't think Sultan was even in theaters in week 6 and I doubt that Race 3 will be either.  Veere and Raazi, the female lead films, are the ones giving the audience what they want.
Alia and the Veere gang are in the perfect place to do that.  They are young and hungry and they want to be considered superstars, just like they men are.  So they are going to pick big fun crowdpleasing scripts, not the more artistic female lead things that the last generation of female stars went for.  No Piku, no Pari, nothing that would be off-putting or unwelcoming.  And they are going to give it their all, the best songs and the best performances and the best acting.
(I love Piku, but it's not the big fun star lead film you want to see with your family on Eid)
At the same time, thanks to the slow slide of the male stars (not just the 3 Khans, but Ranbir and Varun and Shahid and everyone else), the female stars have been shining brighter and brighter, bright enough to actually be noticed.  Alia's name can bring in an audience now.  Not as much as Salman's, but more than an actress used to be able to do.  And so the audience is beginning to learn that if they want that well-made fun kind of a film, it is a better bet to look to the female stars than male.  And the female stars are paying off that trust by bringing more consistent all around crowd pleasers than the male stars.  I'll be watching closely how this develops, if Gully Boy is promoted on Alia's name as much as Ranveer's, if The Zoya Factor gets a slightly larger release than expected.  And if Dabangg 3 gets a smaller one.