I don't have much to say about this, because Rajan was a Delhi businessman, not a movie person.  But I am irritated that it is being reported incorrectly in all the press, his Kapoor connection ignored in favor of his Bachchan one, and that is forcing me to write a post.
Rajan Nanda's father and uncle had founded the "Escort Group", originally a bus company out of Jammu (in the northeastern territory of Kashmir), it developed into a company that designed and manufactured large equipment.  Their headquarters are located in Faridabad, about an hour outside of Delhi.
Ritu Kapoor is Raj Kapoor's oldest daughter, and second child.  She and her older brother Randhir and younger brother Rishi formed a tight group growing up, with the other children of the family Rima and Rajiv being born much later.  The 3 oldest were raised while Raj's fame and creativity were at their height, they barely saw their father as he rushed film set to film set in pursuit of his vision.  Ritu and Randhir and Rishi were made part of that vision when they played the 3 children running in the rain in "Pyar Hua".
Ritu married Rajan Nanda in 1969 when she was 21.  It was the occasion of her wedding that caused Nargis to visit the Kapoor household for the first time in decades and Rishi and his brothers to personally visit Dilip Kumar and Dev Anand to beg for their presence.  The Kapoor family was happy she was marrying respectably to a man she loved, but also sad to lose her as she moved all the way to Delhi.
(Their wedding)
Ritu after marriage didn't turn into a society wife.  She had her own career, opening an insurance company after her children grew older which quickly grew into an award winning mega-agency.  She remained close with her family in Bombay all this time as well, including organizing her brother Rishi's engagement by forcing the issue at a party she hosted until he and Neetu agreed to exchange rings then and there.
Ritu and Rajan have two children, Nikhil and Natasha.  They are the oldest Kapoor grandchildren, the only ones to clearly remember their grandfather Raj.  Nikhil used to join him for shootings on school holidays, perhaps why Nikhil was brave enough to romance Amitabh Bachchan's daughter.  When you have grown up with Raj Kapoor as your grandfather, what else is there to fear?
Nikhil fell in love with Shweta at a party when they were very young, 22 and 20.  And they were married at 23 and 21.  Meaning Nikhil is the parent of the oldest Bachchan grandchildren and the oldest Kapoor great-grandchildren.
(Nikhil and Shweta with baby Navya Naveli)
Nikhil and his father worked together at the family business, growing it enormously, turning it into a massive state of the art facility that doesn't just manufacturer equipment but designs it.  With 8,000 employees and sales facilities in 40 different countries, Escort Group is growing and growing with no signs of stopping.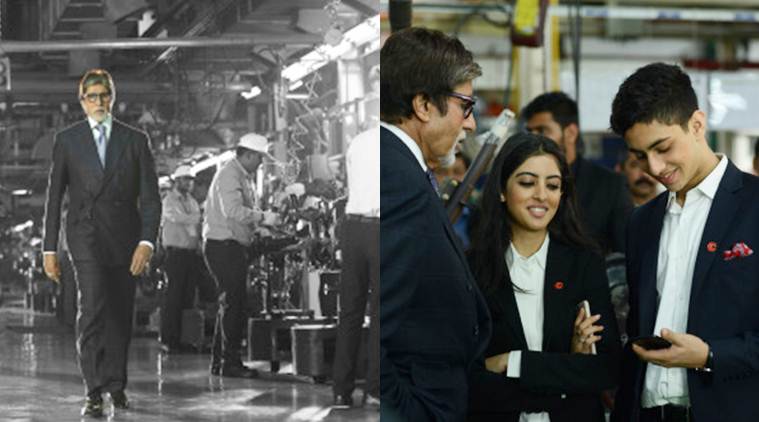 (Amitabh and his grandkids tour the factory)
Ritu battled cancer a few years ago, inspiring the Kapoor family to pull together along with the Nanda family.  But again, privately.  Ritu was never one of the public figures while her illness had an enormous effect on them in private (Rishi devotes most of a chapter to it in his memoir), it was not a major news story in public.
I don't really have any news that seems reliable about Rajan's death at this time.  But I find it strangely disturbing to see him referred to prominently as "Amitabh Bachchan's daughter's father-in-law" in most reports.  So I wanted to leap in and correct that.
It is disturbing first, because he was a person in his own right, he shouldn't be reduced to merely a footnote in his own obituary, even in news sources that are film focused.  There should be more there!  And second because if you must give his film connections, do not erase his wife, beloved sister to Rishi and Randhir and Rajiv Kapoor and Rima Kapoor Jain, aunt to Karisma and Kareena and Ranbir Kapoor, and Armaan and Aadar Jain.  And daughter of Raj Kapoor, making her a first hand witness and participant in the golden age of Indian film.
(Ritu with Nargis)
So, that is the purpose of this post, to fill in the gap in these rushed early news articles and remember the far more numerous connections Rajan had with Hindi film through his wife, rather than through his son.
(Rajan and Ritu at the event in honor of Raj Kapoor's 93rd birthday)