Well huh!  This makes it the second week after the Teefa release week when Pakistan is making noise.  And this week it is actually beating the competition. (figures from Bollywoodhungama, as always)
Let me start with something interesting.  I was looking for fanvids last night of my favorite Hindi film actors.  And instead I found this:
And this:
And then youtube recommended this for me:
So, it's happened!  Pakistani film has reached the point of youtube stardom, fanvids, and all the rest of it.
I guess I shouldn't be surprised that it has also reached the point of taking over the international box office.
It's still not a massive success, you could ignore it if you wanted.  The two new Pakistani films, Jawani Phir Nahi Ani 2 and Parwaz Hai Junoon, were 3rd and 4th of the south Asian films at the American box office.  Second and third in Canada.  1st and 3rd in the UK.  And 3rd and 4th in Australia.  Neither of them, on their own, was super super impressive (except for the UK).  But the point is, there were two of them.  Two separate Pakistani films, splitting their traditional audience (not many people see two movies in a weekend) and still doing well.
(How can you tell it's Pakistani?  Hot guys, perfectly fitted jackets, scarves)
For the raw numbers, in America and Australia, Geetha Govindram is still holding on.  Still on 129 screens in America and $2,500 per screen.  In Australia, 12 screens and about $2,250 per screen.  This isn't super good, but at least it means the second week isn't a total drop.  No growth, no new people being brought in by word of mouth, but still a few who missed opening weekend or might want to see it a second time.
Happy Phir Bhaag Jayege opened pretty weak.  Only 32 screens in America and only $1,500 per screen.  Better in Canada, almost $3,000 per screen.  But then, Canadian prices are better and Canada goes big for Punjabi stuff, which makes that $3,000 far less than could be expected.  45 screens in the UK, so they had decent expectations there, and only $800 per screen.  33 screens in Australia, only about $1,000 per screen.  Better in New Zealand, 10 screens only but $2,000 per screen.
Gold is still doing well in Canada, Satyamev Jayate in New Zealand.  But everywhere else, they are both dropping fast.  No staying power.
Now, let's talk Pakistani!  I actually looked it up, the entire Pakistani heritage population of Canada is only 160,000.  In Australia, there are only 61,000.  And yet these two Pakistani films sold thousands of tickets.  Sure, if you look at the raw numbers, it lines up.  One in 5 of the Pakistani population bought a ticket to see these movies, which even feels low.  But then you start thinking about how they were only playing in a few urban centers, meaning only one in 5 of the Pakistani population would even have had access to them.  And then you start thinking about if they new the films were playing, if they were able to buy a ticket opening weekend, and so on and so on.  And it ends up being just impossible to imagine that these movies are limiting their audience to the Pakistani heritage public.  They MUST be bringing in people from outside their diaspora audience, a lot of people.
Now, let's look at these two movies!  Jawani Phir Nahi Ani 2, a rom-com sequel, opened on 35 screens in America and made $2,500 per screen.  Which wouldn't be spectacular for a Telugu film or a Hindi film or a Punjabi film, but this is Pakistani, a new kid on the block.  And 35 screens and $2,500 is really impressive.  In Canada, the same movie made $3,200 per screen on 8 screens (that's what I was saying, if it's only on 8 screens, there is no way all 160,000 Pakistani-Canadians would even have access to it).  In the UK, it was the top south Asian film of the week, 47 screens and $1,800 per screen.  Australia, 9 screens and $2,800 per screen (best per screen average of any film last week).
Parwaaz Hai Junoon, a romance set in the Pakistani air force, 38 screens and $1,500 per screen in America.  9 screens and $3,500 per screen in Canada.  21 screens and $1,500 per screen in the UK.  16 screens and $1,500 per screen in Australia.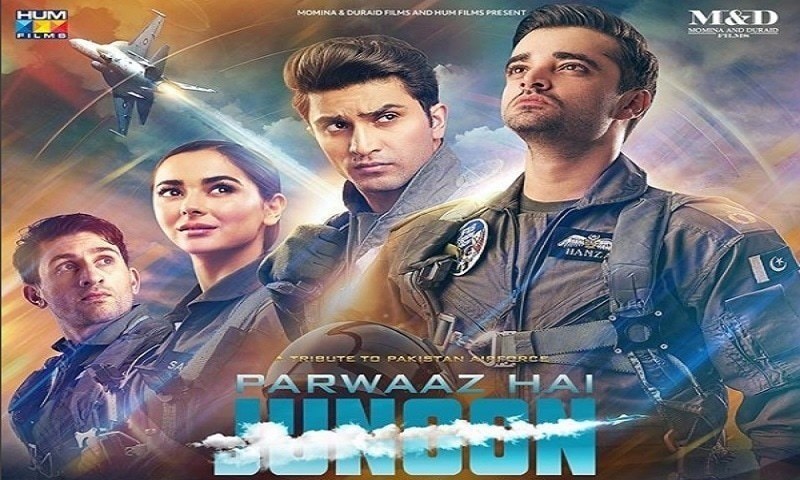 (Hot guys, perfectly fitted jackets, no scarves.  But then, they are in uniform, so it probably isn't allowed)
What is it about these two movies?  Why are they doing so well?  Partly it is because it is a new market, partly it is because it was a festival release (Eid al-Adha).  But I think it is also because they provided a new kind of content that had been missing.
Jawani Phir Nahi Ani 2 is a sequel to a silly farce about 3 friends and their wives, husband and wife shenanigans, etc.  The sequel has the one single friend from the original falling in love with an Indian.  It's the kind of big silly comedy that Hindi film hasn't really provided this year (I am looking at Hindi film in particular because of the similar language and culture that would make it easy for the audience to relate).  Plus, there is a cross-border love story treated lightly, something Hindi film hasn't done since PK.  And it is clearly a story people want to watch, lighthearted hijinks and India-Pakistan hatred treated as a joke (in this case, the bride's father is against the match because he was hit in the head by a rogue ball hit by a Pakistani player during an Indo-Pak match).
Parwaaz Hai Junoon is the one I find far more interesting.  The basic plot seems familiar, high romance between two best friend pilots and a beautiful girl.  Only, the girl is a hotshot pilot too!  They fall in love during training together.  It's a patriotic film, and yet it is finding a crossover audience.  I assume because it provides the kind of swoony romance that Hindi film has not so far this year.  And because it provides a female fighter pilot, which is something no film industry anywhere else provides.  And yes, Pakistan does have female fighter pilots.  Has for years.  India, just started training their first batch this year.  So if you are a woman who speaks Hindustani and lives in Canada or America or Australia or the UK, and you really want to watch a movie about a female fighter pilot and the two men who love her, Pakistani films are your only option.  Yet another way that you can't simply say "Pakistan is worse with woman's rights than India".  They each have their own strengths and weaknesses, as do all cultures.
And right now, Pakistani film is one of their strengths, while Indian film is increasingly becoming a weakness.