I was going to make this a "Hindi Film 101" and then I thought "no, I don't want to think that much or go so far in depth, I'll just make this fun".  So, FUN!!!  Be ready for that!
July 1985: Ranveer Bhavnani is born to the son of Partition refugees, a Sindhi family from Karachi who moved to Bombay after losing their homeland.  His mother was from another Sindhi family, her cousin was an air hostess who married a struggling young actor Anil Kapoor.  Ranveer's family was well-to-do by the time he was born, living in the wealthy suburbs of Bombay and sending their children to the best schools with the children of the best people, including those who work in the film industry, Ranveer's distant cousins Sonam and Rhea and others.
January 1986, No.1 ranked Badminton player in the world Prakash Padukone and his wife Ujjwala are expecting their first child.  They had an arranged marriage back home in Bangalore, but now they are living in Stockholm while Prakash trains (he spent most of his peak years training in Denmark while representing India internationally).  Deepika is born in Stockholm and when she is a year older, her family returns to Bangalore for good.  Deepika is raised there.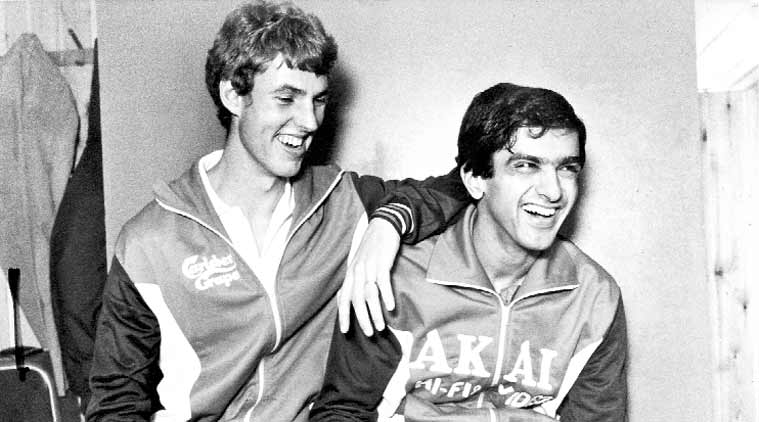 (Prakash with one of his Danish friends, he spent years in Denmark while in training)
2002: Deepika has spent her childhood dedicated to sport, raising at 5am for practices and spending her whole life on the badminton court, as did her father and grandfather before her, winning state level championships from childhood on.  She decides to make a change, stops her practices and starts pursuing other interests, for instance trying modeling again like she had as a child, and going to college for a degree in sociology.
2003: Ranveer is at Indiana University in America, getting a degree in creative writing.  He always loved the spotlight and performing and so starts hanging around the theater department, eventually minoring in theater.
2004: Deepika quits college as her modeling career takes off and moves to Bombay to live with an aunt.  Her unusual beauty quickly gets her noticed and there is buzz over who will be first to cast her in a film.  Deepika decides to take acting classes first and only accept a role when she feels qualified for it.
2006: Deepika makes her film debut in a Kannada film, her native tongue and a smaller industry that allows her to test out her skills and interest in acting without the commitment of a full Hindi launch.
2007: Deepika is signed by Farah Khan for Om Shanti Om.  She struggles with the shoot, difficult dance steps and terrifying stunts along with a complex character, but is determined and succeeds.  Her first film is a massive record breaking hit.
2007: Ranveer's cousin Sonam receives her launch in Saawariya, but Ranveer is still far from his goal.  He is working as a copywriter in advertising (his degree from IU was in creative writing) in Bombay and hanging around with his old friends.
2008: Deepika's follow up role is as one of 3 female leads in Bachne Ae Haseeno, a Ranbir Kapoor star vehicle.  Her performance is critiqued as dry and stiff.  During filming, she and Ranbir strike up a romance which quickly captures the imagination of the public, everything from photo shoots with his famous parents to her getting an "RK" tattooed on her neck.  With the failure of her performance and the fame of her boyfriend, Deepika becomes known more as Ranbir's girlfriend than an actress in her own right.
2008: Ranveer is trying to get jobs as "assistant director", the standard training role for anything in the film industry from costume design to movie star.  He is frustrated as chances aren't coming his way, but he keeps trying.
2009: Deepika begins to get good notices for her acting in her 4th film, Love Aaj Kal, where for the first time she is a true co-lead and not just the love interest.  But it is still overshadowed by her personal life where there were rumors that her year and a half relationship with Ranbir had ended when he began cheating on her with his co-star in Ajab Prem Ki Gazab Kahaani, Katrina Kaif.  These rumors were soon confirmed when Ranbir and Katrina began to be seen in public together.
2010: Ranveer meets Shanoo Sharma at a party, she likes his style and his attitude and calls him in for an audition.  She offers him a small role in a small film, Ranveer is desperate and takes it, and then dedicates himself to making it the best performance he can, even traveling to and staying in Delhi in order to perfect his character's attitude and accent.  Band Baaja Baarat releases and Ranveer is immediately a major star.  At the same time, rumors start that he has a romantic relationship with his co-star in the film Anushka Sharma.
2010: As Deepika's films flop, the biggest story of the year is her appearance on Koffee With Karan with Sonam Kapoor, Ranbir's other rumored ex, in which she lets slip as much as she ever does that Ranbir cheated on her and that is what broke them up.
2012: Deepika's career and personal life hit an all time low between 2010 and 2012, flop after flop, terrible critical reviews, and her "RK" tattoo served as an embarrassing scar, reminding the world that she was still most famous as Ranbir's discarded girlfriend than as an actress.  And then came Cocktail.  Once again opposite her Love Aaj Kal co-star Saif Ali Khan, with a challenging outside the box character and director, Deepika finally achieved her promise as an actress and turned in a performance so good it made people refer to her as an actress instead of just Ranbir's ex.
2013: Ranveer's next film after Band Baaja Baarat, Ladies vs. Ricky Behl, was not a showpiece for him and didn't find as much of an audience. Lootera, his third film, was barely noticed by audiences but had him hailed by the critics as a true acting talent.  And then came Ram-Leela, reaching him by accident after it was turned down by star after star, director Sanjay Leela Bhansali struggling to find anyone willing to take a chance on him after the massive failure of his last few films.
2013: Deepika roared into 2013 with her momentum rolling and didn't stop. First she put the Ranbir stories to rest once and for all with the release on Yeh Jawaani Hai Deewani, proving they could work together without hard feelings.  And then came Ram-Leela, a major massive hit proving her acting and box office power.  And most importantly, providing a new rumored romance, with her co-star Ranveer Singh.  And finally at the end of the year, she worked with her first co-lead Shahrukh again in Chennai Express, another record setting hit.
2014: Ranveer stars in Gunday, bringing to the world his great bro-mance with his co-star Arjun Kapoor.  And as part of this era, they feature in the AIB Roast, an internet sensation hosted by Karan Johar, attended by all the major figures of the film industry, and with Ranveer and Arjun on stage to be mocked by the AIB comedy collective.  Ranveer gets off fairly easily, most of the jokes aimed at his supposed "losing" of Anushka Sharma to the Cricket captain Virat Kohli, and a few at his already legendary energy and crazy fashion sense.  Shortly after the Deepika-Ranveer romance receives full confirmation when he makes a cameo appearance in Deepika's film Finding Fanny.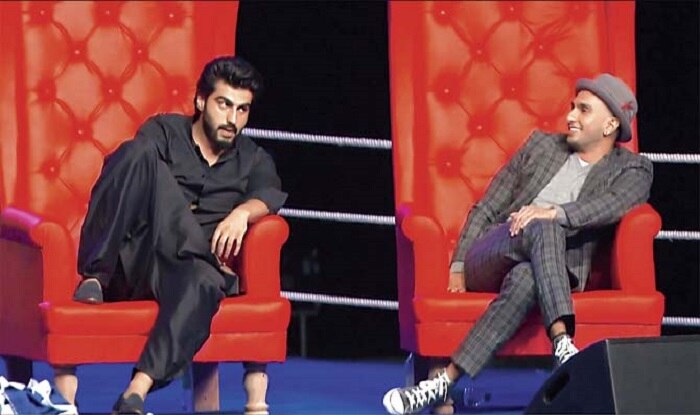 2015: Deepika works with her Cocktail director to make an online video called "My Choice" owning her choice to live life as she wants it and encouraging other women to make their own choices in terms of marriage, sex, everything.  She also begins appearing on news channels to openly discuss her battle with depression, her need for medication, and the importance of understanding and helping those who suffer from the disease.  And she follows all this honesty up with a very honest performance as the heroine Piku who has casual sex, works hard, and chooses to be unmarried.  In Deepika's own career, this was her greatest acting triumph so far, proving that she could carry an unusual kind of role in an unusual kind of film opposite one of the greatest actors in Hindi cinema, Amitabh Bachchan.
2016: Ranveer continues to build a portfolio.  After making the flop comedy Kill/Dil, he moved on to the ensemble drama Dil Dhadakne Do where he made his mark in a large cast and showed that the Anushka rumors were will and truly dead through their casual co-starring.  He then dedicated himself to preparing for his role in Bajirao Mastani including growing his own mustache and locking himself in a hotel room for 21 days to fully get in character.  And finally was cast as the lead in Aditya Chopra's first film in years, and first film ever without Shahrukh Khan.  He announces his own casting with an emotional video describing the respect he has for Chopra and the privilege he has in taking this role.  4 films in 2 years.
2017: Deepika attempts Hollywood success as one of the actors in the action film XXX.  The reviews are mixed.
2018: Ranveer's work schedule increases, finishing Padmavat and moving straight into Gully Boy, his serious film with Zoya Akhtar, and then Simmba, his big action film with Rohit Shetty. Rumors of marriage begin to fly.
2018: After 2 years away, Deepika returns to a leading role in Hindi film with Padmavat.  Despite myriad controversies, it finally releases and becomes yet another box office hit.  Deepika takes a break from acting and rumors start that she must be preparing for her wedding.
Isn't it interesting how men and women are different?  Or rather, how society treats them differently?  Deepika got her first big break "easily".  She was offered leading roles before she'd even taken an acting class, simply because she had a striking look.  But once she got the break, things got hard.  She had to work constantly in film after film to maintain her position.  And she constantly had to fight to make her career the story instead of her personal life.  There was no time to focus, to improve as an artist, it was all about working and maintaining and putting up with the critics and everyone else who would tear her down.
Her success came once she just let go, made her personal life the story and used that, went public with her choices for her body, and her struggles with her mind.  And now that marriage looms, she is slowing down, working less, her next film isn't even started yet.
Versus Ranveer.  With a minor in theater from IU, a natural energy and enthusiasm, and some mild film connections, he still had to work and struggle for years before he was given his chance, and then struggle to prove himself one he had it, struggle to get the next role and the next.  But he had the luxury of quality over quantity, strong interesting roles that rewarded his dedicated attention with critical acclaim and audience notice.  And by his third film, he was solidly settled in the industry, acknowledged and respected and a media darling.
Most of all, his personal life was never the story unless he made it the story!  He could choose to do the AIB Roast and make his personal life public instead of having that forced on him.
And now they have reached the largest divide.  Marriage for Deepika means freedom, the ability to pursue less work and more focused work.  But for Ranveer, it means his workload has increased, no more time to focus, instead time to rush through film after film and get them released quickly.