So exciting! A Shahrukh release box office day! And, as usual lately, it is neither the exciting flop nor the exciting hit that the media wants it to be. Sometimes things are just kind of bad without being "the Worst EVER"! (as always figures from bollywoodhungama)
Back in the 90s, films used to sell out day after day and week after week, and run for weeks at a time. Everything felt different because you would go to the theaters and see the seats full and the people cheering. A film failed when it was at 80% capacity instead of 100%, or when it only ran for 3 weeks instead of 6. This is the era in which all 3 Khans started out.
Starting in the 2000s as economic policies encouraged the rise of high priced multiplexes, films stopped selling out. There were still the outliers (like 3 Idiots or Dangal) that could get even the expensive multiplex crowd to turn out, but in general the tickets were so expensive and the audience so blase, that a film experience that used to be routine (sold out, crowded theater) rapidly became unusual.
Overseas, the pattern was different. It wasn't rising ticket prices that did in the films, it was the rise of streaming. Movies went from something you had to leap on while they were in theaters or miss forever, to something you could always catch later at your leisure. Just in the past 2 or 3 years, the bottom has dropped out of the overseas market.
In this new world, the Khans are "falling" because anyone can go to a Khan film opening day and see the difference, it's not sold out necessarily, people aren't all talking about it, it just isn't as exciting any more. But that feeling HAS to be separated from the Khans and placed on the fact that the movie theater experience itself has changed. It's not that the Khans are falling, it's that movies as a whole are falling, audiences are leaving, and perhaps the fact that it is talked about the most with the Khans is a sign of how much power they still have, because this experience (which is weekly for me, seeing how far the box office is dropping and how few people are in theaters) is something that the media and audience only notice with a Khan film because those are the only films that certain audience members and media types will see.
Now, with all that in mind, let me quickly give you the run down on Zero box office. $3,000 per screen on 264 screens in America. $2,250 per screen on 144 screens in the UK. $7,000 per screen on 58 screens in Australia. This is about the same as Kedarnath or any number of other largish budget and promotion films of the past year. It's a disappointment, because the promotions suggested it might do better, but it isn't a flop. Especially considering it was only on 264 screens in America, which is high but not the highest ever, meaning the filmmakers weren't necessarily expecting better than just average.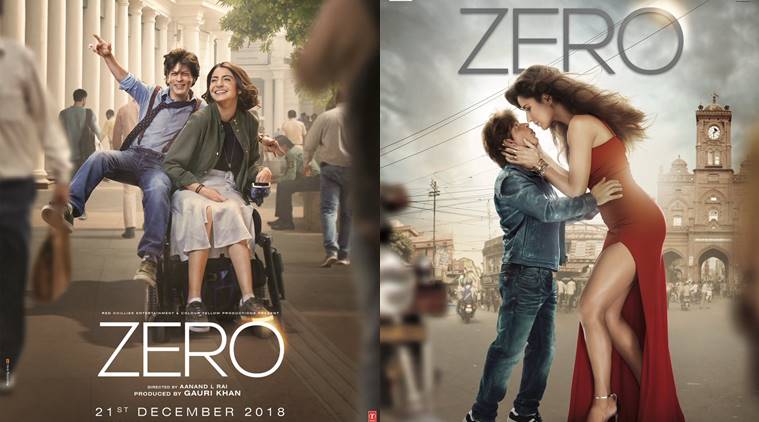 When I started tracking per screen American box office 3 years ago, Khan films were making $5,000 to $8,000 per screen. In the past 3 years, that has steadily dropped to $3,000 to $6,000. And that is across all movies and all three Khans. But it is also just across All Movies. A major Telugu or Tamil film opening weekend used to regularly come in around $8,000, now it is lucky to break $3,000. A non-Khan Hindi film used to regularly hit $4,000 to $6,000, now it is lucky to break $3,000 opening weekend. It's not the Khans that are dying, it's movies that are dying.
Shahrukh, Aamir, and Salman have all had legitimate flops during this time as well. Tubelight was a flop, Fan was a flop, and Thugs of Hindostan was a flop. Those are different from the others, even if you allow for the slide of the box office, they are still outliers, truly shockingly bad box office. The legitimate hits were similarly rare. Dangal is truly the only one in the past three years. Sultan was average, Tiger Zinda Hai was average, Secret Superstar was average (except for in China).
So, here are the two take aways I want you to get:
1) Movies are dying in general, you can't compare the Khan's films of ten years ago to today because it is a different market today. Even three years ago, it was a different market. You have to compare them to the film that opened last week or last month, no further back. Yes, the Khans are sliding, but they are still doing better than anyone else, and the real story isn't "fall of Khans" or "Content is King", it is "all movie theaters will be closed in about ten years".
2) Resist the urge to look for extremes. Tiger Zinda Hai wasn't a massive hit, and Zero isn't a massive flop. They are both average, TZH slightly above and Zero slightly below. The Khan hits are coming less often but the flops haven't actually increased, most of their films perform exactly at or slightly below the minimum expectation. Which has always been the case. It's just that now the media is tracking box office like a horse race and suddenly we are more aware of it.
One final thing for Zero, to show you what I mean about the difference between "disappointment" and "flop". Fan opened at 19 crore in India. It dropped to 12 crore on the second day, and I think 8 crore by day three. By the weekdays, it was down to 4-5 crore per day. It should go up over the first three days, because on Friday people have to work but on Saturday and Sunday, they can come to matinees as well as evening shows. Instead, it dropped like a stone and kept dropping. Worldwide too, there was no bright spot for Fan (unlike JHMS which opened better than Zero in America).
And here is Taran Adarsh's take on the Zero figures in India:
You see? It's not great, it should be doing more than that, but it isn't dropping like a rock day to day, it's going up and down the way a healthy film does. This isn't a shocking failure that should cause us to run wild in the streets and rend our clothing. Of course, it isn't a success either. It's just below average. Boring old below average.