Well, I am feeling absolutely miserable and just trying to crawl through until spring. So I am going to vent a bit here, and then you are all going to say Cheerful and Encouraging things. And if it isn't Cheerful and Encouraging, then I don't want to hear it!!!! Dogs! Happy stories! Sunshine and Flowers!
It's been snowing and overcast here in Chicago for about 24 hours. Which also means I didn't leave my apartment or talk to another human being for 24 hours (NOT HEALTHY). This morning I dragged myself out because I had to go to a meeting at church, feeling all discombobulated and inhuman and weird and strangely weepy. And I made it down to the car, and promptly slipped on the snow and went BANG right on my sitting place, scattering everything in my purse into the snow.
Pulled myself up, gathered up all my stuff, put it in the car, grabbed the brush and started trying to clear off the car. Froze my hands, but finally got all the snow brushed off, got in, turned it on, and discovered the wipers are all weird again and not working (I think the snow and ice force them out of alignment and then they snag on each other).
Popped the hood, which you have to do in my car to get at the wipers, took off my gloves so I could do delicate fiddling, fiddled until I lost feeling in my hands and went to get back in the car, tripped and fell in the snow again, spraining my ankle.
Gathered up my stuff again, put it in the car, got back in, tried the wipers, even worse now. Cried a little, sent an email to church that I couldn't make the meeting, got out of the car, took off my gloves again, tried to close the hood, at which point a nice neighbor came over seeing the hood up and offered help. Explained it to him, he looked at the wipers, said "yeah, these aren't working". But in a nice way. Closed up the hood, went back inside, called my sister to say "everything is awful!!!!" and she said I absolutely have to go outside and talk to people, even if it is just buying fresh fruit in the grocery store.
Went to the grocery store, bought myself fruit and flowers, then kept walking down the street to the nice little sari and tailoring shop to ask them to fix the really nice silk salwar I bought online which is about 4-6 inches too narrow for me. They measured the salwar, it was 21 inches. And then they measured me, and I am 46 inches. Tried not to cry because I am TWICE AS BIG AS THE DRESS. And then remembered "oh right, they only measured one side, it's actually 42 and I am 46, it's fine". But the seamstress who could really make the decisions wasn't there, I have to come back at 3pm. Which, honestly, is probably really healthy for me, forcing me to get out of the house TWICE today instead of just once, both times while the sun is sort of shining (I can't see it, but I am sure it is there somewhere behind all the clouds probably).
Then I came back to my apartment, joined in the church meeting by speaker phone and ate fresh cantaloupe and put my pretty flowers on the table and lit candles and stuff. And also finished my tax return (lost $300 on the website this year! No taxes, woo-hoo!).
And now I am writing this post while browsing on petfinder.com, because it has been a month since I lost Hazel and I have already sunk this far into "not leaving the apartment all weekend and then becoming seriously depressed", I really need a dog. But I can't get a dog today, BECAUSE MY CAR DOESN'T WORK. Oh well.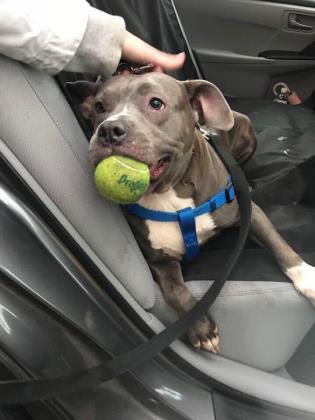 Also, in case you were wondering, I have already scheduled my trip to a place with sunshine this year, I'm going to Oakland to visit a friend who moved out there, I just have to get it through 4 and a half more weeks of winter somehow.