Oh dear. I know this is a favorite Dhoom for many of you, but it is my least favorite. Meaning I have watched it less, and remember it worse, than the other two. So forgive me if I don't remember to include your favorite part or get something else wrong!
Dhoom 1 was a hit, not the biggest hit of the year but a solid hit. That was important because it was a risky endeavor and something new, and YRF proved it was possible for them to make an action movie, and for an action car chase heist kind of move to do well in the Indian setting. But then with Dhoom 2, they took it all higher and higher and HIGHER. The goal was to bring in the audience who had warm feelings for the original film, plus also new viewers who might be brought in by the hot look and big cast.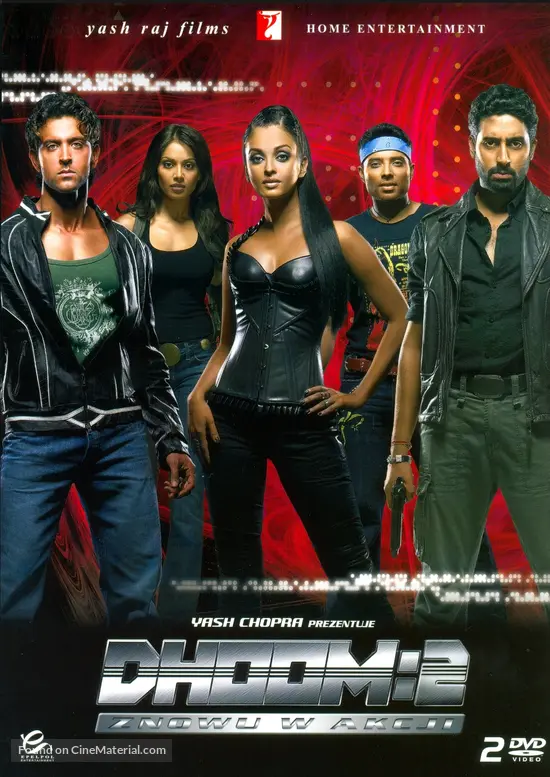 Dhoom 2 has a lot of moving parts, but it is also bigger than the sum of its parts. You can see that in the poster itself, Dhoom 1 put Abhishek front and center, he was the star and everything else went around him. Dhoom 2, it was an ensemble. Aish was positioned as first among equals on the poster, but in the actual film she was no more important than anyone else.
In case you missed it, this movie was a big deal for Aish. She had tried and failed to make it in Hollywood and now was coming back to Indian film, to prove she still had the talent to survive in the Indian world. Dancing ability, beauty, charisma, all the things that are less important overseas. Her character, the local girl who likes underground clubs and hamburgers, was a bit of an answer to all the global work she had been doing. But now, years later, her character just plays as a fun character and a bit of an interesting one for this very beautiful woman to play.
And then there was Hrithik, now this is a super important film for him, at the time it wasn't. He was coming off of Krrish, released just before, that was a far bigger deal. This was just kind of the "bonus" Hrithik film for the year. But it's this role and these songs that have lasted and lasted in a way Krrish hasn't.
Bipasha, Abhishek, Uday, they were all right in the middle of their careers, not knowing this movie would end up being the most successful they would ever be a part of. Really, this move is the "multi-star" film that everyone is nostalgic for, the one that has a large cast of folks all trying to do their best and not steal the spotlight from each other. With no one really putting a lot of pressure on themselves to shine bright and be the absolutely best they can be, because it's all just a good time in pleasant locations.
Maybe that's why this film is so endearing, because that feeling comes through on screen too, a kind of "let's just have fun and relax" tone. The other two Dhooms are fun too, but the first one was Abhishek and John's big chance to make an impression, not to mention selling the audience on this new genre. And Dhoom 3 was Aamir, he is always stressy about everything. But this movie, it's a bunch of folks just coasting and doing whatever as they get through this role. Aish is maybe trying the most, but even she is just trying to look pretty and dance well, no more than that. Enjoy the sunshine, enjoy the locations, don't think too much. Because if you think to much, THE WHOLE THING FALLS APART. Seriously, he is drawing an "A" on the world map with jewel thefts?
SPOILERS SPOILERS SPOILERS SPOILERS SPOILERS SPOILERS SPOILERS SPOILERS
Ready for a stupid plot? Uday Chopra and Abhishek are Indian cops brought in on an international jewel robbery case. Abhishek, using his brilliant mind, realizes the thief is drawing a giant "A" on the world map. This helps him predict his next moves and plant a mole, Aishwarya. Aishwarya is a small time thief who Abhishek arrested and let go, she owes him a favor/is afraid of him. She agrees to try to trap Hrithik. With Abhishek's help, she impress Hrithik when they both try to steal the same sword, and then dances for him at a club later. Hrithik agrees to take her on as an apprentice, but she has to do everything he says without question and let him train her.
Meanwhile, Bipasha Basu is Abhishek's old friend and fellow police officer who is working with them on this case. Abhishek's wife Rimi Sen is pregnant, and Uday is worried that Abhishek might cheat with Bipasha. He is relieved when they leave India for Brazil to follow up on the case. In Brazil, they stay with Bipasha's identical cousin, Bipasha 2, who Uday falls in love with at first sight and they flirt over a language barrier (picking up on the first movie when Uday tried to impress Esha with his English, now he is going after a woman who doesn't speak Hindi at all).
Hrithik and Aish are getting closer and closer, he is increasingly charmed with her gutsy low class ways, while she puts up with his precise classy global perfection (she has hamburgers, he has salads). Aish is torn because she doesn't want to turn him in to Abhishek, but she is also afraid of what Abhishek might do to her. Hrithik starts to suspect her and challenges her to a game of Russian roulette to bring out her true feelings. She agrees, he aims the gun at her, at him, at her, and then at himself when he will certainly be shot because it is the last turn, and she grabs it and aims it at herself again. With this proof of her love, the truth comes out. They carry out the heist, Abhishek and Uday chase them to the edge of a cliff, Hrithik jumps rather than be caught and Aish jumps after him.
Months later, Abhishek brings Uday to a little eatery in a vacation town. Surprise! Aish and Hrithik are running it! They faked their own death in order to start a new life as honest people. Abhishek decides to let them go, redeemed by love and all that.
This is just a big ol' shaggy dog mess of a movie. It's at the irritating middle point between two halves of the trilogy. The first movie was primarily about Abhishek and Uday, their lives and their friendship and so on. The third movie treats Abhishek and Uday as no more than guest stars, it is Aamir (the new character) who is the real lead. But this movie just can't make up its mind. It starts out with Abhishek and Uday having a real plot, there is Rimi's pregnancy and Uday's concern about Abhishek cheating, plus Abhishek being the brilliant detective who figures out the pattern and places Aishwarya as a mole, a real threat to Hrithik.
And then it veers in a totally other direction once the Hrithik-Aish chemistry takes over and it is less about "Hrithik versus Abhishek" and more "Hrithik versus Aish". And Abhishek's whole thing with the old friend and the pregnant wife gets completely forgotten and never resolved. It's half an "Abhishek the super cop" movie and half a "Hrithik the super thief who falls in love" movie just kind of smashed together.
But that isn't to say it's not fun! In a perfect "dumb but smart" kind of way. For instance there is the "twist" that Hrithik and Aish survived. We had a scene earlier where they practiced jumping from the same spot where they jump and survive at the end. So you could think of it as "aha! The clue was there all along! It all fits together like a beautiful puzzle!" But, not really? I mean, we don't see ropes or anything in the end scene like in the first scene. It's still a total suspension of disbelief. And why is it everyone is dancing together during Carnivale? Also unclear. And why does Brazilian Bipasha look exactly like Bombay Bipasha? Unclear too. And somehow all of that just makes the movie more fun. It's not like Kahaani or Don or Ittefaq or Talaash where you have to work hard and pay attention every moment so you can appreciate the brilliance, it's just a big dumb fun stupid movie.