Oh boy, another big controversial post! Or maybe not, no one is even commenting on yesterday's post. Perhaps Salman just isn't that controversial any more?
Non-Usual Disclaimer READ IT: Salman has done a lot of bad things, but he has also done good things. And just as the good he has done has not erased the bad he has done, so has the bad not erased the good. I will try to treat his life as a whole, good and bad, with compassion and understanding as I would for any other human.
Salman has two big court cases pending, both of them have lasted for so long that the public has long since tried and convicted him in their minds and is just eagerly waiting for the courts to mete out punishment. But in reality, they are both pending still.
On September 28th, 2002, a car Khan was riding in swerved out of control at a tricky intersection and ran up on the sidewalk, crushing 5 people underneath. 4 were injured, one died. The one who died might have been killed not in the initial crash but when the car slipped off the crane being used to remove it and fell back down.
The facts that are not in dispute are that it was Salman's car and he was riding in it, exited from the driver's side, and left the scene about 15 minutes after the accident when the crowd was beginning to turn ugly. Here is what is in dispute:
Was Salman behind the wheel or was it his driver Ashok?
Did Salman flee the scene or leave upon police request?
Salman's version is that they left his house with one driver, who later became unwell, they then waited in the car for a second driver who was driving at the time of the accident. He exited the driver's door because the passenger side was stuck. He left the scene because the crowd was beginning to riot and a friend had arrived and told him to leave, helped him flag down a car, and the police who were arriving agreed that he should go.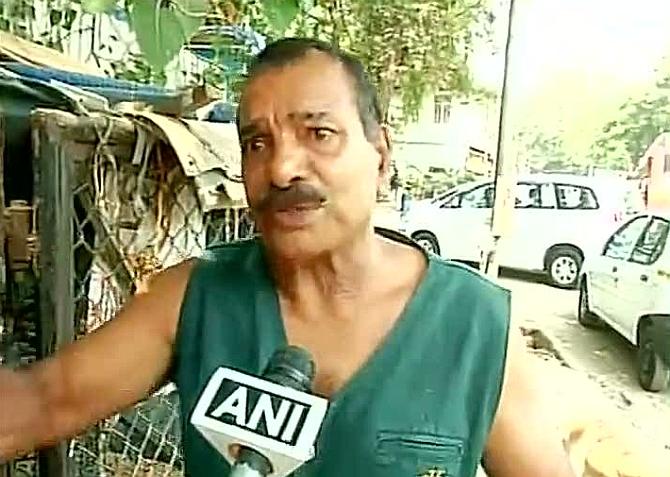 On the other hand, because of the mob threats against him at the moment, Salman had a police provided bodyguard with him, a 24 year old constable. The bodyguard said in his initial statement that Salman was behind the wheel. He had no particular awareness of when or how Salman left the scene. The crowd claims that Salman left in fear and fell down twice, "fled".
To add a complication, everyone agrees that Salman left the house with a driver Altaf. And Altaf was not with them at the scene of the accident. Salman claims that Altaf was sick in the middle of the night, that is why Salman was witnessed sitting at the wheel of the car, he was waiting for a new driver to arrive. The new driver, Ashok Singh, arrived and drove them home and had the accident.
Now, here's the problem. Ravindra Patil, the police provided bodyguard, missed so many court appearances that he was arrested for failure to appear. He also changed his statement several times. And then died of tuberculosis, 5 years after the accident with the case still pending. His vital testimony exists only in the form of his initial statements. This is not about a conspiracy or Salman Khan using his power and influence, it's just bad luck for the prosecution (although of course there are conspiracy theories around it, there are always conspiracy theories). Their case hinges on a young inexperienced constable who changed his story many times and then unexpectedly died.
Without Patil, the prosecution has been left to try to track down witnesses from the crowd, a well-nigh impossible task. The stories change, are contradicted, are what you would expect from people who witnessed a sudden shocking event with no warning. And the most they can testify to is that Salman exited from the driver's side, and left the scene quickly, neither of which the defense is denying.
The defense on the other hand can offer the testimony of Salman's friend who confirms that he arrived on the scene to find the mob starting to throw stones at Salman and he insisted that Salman leave, he and his wife flagged down a car and got him out. The defense can also offer the testimony of the driver, who states that he was driving the car.
Now, you ready for my personal opinion? Salman was clearly driving. His driver is lying for him. The story about changing drivers makes it even more likely, Salman left the house with a driver as would be normal, but when he got sick Salman jumped behind the wheel drunk and drove home and had the accident, because he was drunk. Ravindra Patil changed his story many times because he was young and had a lot of pressure on him, but the basic fact that Salman was behind the wheel is true. But on the other hand, Salman didn't flee the scene. That is against his nature and history, and his friend can offer testimony that he had to be persuaded to leave. And in some accounts, Salman and his family have suggested that it was in fact Ravindra Patil who ordered him to leave. Which would seem logical, because everyone agrees an angry mob was gathering, and might also explain Patil's changing of his story, pressure to hide that part of the story:
[Mahesh Bhatt says] I have a bias for Salim Khan. I have a bias for their entire family because I've spent a lot of time with them. Based on the version that Salim has told me, I have reasons to believe that it wasn't 'hit-and-run', in fact it was 'hit-and-stand'! It was a cop who lied to Salman and told him to go away. He warned Salman about the crowd gathering and told him it was turning into a law and order situation. Salman was told that his life was in danger. Everybody saw him. It was Salman Khan, after all. He was very close to his house. So there was no hit-and-run; he didn't scoot!

http://www.magnamags.com/stardust/will-salman-khan-go-to-jail/4309?item=7128
The "hit and run" part of the story just does not make sense. Especially because Salman was clearly already recognized, and left his police bodyguard behind as a witness. He wasn't fleeing the scene in hopes of escaping arrest, how could he have had such hopes?
And then there's the part of the story that is strangest to me, and most interesting. Salman's driver stepped forward and took full responsibility. But only 13 years later when Salman was about to be convicted of homicide, not at any point in the preceding 13 years of court battles. I would think that if Salman had paid him off or leaned on him, he would have testified immediately. No, this feels like an actual independent personal decision. Of the kind that belongs in another era, the loyal follower who gives his life for his Lord. This is what his wife had to say about it after his testimony and arrest:
" Whatever I know was from the news channels and papers. My husband never told me anything about it. But that's his nature. He never discusses work at home. It was his decision not to tell anything, and even now it was his decision to confess before the court. I respect his decision and am proud that he did not let his master down… He has been with Salman even before he became a star.

I am happy that he has proved his loyalty to him. Agar aaj chup rehte toh 25 saal ki wafadaari ka koi mol nahi rehta. [If he kept quiet even today, then what is the point of 25 years of loyalty?]….Justice has to be done, na? If he is the culprit then he should be ready for the punishment also. And we know Salman will never leave our side. He will do everything to help us out. People do not know the real Salman. He is a man with a heart of gold. He can never see anyone in pain. Even for people who are strangers to him he donates so much.

Anyone in his place would have chickened out. Salman kept saying he was not driving but no one listened. This time my husband had a chat with Salim Sir [Salman's father] and decided to tell the truth. There is speculation that Salman must have paid Ashok a huge sum to take the blame on himself but this is wrong. We don't want anything from Salman. He has been kind to us and we just couldn't see him in suffer.

Even on the day he deposed in court, Ashok came home for a few hours and left. He has now gone with Salman to his Panvel farmhouse, from where they will go to Lonavala. People target Salman just because he is a star. Agar koi aur hota toh kya media is case ko itna uthati? And even if it was Salman who did it, it was not deliberate. It happened by mistake. Why make a big issue out of it?"

https://timesofindia.indiatimes.com/entertainment/hindi/bollywood/news/Salman-Khans-driver-Ashok-Singhs-wife-He-never-told-us-all-these-years-that-he-was-driving-the-car/articleshow/46803016.cms
Let's look at the big picture. The prosecution just has a sucky case. The defendant has enough money for lawyers to actually force the prosecution to prove something, and is well-liked enough to have multiple witnesses lining up on his side, and the prosecution has one key witness who is unreliable, turned hostile, and then died. If this were not Salman Khan, famous Salman Khan, I can't imagine the case would have dragged on for 17 years of appeal after appeal.
In terms of hit and run, only 4.6% of cases registered in India in 2014 lead to convictions. It is a very very hard case to prosecute, because it is a matter of relying on unreliable witnesses trying to remember the details of a traumatic incident (link here for data). And of course, accidents in India are so very common that it is unlikely for folks to want to prosecute them (more than 4 times as many accident fatalities in India per year as in America). Statistically, if Salman were not famous, he would have either not been prosecuted, or had a court case and not been convicted. The police could have moved on to one of the many many other cases they need to prosecute.
But instead, Salman was prosecuted for "Culpable Homicide Not Amounting to Murder", which comes with a potential punishment of ten years in prison. He appealed (rightfully, I think) this description of his actions, and the Bombay High Court agreed and charges were lowered in 2006 to rash driving and negligence, which brings with it a maximum punishment of 2 years in jail. And then in 2013, a new chief magistrate tried, once again, to file a case of "culpable homicide". Again, there was a high profile trial, Salman was sentenced to jail for 5 years and his driver arrested for perjury. Again Salman appealed, again the High Court supported him. He was acquitted for lack of evidence in 2015. And the government appealed this decision and wanted to take him to trial again. That trial is still pending.
So to clarify, Salman has been supported twice, once that the charges brought against him were needlessly strong before the case even went to trial. And again after trial that there was not enough evidence to support his conviction. And yet the government is still pursuing him.
So you can judge for yourself the flaws in the evidence, here are the 10 points used to throw the conviction out in 2015. I can't see that most of these will get any better between now and the next trial:
The burden is on the prosecution to establish the guilt of the accused and this needs to be done beyond reasonable doubt.

The investigation was conducted in a faulty manner with many loose ends and as such benefit of this had to be given in favour of the accused.

On the main aspects as to driving and drunkenness, the prosecution has not brought any material evidence which spells out the offence of the accused.

The trial court erred in accepting bills (of Rain Bar and Restaurant where Salman had gone before the incident) without a 'panchnama' or record of observation by at least five people. The way evidence was collected suggests fabrication.

Singer Kamal Khan, who was present in car with Salman Khan, should have been questioned.

Salman Khan's bodyguard Ravindra Patil, key prosecution witness, not 'wholly reliable'.

There are various shortcomings by the prosecution like not recording evidence of necessary and important witnesses and omissions and contradictions in the evidence of injured witnesses, which definitely create a doubt about the involvement of Salman for offences for which he has been charged. On the basis of such evidence, Salman cannot be convicted.

It is the duty of the court to analyse the evidence submitted to it and to see that the offence is proved beyond reasonable doubt.

The appreciation of evidence done by the trial court while convicting the appellant was not proper and legal, as per the principles of criminal jurisprudence.

This is not a case where the prosecution has successfully established its charges. The entire evidence of the prosecution was circumstantial in nature.

https://www.ndtv.com/cheat-sheet/evidence-not-handled-well-high-court-on-salman-khan-case-1253283
Again, I think he is guilty. But with no witness for the prosecution, a witness for the defense who has said under oath that he committed the crime, and the higher courts consistently upholding Salman's appeals, why is the government pursuing this? Especially at the level of "culpable homicide"?
Maybe this is just my daughter-of-a-lawyer prejudice, but I don't think anything justifies wrongful prosecution. Salman is guilty and deserves to be punished. But the way to do that is by prosecuting him for the crime he committed, the crime that can be proved, not by a 17 year effort to convict him for something which cannot be proved and which he did not do ("culpable homicide" versus "negligent driving" or "drunk driving").
I also don't think there is any reason to spend more resources on prosecuting a celebrity than on any other drunk driver. What is the point in bringing case after case for this one man when in that same time and with the same amount of energy, you could bring a case against other defendants? A case which you might have a better chance of winning?
We can disagree on Salman's level of guilt, but I feel like the basic fact that the prosecution cannot prove its case and should stop wasting resources is hard to argue with. Or that they are only spending these resources in order to gain advantages from Salman's fame.
This gets back to a larger argument about the position of film workers in India. They are often perceived as benefiting from their fame and privilege. But the stories of Salman and others show that it can be a double-edged sword. Because he is famous, he has been able to make bail and avoid jail time over and over again. But if he was just regular non-famous Salman Khan, he either would have been tried and exonerated years ago, or would have been tried and convicted of the lessor charge, gone to jail for two years, and been out with the whole thing behind him by now.