Remember when I used to have fun pun titles? I miss that! I couldn't even come up with something witty related to Judgemental Hai Kya, and it feels like I should have been able to manage SOMETHING. Oh well. As always, figures from bollywoodhungama
Huh. Well, this was a terrible week for everyone who wasn't the producer of a Punjabi movie! Especially Maddock films who, in a hideous mistake, released their Punjab set, Punjabi actor starring, Hindi police comedy Arjun Patiala the SAME WEEKEND as two of the biggest Punjabi films of the year. Well, that's what you get when you only look at the Bombay industry!
Really, the Bombay industry is the least interesting of all this week in terms of box office. The only vaguely amusing thing is that the screen count and box office take were upside down for Arjun Patiala and Judgmental Hai Kya. Judgmental Hai Kya had 59 screens in America, 9 in Canada. And meanwhile Arjun Patiala had 73 screens in America and 17 in Canada. But Judgmental Hai Kya made more money by, like A LOT.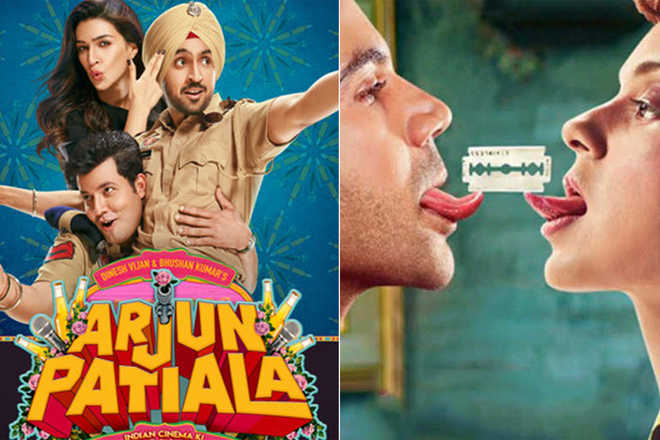 I hope this isn't turned into a horse race because, at least in the international market, the two Hindi releases weren't really competing with each other. The Judgmental Hai Kya producers actually made wise decisions in their screen count. Their few American screens made a respectable approximately $3,500 per screen. That says they had about hit the market saturation, more screens would not equal more money. Same in Canada, a little over $4,000 per screen which, for a non-action film in the Canada market, is modestly respectable. Same in Australia with 19 screens, and like Canada, Australia is a place where $4,000 for a non-action film is respectable. The UK is where they overshot, a walloping 57 screens (but then, it was filmed there). Anyway, less than $1,000 per screen which would be humiliating in other markets but is only disappointing in the UK market. Judgmental Hai Kya is far from a hit, based on screen counts and per screen, but it is a solid "okay" level release.
Now, what about poor Arjun Patiala? 73 screens in America, only $580 per screen. Shockingly bad, especially with the expectations built in to that screen count. Similar in Canada, 17 screens and only $1,467 per screen (high screen count and low take for the Canada market). The UK, $600 per screen on 27 screens. Australia, 17 screens and only $600 per screen. New Zealand, 11 screens and $550 per screen. This is just amazing, to have such high hopes as reflected in the screen count, not record breaking high but for a decent sized film, and end up with such little money! Especially in Australia and New Zealand and Canada, where any film with the smallest bit of action and comedy usually rakes in $4,000 and up per screen.
Here's the thing, if you look at the box office for this week, in certain international markets it is clear that the double punch of the two Punjabi releases Chal Mera Putt and Ardaas Karaan destroyed everything around them. And then Dear Comrade came in and cleaned up the mess. The Indian film box office potential is not infinite. And there just wasn't space for a mainstream Hindi film in the international market this week. It's not the same as the Indian market, at the exact same theater overseas you can watch a movie in any Indian language. They are all fighting for the same audience.
I'll put it this way, say there are 30 people in a room. 8 of them will only watch Hindi films, that's your solid audience. 3 of them will only watch Malayalam films, you are never getting them. Another 5 will only watch Tamil or Telugu, you are never getting them either. 5 prefer Punjabi movies but will watch Hindi. And another 9 will watch Hindi movies or southern films of any language, depending on what interests them.
Okay, you have your 30 people in your head? Now, let's say it is a week when there are no major Tamil or Punjabi or Telugu film releases. As a Hindi producer, you have your 8 people in hand. And you have the 5 Punjabis too. And you have the 9 folks who are forced in because there is no other option. And if it is a Khan film or a major holiday release, you might have a shot of reaching the Tamil/Telugu only folks too. But not the hardcore Malayalis, they will always only watch Malayalam films (at least, that's what it feels like from comments on the blog). So for the biggest of big Hindi films, if there is no competition, then you can get 27 out of 30 potential audience folks. For the less big Hindi films, you get 22 out of 30.
What about a week when there is a major Telugu release and a major Hindi release but nothing else? As a Hindi producer, you still have your 8 reliable audience members. And your 5 Punjabis. But of the 9 folks who will watch anything, about half will pick Telugu instead. And now you are down to only 17 out of 30.
Now, what about this week? When there is a semi-major Telugu release AND two major Punjabi releases? You lost your Punjabis, and that is a big big hit, you can almost always count on them. And your 9 are going to go half southern as well, so that's another hit. And now you are down to only 12.
That's just looking at the potential size of the release, you still have to think about if your audience members will actually want to see your film rather than stay home. Arjun Patiala started out in a pretty good position. It was never going to get the big thinker type audience members, but out of the 8 Hindi potentials, figure you still have a solid 4. Plus it was perfectly in the sweet spot to sweep all 5 Punjabi speakers. The 9 "watch anything" types were unlikely, but for a low budget film, 9 out of a potential 30 is fine. That is what the number of screens on this release tell me the producers were hoping for. A decent number of folks from the Hindi/Punjabi audience.
Judgmental Hai Kya started out a lot worse. With the edgy subject matter and strange ad campaign and all, it was always looking for a small market, maybe 3 out of that 8 standard Hindi. But it could also shoot for picking up 2 or 3 of that "watch anything" crowd, it has the sort of arty vibe that could bring in a Tamil or Malayalam fan. So that's 6, not bad at all. And that's what the screen count is telling me they counted on, fewer screens in America and Canada, more in the UK where the arty audience lives.
What happened in reality? Poor Arjun Patiala lost its entire overseas market. The 4 Hindi speakers who would be interested in a fun silly action comedy, 2 of them decided to take a chance on Punjabi instead because these releases were SO BIG they clearly brought in people from outside the traditional audience. The Punjabis all left of course. And Arjun Patiala was left with 2 instead of 9.
But Judgmental Hai Kya was hurt too, but by Dear Comrade. That 2-3 of the "watch anything" crowd, probably 1 or 2 of them went with Dear Comrade instead. Similar vibe of troubled romance in a realistic setting, ad campaign that aggressively went after multiple southern markets, and a young star on his way up, it could easily pick off those "I primarily speak Tamil/Telugu/whatever, but I will watch a Hindi film if it looks interesting" people. So Judgmental Hai Kya was left with the 3 Hindi only folks who were already interested in it, and maybe one more from the miscellaneous crowd. 4 instead of 6.
If you look at the room of 30 people, the whole global room, and look at every film in every market, it's pretty clear that about 12 of them went for either Chal Mere Putt (#8 movie in Canada this week) or Ardaas Karaan (#10 movie in Australia in week 2). Another 5 went for Dear Comrade (#12 movie in America this week). 3 went for Super 30 (still making over $1,000 per screen in week 3 in the US and Canada). Another 4 split between all the other options (Luca opened at almost $1,000 per screen in America, good for Malayalam. Kabir Singh is still going strong in Canada and Australia). And of the remaining 6, 4 went for Judgmental Hai Kya and 2 for Arjun Patiala.