This is an off-shoot of the discussion we've been having off and on about Ranbir-Alia and our conflicting emotions as celebrity watchers. They are hardly the first May-December romance in Hindi film, many of them even more famous and with an even greater age difference. So I thought it might be moderately worthwhile to quickly run through some other similar romances.
Amrita Singh-Saif Ali Khan
Gonna start with the slightly odd one out! Amrita was born in 1958. She is from an old Delhi family with some minor film connections thanks to an aunt who was an actress and married to Dilip Kumar's younger brother. Amrita started acting at 25 and immediately became a hit. At 33, Amrita met 21 year old princeling Saif Ali Khan at a party, he was immediately smitten and chased after her. He convinced her to go on a date, and at the end of the night he went back to her house with her and never left. They were married shortly after. Amrita more or less stopped acting, and Saif became the primary worker and wage earner for their family while Amrita stayed home with their two children. They had a stormy marriage and divorced when Amrita was 46 and Saif was 34. Saif went on to have a public relationship with a woman named "Rosa", and then to date and live with Kareena Kapoor for years before marrying her.
Dharmendra-Hema Malini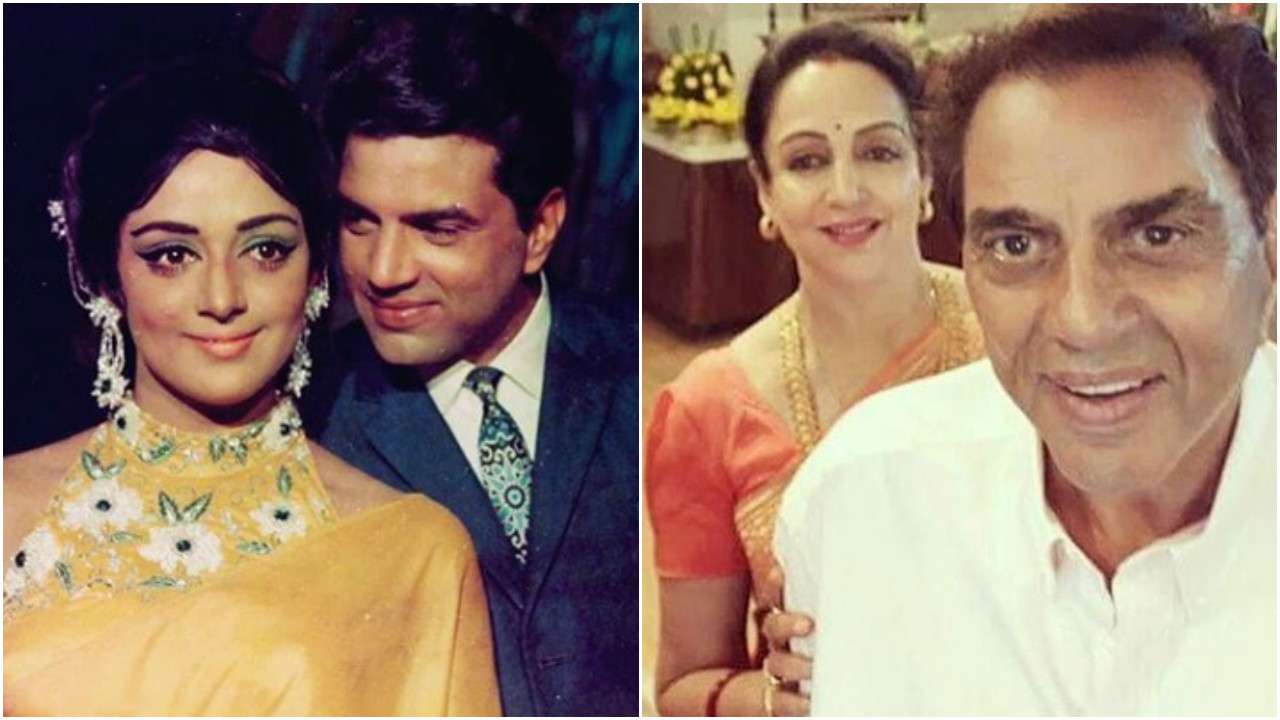 Dharmendra was born in 1935 and married before he was 20 in a semi-arranged marriage. He came to Bombay to become an actor, leaving his wife and children back in his home village. He started an affair with Meena Kumari, the biggest actress in the industry who was 2 years older than him. The affair burned out after a year and Dharmendra brought his wife and children to Bombay to be with him. In 1970, he was cast opposite a young actress from the south, Hema Malini, for the first time. Dharmendra was 35 and Hema Malini was 22. She had been acting professionally since she was 14 (and possibly fudged her age a few years down at some point). Malini was courted by multiple leading men of the industry at once, but by 1974 while filming Sholay, Dharmendra took the lead. Their relationship continued for 6 years until they finally married (with Dharmendra never officially leaving his first wife) in 1980, when Dharmendra was 45 and Hema was 32.
Dilip Kumar-Saira Banu
Dilip was born in 1922. He came to Bombay with his family as a teenager and fell into acting at 22 because he was offered a job. He got his first hit film at 25, and became a major star in 1949 when he was 27. He had a serious relationship with one of his first co-stars, but she was married. He rebounded with his most famous love affair, Madhubala. After that relationship died, Dilip had a series of light affairs with multiple women, none of them making it to the point of being official and public, and Dilip himself acknowledges the relationships but does not give names as it would not be gentlemanly. Meanwhile, Saira Banu was born in 1944. Her grandmother was a film personality, Dilip Kumar was a family friend. Saira loved to hear stories about him, and had a massive crush on him. She used to pray every night that someday she would marry him, and when she went to finishing school in London, she asked to take Urdu lessons partly because Dilip spoke Urdu. At 16, in 1960, she was launched in films. She was suggested as a heroine for Dilip soon after, but he refused because he felt she was too young for him. Saira was angry with him for a few years and avoided him on studio sets. Finally, Dilip was invited to her 21st birthday party and saw her in a new light that night. A few days later he called her up and invited her for a drive, and proposed immediately. When they married in 1966, Dilip was 43 and Saira was 21.
Aamir Khan-Kiran Rao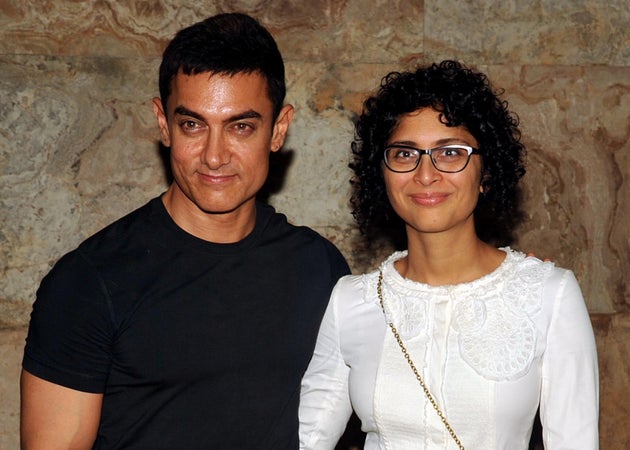 Aamir Khan was born in 1965. He fell in love with the girl next door as a teenager and married her (in the face of moderate opposition) 3 days after he turned 21. His film career started in a small part in an art film when he was 19. His first big launch movie was when he was 23, Qayamat Se Qayamat Tak, and he immediately became a major star. He did a variety of mainstream films for the next 10 years before starting to move towards a more artistic kind of career. In 2000, while filming Lagaan, Aamir is wildly said to have started an affair with a British journalist covering the filming, Jessica Hines, which resulted in a child. Neither parent has ever confirmed this. 2000 is also when Aamir first met Kiran Rao. Kiran was 27 and Aamir was 35. Kiran had a masters in communication and this job on Lagaan was the start of her hoped for career as a director. Aamir divorced his first wife in 2002 when he was 37. At some point, he called up a mutual friend and asked if Kiran Rao was still in a relationship as she had been during the shoot of Lagaan. He learned she was single, called her up, and they started dating. They married in 2005 when Aamir was 40 and Kiran was 32.
Saif Ali Khan-Kareena Kapoor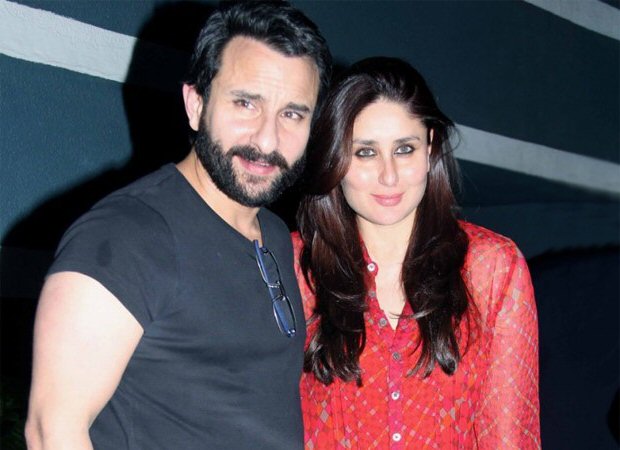 Saif was born in 1970, raised in a very cosmopolitan way all over India and the world by his extremely famous parents. He finished at an exclusive British boarding school, then came back to India and started bumming around a bit, worked in advertising for two months, got a job in a TV commercial, was offered a film role, and decided to come to Bombay and try to make it in movies. He met Amrita Singh before he had finished his first movie and married her. His first 3 years as an actor he went mostly unnoticed, finally in the mid-90s began to be appreciated as a boyish second lead type. In 2001, at age 31, Saif finally got appreciated for his scene stealing performance in Dil Chahta Hai. 2 years later, he was cast opposite Kareena Kapoor for the first time. Kareena was the younger sister of Karisma Kapoor, who had co-starred with Saif once in Hum Saath Saath Hain in 1999 when Kareena would have been 19. Saif also worked with Karisma in a brief cameo in Yeh Dillagi in 1994 when Kareena would have been 14. It is certainly likely that Saif briefly met Kareena at some point before she was 19 (although also possible they didn't meet since Kareena was at boarding school in her teen years), and he most likely did meet her in 1999. Kareena was launched in film in 2000 at age 20. By 2003 when she and Saif co-starred for the first time, Kareena was deep into a public relationship with Shahid Kapoor, and Saif's marriage to Amrita was falling apart as he started a relationship with his girlfriend Rosa. 5 years later, they co-starred again, Kareena was 28 and recently broken up with Shahid. Saif had broken up with Rosa and was 38. They started a serious public relationship almost immediately, were together for 4 years including living together for the last few, and then married when Kareena was 32 and Saif was 42.
Thoughts? Stories you want to know more about? Gut reaction of "oh I love them as a couple" or "oh I hate them as a couple"?