Okay, I am going to describe this in a way that will excite a very small subset of people: this is the movie that the director of Happy Bhaag Jayegi can make now that he finally has a decent budget. Okay, now all the Happy Bhaag Jayegi/Happy Phir Bhaag Jayegi superfans can rush out and buy tickets! For the rest of you, I guess I still have to sell it somehow. Really, believe me, you will like it!
The thing about sex, is that it is funny. And it is also important. And both of those things lend themselves to film. Usually films about sex are either totally comic ("ha-ha, that ugly guy is trying to have sex with that beautiful woman!"), or totally serious ("oh no, that beautiful woman is sexually unsatisfied!"). But the very best films treat sex seriously, and that is where they find the comedy. Sex is about intimacy, about opening yourself up to another person in the most vulnerable way. And that brings with it all kinds of possibilities for people to hurt each other, or help each other, or just be together. That's what this film is about. The way that sex makes us feel about ourselves, and what that makes us do. And it is about that for a man, his wife, and the other woman. All three characters are equally carefully drawn for us to understand how sex is driving them to do stupid impulsive hurtful things. And at the same time, we also understand how ultimately funny and small sex is, and therefore those stupid impulsive hurtful things aren't tragic, but simply funny.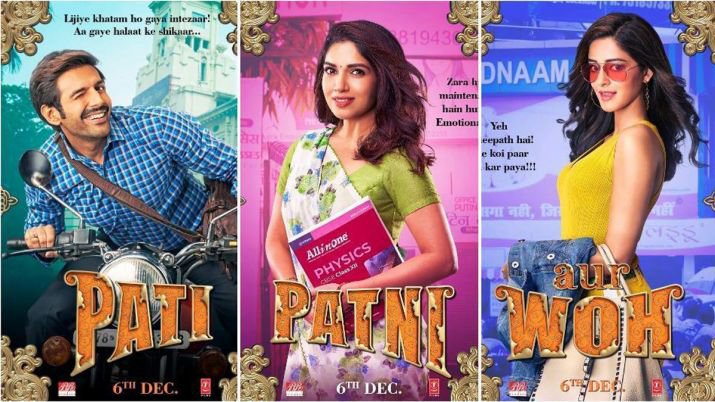 And this is a cast that is very good at being funny. Not at crazy slapstick comedy, but at character based comedy. Karthik and Bhumi have a great little rhythm together, the funny stuff is in what they don't say, in the way a raised eyebrow or a glance across the room lets them talk to each other. Aparshakti Khurrana plays the hero's best friend or, as I have come to think of it, "an Aparshakti kind of role". Really, how did he find such a firm niche so fast? And then you have Sunny Singh making a late great entry, and the older generation of parents who start out boring and then bring their all for a great comic set piece late in the film. Ananya is there too, she is fine, luckily her character is essentially just herself, so she just has to be natural.
The director is the true star thought. Okay, the director and Karthik. Karthik is soooooooooooooo good. And I think, if you haven't seen his other movies, you wouldn't realize just how good he is. He has a couple of classic "Karthik Aaryan monologue" moments, but he plays them in character, the way this man would give this speech, not the way his typical fast talking character would give it. And he treads a very careful line of allowing the audience to like his character, but never ask us to approve of what he is doing, even if we understand it. But also, the director! He keeps the story moving along so fast that I didn't even notice there weren't real song sequences, that the film was over two hours long, and that the plot took so many twists and turns I could hardly keep up.
Mudassar Aziz directed, and also wrote the screenplay. He has always been stronger as a writer than a director, until now. He wrote Dulha Mil Gaya (village girl has an arranged marriage to rich city guy, he abandons her, she comes to the city and gets a make over and a mentorship from awesome supermodel), and Happy Bhaag Jayegi (runaway bride jumps into the wrong truck and ends up being brought to Pakistan and given as a gift to a young politician), and Happy Phir Bhaag Jayegi (Wrong girl is kidnapped through a name confusion). As you can see from those brief descriptions, he writes GREAT stories! The problem is, he never seems to have enough money, or faith from his producers, to bring out the full story he wants to tell. When I watch his films, I have this frustrating sense of eating a sandwich with no filling But not this time! For once, he had producers with the patience to let him find the perfect full complete version of the story he wanted to tell.
Let's talk about those producers for a second. Apparently the plan for BR Chopra films is to take their library of classics and remake them, but not just remake them for no reason. Like Ittefaq before, this film takes a story we think we know, and updates it for the modern era. The conflicts, the larger social statements, they are all new. Without spoiling too much, I can tell you that the BR Chopra original, for example, set a steady homemaker wife opposite a working independent single woman, it wasn't just a comedy about a man cheating, it was a consideration of the changing role of woman in Indian society. In the modern era, both the "wife" and the "other" are working women, it's not about that, that is no longer the same kind of conflict. Instead it is about (as Bhumi's character directly says at one point), "single-screen" versus "multiplex", the divide in Indian society between the new updated cities and the lagging undeveloped regions.
It's an updated remake, and it is a good remake, and it is a good film to watch. Not just because you will laugh your way through it, not just because it has an ultimately good message about love and respect and understanding, but because it is about sex. And sex is a good thing for everyone to talk about, not the details of it, but how it makes you feel and the power it has over you.
Really! Watch it! It will give you a lot to think about.