Shashi alert! Well, sort of. At least "Kendal Family Alert". Let's look at nice pleasant murder mystery serieses from the BBC, the kind where death happens without blood or mess and usually to unpleasant people we don't mind when they day, and suggest that perhaps Netflix should stop making scary bloody rapey shadowed urban series, and more happy pretty countryside murders.
Rosemary and Thyme
Felicity Kendal! Jennifer's little sister, who went home to England with her parents and had a long British career on stage and screen. She looks so much like her sister it's almost disturbing, but somehow less deep feeling. I would say Jennifer could be beautiful, Felicity always feels more pretty than beautiful. Oh, and also Pam Ferris, from Call the Midwife (I know some of you watch it).
Anyway, it's a great set up for a show. Two women of a certain age start a second career as garden consultants, and keep running across muuuuurrrrrrder at all their jobs. Felicity is a fearless adventurous never married professor of botany who is fired from her cozy job at a rural university. At the same time, Pam Ferris is a housewife and former police officer, just dumped by her husband of 30 years. The two women meet during their mutual low points and become Best Friends and start a business together. Pam has a dutiful son who works for the police and secretly looks up information for them, Felicity has a falling apart old truck that she is the only one who can start, and other people keep thinking they are lesbian lovers because….well, they really really feel like lesbian lovers!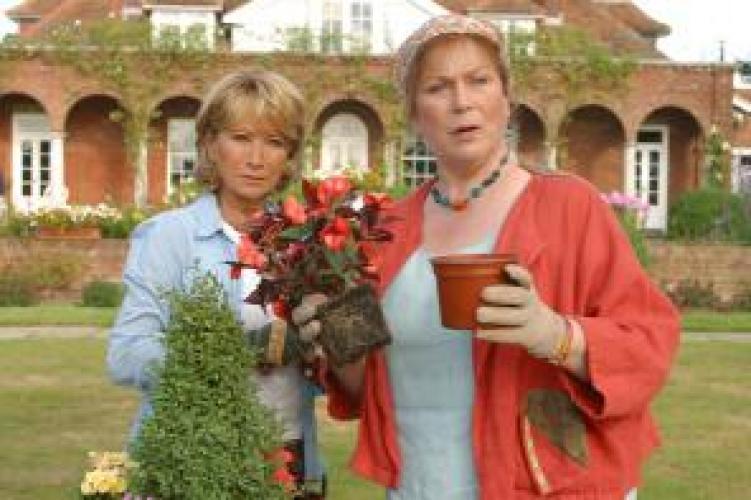 We have to change basically nothing to make it Indian. All we have to do is cast it!
The challenge is, these are supposed to be women in their 50s, not 60s. Oh, and the Pam Ferris character is supposed to be distinctly not traditionally attractive. So now we have to find two actresses in their 50s, one of whom is not traditionally attractive. Don't give in to temptation! Kirron Kher is too old, so is Farida! And Hema Malini. Think Madhuri.
I suggest:
Pretty Felicity Kendal One: Madhuri! Or Juhi. Pretty, smart, confident in herself, as comfortable in working clothes out in the garden as she is in a ball gown. Also, very excited about investigating murders and quick to rush in, lie, and hide evidence if she thinks they can do a better job than the police.
Sensible Tough Pam Ferris One: Neena Gupta! If she's with Madhuri, it would be like a "Choli Ke Peeche" reunion. Sane and sensible woman living a small life as a housewife with a terrace garden she loves, and then her whole world blows up when her husband leaves her for a younger woman. Now she wears comfortable work clothes and is done with caring about what other people think.
Midsomer Murders
The classic! Middle-aged detective Barnaby with his nice wife and aspiring actress 20-something daughter, solving crimes with a series of youthful and still learning sergeants. He keeps driving around to small scenic villages solving dreadful muuuuuuurders. If we move it to one of the resort hill regions, he can go around and help the local farmers, and the local business people, and also the rich outsiders who keep getting murdered by jealous stepchildren or whatever.
The key to this is that Barnaby has to be very charming, but also very dignified and lowkey. And his constable has to be humorous and lost and young, but with a promising streak of intelligence. And his wife has to be beautiful and intelligent and very interested in the world around her. His daughter just has to be a cute 20-something, that's easy.
Barnaby: Aamir would be perfect if he wanted to do a series, and dead sexy. Shahrukh could maybe also do it, but he would have to give an extremely toned down performance. Or, Atul Kulkarni! I love him and he deserves more. Or Akshaye Khanna, if we just want to make Ittefaq again.
Mrs. Barnaby: Manderi Bedi! It's the same role she played in Ittefaq, and she did it perfectly. I want her to be the cool beautiful wife who participates in local committees and volunteers with the ecological committee to clean up rivers and stuff. And all Barnaby's sergeants have a wee bit of an inappropriate crush on her.
Sergeant: If we are remaking Talaash, then Rajkummar Rao. But we aren't doing that. So maybe Ishaan Khattar? Or someone else? Who's very young and talented?
Barnaby's Daughter: Ananya Panday! It's the perfect role for her, she just has to be young and charming and sweet. And she can grow into being a better actress as the series goes on.