Happy Birthday Kajol! I love you, even if not everyone does. And I think not everyone does because maybe not everyone remembers what you used to be.
Kajol is from the oldest film family in India. Her dynasty, the Samarth family, is only equaled by the Kapoors for non-stop filmmaking of 100 years and 4 generations. And, I suppose, also the Mukherjees, her other family. What makes the Samarths special is that they are a Matriarchy, always have been. They married with the Mukherjees, your standard patriarchy, but held themselves separate still. Kajol is not considered the heir of her directing father, or acting uncles, or studio-founding great great uncle, she is the heir of her mother and her aunt and her grandmother and her great grandmother. And it is her daughter Nyssa who she expects to go to work and carry on the family tradition, not her son Yug.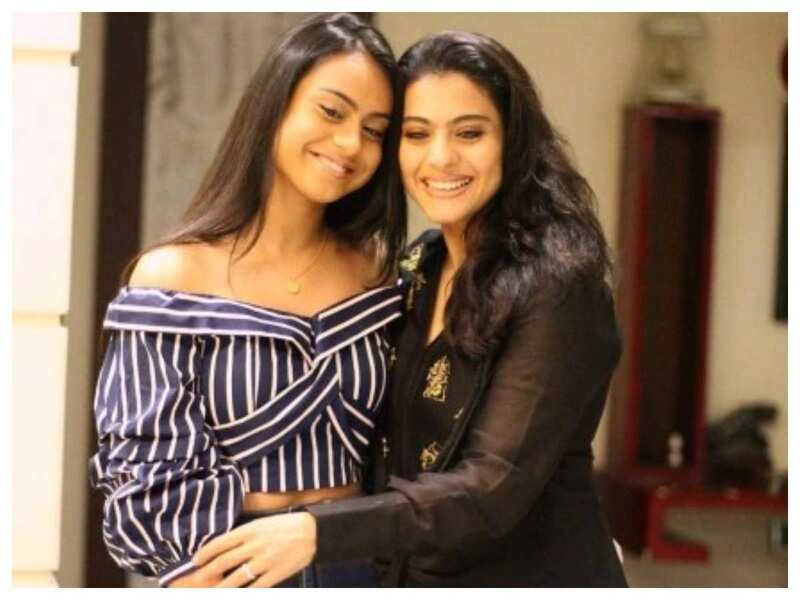 100 years ago, a widow in Bombay started picking up some film work to help support her family. Her teenage daughter loved watching her act and loved the movies. She declared she would be an actress or she would be nothing. Her family agreed. She became a star, married along the way and then left her husband behind. She worked day and night at the studios to keep her daughters alive, and produced a film to launch her 14 year old daughter when it was time. That oldest daughter became the most awarded actress in the history of the FilmFare Awards, National Award Winner, and beloved and respected by all. Until she walked away from everything to marry her navy officer husband. The younger daughter, she was different, she loved the film world. Fewer awards, but a lot more fun. Stayed up nights drinking and laughing with Raj Kapoor, shocked interviewers with her honesty and blunt language, was one of the boys and adored her life. Married a director from another film family, separated from him when the marriage wasn't working out, and raised her two daughters. And then there was Kajol. 16 years old, she took a break from high school to do a movie for fun, and never went back. First FilmFare Award at 19. First woman to win a "Best Villain" award at 22. And first woman to win 6 FilmFare award since her aunt Nutan in the 1960s.
That's the legacy of the Samarth family. The best actresses in Hindi film, right from the start. They work, they love, they marry, they have daughters, they raise the daughters to carry it forward one more generation. Years ago I read an interview with Kajol about her life as a mother, and she casually mentioned that she wanted her daughter Nyssa to start working no later than age 18. That's the way she was brought up, that's her values. Young women should be out there, working, in the world, as young as possible. It's good for them.
While almost every family in India says "the way to keep your daughter safe and happy is keep her at home, hidden away, proper", the Samarths say "you want your daughter to be happy? Give her the world. Get her out there being strong and beautiful and talented and adored as long as she wants." That's what Kajol's life was. As a teenager, she wanted to be in a movie, her parents said "okay, go for it". She liked it, she wanted to keep acting, her parents said "go for it, do whatever you want to do. Play a villain, kiss onscreen, whatever is good for you." She met a boy, she liked him, she wanted to get engaged but not married. He said "Okey-dokey, we will be engaged for as long as you want." Decided she wanted to get married, her family and fiance said "let's do this, tiny wedding on the terrace of the house". Decided she was done acting, her husband said "fine by me! Stay home and be happy." Decided she wanted kids, and this was the sad part. God said "sorry lady, no kids for you. Instead you get tragedy, sadness, years of trying".
But Kajol decided God couldn't control everything, told the world "I had to have a medical abortion to save my life, I'm sad, but I'm not ashamed". Finally had her daughter, told the world "I've had a daughter, I'm done acting until I'm ready to leave her". Daughter turned 5, told the world "I'm back! Let's get this acting on again!" followed by "whoops a daisy! Pregnant again! Super happy, gonna keep working through pregnancy, then time for another break". Son turned 2, said "I'm back! Except, don't call it a comeback, call it a continuation. I've always been an actress, I'll always be an actress, I'm not gonna be an actress on your schedule."
I just love her so much! Because she makes it so hard to love her! You want to make her a feminist icon, the perfect strong working woman. And here she is saying "nope! I wanted to be married, I wanted kids, and I stayed home so long as my kids were little, and I am totally okay with my husband taking the lead in our life decisions". You want to make her a perfect loving little wife and mother, and here she is saying "let's go back to work! I'm ready to act again! Also, I love going to parties and things without my husband". You want to say she has family values and respect for elders and is close to her sainted mother and part of a long honorable tradition of acting, and here's her sainted mother saying "eh, I stopped loving my husband so I threw him out. I love working, I love drinking, I'm a probably a difficult mother for my daughters and I know my mother was a difficult mother for me." Kajol doesn't fit into any box and isn't interested in trying to fit into a box. She is a person and she presents herself as the person. Some people won't like her because of who she is, but for me, I love her.
More than people not liking or liking her, I think a lot of people simply don't know who she is. This is a teenage girl who blasted on the scene and knocked out Madhuri and Sridevi and everyone else. Right from the start, whole movies were built around her. Right from the start, she wasn't going to be your standard heroine. Now, we hear about DDLJ and KKHH and K3G breaking all the records for Shahrukh. Heck, even MNIK broke international box office records. But Kajol was there too. You watch those films, Shahrukh is the star, but Kajol is his true partner. She had a little less than 10 years of being so good, so powerful, so impressive that she didn't even have to work at it. No need for PR games or lobbying for the good roles, she was just herself and the world was at her feet. And then she walked away, and now there is so little left behind for people to remember. We don't get Kajol tribute numbers at the award shows, we don't get Kajol listed as an "inspiration" for freshfaced young actresses, she just doesn't fit easily. This is the actress who broke the gender barrier for villains, who has more FilmFare awards than any other actress, who was in THREE box office record breaking movies, and yet the question of "best actress in Hindi film" or "best actress of the 90s" even somehow just doesn't include her.
Not that Kajol would mind. She has her kids, she has her sister and her mother, and she gets to make movies sometimes. What does she care if people remember her or not?
Here she is, still as stunning and confident onscreen as ever, "Gerua"
A few years earlier, sexy as all get out, "Saiyaan"
After first baby, sparkling onscreen, "Chand Sifarish"
Early pre-marriage days with her future husband, having so much fun being young and in love, "Neend Churayee Meri"
Her song from her action revenge movie, "Chithi Na Koi Sandesh"
And her evil role, sexy and strong and fun to watch, "Yeh Pyaasi Jawani"
And finally, because I will always love her, "Hamesha Hamesha"