It's Crocs Day! According to whoever it is that decides these national day things. Anyway, Crocs! Which I basically lived in for my last year pre-foot surgery, but now that my foot is healed, I get to wear pretty shoes again. And as we all know, Priyanka Chopra became Crocs brand ambassador recently which is just SO WEIRD.
Crocs! The shoes recommended by podiatrists! Very popular with people with foot problems (I wore them for my toe thing, my Mom wears them for her Planters fiaciitis, etc.). Super wide at the toe, very supportive base. And they are all rubber, so you can just rinse them off in the sink if they get dirty. Therefore also very popular with healthcare professionals and similar messy-job on your feet a lot kind of people (food service, childcare, etc.). And glamorous movie star Priyanka Chopra Jonas is their model?
The best explanation I could come up with is that she is reaching out to the massive South Asian healthcare worker market. And I guess also the South Asian "mothers of small children who don't have time to wear nice shoes" market. Anyway, the attempt to have "glamorous but not too glamorous because you are still wearing crocs" photoshoots has resulted in some quite awkward looks.
Here I am in my mountain chalet, wearing a coat indoors, but even though it is quite cold, I would rather wear my no insulation white crocs than anything else. Also, I am wearing thin nylon socks which would really look better with heels or something more formal, but no! I totally want to wear crocks with them! White crocs with black hose, TOTALLY NORMAL!!!!
Here I am, ready to power walk over to the red carpet in my comfy shoes, before dropping the windbreaker and switching to heels for the event. Absolutely a thing people do, just like you can wear crocs to your job and then change to heels, so can I!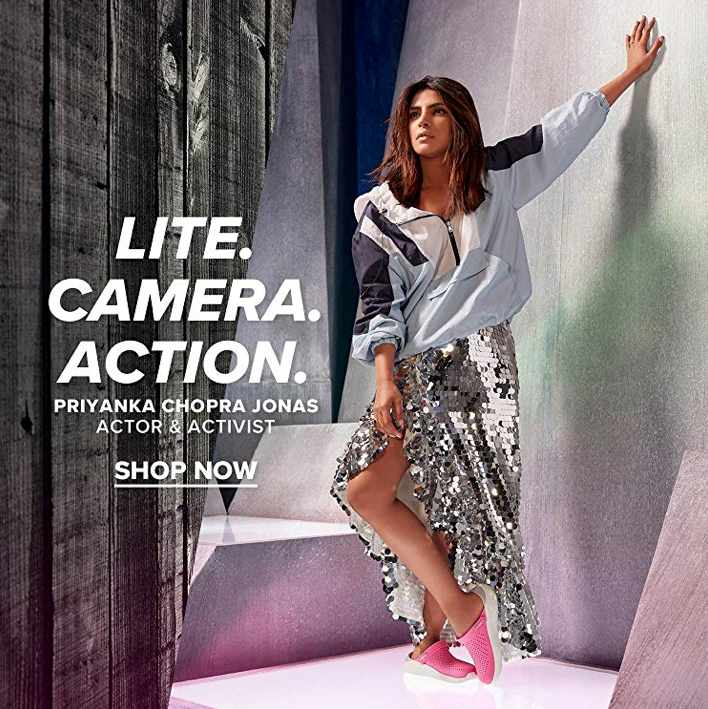 Here I am in daytime business attire, and also rubber sandals. A regular thing to do, rubber sandals and expensive jackets go together perfectly. And I always stand just right balanced on one foot to show off my shoes.
Here I am lounging around the house in my crocs and my satin jacket that coordinates with them. I clearly have a matching jacket for every pair of crocs I own, it's those little touches that pull an outfit together. Not that anyone will see it, because I am just here, lounging at home!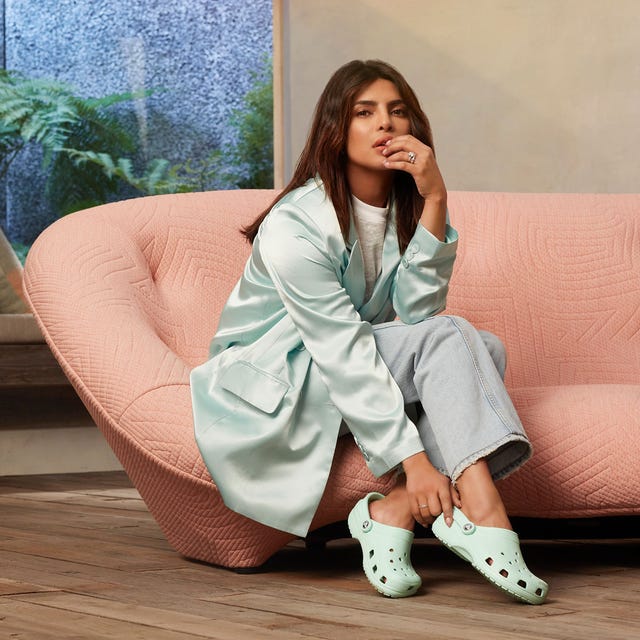 Here I am having my morning coffee in my all wood breakfast room where I have to wear crocs as slippers to avoid splinters as I do my leg lifts against my strange wooden stairs.
No shade on PC, it's all on Crocs and their effort to rebrand themselves as "not the boring company of elderly people with foot problem and tired healthcare workers, we are young and exciting!" But boy, you end up with some really dumb photo concepts when you try to make practical rubber shoes exciting!