I think I found my point by the end of this, but it took me a bit to get there. Please read carefully and see if you can follow.
I just watched a really good documentary which I highly recommend to all of you, Outcry. It's another one of those wrongful conviction documentaries, long form analysis of the case and how it went wrong and blah blah. But what I found most interesting was how we were introduced to the central figures.
We open by learning about a football star, very handsome, dating the blonde cheerleader "it" girl of the school, very talented, everyone likes him, just got a full ride scholarship. And then we learn that actually he comes from a poor family, his mother is Hispanic with such a strong accent she is subtitled by the documentary, his father is dying, and he is focused on football because it is his only chance to get to college. And then he is wrongfully accused of a crime, and the state comes after him hard. The cops don't investigate, just arrest him. The prosecutor's office throws everything into publicizing this crime and going after him. Public opinion quickly turns against him. And his own defense attorney does a terrible job.
He's dealing with two handicaps that aren't supposed to go together. On the one hand, he is very charismatic, charming, a real Golden Boy type. This makes him a great figure for the police and prosecutors to go after, the whole idea of "prosecuting the 'white' football hero because we don't care who we upset" is a nice story to sell. But the flipside of it is that usually you go after this great Golden figures and justice is balanced because they have all the resources on their side that made them Golden. In the case of this young man, he had no resources. It was all surface illusion. The biggest illusion being his race. His father appears to be non-Hispanic, and has a non-Hispanic name. His mother has a heavy accent, and his brothers who were interviewed all seem more "Hispanic" in appearance (as has been defined by American expectations) than he does. But this young man has his black hair cut short in a football crewcut, skin that seems just tanned from exercise, and overall a healthy young perfect 'white' American look. Sure, that gets you a long way in life, just having that look, but underneath the look you have someone from a family that just doesn't have the resources they could, in SO many ways! And that's everything with this kid, it all looks great on the surface, it all makes him a tempting target, but there is no real privilege behind to protect him from attacks.
The documentary makers play with that in how they structure their series. They start by establishing the whole football hero-cheerleader mystique, and only after we are thinking that way, they introduce us to his larger family, we learn that he needs that football scholarship to afford school, we understand that his "cheerleader" girlfriend is a lovely young woman and they sincerely love each other. They want us to start by seeing him the way everyone else did, from the prosecutors who went hard after his case, to the social media campaigners who just assumed he did it and anyone defending him is blinded by his charm. And then they want to force us to see that the charisma is a trap, that the urge to tear him down from his place on high is not reality. Late in the film, they even have him quote a police officer who interrogated him in jail and talked about how "you just keep getting higher and higher and I want to bring you down", and his response is "I was in JAIL! How I was I getting higher?" But this kid is just so special, you can see how anyone in the room with him might start to feel inferior, even though he is truly powerless in that moment.
Which brings me to Indian celebrities! I finally got there! Bombay movie stars in particular are in this odd place of having enormous charisma, popularity, and a lot of perceived power, without necessarily a lot of real power to back it up. And that makes them a target, particularly for the police and media and now social media. Movie stars look powerful, if you go after them it makes you look fearless, but actually neither of those things are true. The truly powerful escape any challenge because they can defeat them before they even appear.
Let me use as an example that I fell for myself and then was stunned when I realized how empty it was. In February of 2012, headlines everywhere Saif Ali Khan arrested following fight in Taj Hotel with NRI businessman!!! This is terrible, super powerful Saif Ali Khan throwing his weight around and fighting a humble hardworking NRI businessman. Thank goodness the honest cops arrested him. That was my first reaction. Followed by laughing a bit at Saif's well known temper, and thinking that he will get off very easily because he is royalty, his mother is a Tagore, and so on.
Saif's version straight through was that he was out with a few friends at the restaurant in the Taj. They were talking during dinner, and some people at the other table asked them to be quiet, which made no sense to him since it was a restaurant, they were supposed to be able to talk. They left the restaurant and went into the lobby, the other group followed, the man started saying abusive rude remarks to the women with Saif, and then it turned into a brief fight, in which both the man and his father (60 something) got into a scuffle with Saif. And no, he was not "arrested" exactly, the fight ended right there in the Taj, he went home, and then learned the other group had filed an FIR against him. He went to the police station, did all the formalities, posted bail, and went home. And he, or his lawyer, implied that Saif may have been targeted for publicity. I read this right when it happened and thought "Ha! What a lame story! Why would this group of strangers target him?" And then the people from the other table gave an interview and said they didn't even know who Saif was, so that version was clearly false. And then a couple days later I was curious and looked for a follow up story and it BLEW MY MIND.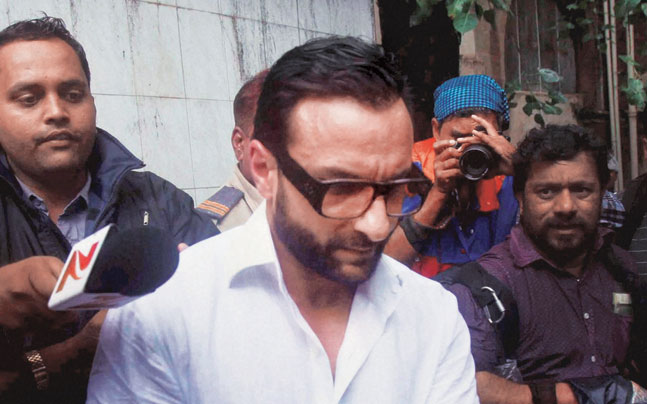 The people at the other table were Iqbal Sharma, his wife Tarina Patel, and his father. Tarina Patel was a minor model/actress who had worked in multiple Hindi films. She should certainly have recognized Saif, plus his table full of fellow celebrities. Also, the fact that she, and her husband, gave a TON of interviews in the next few days certainly seemed to support Saif's claim of this whole weird thing being just to get publicity. Especially since their story kept changing while Saif's stayed the same.
And now, if you are still thinking "yeah, but SAIF! He must be lying!" I will add that Iqbal Sharma was since then forced to resign in disgrace from his South African government position after being found to have taken bribes, and went on to partner with Prince Andrew in secretly hiding (probably illegal) funds. So long as I am drawing tenuous evidence, I will also point out that Iqbal's good buddy Prince Andrew is caught up in plenty of sex scandals which makes Saif's initial claim that he reacted because Iqbal said something nasty about the women he was with just a little more believable. Oh, and Tarina Patel, the wife, is now the star of "Real Housewives Johannesburg". Which makes the idea of concocting a whole fake fight scene for publicity just a little more believable too.
This is what I am talking about. Saif is known to have problems with his temper, he makes stupid arrogant statements to the press sometimes, he divorced his wife, sure, all of that is true about him. But that doesn't mean he is guilty of everything he is ever accused of. And his celebrity status does mean that he gets accused A LOT. And most of all, that "power" his celebrity is perceived to give him may not actually be real.
Saif is a prince, real life royalty. But royalty of a tiny tiny honorary area. And from a family that had fallen so far, until recently they were renting out their palace and Saif was working for decades to make the money to get it back. His mother has the Tagore name, which is revered in India. But she is one of a very large Tagore family, that name has a power which is dispersed through many relatives. Saif himself is handsome and successful and famous, yes. But he is not nearly as successful as others in the city. In Bombay society, the true elite would never have gone to the police station in response to an FIR. The FIR would never even have been filed, no one would have dared to report it. Certainly the police wouldn't have taken it. And most of all, the media would not have talked about it, and there would not have been a social media campaign around it. Going after Saif, from the people who wanted fame, to the police who filed the report and gave statements, to the media reporting it, was going after an easy target. You get all the applause for attacking someone who appears powerful, without needing to deal with the problems of attacking the actual powerful.
I can give you a counter-example without even needing to leave the film world, there's also the Jessica Lal case which was turned into the film No One Killed Jessica. Manu Sharma, son of a powerful politician, shot and killed the bartender Jessica Lal at a party in Delhi. There were witnesses all around, everyone knew he did it. He was actually arrested, and then the trial dragged on and on and on. And finally he was acquitted, largely because almost every witness recanted their testimony. Massive years long campaign from the public and the press, and then he was tried again, and convicted. His father (generally assumed to have coordinated the bribing of witnesses and so on) did not run for office in the next election cycle, but returned 5 years later and won, and then won again 5 years after that. That's real power. Saif can't get into a minor scuffle in a hotel lobby without being dragged into court and having stories written about him everywhere. Manu Sharma can kill a woman, and get off.
Of course, Manu Sharma wasn't as charismatic and charming and famous as Saif either, makes him less appealing to attack. That's my point. It's not just that the Bombay film stars in particular do not have the power of other people in India (I'm saying Bombay, because in some states movie stars really do have almost limitless power). It's that they are charismatic and handsome and exciting and you sort of want to tear them down at the same time you love them. Most of all, you quickly forget they are real people.
So now we have the drug investigation, which is just the latest in a long string of stories that are really all the same, going back to Saif's little fist fight in a hotel. The police can make themselves look tough by going after the Golden People really hard. The media can make themselves look tough by doing the same. And the public can feel like rebels by standing out and taking an "unpopular" stance against popular people. It's unfair that they are targeted because of their fame and appearance of perfect lives and so on, but it is REALLY unfair that they are targeted when all those "perfect lives" are an illusion. These are not super powerful people, these are not the global elite, these are not folks who can really fight back when the whole world lines up against them. They just look that way.