I am feeling a bit thrown by the Bridgerton series success, since I read the books years ago, in private, and didn't ever think they would be something out there in the world. But, why not? What's wrong with enjoying well-written female focused r-rated romances?
I don't know why I feel guilty about this, but I don't read as much straight romance as I should. I prefer murder mysteries and children's books and comic books a lot of the time. Somehow, this makes me feel like a bad feminist. But I have read SOME romance, enough that I already knew about Julia Quinn and that I know about some other similar authors I can pass along if you want them.
Julia Quinn: her Bridgerton series is good, but I actually prefer her Smythe-Smith series and Ten Things I Love About You may be my favorite of all.
Courtney Milan: A bit of an outlier, she does Victorian themed romances instead of Regency. And she also hits the ethical and social level HARD. If you find a hero who works on labor reform laws super SUPER sexy, this is the author for you.
Eloisa James: She does some Regency, but also some 1700s stuff, which is fun. Big wigs and high heels on men and stuff like that. She also hits the social issues note, not as hard as Courtney Milan but it is there. They are authors that actually remember the point of the London season was supposed to be men working on stuff in the House of Lords. Oh, and she is a Shakespeare professor in "real life", and she has a fun series that uses Shakespeare plays as kind of starting points for the love stories of 4 sisters.
Grace Burrowes: Light light light! Such easy reads, probably the easiest ones on this list. And sooooooooooo many of them. She also mixes Regency and Victorian, and like the Bridgerton series she follows one enormous family for a long series of books.
Katie McAlister: She started with historical romances and then moved into more sort of magical romances, but I love love LOVE her original historical series, because they are so FUNNY. Like, laugh out loud funny at the cross talk dialogue and farce.
Janet Evanovich: She is famous and super successful now for the Stephanie Plum mystery series. That is fun, but what is really fun are the romance novels she wrote decades ago which have now been reissued. My favorite is "Rocky Road to Romance" with a hero who falls in love with both the heroine and a dog at first sight.
Sally McKenzie: If you can handle an embarrassing title, her books are fun and soothingly predictable. They are all called "The Naked —-" (Duke, Baron, etc.). And the plot involves this poor man at some point being caught naked with a woman that he is forced to marry.
Jennifer Crusie: She imperceptibly moved from lightweight cheap romances to serious bestseller romances with, like, themes and stuff. For something fun and light and easy, check out "Getting Rid of Bradley" or "Anyone But You". For something with a little more substance, start with "Bet Me".
Georgette Heyer: The Grand Old Lady of romance. She wrote in the 1920s, which blows my mind because that means the Regency era she is writing about was just 100 years earlier. It's like us writing about the 1920s now. Anyway, one of the things I love about her is she realized early on she could just let her work speak for itself. She didn't do interviews, she didn't mentor young authors, she just wrote. Very careful historical research of the era, fabulous dialogue, and great romantic tension. My favorites are "The Masqueraders", "The Talisman Ring", and "The Devil's Cub". Anyway, her books which such phenomenal hits, that she invented the whole "regency romance" subcategory and then modern authors added explicit sex scenes and stuff.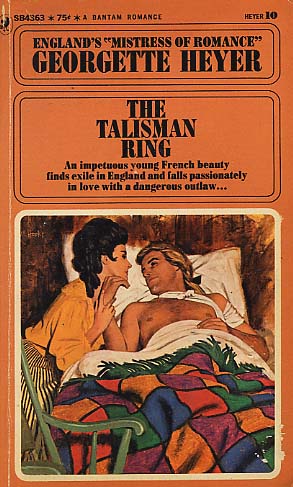 Anyway, those are all the authors/books I like. Let me know if you know one of them too, share your favorites, tell me what book you would make into a Netflix series/Hindi movie, tell me why I shouldn't feel guilty for not reading enough romance, whatever you want! It's a Chatty post!!!
(you can also ask "how the heck are so many naked men climbing around that you can make a whole series about it?" but I'm not sure I will have an answer)