I got a text from a friend that woke me up this morning. What a way to wake up!
I can't find myself feeling grief for this death. I feel sadness, because it is a reminder of time passing, a memory of how things have changed, but I don't feel grief. Dilip Kumar was 98 years old. For the past 5 years at least, I haven't seen a photo of him standing, laughing, looking alert. I think we can safely assume that whatever vital essence defined him as himself has been slipping away for a long long time. And now his final scrap of existence has gone, and his tired old body can finally rest.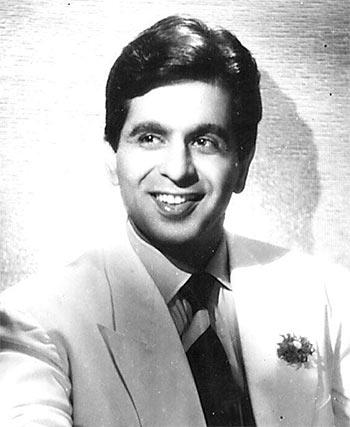 Death is always sad, losing some vital part of the fabric of humanity that connects us all is always a pain. But death defines life. And sometimes when death retreats too far, it is as though it minimizes the value of the life that preceded it. Dilip was a legend, a great man, someone who defined Hindi film and Hindi film stardom for years. And then for the past 20 years, he has been a tired old man trotted out on special occasions, sitting in his chair barely appearing alert, having people visit him for photo opportunities, his vital energies drifting away and our sense of him as the young vibrant genius being replaced by this tired shell.
My beloved grandmother died when I was 25. I still miss her every day. But I don't miss who she was in the last 10 years of her life. When I was a little girl, she adored me. She took me and my sister out on special lunch and shopping dates, just the two of us. She taught me how to make a bed with hospital corners, and how to make her special blueberry cobbler. She told us stories, secret little stories about her life, about when she met Grandpa, about reading Lady Chatterly's Lover, about her trip to California when she was in high school. She was Grandma, she was solid and real and strong. And then for 10 years, she slowly faded away. It wasn't Alzheimers, it wasn't anything as tidy as that. A series of mini-strokes, a massive emergency heart surgery that resulted in a medically induced coma lasting several weeks, dementia, all kinds of things coming together. I sometimes think about what would have happened if she had died when I was a teenager, when she had the massive heart surgery emergency, when her mental decline had barely started. I don't want that to happen. We had years together after that. Right to the end, when she no longer had the mental ability to even form words, her face would light up and she would smile when she saw me. That was worth it, that was special. But after she died, my memories could sort themselves into place. I didn't think about Grandma as she was at the end, I thought about her as she was my whole life. In a way, her death gave her back to me, made the Grandma of my childhood just as vivid and real to me as the Grandma of my adulthood.
I think that is the case with all lingering deaths. The gift of death is giving the ending, which lets you remember the beginning. When what is left is the tired day by day person, it's hard to hold on to the memory of who they were before.
Dilip Kumar was vibrant. Now he is called the "great actor", and he was, he was very serious about his acting, very hard working. But he was also vibrant. He laughed, he joked, he partied. He was a ladies man, not just a series of Tragic Love Affairs, but fun times with a lot of different girlfriends. His house was full of friends and laughter and family. He had a lot of really devoted friends. Famous and less famous, they all flocked to his big house in Bandra to play on his tennis court, flirt with his sisters, be happy.
Years ago, Dilip was a young man finding his way and listening to his elders. He was a young man who needed a job and was offered more money per week to start as an actor at Bombay Talkies than he could make anywhere else. He wanted to earn that money, he listened to what he was told from Ashok Kumar and Devika Rani and all the other people who invented Hindi film and were his trainers at Bombay Talkies. He worked hard on his first few movies and was proud when they did well, although also a little scared to admit to his father how he was earning a living.
And then his father died and Dilip became the head of a very large family of younger siblings. He built them a big house with his movie star earnings and sent them to school and to work and invited their friends over to visit them. On set, he fell in love with one of his first co-stars, a married woman. He had his first heartbreak and rebounded with fun and sexy Madhubala, finding himself engaged to her before he knew what was happening. After that engagement fell apart, he grew up a bit. He had his siblings at home, he had his work, and then he had his fun. Lovely ladies of Bombay, sophisticated women who wouldn't take him too seriously and who he didn't take too seriously. Dilip was a playboy and a gentleman, he perfected the art of the proper flirtation and affair, and then went home to his family and played at being the proper head of household.
Saira Banu was different. She was very young, she was the daughter of an old friend, she wasn't a girl he could play with and throw away. She was also tough, she knew what she wanted, she had been acting since she was a teenager, and grew up in the film world, she wasn't some naïve young thing. He took her out for one date, after suddenly seeing her in a new light, and she asked him if she was just another one of his woman. And he proposed.
Their marriage was a festival! Raj Kapoor came to it on his knees, because he had long sworn that when his old friend Dilip actually got married, he would walk to the wedding on his knees. The whole street turned out, the whole street were Bandra film star refugees, folks who wanted big houses for their big families without dealing with the hide bound proper Bombay world. It was madness and joy and craziness and all of India went mad with it too. Dilip was the playboy no one thought would ever settle down, and Saira was the naughty sexy young woman who caught him.
The early years of their marriage were volatile. Dilip's oldest sisters did not welcome Saira. Saira struggled to balance being a wife and an actress. But she and Dilip loved each other and they made it work. By ten years after their marriage, Dilip's siblings were mostly out of the house, Saira was still working and he had semi-retired, and Dilip's nieces and nephews were filling the tennis court and yard with love and laughter.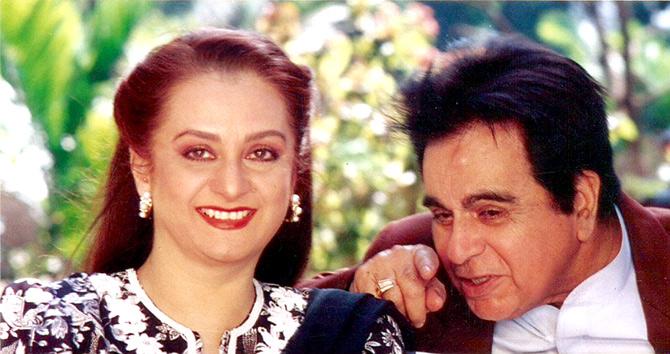 This is when Dilip formed what would be his real legacy, the mentorship he gave to young actors. Dilip had been mentored by giants, and he never forgot that. And he never forgot to pass it forward. Anil Kapoor, Amitabh Bachchan, Shashi Kapoor, every young actor he worked with had a story of Dilip being patient and wise and helpful. That was Dilip in his final years, loving and kind and generous. That light of kindness is what has kept him burning on through his slow decline. People love him, and he loves them. You can see it in photos, a press of the hand, eye contact, there is still something there, barely flickering but alive.
And now that legacy can fall into its proper place. Dilip the young man and eager student, Dilip the fun movie star playboy, Dilip the struggling older man with a young wife, Dilip the patient mentor, all of these identities can stand next to each other as equals, along with Dilip the tired fading old man who was still lovingly visited every week by his industry friends. Dilip has died, but Dilip has also been reborn.