These are real stories, very sad, and so on. But I will deal with tragedy by fictionalizing it and thinking about how great it would be as a Hindi film romance! Especially because both of them remind me a bit of Abbas-Mustan and we just watched Ajnabee.
Male Stripper Romance
Real story: shy young man raised poor who loves weight lifting and body building gets a job as a "host" at the first Chippendales club. He finally feels loved and accepted with all the female adulation. Meanwhile, there is a young model who is a regular, very confident, flirting with all the dancers, tipping them, so on. She sees something different in his eyes, like he really is scared and shy. One night, she asks him to dance with her to a slow song. By the end of the song, they are in love. They are married within weeks. Then, he is offered the chance to be the lead of the new show being put on in New York. Their little family moves to New York and shortly afterwards, their son is born. Everything is going wonderfully, at first his wife loves the feeling that Her Man is the star of the show. They have so much money they don't know what to do with it. But then success goes to his head, he loses track of the shy sweet boy inside and starts staying out late and eventually cheating. The marriage falls apart. Oh, and this is a true crime story, so at the same time the producers of the show are all killing each other. But I don't care about that, I was just so charmed by the love story that went bad.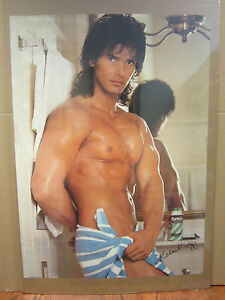 Obviously, this HAS to star Hrithik. I mean, it basically is Hrithik. Shy sweet young man who doesn't realize how beautiful he is, stunned by the first girl who is nice to him. And because I like them together, I would make Kat be the model/audience member. Hrithik is a shy failure who escapes into weight lifting. He gets a chance from a club owner of the hot new for women only male stripper club, Naseeruddin Shah. Meanwhile, Kat is a young model who reluctantly agrees to go with a friend to a bachelor party at this new club. She is uncertain at first, but then lets go and loves it (big drunken dance number). When Hrithik shows up as the new dancer/host he is told she is everyone's favorite customer, very fun and funny and friendly and flirty, but never wants more than that. He is in love with her at first sight, but figures she will never notice him. She notices him right away as "different". And then asks him to dance, and they are in love and married and it is all PERFECT.
Until a new producer is brought on to take the show to New York, Farah Khan. She picks out Hrithik as star quality and makes him the lead. Everything is wonderful at first, he and Kat have a baby, he gets more and more famous, and so on. But then success goes to his head! He has a connection with an audience member one night (Kareena) and almost kisses her, then pulls back last minute. However, Kat falls out and leaves him. Only in the middle of their break up, Farah Khan is killed! And Hrithik is a suspect! Kat, out of love and loyalty, determines to prove his innocence and eventually tracks it back to Naseerji. Hrithik is exonerated, and he and Kat start over, humbly and without fame.
Private Eye Abused Wife Romance
Real story: Young woman falls in love and marries a loser. She goes through med school, he does nothing. They fight more and more, but by then she has a baby and is trapped. Finally she tries to leave him and he pulls a gun on them. She sues for divorce and, crazily, the judge gives her husband visitation rights and no protection for her. Her divorce lawyer advises her to hire a professional to give her security advice. She hires an ex-cop private eye. He gives her lessons on how to check for dangers, buys her a gun and teaches her how to use it, and they form a close relationship for years. He is the only one who really understands how scared she is and how serious the danger is. And then her divorce lawyer and her expert psychological witness are shot in a seemingly random shooting spree and the private eye realizes exactly what is happening. He desperately tries to reach his client, terrified something has happened before he can warn her. He finally does reach her, she and her son are safe. Then he calls the police to help them track down the crazy ex husband. And only after all of this, once the crazy ex is finally arrested and her nightmare is over, does he admit he kind of likes her and they get married. Awwww. Happy Ending!
Such great casting options! In my Indian movie remake, I would start with the swoony young romance. College girl dreaming of being a doctor Rani Mukherjee, falls in love with a young soldier just out of the army Akshay Kumar. Little strangeness starts coming up after they are married, she is working long hours at the hospital and he keeps saying he just "isn't ready" to work yet. But she gets pregnant and ignores the little voices in her head. Until one day she talks back to him and he goes crazy and pulls a gun. The police come and she files for divorce, but the stupid court falls for his sob story and gives her husband visitation rights. Terrified, she follows her lawyer's advice and hires a private eye to help protect her and her son. At first she doesn't like the sloppy ex-cop Prithviraj who her lawyer recommended, but other time she comes to trust him deeply. He becomes a father figure to her son, and a best friend to her. They have several "almost" moments of romance but get scared because of their working relationship. Until it escalates into a shooting spree and Prithviraj rushes to save her. Once Akshay is arrested, Rani and Prithviraj finally feel free to speak their hearts. HAPPY ENDING.