FilmiLibrarian has been watching movies like a FIEND, much more than I have lately. And they are all rom-coms, which made me want to revisit my posts about rom-coms.
Here's the rules: No Khans, no blockbuster hits, no big critical acclaim films, and nothing that is over 25 years old.  We are looking for semi-recent mainstream Hindi films that aren't part of the usual "these are the films you MUST watch" list.  They don't have to be brilliant films, just enjoyable ones that you may never know to watch unless someone suggests them to you.
Oh, and for this list, nothing sad or deep, just happy silly romances.
Aiyyaa : Wonderful female focused strange movie.  Rani Mukherjee is a dreamy girl with a crazy family who is torn between her very nice but dull fiancee and her sensitive artist dream man Prithviraj.
Befikre : A very recent film which somehow came and went without notice. Ranveer Singh and Vaani Kapoor, set in Paris and very French-feeling, a couple who break up, become best friends, fall in love with other people…….but did they ever really stop loving each other? (SPOILERS: no, of course they didn't)
Daawat-E-Ishq : One of the all time greatest "small overlooked rom-coms".  Parineeti Chopra is a smart middle class girl who pretends to be rich in order to entrap an evil rich family into demanding dowry so she can blackmail them.  Only, the evil family's son is quirky funky bright shirt wearing delicious food making Aditya Roy Kapoor….what if against all odds she falls in love with him? (SPOILERS: of course she does)
Dil Maange More : Not a great movie, but watchable and kind of endearing, like a stupid puppy. Shahid Kapoor is torn between his first girlfriend, the cool girl from work, and the difficult girl who lives upstairs. Who will he pick????
Happy Bhaag Jayegi : A sleeper hit that did get a some notice, enough that it is getting a sequel. Diana Penty is running away from her wedding but accidentally hides in the wrong truck and ends up across the border in Pakistan in Abhay Deol's house, while her boyfriend is back in India trying to find her since the elopement went wrong.
Hulchul : Heavy on the "comedy" half of the rom-com, but still romantic! Akshaye Khanna and Kareena Kapoor are the youngest of two feuding families and going to the same college.  As part of the feud, they each decide to pretend to be in love with the other and break their heart.  But what if they fall in love…..FOR REAL???? (SPOILERS: of course they do)
Jaane Tu…Ya Jaane Na : Actually was a minor hit the year it came out, but it's been forgotten since then as Imraan Khan's career did not take off in the way it promised to. Imraan Khan and Genelia D'Souza are best friends who swear they are "just friends", not in love, Genelia and the rest of their college gang decide to help born romantic Imraan find the perfect girl, but will Genelia turn out to actually be okay with this or not? (SPOILERS: Not, boys and girls are never really just friends)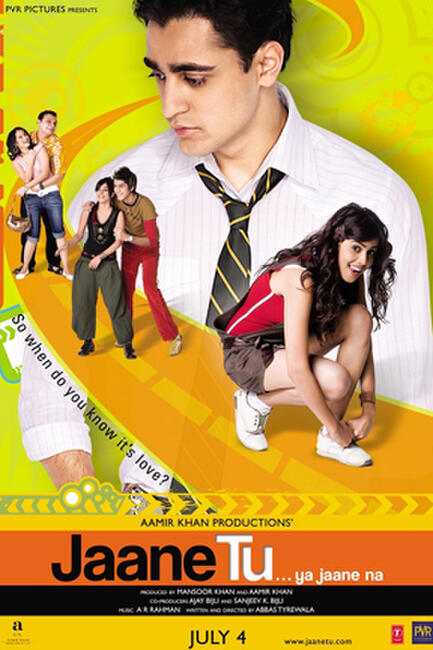 Jab Pyaar Kisise Hota Hai : An older one! Salman Khan and Twinkle Khanna in a surprisingly charming romance about a playboy who reforms for the woman he falls in love with, but then a surprise from his past threatens to derail their romance.
Jhoom Barabar Jhoom : One of my secret favorite films! A confident talkative lower class go-getter tries to talk up a trying-to-be-classier-than-she-is shop girl as they both wait for trains at some station in London. They fall in love, but what about their respective fiances? (SPOILERS: No spoilers, the plot is too surprising to ruin)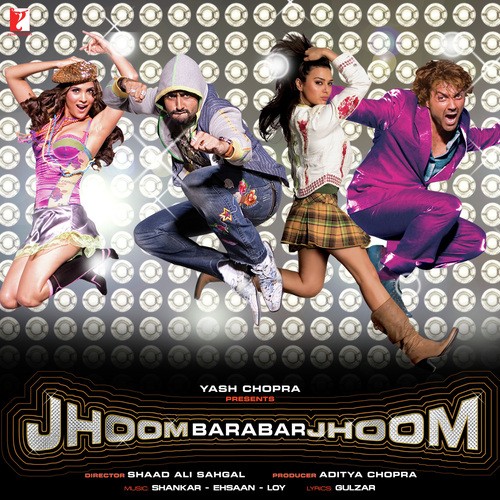 Khoobsurat : Princess Diaries remixed and almost completely changed, but still wonderful! Sonam Kapoor is a loud brash Punjabi physical therapist brought in to help a dignified traditionally royal family. But will she be able to get along with their dignified buttoned down son, Fawad Khan? Could she turn out to be exactly what they all needed to shake up their lives (SPOILERS: yes)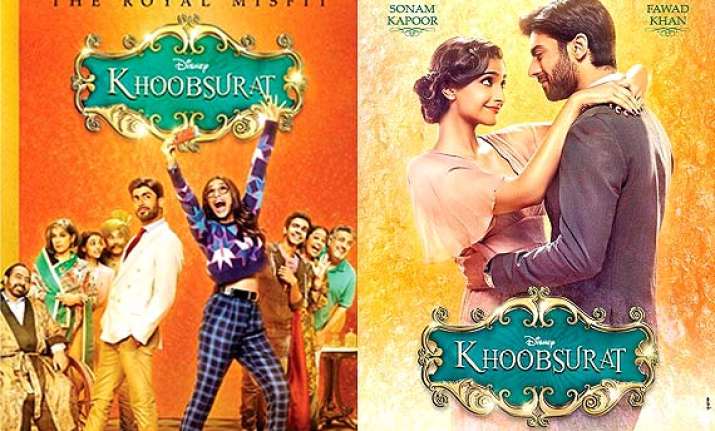 Kuch Na Kaho : A flashback romance!  To Aish and Abhi long before they were married or even thinking about dating, but already had great chemistry.  Aish is given the job by her boss (Abhi's uncle) of finding the perfect girl for Abhi to FINALLY get married.  Of course, Abhi realizes that Aish herself is the perfect girl, but then….TWIST! (SPOILERS: yeah, no spoilers here either, you really shouldn't see it coming)
Mujhse Dosti Karoge : should have been a hit, but wasn't, big star cast and everything, but still failed somehow and thus qualifies for this list! Hrithik thinks he has been emailing beautiful Kareena Kapoor since they were little kids, but in fact his penpal was Kareena's best friend "plain" Rani Mukherjee. When he comes to visit for the first time, Rani convinces Kareena to pretend she wrote the letters. Will Hrithik see through the charade? Or will a whole series of other complications end up happening? (SPOILERS: the second)
Raabta : Second to Running Shaadi as my favorite forgotten rom-com of 2017! Totally ridiculous reincarnation and evil exes and Budapest location and all kinds of fun stuff. Plus awesome chemistry between the central love triangle, Kriti Sonam and Sushant Singh Rajput and Jim Sarbh.
Running Shaadi : I love love love this movie! The directing isn't perfect, the camerawork is kind of dull and stuff like that, but the performances are great and the plot is delightful. And I am in love with Amit Sadh forever and ever and ever and ever. Oh, and bonus, thanks to the plot of Amit acting as a consultant/planner for runaway weddings, you get to learn all about the legalities of marriages in India.
Shubh Mangal Saavdhan : Another recent one! A minor hit which didn't get as much critical acclaim or discussion as the other minor hit of the summer (Bareilly Ki Barfi, the critical acclaim is what disqualifies it for this list). Ayushmann Khurranna and Bhumi Pednaker meet each other and like each other and talk to their families and get engaged. And then there is a completely surprising and original problem that threatens to derail the wedding and their love story. (SPOILERS no really, very surprising. It was spoiled in the trailer, but if you didn't see the trailer, you should go in fresh)
Socha Na Tha : A semi-classic and semi-critically acclaimed, but not really so it still makes this list.  Imtiaz Ali, who went on to be artsy and impressive and so on, started with this nice little unassumingly sweet rom-com.  Abhay Deol and Ayesha Takia are immature and growing up and have an immediate connection despite her being a good girl who never rebels and him being an immature younger son who is planning to propose to his secret girlfriend.  And then a whooooooooole bunch of stuff happens.