In case have haven't figured it out, I am working up to the final characters.  Bhalla is 3rd to last, then Devasena, then Amarendra.  I debated making Bhalla second, because he really is the co-lead of the films in many ways.  But on the other hand, his character is slightly less important overall than Devasena.  But only slightly.  Feel free to make that your first discussion point in the comments, if Bhalla deserved the the second place instead of Devasena. (full index of Bahubal posts here)
Bhalla's biggest flaw really shouldn't be a flaw at all.  He just wants to be loved.  Isn't that a good thing?  A human thing?  It's why we (at least, I) have a sneaking sympathy for him.  He does terrible things, but for a reason that makes sense to us.
If you compare him with Bijala (who is not getting his own post, sorry!  I decided to keep it to the main 7), you can see what I mean.  Bijala resents his loss of status, and hates his wife for being stronger than him.  Everything comes from a place of hate and bitterness.  You want him to just grow up and be a better person and kill those urges inside of him.  But Bhalla, it comes from a source that should be encouraged.  Wanting to be loved is healthy, part of what holds society together, caring what other people think of us.
(Also, he looks good in shades)
The first time we see Bhalla in the films, he is enjoying that love.  Defeating the bull isn't just about showing off his power, it's about showing off his power in order to get his father and son to cheer him on.  It's about basking in their approval.
Which builds right to the next sequence, in which we see him building a massive monument to himself, trying to force that same love and approval from the people.  And failing, because they love his brother more.  Only after we see this in the present day do we go back to the "past" and see the origins of it all.
In the comments on some post (there have been so many!) someone questioned how we are all so sure that Sivagami loved Bahubali more than her other son, and that Bhalla minded it.  I think that's why we had to see this part first.  The way that lack of love from his childhood has made him crave it so much as an adult.  And so we are able to connect the way Bahubali is extra close to Sivagami in the flashback with the way Bhalla seems to resent him once they are grown, straight through to Bhalla's frustration with the love the people still have for Bahubali over him in the present.  The proof of the problems in his upbringing aren't back in childhood, but in the present day, seeing what was the result of it all.
Which is one of the most realistic parts of the film!  Kids are so good at compartmentalizing, and denial, that even the children with the most messed up home lives can seem basically fine.  Unless you spend a lot of time with them, and know them well enough to see the signs, you may not know anything is wrong.  But those same things that you bury and ignore as a child can come up again in surprising ways in adulthood.  And so Bhalla and Bahubali's childhood seemed ideal, no problems.  But we know there must have been problems, because look at the result!
(this man did not have a happy childhood)
Setting aside Bhalla's massive underlying issues for a moment, let's look at just how Bahubali, the healthier brother, turned out.  Yes, he cares for people and believes in Dharma and all of that is great.  But he is also a bit cocky.  In that way that the "golden child" of a family often is.  He doesn't seem as aware of how his words affect others as he could be.  The way he tosses accepts the sighs of the palace women watching him practice as his due, the way he teases Bhalla and walks away before seeing his reaction, even the cheerful way he accepts the challenge of tracking down the stolen war secrets and then takes control of the bar, it all comes together as one of those people who has never really had to try for anything.
Not that Bahubali is a bad person, just that he hadn't fully developed yet at the time when we met him.  He was a little immature, a little thoughtless.  Without his essential good qualities, and the Dharma lessons that Sivagami insisted on giving him that provided a baseline of good behavior, Bahubali could have easily turned into the "bad" son, the one spoiled by too much love.  Heck, what happens to Bhalla's son could have easily happened to Bahubali.
And Bhalla could have easily gone the other way.  Getting too little love could have been the making of him, extra sensitive to other forgotten outcasts, focused on serving the kingdom as a whole instead of pleasing his mother, and aware of his own flaws and how he could improve.
I guess this is where Bijala steps in.  And Kattappa from the other side.  Sivagami gave her two sons almost the same upbringing.  They had the same lessons and training from her in right and wrong.  One got a little more love than the other, but that doesn't necessarily mean one would be "bad" and one would be "good", it could have lead to all kinds of different results.  The different results are where their fathers change things.
Kattappa took Bahubali's natural care for others, the extra love he had to give because he had been given so much it was overflowing out of him, and turned it towards the downtrodden. Instead of Bahubali spending his childhood and young adulthood flirting with the palace maidens, or playing with fellow spoiled noble children, he ended up spending it with the lowly ones of society.  And instead of being further built up, told he was special by all those around him, he got the simple positive reinforcement for hard work, duty, and skill from Kattappa.  Because Kattappa can't conceive of anything beyond hard work, duty, and skill.
But what of poor Bhalla?  Bhalla was so parched for love.  He was easy pickings for anyone who showed him any attention.  His father managed to draw him in through positive reinforcement.  But at the same time keep him always hungry for more.  We never see a simple moment of fatherly affection from him.  It is always a little given, more withheld until Bhalla has "earned" it.  Bhalla's hunger, with Bijala's encouragement, grew and grew and grew.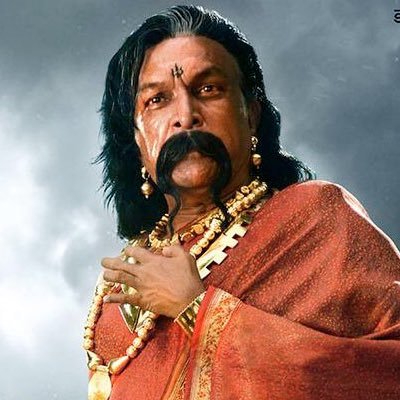 (Sorry!  No post for you!  That's what you get for being INCREDIBLY IRRITATING.  Although you are the only main character to still play a major role in my fanfic, so that's something)
And that's why he hated Bahubali as an adult.  Because he was jealous of his peace of mind.  The balance he had found between Sivagami's love and Kattappa's expectations.  Bhalla was never really in balance.
But it is this lack of balance which lead to his intelligence.  As I see it, he spent a childhood learning to deny what he was feeling, to bury his unhappiness.  And, as a coping mechanism, he learned patience and strategy and how to manage to get what he wants without asking for it.  Because he has learned that asking what get it, either from his mother or his father.'
It's not that his madness lives with his intelligence, it's that his intelligence was born of his madness.  Or vice versa.  He wanted love, but he learned to hide that desire from his family.  His intelligence grew with this challenge of constantly presenting a false face and somehow getting what he really wanted anyway.  But if he had been less intelligent, quicker to reveal his feelings, perhaps Sivagami and Bahubali (who really did care for him) would have been able to respond to his issues and help him before they reached the point of madness.
And so we end up with Bhalla in the present day.  Still super intelligent and able to present a false front to the world, seemingly in total control.  But under that, hiding a madness which has only gotten bigger and bigger.  With the initial source of his unhappiness gone, Sivagami who created this imbalance and Bahubali who was the focus of it, now he has moved all of it on to the one remaining object, Devasena.  He may act like the all powerful king of Mahishmati, but he has to keep Devasena always in the palace courtyard in order to feel like the all powerful king of Mahishmati on the inside, instead of a little boy who is jealous of the way his mother loves his brother.