So, I just FINALLY finished the Rise of Sivagami novel.  And I really really didn't like it.  Which isn't to say you won't, or that you shouldn't.  It just wasn't for me.  I'll give you a really brief run down in generalities for why it didn't work for me, and if you think it won't work for you either for the same reasons, then you can read the rest of the post and learn all the plot details and stuff without needing to read the book. But if you think you might like it, you should totally read it for yourself!  And if you already read it and really liked it, fair warning, this is a very mean review (full index of Bahubali posts here)
What I loved about Bahubali the movie is how simple it was.  There were very few characters, even actors with speaking parts and names can be limited down to less than a dozen.  For two full separate movies, that is really not a lot.  And the world we were in was more sketched in than clear.  A kingdom, a royal family, a code of laws we never learned the details of, even geography that was just general instead of specific.
(Compare it with, say, the number of named and speaking roles in Lagaan, and all the details we learned about the village and the Raja and everything else.  Makes you realize how simple Bahubali really was)
Everything was stripped away so we could focus on what mattered, our few main characters who had enormous depth and complexity.  And our central situations, which had similar depth and complexity.  Not complexity like "so, so-and-so overheard this, and there is a missing key, and a misunderstanding about this other thing", but complexity like "there are two wrong options, which is the better one to choose?"  Things you can really dig into and discuss for ages and ages, and come out of it not just having learned more about this fictional world, but having learned more about yourself and what your actions should be in this real world.
The novel, on the other hand, gives you aaaaaaaallllllllllllllllllllll the details.  And brings this world down to the human level.  Instead of talking about moral complexity, it had a whole bunch of explicit sex scenes.  And death scenes.  Instead of a handful of characters who are all clear and memorable, there are dozens of them and I couldn't remember who was who.  And instead of keeping motivations simple and basic, on the level of "I love my mother but I think she is wrong", the motivations are complicated and constantly shifting and never really seem connected one to the other.
Finally, there is so much backstory!  Which, for me, weakens things.  I don't want this kind of backstory.  I like getting the characters as we got them in the film, we see what they are today and can sketch in what might have made them that way.  But what matters is today, now.  Whereas in the novels, rather than giving us a clear sense of who they are today, now, it gives us way too many details of how they got here.  And the same for the setting.  Instead of simply giving us "Forest", "City", "rural Kingdom", it gives us a million little details about each place.
(Here's another movie with only a handful of characters and a sketched in setting.  Because that's not the point, the three people in that picture there, that's the point of the film)
None of this is necessarily bad.  I just don't like it.  And I think the reason I don't like it is because I'm not watching the film for an elaborate backstory.  I am watching it because i want to talk about Big Questions.  And if you get bogged down in details, you can tend to lose track of the Big Questions.
But if you want to read a novel that expands the world, fills in all the gaps left open, and gives you an incredibly detailed backstory for each character.  Plus gives us all the explicit sex and violence that wasn't included in the family friendly film.  And is an easy read, not terribly well-written (the English vocabulary is not varied, or consistent in terms of formality, which is a bit odd to my eyes), but with that "cliffhanger! Change scenes!" structure which keeps you turning pages.  Then you should read the novel.
Oh, one final note on the canon-not canon debate.  I think it's still open.  The introduction explains that, basically, it was a quicky job.  The author met with Rajamouli and talked about the characters in general.  Then went off and started scribbling out chapters and sending them to Rajamouli for comments.  Of which there were none.  So, this is not K.V. Prasad sitting down and handing over a detailed outline for what he thinks each character should be.  Or Rajamouli paying close attention because he will be using it for background for his next in universe film.  This is the author getting some general indications of character options, and then running with it, and Rajamouli saying "yeah, okay, that's fine."  It's also not Rajamouli saying "no, this is terrible!"  He is okay with the novel, so I think in terms of conan, if you like it you can take it as background.  But I think if you don't like it, you can also ignore it (as I will be) and make up your own canon.
Okay, FINALLY, SPOILERS
SPOILERS SPOILERS SPOILERS SPOILERS SPOILERS SPOILERS SPOILERS SPOILERS SPOILERS
I'm not going to bother with all the many many many characters who only have like one scene, or who die within this book without really changing anything.  The thing with the "cliffhanger! scene change!" structure is that it can hide the fact that nothing actually happens.  You feel like stuff is happening because of all the cliffhangers, but then most of the time the cliffhangers are resolved many pages later after you have changed scenes 5 times, and nothing actually changes because of them.  But you don't remember that because so much else happened in between.  Oh, and so I also won't be dealing with all the cliffhangers and events that end up not mattering.  I'm going to keep this pretty straight and tied to the characters we actually care about because they were in the films.
Bijjalla: Established as strong and a great fighter, but stupid and selfish and a slave to his own desires.  He is easily tricked by a pimp into sneaking out of the palace, getting drunk, and stumbling around chasing a prostitute.  And the promise of sex basically makes him willing to do anything.  And any perceived insult to his masculinity makes him easy to control.  Oh, and he has two fully functional arms and is still the heir apparent at the end of the book.  Essentially, he is the villain in any 80s jocks versus nerds movie.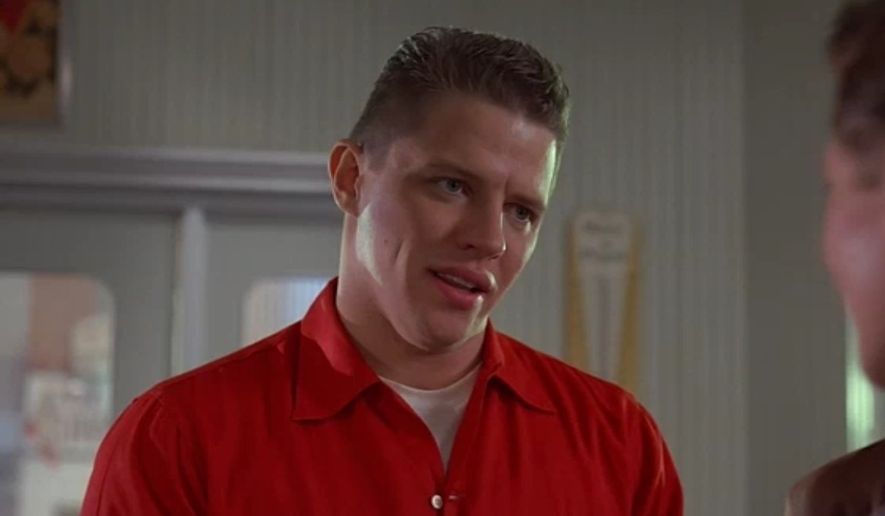 (Think Biff from Back to the Future)
Prabhas 0/Vijayandra: The younger brother and not the presumed heir.  Weak, bad at fighting, a coward physically.  Dreamy, unable to speak up for himself.  Falls in love with Sivagami at first sight because she is so pretty and water pools between her breasts (I tell you, if you ever wanted to read 400 pages of unimaginative descriptions of breasts, this is your book!).  At the end of the book, has faced his physical fears by surviving a fight and his father is beginning to respect him.    He is the cowardly nerd/author standin from every 80s movie/bad sci-fi book/bad fanfic.
(George McFly from Back to the Future.  But a more blatant standin for our presumably shy and sensitive author writing this book who wishes he had a chance for people to see his inner strength and goodness and have sex with Sivagami)
Kattappa: You know how you watched Bahubali and thought "boy, it was interesting to consider the price of loyalty and slavery, but what I really wanted was more information on Kattappa's erections!"  Oh wait, you didn't?  Too bad!  This book gives you all kinds of Kattappa-erections information.  He is a young physically perfect slave, but "ugly" and "dark".  Bit of a problem for me there, I don't remember him looking noticeably darker than anyone else in the films.  So the constant emphasis on his dark skin in the novel feels like it is racializing slavery in a way that was not required.  Why couldn't he be noticeably lighter than his masters?  If we are making everything up anyway.  Oh, and he is struggling to fulfill his father's lessons of absolute loyalty, while his younger brother rebels and joins a group of forest fighters.  And he learns that his family betrayed the forest people generations ago which is why they are now slaves.  Oh, and slavery is like "a thing" here, Kattappa is just one of many slaves.  Which is kind of confusing, to mix this ancestral vow with "oh yeah, slave markets and all that".  But mostly it is about Kattappa trying to resist all his bodily desires of all kinds in order to achieve perfect service.  Which I am okay with.
(He really isn't that dark, is he?)
Rest of the royal family: Prabhas -1 is barely on the scene, doesn't spend much time with his kids.  Does have a harem and enjoys dancing girls.  His queen is supposed to be from an ancient better family than his, very strong willed and looks down on her husband.  And then there is this whole invented system of noble lords and the chief advisor who has a special name and on and on.  But again, ends up not really mattering that much.
Sivagami: Finally!  A character who matters!  And whose backstory kind of matches my conception of her from what we saw in the films.  But only kind of.  Mostly because it is so so so so so complicated!  Her father was executed as a traitor when she was a small child.  She was raised by a family friend.  For the last few months before she comes of age, her adoptive father gives her to the royal orphanage to live.  The orphanage is a Dickensian nightmare, but she bonds with the other fully grown girl there and starts to maneuver her way towards the royal family so she can get her vengeance. Oh, and along the way, one of the princes falls in love with her and she maybe with him.  In the end, nothing she planned ends up mattering, she randomly stumbles into a fight scene and instinctively saves the king, which leads to her receiving back her father's lands and status as a reward.
Mahishmati the Kingdom: 300 years ago, the royal family arrived and tricked Kattappa's ancestors into revealing the secret of a magical stone from a holy mountain which can be used to make unbreakable weapons.  They used this secret to defeat the forest people and steal their land, and Kattappa's family promised to always serve them.  There also seem to be older aristocrats who are not forest people, that's who Prabhas 0's mother comes from, while the royal family are kind of upstarts.
The big "secret" of the kingdom is that they still need that precious stone in order to make their weapons.  And to do it, they send small children into mines in the sacred mountain and then (presumably although it is not spelled out) kill the small children when they get too old before they can share the secret.  Oh, and there are slave traders who raid villages on the outskirts, kill the men, collect the woman to be sold as sex slaves, and the small boys to be sold into the mines.  The whole kingdom is built on theft, slavery, and violence.  There are various rebel forces trying to tear it down, but obviously none of them will succeed because we saw the movies, and the kingdom's still there!
(very much still there)
The heavy implication is that Sivagami's dead father was going to reveal the secret of the children-mines-thing and that's why he was branded a traitor and killed.  Oh, and there's some super heavy handed discussion of how all the "bards" of the kingdom were told to give false stories to hide the truth of the evil that happens and so on, ooooo, all of history is written by the victors!
Without reading (or them having been written yet) the next two books in the trilogy, I can tell you what will happen.  Sivagami will fall in love with the older prince and there will be a sex scene.  Then he will have to marry one of the two briefly introduced in this book wealthy young women in order to secure the family, and Sivagami will have to marry the older prince as part of her plot/a deal.  There will be two more sex scenes.   None of the rebellions will succeed, but we will keep hearing about all the plans in excruciating detail.  Instead, we will have a series of qualified successes: the older prince will lose the power of his arm in a fight; the younger prince will be declared heir; Sivagami and the younger prince will declare an end to the whole mining slavery thing.  The kingdom will become more or less okay, and a lot less rapey, just in time for the opening of the movies.  Oh, and the final scene will be the death of the younger prince and Sivagami's reaction.  Many many women will have breasts, and have sex.  No male genitally will ever be described in detail, and no women (except maybe Sivagami) will ever have their sexual desires accurately described.
So, here's what I found good about the books.  The main feel of most characters, and the main themes of the film, I think are still there.  Sivagami is always a character torn between what she sees as a higher duty and her emotions.  That is still here.  Kattappa struggles with his humanity versus his duty.  That is here.  Bijjalla is selfish and unable to consider higher goals.  That is here.  Mahishmati the kingdom is a patchwork of influences that is held together by the central power of the royal family.  That is here.
But what I didn't like was the need to layer more and more and more on top of it.  Especially in terms of character backstories.  It kind of reminds me of a long running TV show.  In the first season, everything is new and fresh and important.  But by season 6, we are seeing the same things rehashed over and over again, and every character combination has so much stuff in the background, that nothing really feels special any more.  My personal canon for these characters isn't that far off from the book.  But with fewer complications.
For me, Sivagami is a from an upperclass family, we can see that with her ease in formal situations.  She had to marry Bijjalla as part of some compromise clearly (because why else would she?), but I prefer to think of it as something normal like a trade agreement, or simply that her father thought an alliance with the royal family would be an advantage.  To me, in the films, she feels like someone who only truly came into her own in that initial throne room scene.  Like until then she was the strong noble daughter-in-law of the family, but no more than that, just a wife.  I don't like this idea that she had a whole identity before the throne room scene in the minds of the people there, outside of just being the daughter-in-law.
(This, on the left, feels like her finally coming into her own power, not like a continuation of power)
Kattappa is a slave.  But I don't think he had any moral dilemmas before the films started.  He seemed contented in his servitude until he started having to go against Bahubali, who he loved.  More than that, I don't like the implication that his slavery was a choice.  To me, his character is someone who was never even taught how to choose for himself.  To show that his brother, with the same upbringing, was able to make that choose diminishes the tragedy of slavery.  More dangerously it implies that it is a slaves "fault" if they live like that.  Maybe I am just extra sensitive to slavery issues since I am American and it is such a part of our everyday lives, but that really bothered me.  Oh, and also, if Kattappa went through this whole moral turmoil as a young man, really weird it never comes up when he is an adult going through a similar situation!  But the general idea of Kattappa clinging to his need to obey and be unquestioning even as a young man, that rings true to me.
Bijjala: Here is where I start to have serious issues.  To me, Bijjala felt like a character who spent his life blaming outside circumstances for everything bad.  And a character whose self-pity lead to a strange kind of intelligence, being able to find the similarly hidden and self-pitying parts in other people.  Him as this big dumb jock just does not work for me.  I see him so clearly as having been born with his infirmity, spending his whole life swinging between self-pity and trying to prove he was just as good as everyone else, and always learning how to use other people to get what he wanted, that the idea of him being at some point in control just makes no sense to me.
(Just does not look to me like anyone who was ever strong)
Prabhas 0/Vijayandra/whoever: I have less issues with him.  I think we always knew he must have been gentler and kinder than his brother, to explain Bijjala's disdain.  I don't like making him into this total nerdy weakling, that feels a little unbelievable.  But maybe (no, scratch that, almost certainly) the future books will build him up a little more.
Mahishmati: I don't really need a backstory for this.  It's a kingdom, kingdoms are kingdoms.  There is a forest outside the bounds, most places have that.  And there are other smaller kingdoms within it.  In my mind, it's a kingdom with a noble class, and a merchant class, and soldiers, and peasants/workers.  And that's kind of it, I don't need any more than that.  Putting more of a backstory on it, any backstory at all, feels sort of purposeless to me.  The point of the story is what we do in our kingdom, how best to serve it, not where it came from.
Okay, you ready for my real big issues?  And these aren't really related to movie versus book, this is just what bothered me about the content of the book alone.
There is some art that wants to show us how characters grow, how they become better people, how there are moments of nobility possible even from the most low.  And so they have to establish how low and dark the place is in order to show the nobility of the characters in contrast to it.  The point is the nobility, not the darkness.
(Pyaasa!  Light in the darkness)
Relatedly, there is a use of explicitly bodily everything in order to show us how the soul can overcome the body.  Sexy, defecation, gross eating habits, messy injuries, gaping wounds, it is all there to make the moments of overcoming it the more beautiful.  To make us, the consumer, think "well, I have never been brought so low or so disgusting in my life, if they were able to overcome it, then I should be able to rise above my much more reasonable situation."
This kind of art is very very very very very difficult to achieve.  To make sure that the reader is remembering and cherishing the moments of grace, not the moments of falling from grace.
What less graceful (in the ancient sense of being full of grace) authors see is "oh, they wrote this and people read it because people are base and disgusting and cannot overcome their human urges.  We should encourage people to fall lower and lower and forgive themselves for doing so".  That is what this book feels like to me.  It luxuriates in rape, in brutality, in the ugliness of humanity.  And tries to tell us that this is "truth", that this is what people are like on the inside, that we should forgive all our desires and failures because it is just "human" to be like this.
I don't want to pick out this book in particular.  It's clearly a Game of Thrones ripoff, trying to combine two popular tastes among the English speakers of India, Game of Thrones and Bahubali.  It is one of many many many Game of Thrones ripoffs and pretty much none of them got that whole "moments of grace" concept.  Heck, the Game of Thrones TV show arguably missed that point too!  It's easy to see the sex and elaborate world building and twists in the plot and everything else, and miss the simple message at the center of it.
It just bothers me that on top of the simple story of Bahubali the films, which was carefully without any of that disgusting earthly issues so that we could only see the higher messages, we have now gotten these books that just slam it into the dirt of every other Game of Thrones ripoff novel.