This is the only Shahrukh movie I reviewed twice, once my academic style, once in the way that I would write it for all of you here on the blog.
Review One:
Get ready for me to be lazy!  I just dug up a paper I wrote for grad school on this film/Shahrukh's star persona and wildly slashed out bits and rearranged and then threw it up.  But whatever, I haven't done a Rab Ne post yet really, and it was time.  The post I really wanted to write was on Lucky: No Time for Love, but I'm not going to let myself, because that should wait for Salman's Birthday Celebration time.
In 1994, 23 year old Aditya Chopra narrated the plot of a film he had written, the film he wanted to direct, to his best friend, the rising star Shahrukh Khan.  Shahrukh turned it down at first; he wanted to be a different kind of actor, not the usual romantic lead.  Then Adi told him that, if he did this film, Adi could make Shahrukh a superstar, "every woman's dream man and every mother's dream son".  Shahrukh agreed and, within a year, DDLJ was released and Adi's prophecy came true.  Fourteen years later, Adi sent Shahrukh another script.  This time, Shahrukh cleared his schedule and told Adi he was ready without even reading it.  Perhaps if he had, he would have had more qualms.  If DDLJ was aimed at making SRK into a star, Rab Ne Bana Di Jodi was aimed at tearing his star down.  Or perhaps Shahrukh would have agreed even faster; at age 44 he had begun to show signs through his script choices that he was tired of being the dream man and ready to be something different again.
(Something different!)
At the time of Rab Ne Bana Di Jodi, Shahrukh was at a turning point in his stardom.  This persona began to develop in the years before DDLJ, it came of age with that movie, the next few years saw slight additions to this existing persona, but in the years after 2000, Shahrukh's film choices have shown a calculated destruction of his sophisticated on screen personality which culminated with Rab Ne Bana Di Jodi.
Whether the story of Adi prophesying Shahrukh's success is true or not, it is an integral part of Shahrukh Khan's star narrative.  SRK's narrative is a combination of "boy next door makes good" and "inevitable journey of a God."  At the same time, Shahrukh is also positioned as the perfect boy next door, someone within reach of the average movie goer.  In stories of Shahrukh's life, he is not only "just like the audience," he is just like his own characters, who in turn were a new style of hero, one more like the audience than the perfect heroes of the seventies and eighties. Next to the stories of Shahrukh as a God, are other stories of him as a regular boy.
Since Shahrukh is a romantic hero, it is the romance of his wife Gauri that is the main focus of most stories of his life.  This romance, as told in fan magazines and television interviews, culminated in a moment straight out of one of his films.  After dating for years, secretly as her Hindu family would not have approved of her dating a Muslim boy, Gauri announced she needed a break from the relationship and stopped returning his calls.  Shahrukh managed to trick one of her cousins into telling him she was visiting friends in Bombay.  With only that information to go on, and a suspicion that a girl who loved swimming might go to the beach, he borrowed money from his mother, took his two best friends for moral support, and left his hometown of Delhi for Bombay.  They quickly ran out of money, got kicked out of the house where they were staying, and finally ended up sleeping on the streets.  Their last day there, Shahrukh convinced his by now very hungry friends to try one last beach.  Of course, they magically found the girl as the sun was setting.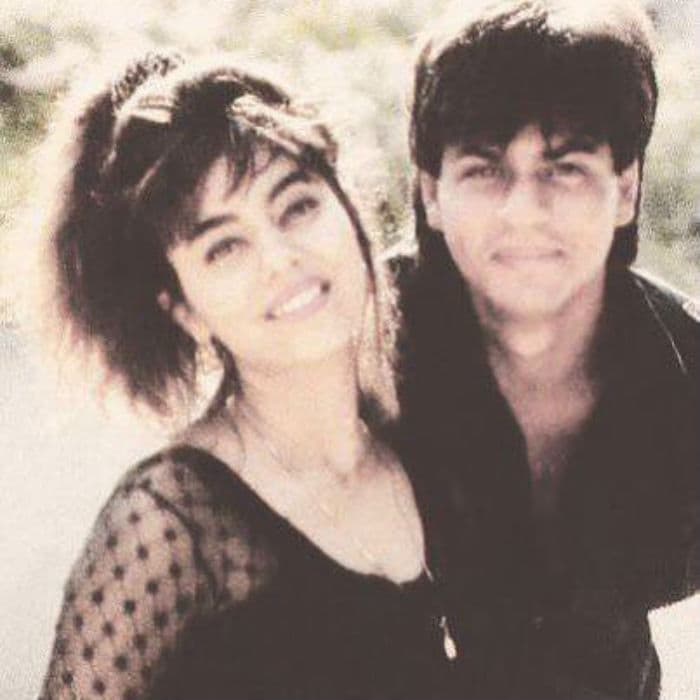 (Doesn't hurt that they also looked like movie stars)
While that moment was from a classic Indian romance of the seventies or sixties, what followed, according to Shahrukh's star biography, is more in tune with the changes that arrived in the nineties.  The nineties saw the arrival of a new kind of hero and a new kind of romance.  He was the perfect Indian boy, who is also able to move easily through the west, is unabashed in his pursuit of wealth and love, but still respects the power of the patriarchy.  He was a new hero for a new time.  This new hero would not run off with the girl after he found her, he would find a way to bring a balance between societal and familial obligations and the heart's desire.
The change was not so difficult for the audience to grasp as part of Shahrukh's star narrative reflected the story of DDLJ.  After Raj and Simran fall in love, Simran suggests they elope, but Raj refuses.  Instead he insists on winning over Simran's family until they approve of the match.  In the same way, Shahrukh and his girlfriend Gauri wanted to be married, but knew her family would object.  Shahrukh was Muslim, had no money or prospects, and aspired to be a film star.  Rather than break up or sneak off together, they decided to mount a campaign to win over her family one by one.  In life, as in film, true love won the day.  Considering the fact that Aditya Chopra wrote the story after having become close friends with Khan, it is entirely possible that the star's own history influenced the path of the characters in the story.  On the other hand, it is possible that this story became an integral part of Khan's star narrative in response to his most famous role.
Mohabbatein was Shahrukh's second film with Aditya Chopra and his first with mega-star Amitabh Bachchan.  Amitji had retired right before Shahrukh started acting in films.  He had been plagued by personal problems, ranging from rumors of infidelity against his beloved wife, to scandals from his brief time in politics, to the simple fact that he was getting too old for the kind of roles that had made him famous.  In Mohabbatein, Adi  brilliantly repositioned Amitabh as an "angry old man" rather than the "angry young men" he had played previously.  While the young Amitabh had railed against the establishment, the old Amitabh desperately tried to protect the establishment.  In contrast, Shahrukh presented the youthful present.  Not anger, but love.  The dialogue itself drives home this contrast, with the two of them constantly throwing around the question of which will win; love or fear.  The point of the film is that love eventually wins out, in other words the softer sweeter hero of the nineties defeats the angry violent hero of the previous era.  With this triumphant victory, "Raj" and Shahrukh reached the heights of fame.
(Here, the trailer lays the whole thing out for you)
Now that the character had been in existence for five years, and been crowned the new king, I think Shahrukh's film choices began to slowly destroy it, allowing him to flourish as an actor.  He spoke to this problem in my favorite documentary Inner/Outer, saying:
I'm not comparing, but…I don't want to see Clint Eastwood not on a horse.  On the other hand, you come down a snow clad mountain in a nice sweater and you sing to a girl and tell her you love her and it works wonders and I'm nearly forty and it still works wonders.  But as an actor, yes, it gets a little disturbing…And now I'm afraid I don't even know how to be in a movie if there's no horse in it…It's a little worrisome some times as an actor.  As a star, it's fantastic.
In 2004 in Swades, Shahrukh attacked an integral part of his "Raj" hero, the NRI lifestyle.  Not so happy after all!  While Swades killed the NRI hero, Kabhi Alvida Na Kehna (2006) killed the vision of a happy marriage.  Shahrukh the light-hearted lover, plays a bitter angry man who hates his wife.  Moreover, instead of being the young athletic type, he now moves with a pronounced limp.
(He's no longer happily dancing with the women, he's bitterly watching someone else dance)
All of these films dealt with the outer fringes of the "Raj" character and thus Shahrukh's star persona.  They stripped away the connection to the West, the ideal of easy success, the happy marriage, but Rab Ne Bana Di Jodi, stripped away the essence of the "Raj" character: the fantasy of true love.  In Rab Ne, for the first time, his character has an arranged marriage.
Stemming from this change came others.  For the character to be one who would need to have a woman forced to marry him, he had to be awkward, shy, old-fashioned, and unattractive.  As Shahrukh said in interviews, "This time I think Adi and I decided that we are going to bare the engine and put it in front of the people and say if it doesn't look very attractive, it doesn't have fluid lines, it's not a convertible, but this is what runs the car".    In a way, this was a return to the origins of the character.  When making DDLJ, Adi urged Khan to "take off his mask." He believed that "Raj" was the true Shahrukh, "an inherently nice man," not a showy dangerous lover.  It is this idea of him to which Adi returned in Rab Ne Bana Di Jodi.  Shahrukh describes the character as "the soul of a lot of characters that Adi has written for me". And by playing this character, he reminded people of the other parts of his life story, the ones that are not usually highlighted.
Shahrukh may have fallen in love at first sight with a beautiful girl, but it was not as a charming and confident young man.  When he and Gauri met, they were extremely young, she was the first girl he ever spoke with, the only girl he ever dated, and she wanted to break up with him because he got too serious too fast.  This is far from the westernized lothario convinced into marriage after meeting the old-fashioned Indian girl that wins his heart which Shahrukh usually played onscreen.  When they did marry, while there were dramatic elements to it (Gauri's brother threatening to shoot him, sneaking into the house in the middle of a party, etc.), there were also boringly practical considerations, her father was more concerned about Shahrukh's earning potential and career choice than any personal animosity.  After all, Gauri's own parents had had a love marriage.  In addition, the first few years of their marriage were not all entirely happy.  Gauri had never been away from home before and knew practically no one in Bombay.  And yet, it is a marriage that has lasted for years, and given two children, and continues to show signs of faithfulness.  Rab Ne Bana Di Jodi shows this practical side to the romance.  And to get into that, SPOILERS
(this is a young "Suri" not a young "Raj")
SPOILERS SPOILERS SPOILERS SPOILERS SPOILERS SPOILERS SPOILERS SPOILERS SPOILERS
The first shot of the hero and heroine is the reverse of the last shot from DDLJ.  In the original movie, Shahrukh and Kajol jump on a moving train in order to leave her family behind, Kajol in her full bridal regalia.  They are laughing and holding each other close standing on the steps as the train speeds up.  In the first shot of Rab Ne Bana Di Jodi, the train is stopped in a station and Shahrukh steps out and offers his hand to help down Anushka, dressed in full bridal wear.  She ignores his outstretched hand.  These two scenes show the mastery of Aditya Chopra as a filmmaker, each of them contains the entire relationship in a few seconds of screen time.  While in both the bridal clothes signify a new couple, they are very different couples.  In DDLJ, Shahrukh and Kajol are running from propriety, trying to move away from the old standards and traditions.  They are laughing and happy, they are physically connected, their relationship is one of freedom and comfort.  In contrast, the opening of Rab Ne Bana Di Jodi shows that the relationship is part of Indian society, they train is arriving at a small Indian station, not leaving. Further, there is no laughter or happiness on the characters' faces, they do not even speak to each other.  And Anushka would rather step down from the train alone despite her enveloping clothes than risk even a touch of the hand with her new husband.  Clearly, this is a relationship that is constrained and uncomfortable.
As a flashback establishes, their marriage was more arranged than is common today.  There was no meeting followed by months of phone calls and letters, instead there was a hasty marriage after one meeting at her dying father's bedside.  Anushka's romance was supposed to be the more common "love-cum-marriage."  She had picked out her own groom and was happily looking forward to marrying him.  On the eve of the wedding, the groom and his family are killed in a tragic accident, the shock causing Anushka's father to have a heart attack.  With no future prospects, her father dying and her groom dead, Anushka was convinced to marry the boring safe option her father proposed.  In fact, in this case, Shahrukh is playing the role of the evil father approved fiancé from DDLJ, while his character in that film, the romantic true love, dies before the audience even sees him.
Only, as the film goes on, it becomes clear that far from the evil fiancé, Shahrukh is the perfect husband.  He makes no demands on his wife, is happy when she merely packs him a lunch, takes her out to movies every night, gives her the best room in the house while he moves to the attic storage area, and gives her money for anything she desires.  Eventually, Anushka asks for money to take dance classes.  Shahrukh joins her there after a radical make over but, when she does not recognize him, takes on the persona of "Raj" instead.  He introduces himself using the "Raj, naam to suno hoga?" line from Dil To Pagal Hai.  This character is a joke, his clothes are too tight (Shahrukh complains about the tight pants and aggressively tugs on them as soon as he is out of eyesight), his hair sticks straight up, and his dialogue is a series of film lines.  This is how Adi and Shahrukh now see Shahrukh's most famous star avatar.
Eventually, Anushka falls in love with "Raj."  Shahrukh's best friend points out that of course she is in love with him, Raj is romantic and passionate, he tells her how he feels, while Surinder is silent.  Shahrukh's response is that he cannot be something he is not.  Later, again, Shahrukh's friend pushes him, to which Shahrukh responds that he cannot be Raj, Raj is not real, Surinder is real.  This is a strong statement considering it is said by the actor who is strongly connected with "Raj" and written by the filmmaker who created him.  Ultimately, of course, Anushka chooses Surinder over Raj.
This dual identity, Raj versus Surinder, is present in Shahrukh's own life.  As Shahrukh says about his wife "She doesn't know (superstar Shahrukh Khan).  I don't think she even likes him too much.  I don't bring him home and she is very clear that she doesn't want to know him either.  But her relationship with her husband Shah Rukh is fantastic."  The idea of Shahrukh as being separate from "Raj" brings in the idea that the conscious destruction of this identity was an effort to make way for a Shahrukh Khan to come forward as himself, not his persona.
Unfortunately, this is something that has still not been achieved in the years since this film.  His recent films have all been criticized for being either too much "Shahrukh" (Happy New Year, Dilwale) or not "Shahrukh" enough (Fan, Raees).  Or somehow both not enough and too much at the same time (Jab Harry Met Sejal).  I don't really know what he can do at this point to pull the audience out of this funk.  Maybe dramatically remove his fake hair and clothes to show the "Surinder" underneath?
Actually, that's not a bad idea!  I would love for him to go grey, to dress conservatively, to change his appearance so drastically that we can see again the boring reliable older man underneath, instead of the sexy "Raj" on top.
(yes yes, this sounds very different from my usual writing style.  This is "grad school Margaret" and also "spent 10 weeks writing and refining this one thing" Margaret. I could write this well for every post, but then there would be only one post a month.  I think, putting up 3 almost-as-good-as-this posts a day is better)
Review Two:
My last review last week, that was the version I wrote for grad school, all about what it means for star studies and the higher level of meaning and blah de blah de blah.  But I found the need to write a second review after talking with you in the comments, that is more in my blog style.
This is one of those movies that should be your 3rd or 4th Indian film.  Not your first, the plot about arranged marriages and all of that is too hard to get your head around if you are new to the films.  But it can be pretty early on, because the characters and the story are just so darn endearing you can't help but love them.  You don't have to love Shahrukh Khan, or get all the references, or anything like that.  The movie will make you fall in love with the characters, no additional knowledge necessary.
It will make you fall in love with the whole thing.  Not just our central couple, but the warm community in Amritsar, the barbershop with your best friend who is happy to drink with you all night, the garage that lets you use their space to rehearse your dance routine, the workers at Punjab Power who will turn off the lights for the whole city just so you can do something nice for your wife, even the dance teachers who come in from the big city to spread around a little glamour and excitement without ever talking down to or disrespecting their students.  This is the best part of India, and Indian film.  A place where connections keep you strong and safe and happy and helped, not trapped and strangled.
(He is seeing God not just in her, but in everything that is around them)
It's not just the connections between the characters, it's the way these characters relate to the movies themselves.  Film, in this, is something that strengthens your ability to face the world, enriches your real life.  It's not an escape, it's an addition.  It brings out something that was there already, makes it brighter and more solid and more believable.  Love is real, bravery is real, all of that is real, you just need to have faith, and look for it.
That's what brings our hero and heroine together.  Each of them, in their own way, has lost the faith to even look.  They have to play a game, pretend to be someone else.  Shahrukh does it in an obvious way, but Anushka is doing it as well.  This is how they can find their way back to hope, to "fake it 'til you make it" in other words.  They pretend to be people who can love, romance, make huge leaps and impulsive decisions, and eventually they become those people.  Those people, and other people as well.  That crazy romantic love is integrated into the rest of what they are.  Just as this crazy romantic love story is integrated into all the other things happening around them.  That's what the title means, it's not just that there is an extraordinary love story in every ordinary jodi, it's that there is an extraordinary love story in the middle of every ordinary place, every ordinary flow of life.  These stories are little jewels in the middle of society, and every ordinary person has a role to play in them.  All of society is enriched by them, and ordinary society becomes something magical and extraordinary as well.
SPOILERS SPOILERS SPOILERS SPOILERS SPOILERS SPOILERS SPOILERS SPOILERS SPOILERS
There is so much hinted at in the opening moments of this film, our lead character introductions, this is the stuff that makes it need to be the 3rd or 4th or 5th film you watch.  But it doesn't have to wait until your 20th film.  Because our characters here have no social hangups, no pressures unique to Indian society exactly.  To understand them, all you need is to be human.  It's just the clues about how they got there that are important and not obvious if it is your first film.
Shahrukh is lonely.  We see him in his big house, alone.  Making his little breakfast, alone.  Bathing, going to work, all alone.  Loneliness, we can understand that.  That is just human.
What you get a little more of, if you have seen a few more films, is that this house would not normally be empty.  Shahrukh being alone means something has gone wrong in his life somehow.  Not necessarily drastically wrong, but this isn't how life is supposed to be.  Big houses are supposed to have family popping in and out of every nook and cranny, middle-aged men are supposed to be married with kids.  A man like this and a household like this tells us that he has missed his chance.  Or given up his chance.  Marriage is definitively out of the question for him, somehow.
And it doesn't have to have been a big tragedy that made it out of the question.  Family responsibilities that made him miss the correct age for marriage, maybe aging parents he had to care for who died and left him this big empty house.  But by the rules of Indian society, he has no family left to help him get married, he is past a good marriageable age, it's not like an office romance is suddenly going to happen and fill the house with children.  He has to make his peace with never marrying.
And then we are introduced to Anushka through her father's few remarks at her wedding.  She never paid attention in school, she fell in love, and is happily rushing in to marriage.  And she has no mother or other relatives besides her father.  And her father is a teacher.  We can understand being young and in love and joyfully planning a new life.  That is just human.
But what is there in the background is that, in Indian society, a woman could truly be fitted only for marriage, and Anushka sounds like such a woman.  I don't think I know a woman in America who has truly never had a job of any kind, and never would be able to get a job.  But it's not unheard of in India, and Anushka is apparently such a woman.  Educated in a respectable way, but never focused on it, always planning a "career" as a wife and fitted for nothing else.  And with no fallback plan if that fails.
There's a few other parts to it too.  A teacher wouldn't make much money in India, and most likely all of that money would die with him.  A pension would stop, even housing might be taken away if the school provided it.  And so when Anushka's father dies, the answer isn't "well, she can live on the life insurance for a while and figure out her next steps, while she packs up the house and puts it on the market".  More likely the answer is "there is no money left, and no house left, and she has no marketable skills that will let her go out in the world and get a job, get her own house, do anything to survive this tragedy".
(She's a decent dance teacher, but I doubt she could make a paying job of it)
And the final part, Anushka's marriage falls apart when her fiance and his family die in a bus accident on the way to the wedding.  Very sad, right?  Any human person can understand that.  But there is also the part that is a little more specific.  That a dramatic failure of a marriage in this way is going to make Anushka unmarriagable in future.  She will get a reputation as "unlucky", no one else will be willing to take her.
And so her father's insistence on his deathbed, in the immediate marriage of Shahrukh and Anushka is truly the only solution for her.  She is not prepared to do anything but be a wife.  Her father's death is cutting of the possibility of her having time to learn a new skill and prepare to be something besides a wife, because she needs safety and security now.  She cannot count on another man stepping up to care for her, not with the reputation she now has.  Her father, in desperation, sees only one solution: to marry her, now, immediately, to the one man who is kind enough to take her in, who he can trust to get her through at least the next few months, to help her literally survive.
Oh, and one other thing.  Another solution might have been for Shahrukh (Nicest Man Alive) to offer to simply take Anushka into his house, support her and give her shelter and advice, and help her get training, and then get a job, and eventually be able to take care of herself.  But that wouldn't work in the Indian context, not really.  First, an unmarried man and woman living alone together just would not fly (and remember, Shahrukh has no family to chaperone).  And for another a woman getting a job and living on her own with no official family anywhere would not be considered a "happy" ending.  Not in a regressive way, just that it would be lonely.  What could be worse than not to have anyone to call your own?
Which is what Anushka saves Shahrukh from.  He is happy in his marriage not because he expects sex and babies and a docile devoted wife (his gentle clearing of his bedroom to leave it free for her is enough to tell her that).  But he is happy just to have someone who cares whether or not he comes home at night.  That is enough for him, that is more than he ever hoped for.
And, in her own way, Anushka is happy to have someone to come home to her as well.  She draws the line that first night, she will never love again, but she will be his wife.  And they both understand what she means.  "Wife" is a job, and a relationship, that can exist without romantic love.  She will take care of his house and make it beautiful and homelike.  She will befriend his friends and keep his respect in the community.  She will even worry about him a little, make him healthy lunches and enjoy when he appreciates her cooking.  That is the career she planned for herself, that is what she wanted to do and what she is good at.  And it is a position that was open in his household and he is very appreciative that it is now filled.  But all of that is without romantic love.
This is a truth in most societies.  Relationships come with expectations.  Duties, responsibilities, the "proper" way to do things.  In most films, we see the love happen first.  And from that love comes the desire to fill the role.  Look at Hum Aapke Hain Koun, for instance.  Madhuri and Salman flirt and flirt and flirt.  And fall in love.  And only then does he start working late at the office, while she stays up to serve him food she has made with her own hands.  They want to be a "wife" and a "husband" as a way of expressing their love for each other.  The same is true anywhere, there are certain social models we learn from media, from society, from watching our own parents.  And that is how we learn to express emotions ourselves.  Things as simple as kissing your wife good-bye before you leave for work.  Is that because you saw it in a movie, or saw your parents do it, or just came up with it yourself?  Does it really matter?  You both understand that it means you love each other, and that's the important part.
So Anushka and Shahrukh don't really have to talk through what is happening.  The understand that Anushka is grateful to him for taking her in, and he is grateful to her for all she does around the home.  And she shows her feelings through buying him new sheets and making him nice meals, and he shows his feelings by taking her to the movies and buying a new car that will be more comfortable than his scooter.
And they could have lead a small not-unhappy life in this way.  They wouldn't have even known they were unhappy, Anushka would have gone on thinking her heart was dead, and Shahrukh would have gone on thinking that he was a man who didn't know how to love.  But then something magic entered their world.
(This magic)
This is what art is supposed to do, to awaken dormant parts of your soul, inspire you to grow to new heights of humanity.  And that is the proof of its success, if it has the ability to do that for the audience.  And so when Shahrukh and Anushka go to see a stupid movie and she laughs and smiles and turns back into a happy young woman, that's art.  That's powerful and worthwhile and even noble.  And when a dance class, a silly little dance class with fast talking cool dude teachers and students who take it all a little too seriously, teaches Shahrukh to be proud of himself and be himself, that's powerful and worthwhile and even noble too.  It is the art of it all that brings them together, that serves as the hand of God in making them a couple.
It sounds like such a silly little plot, a man gives himself a make over and his wife doesn't recognize him.  How is this even possible?  Well, it's because she didn't want to recognize him, not this part of himself.  It was easy to see him as just "husband", not a person, but a dull simple thing like a hatrack or a chair or a table.  The "Raj" character, post makeover, this isn't a real person either.  This is a combination of all the shallow silly lovers in all the movies in the world.  This is the kind of love that doesn't scare her, the silly fake love, not the real painful kind.
And this is the love that does scare Shahrukh, the real Shahrukh.  He falls in love in just a moment.  And he knows the pain of love, and the sacrifice of it, that is easy for him.  It's the shallow surface part that is hard, expressing it in a way that someone else can see, rather than holding it carefully in his heart.  The filmi lover style, that lets him express it, he can just imitate what they do and pretend it isn't really himself, it doesn't really count.
(that real love, that's what Anushka finally sees and acknowledges here, that it was there all along but he didn't want to force her to see it)
And Anushka, briefly, is tempted by just escaping into the filmi world.  Taking a love that is all grand gestures and drama, instead of the hardworking sorrow of day to day life.  Escaping in a different way, just as when she tried to tell Shahrukh on their wedding night that she had no more love to give, she just wanted a new life with none of the old self there.
And what changes her mind is nothing.  Because her mind was never fully settled in the first place, it was all a fantasy, she just needed to wake up from it.  Wake up from all of it, her grief over her fiance and her father, her conviction that she could never love again and should cut love from her life, her escape into the fantasy of a perfect love story, she wakes up from all of it and sees Shahrukh, really sees him, for the very first time.  And falls in love at first sight, just as he did with her.  That's all it is, love at first sight, just like in any other movie.  But it happens at the end instead of the beginning.
(Makes me cry every time)