So many options here!  More than you think, 2017 was a happy year in many ways.  But the question is, which, to me, was the happiest?
In 2017, Anushka and Virat got married.
Adira has her first birthday party and the whole film industry came together to celebrate her.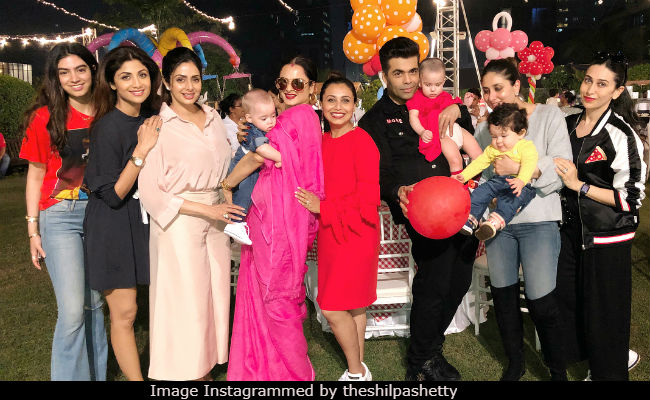 Shahrukh had a birthday party and AbRam photobombed celebrities.  Well, other celebrities, AbRam is definitely his own celebrity by now.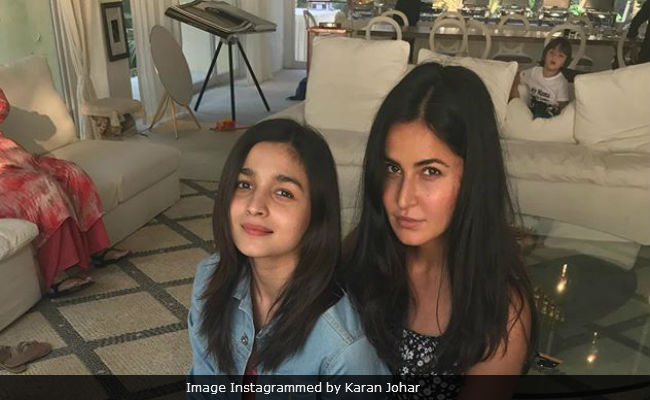 And many many other things happened!
But I think my favorite has to be Karan's babies.  For many reasons.
First, of course, babies!!!!!  Babies are always wonderful and adorable and hope for the future and happiness and all that.  I am a sucker for baby news.  I mean come on, look at these little faces!  How can you tell them they don't make you happy?
(BABIES!)
Second, Karan!  Karan spent a lot of time talking in his autobiography about his loneliness.  Which I believe, because he is so close to Shahrukh, and to Alia and Siddharth and Manish Malhotra and so on and so on.  You just have to look at the pictures of his birthday parties to see how he has built his own family around him because he doesn't feel like he has a "real" family.  So I am delighted that now he has a "real" family, all his own, which no one can take away from him.
(Karan and the family he has found)
Third, Karan as father!  Karan has always seemed like a delightful father figure to others, seeing him pick Shahrukh's kids up at the airport or playing with them, giving advice to Alia and other young actors, and so on and so on.  He has great fatherly instincts, and I am thrilled that he will get to use them.
And fourth, Karan modeling single parenthood publicly and proudly.  The way he acknowledged his debt to the surrogate who carried his children, the way he immediately changed his twitter ID to be "Roohi aur Yash ka papa!" first and foremost.  Setting up a free daycare/nursery at Dharma productions so his children can be close to him, and so can his employees have their children close.
I am excited to watch Yash and Roohi grow up, and to watch Karan grow as their parent.  To see him dropping them off at school and picking them up, taking them to parties where they run around and play, giving interviews with them, bringing them to premieres with him when they are older, and someday being a grandfather to their children.  This isn't just a happy news story for one year, it is a story that will last for decades of gently breaking barriers and introducing a new way of being a family.