I stayed up way way way way waaaaaaay too late reading funeral coverage last night.  I think the last time I did that was for the royal wedding. Which made me start thinking how oddly public this event was, like a royal wedding more than a celebrity funeral.
The people who came all seemed to be sincerely upset.  But it was a mixture of people who would have actually known the family, and those on the outskirts of the industry.  And I suppose many others who were not photographed who merely came to the public event.
But the thing is, it WAS a public event.  The family chose to do it this way, and it doesn't feel (to me) like they did it for publicity.  They felt a responsibility to the film community, the fan community, the nation at large, to make this a public show of mourning.
You know the Four Weddings and a Funeral poem?  "Funeral Blues" by W. H. Auden?
Stop all the clocks, cut off the telephone,
Prevent the dog from barking with a juicy bone,
Silence the pianos and with muffled drum
Bring out the coffin, let the mourners come.

Let aeroplanes circle moaning overhead
Scribbling on the sky the message 'He is Dead'.
Put crepe bows round the white necks of the public doves,
Let the traffic policemen wear black cotton gloves.

He was my North, my South, my East and West,
My working week and my Sunday rest,
My noon, my midnight, my talk, my song;
I thought that love would last forever: I was wrong.

The stars are not wanted now; put out every one,
Pack up the moon and dismantle the sun,
Pour away the ocean and sweep up the wood;
For nothing now can ever come to any good.
We studied it in a class I took in college and what my teacher said was that it was about public versus private grief.  That feeling that someone has died and now the whole world should change.  Sridevi's death deserves and needs public grief.  There has to be something huge to recognize what has happened.
And so a 3 hour open to all ceremony at a large open club, with every member of the film fraternity coming one by one to pay their respects and indicate their allegiance, with a steadily growing crowd outside, feels right.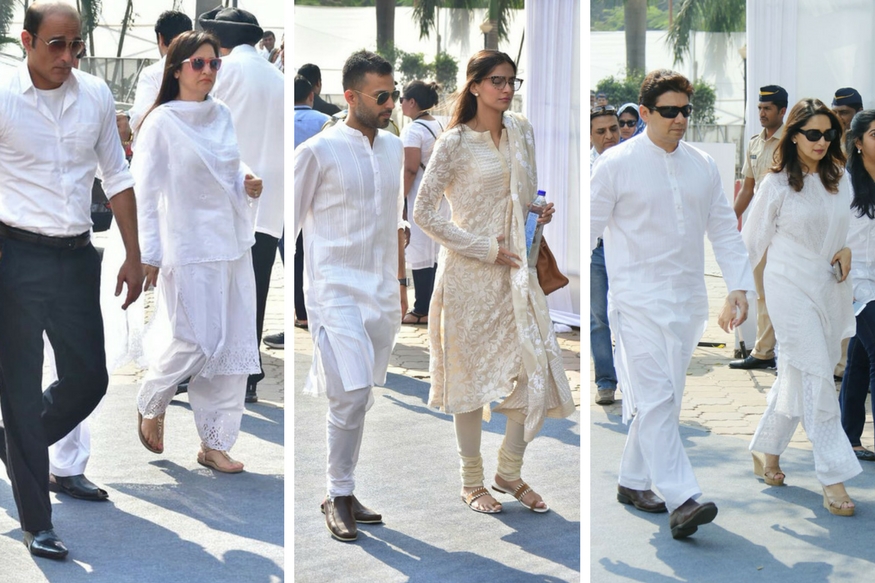 And it also feels right for her to be given a full state funeral.  Her death and life were a gift to the state, to the whole country even.  She deserves to have that acknowledged, and it is good for those she left behind to feel it is acknowledged.
It is also good for the film industry to be there not just to comfort the family, or to attend the general viewing, but at the end.  She was important to her family, but also to the film family, and that smaller ceremony wouldn't have been right without leading members of the film fraternity observing it.
Finally, there are some good things from this story.  Based on the photos of the family that I am not including (because it felt wrong), and the reports that are filtering out, it sounds like Arjun Kapoor has been with his sisters almost constantly for the past 3 days, only leaving them when he went to be with his father.  He was also the pillar of strength during the complex arrangements, the one to speak to the crowd and ask them to be respectful, the one to stand in the hearse and help balance the coffin, the one to help with all these complicated things while his father was too overcome with grief.  I don't know why myself and the media and millions of other people are so obsessed with Arjun's relationship with his halfsisters, but we are!  And I don't think it's a bad thing, we just want something good to come out of this, and we want to feel like those girls have someone around to take care of them.  And it looks like Arjun is stepping up to be that person in ways big and small.
Also, Sonam Kapoor's unofficial relationship with Anand Ahuja seems very official all of a sudden.  Her boyfriend didn't just accompany her to the viewing, reports say that the two of them remained with the body while other family members greeted guests.  That's not boyfriend stuff, that's fiance or husband stuff.  I'm glad this confusing horrible thing served to bring them closer together, and that he was there standing by to help the family however he was needed.
There is one final thing I am waiting for.  So far, there have been no pictures of Amitabh visiting the house, visiting the viewing, or arriving at the crematorium.  This seems odd to me.  Both as a leader of the film industry and as a personal friend, I would think he would be there.  So the only thing I can think is that either there was concern with crowd control and so on if he were present, or there was concern with crowd control and so on if he were visible.  So either he didn't come at all and sent his wife and daughter and daughter-in-law, or he came but Abhishek brought him in through the back and that is why there are no photos of the two of them.  After all, remember how crazy it got when he attempted to attend Rajesh Khanna's funeral?