It's Aamir Khan's birthday today (yay!), and I want to mark the occasion not by giving him a gift, but by finally thanking him for the gifts he has given me.
16 years ago, my cool older sister read an article about this movie from India that was nominated for an Oscar.  She tracked down a copy at our local blockbuster and brought it home, the same way she had tracked down copies of The Umbrellas of Cherbourg, Tampopo, and Eat a Bowl of Tea.  We watched it at our family movie night, and we all enjoyed it.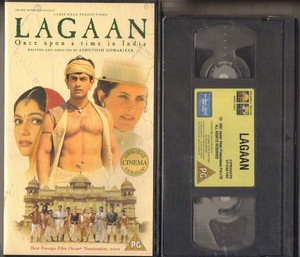 (I think it was on VHS.  That's how long ago this was)
A few weeks later, there was an article in the local paper about a new Indian grocery store that had just opened and which rented movies.  We went there to check it out (our town was pretty boring, visiting a new grocery store was an exciting thing to do on a Friday night), and my mother asked if they had any movies with the same actor from Lagaan, and they gave us Rangeela.  I watched it with my mother, and enjoyed it, and started to realize there was more to Indian movies than the overwrought period drama of Lagaan.
And then, a year later, I was in college and looking for something to do on the weekend and I saw that an Indian movie, Dilwale Dulhania Le Jayenge, would be showing at a local art theater and decided to check it out.  After all, I had already seen two other Indian movies, it wasn't completely unknown territory for me.  So I watched DDLJ and my life changed forever.
DDLJ is the movie that made me fall in love, with Indian cinema and with Shahrukh Khan, but I wouldn't have even known about it if it hadn't been for Aamir Khan.  Aamir is the one who said "look, there is a teenage girl in a midwestern small town who deserves to see Indian movies.  I am going to do whatever it takes to make sure our films reach all the way across the ocean and through the cornfields and onto DVD shelves and finally into her hands".  My whole life now is a gift he has given me, my friends (found through Indian movie nights), my spiritual solace (from watching movies), my home (three blocks from my favorite movie store), even my brother-in-law (met my sister at an Indian movie night).  And this blog of course, which fulfills me in so many ways, is also a gift from Aamir.
(Look at him reaching through the screen directly to me!)
Lagaan was unique in how it expanded the Indian film audience.  It was one of 3 films that released around the same time, Kabhi Khushi Kabhi Gham and Devdas being the other two, which helped to bring Indian film to an international audience.  But Lagaan was the most targeted, the most calculated in its goals.  K3G and Devdas reached an international audience almost by accident, but Lagaan was on purpose and it knew exactly who it was trying to reach.
Scholars, when writing about Lagaan, talk about attending a critic's screening at which they received a pamphlet explaining a bit about the film and providing context for everything.  I've read articles which quoted the pamphlet and the information within it, but didn't seem to realize how very unusual this whole experience was.  In 2001, Indian films didn't have critic's screenings, either at home or abroad.  And the idea of providing an introductory pamphlet steering the critics to an appropriate appreciation for the film is very unusual.  Especially the exact way this pamphlet was crafted, to help the audience treat Indian films with respect, while also not expecting them to fully understand all the subtleties of the Indian film experience at this, their very first movie.
Lagaan was not a massive hit, not among the traditional Indian film audience.  If you look at the traditional audience, and even the industry audience, Gadar, Kabhi Khushi Kabhi Gham, Dil Chahta Hai were the films that changed everything.  But Lagaan changed everything for me, and for the audience like me.  People who didn't watch movies in Indian theaters, who found movies through film festivals and newspaper reviews and what was in the foreign section of the DVD rental store.  Our small subset had never seen an Indian film before, were cut off from an entire industry.  And Aamir used all the force within his power to push a tiny little hole in the wall and let us peak through.
And then he did it again with 3 Idiots.  A movie which was a hit int he traditional audience.  But also overseas.  3 Idiots broke into the American box office top ten on Christmas week, a week when it was competing with major Hollywood releases.  Maybe the critics didn't notice it, the crowd that Lagaan was targeted at, but the movie theater owners did.  After 3 Idiots, suddenly, Indian movies were playing at more and more theaters around me.  Thanks to Aamir I was able to see Ra.One, My Name is Khan, Don 2, and dozens of other movies opening night at a mainstream theater easily accessible to me, instead of waiting for the DVD release, or begging a ride to the one Indian movie theater near me.
This is what Aamir does, he finds the audience that has been ignored, never considered, and he breaks through to them.  It's not just me, with Rang De Basanti he hit a chord with the youth of India, gave them a rallying cry which has carried through to today.  Recently, with Dangal and Secret Superstar, he reached out to those forgotten audiences in Turkey, in China, in places in the world that Indian film had never before thought of reaching.  And once he punched the first hole in that wall, everyone else followed through.
There's another audience he has grabbed and held within India.  Those middle-class families who would never consider watching a mainstream Hindi film, would think of it is beneath them, would prefer to watch satellite TV or "English" films, they will still turn out for an Aamir film.  It's an audience that has been drifting from Hindi film at an increasing rate, and Aamir is holding them back almost single-handedly.  He broke through the wall and let the art flow out to America, to China, to other places; in India he is being the wall, struggling to hold back the escaping audience.
It's hard to remember that far back, but Aamir was the one who started to bring the audience back all the way in his first movie.  Qayamat Se Qayamat Tak came after a decade and a half of action film dominance.  There were always the young romances in the background, the occasional hits, but action was the main message of the 70s and 80s.  And the audience was dying away, women and families increasingly leaving theaters and leaving them to the young men.  Until Aamir helped to bring them back, giving a young romance which wasn't just romantic, but also thoughtful and thought provoking.  All of those romance movies of the 90s that I love, those are another gift of Aamir, Dilwale Dulhania Le Jayenge would not have existed without Qayamat Se Qayamat Tak, as much as I would not have been in the theater watching it without Lagaan.  The two halves of that match, Aamir brought them both together.
So on his birthday, I just want to say thank you.  Thank you Aamir for bringing Indian film to billions of people around the globe, for keeping Indian film in the hearts of those at home, for all you do to keep this wonderful beautiful fragile world of film alive.  And thank you for myself personally, for reaching out to a teenage girl in a small town and giving her her whole life.