I already did action film and rom-com lists to match this.  My goal is, once you have finished the list of DVDs recommended on websites, or by the librarian, or handed to you in the DVD store, what next?  And there is a surprisingly long list of films with strong female central characters in Hindi film.
I'm trying to avoid the big obvious ones like Arth or Mother India or Queen or even Astitva or Dangal or Kahaani, but the fun little ones where the lead actress(es) really get to show her talent.  Ones you can enjoy if you want to see an interesting heroine you can relate to triumph against the odds, without feeling like you are drowning under social issues.
This isn't exhaustive by any means, these are just the films I happen to have already reviewed (and which are good, I'm not including Noor for instance).  Feel free to recommend your own favorites in the comments!
Aaja Nachle: I have to confess, part of the inspiration for this list was writing this review yesterday.  It's just such a great female role!  Strong and smart and heroic, and gorgeous and talented.  And Madhuri.  A dancer who escaped her small town in India years earlier and now has returned to save the local theater.
Aaina : Juhi Chawla and Amrita Singh are sisters with a complicated relationship, made more complicated when they both fall in love with Jackie Shroff.  But this isn't a movie about Jackie, this is a movie about Juhi coming into her own and refusing to be the overlooked little sister any more.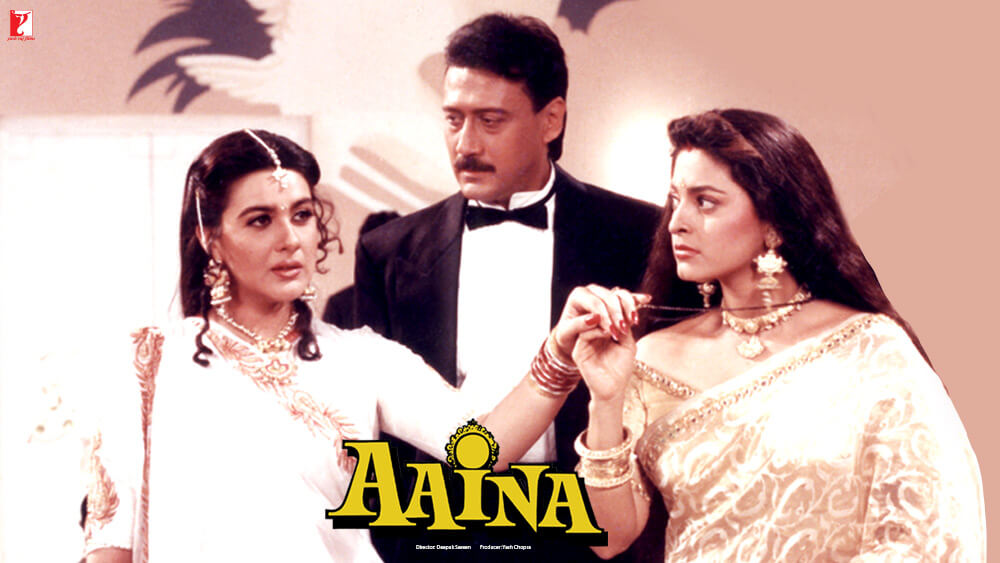 Aiyyaa : I already listed this as an "overlooked rom-com", but I don't care, I'm double-dipping!  It's a really wonderful female lead film, Rani is there in every scene and is the whole movie, whether dealing with her pushy family, her strange job, or her massive crush on handsome Prithviraj.
Akira : Another double-dip, already on the "overlooked action films" list.  But a wonderful female film as well, Sonakshi as a mostly silent heroine struggling with violence, truth, and love.
An Evening in Paris : A romance, so Shammi Kapoor has quite a bit to do, but it is really Sharmila Tagore's movie.  A double role, a conflicted heroine, an item song and an action scene, she has everything!
(Shammi surrounded by Sharmilas!)
Andaz : A classic film!  A black and white movie usually sold as a love triangle, but in fact more about Nargis' character and her conflicts than anything else.  Such a wonderful character too, free and confident and modern, but still ruled by her heart.
(Look how tiny Raj's head is compared to Nargis!)
Anjaam : Definitely a little known film, Madhuri and Shahrukh's first film together completely over-shadowed by their later ones.  It's not a romance, it's a battle between good and evil with Madhuri representing strong and powerful good.  And it even has a woman's prison sequence!
Chaalbaaz : Like Akira, it is a remake in which the genders are flipped.  Meaning our heroine gets the double role, the fight scenes, the backstory, and everything else.  While the heroes just stand there and look pretty.  And 1980s Sunny Deol was very very pretty.
(Look at her towering over her men!)
Chandni : Like Andaz, it is sold as a romantic love triangle, but it is more about Sridevi's title character, her finding herself and finding what her heart wants.  And also, a tragic flower petal/helicopter accident.
(Such a gorgeous poster, a woman literally blossoming)
Daawat-E-Ishq : Another double-dip from the rom-com pile.  A rom-com, yes, but one that focuses almost entirely on our heroine.  The hero doesn't even show up until after the first third of the movie, and her first failed romance.
(All the men kneeling before her, you betcha!)
Dil Aashna Hai : Shahrukh Khan's first film role, but it's not about him.  It's about Divya Bharti and the strong female cast that surrounds her.  And the woman behind the camera as well, Hema Malini. And the completely ridiculous corny plot, stolen from the classic woman's novel-turned-TV-movie, Lace.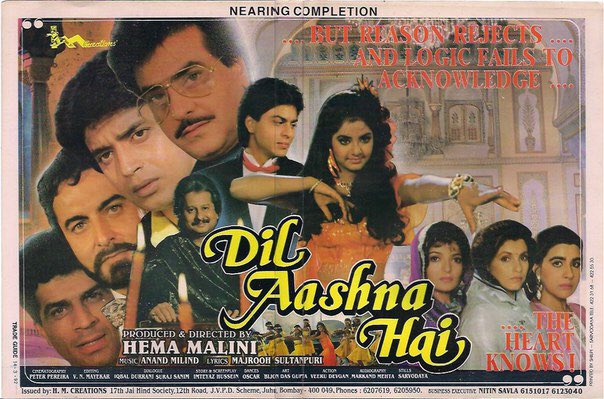 (poster gets it wrong, all those male heads are barely in the movie, it is the little female heads to the right who rule)
Gupt : This is a ridiculous terrible movie.  But our "hero" Bobby Deol is essentially meaningless, it is all about watching the Manisha Koirala-Kajol battle for his heart and body.
(Look at this ridiculous awesome song!  Kajol is so much more turned on by having Bobby while Manisha watches than she would be if it was just, you know, Bobby)
Khoobsurat : A movie built for Sonam Kapoor!  She doesn't have the greatest range in the world, but if male stars can have tailor-made plots written to help them, why not women?  She is wacky and fashionable and loud and Punjabi, and gets the hottest guy.
Mom : Very different, very wonderful.  A thriller with middle-aged housewife Sridevi as our heroine and the most aggressive character.  And I can't say any more without spoiling it.
Naam Shabana : Not the greatest movie in a lot of ways, but very satisfying for how it shows the strength and growth of a woman, not a damsel in distress but a damsel-who-distresses-others.  A female spy in training, learning tools of death not seduction.
Phillauri : A ghost story and a romance and a comedy all together.  What to do if you marry a tree to break a curse, and the tree turns out to have a ghost in it who is now your "wife"?  Every character gets a moment to shine, but it is all about Anushka's title heroine in the end.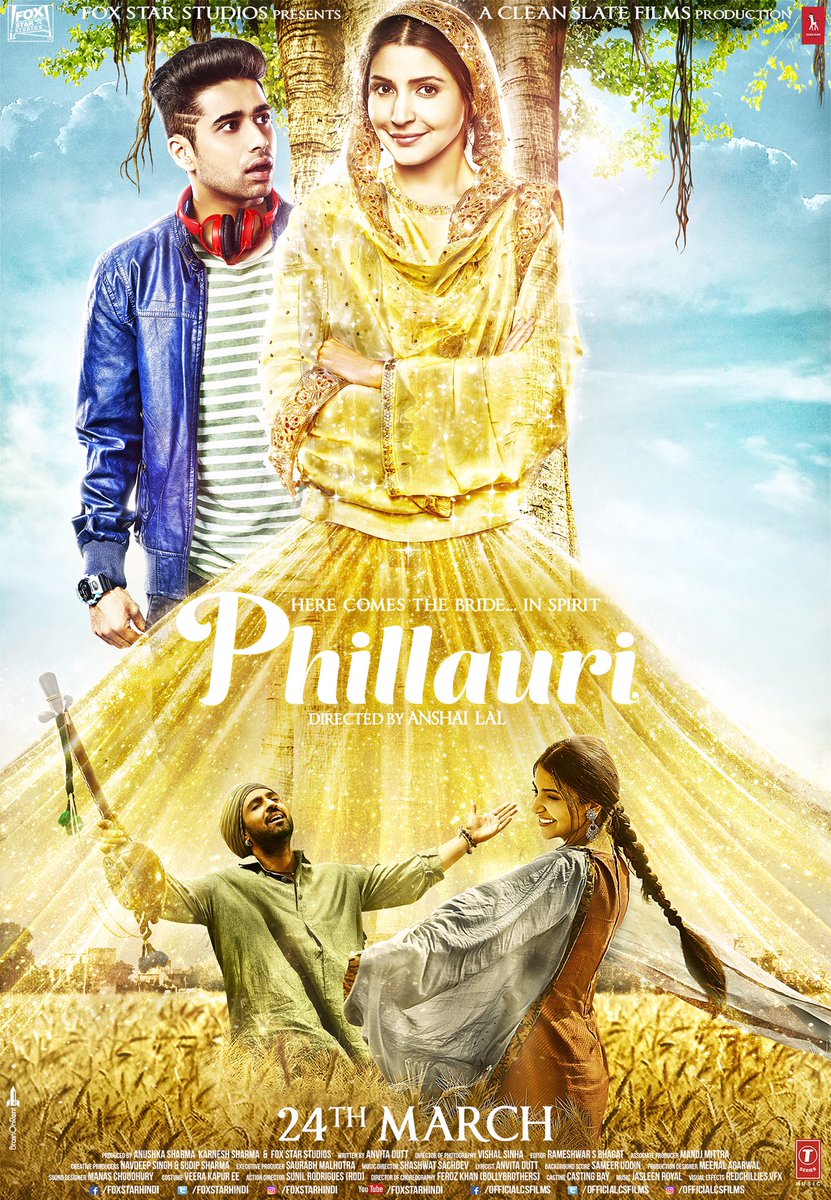 Saala Khadoos : A coach and athlete story in which the athlete just happens to be a woman.  And in which romance is brilliantly neither included nor excluded, because her story is so much more than that.
Tumhari Sulu : A wonderful one to end with, Vidya Balan plays a housewife who finally finds her calling in middle age, as a radio call in show host, and will let nothing stop her, not her loving husband or needy son.