I don't know if I woke up on the wrong side of the bed today or what, but the way BollywoodHungama is so shamelessly acting as a PR machine is really bugging me today.  So I'm gonna report their "stories" but I also can't help but call out their shame.
(If you are wondering "why does Margaret even use BH if they are so horrible?", it's because I like having the spin transparently right there in front of me instead of having to hunt for it.  And because they are so spin friendly, they also tend to print a lot of news releases that other outlets may not)
Get Ready for A Lot of Priyanka
After her being barely mentioned in the press, suddenly she is trying to restart her Indian career and there's a new PC "story" every day!!!!!  Today's excitement, a "reveal" from her biography that a pageant judge wanted to vote against her because she was too dark.  And then didn't.  Yeah, it's not exactly the kind of wild excitement that will get me to buy the book.  Sounds fairly PR approved. (full story here)
Oh, and this is the bit, the end of the article, that made me think "is BH just repeating things they are fed verbatim now?"
Currently, Priyanka Chopra is considered to be a global star and is in news for dating American singer-songwriter Nick Jonas. The actress recently wrapped up the final season of her much popular American FBI drama 'Quantico'. On the Bollywood front, she will be reuniting with superstar Salman Khan after a decade in Bharat.
Now, if I were writing that, I would say:
Currently, Priyanka Chopra is in news for dating American singer-songwriter Nick Jonas. The actress recently wrapped up the final season of her canceled American FBI drama 'Quantico'. On the Bollywood front, she will be coming back two years after her flop film Jai Gangajal in Bharat.
Anubhav Sinha, No Spin
And now a nice refreshing change.  BH had nothing to add to Anubhav Sinha's quotes, so they just repeated them without editorializing.  No spin.  At least, none provided by the website.  Sinha's quotes probably have spin on them, making his film Mulk seem more noble than it is and so on and so on, but I don't care because I so totally agree with what he is saying and I am so glad he is saying it. (full story here)
Just because Mulk addresses some uncomfortable home-truths trolls are having a field day. They accuse the film of being funded by Dawood, That's the easiest way to malign any Hindi film. I am not getting affected by such nonsense…I come from Varanasi. Abuses, profanities and threats don't bother me. I am 6-foot guy. I can take care of myself. But my friends are worried. The minute the trailer of Mulk came out I started getting concerned calls from friends from abroad and in India. Many of these concerned callers were Muslims. 'Look after yourself,' they said. That worried me…The isolation of the Indian Muslim due to some terror acts is an issue that should bother all of us. I grew up in Varanasi where there would be a communal riot every other week. Then I moved to Aligarh where the Muslims made me feel completely at home. They never made me feel different from them. So when did this business of 'them' and 'us' start?..Mulk is a film that needed to be made. We can no longer sweep the isolation of the Indian Muslim community under the carpet….I greet my friends with a 'Jai SriRam' and they look at me as if to say, 'Et tu, Brute?' But I want the fringe groups to know, 'You don't represent me'. Jai Sri Ram doesn't belong to you.
The spin worked for me, I am now ready to go see Mulk and anything else Anubhav Sinha makes.  Oh!  He did Dus!  And Ra.One!  Great, now I can feel less ashamed for enjoying them so much.
(By watching this song, I am striking a blow for religious freedom.  Not just obsessing over how great Shilpa's outfit is and wondering if I could pull it off)
Abbas-Mustan Are Supposedly Back
BollywoodHungama is very good at reporting things as "breaking news!" or "CONFIRMED" when they are neither breaking nor confirmed.  So, I am being cautious about actually believing this story, beyond that someone somewhere is trying to make this movie happen and figures that leaking a story to BH is probably a good way to get folks interested. (full article here)
Anyway, it sounds like a cool plot.  Abbas-Mustan, according to this, have bought the rights for a Korean film "The Tunnel".  About a man who is driving through a tunnel on the way to his daughter's birthday party when it collapses, leaving him trapped with his car, the cake, and two bottles of water.  I'm already intrigued, aren't you? And it would be such a great role for practically anyone.  Old enough to have a daughter with a birthday party, that can be Varun Dhawan to Salman Khan.  And it is practically begging for flashbacks to a romance with the wife, and then maybe their marital problems, which of course will be solved thanks to this moment of danger and realizing what is really important.  Oh, and there's also supposed to be another role for the leader of the rescue team.  Which, again, could be essentially anyone.  Like, Rani Mukherjee!  Wouldn't you love to see her play something like that?
(Oh, he is VERY HANDSOME!!!!  Maybe it should be a Sidharth Malhotra role?  Like, to be a true to the original?)
Anyway, the film probably won't happen, but this article worked as well, because it got me interested and excited and hoping that it does.
BollywoodHungama Shamelessly Promotes Itself
Well, why not?  They are promoting everyone else.  This is related to that epic series I just finished that no one read on streaming wars.  Hungama Entertainment, which started as a marketing company (okay, that makes sense) then purchased IndiaFM, a news website, and renamed it Bollywood Hungama.  And then they went on to bigger and bigger things and now have launched their own streaming show on the platforms they already had in place for music.  And Bollywood Hungama is shamelessly writing articles on what a big success this is, without even bothering with a disclaimer that they are owned by the same company. (full article here)
BollywoodHungama Fails Basic Journalism. Or Does RGV?
Ram Gopal Verma is the king of floating movies, then denying he is making them, then making them anyway.  Or saying he IS making them and they never actually come out.  He's a troll, he likes getting us all excited and then doing nothing.  So I don't know if it is him feeding this to BH or BH doing it on their own, but buried in a story about a rumor that maybe RGV is going to do a movie on Sanjay and his court cases, is this quote (full article here):
However, it was in March 2013, when the Supreme Court upheld the TADA rules and eventually sentenced him to rigorous imprisonment
THEY DIDN'T UPHOLD TADA!!!!!!!!!!!  Sanjay was declared innocent under TADA and sentenced to jail for weapons charges!!!!!  Because he WAS innocent!!!  As was essentially everyone else arrested under TADA, most of whom ALSO were eventually declared innocent of TADA, after having served torturous amounts of time in jail without bail or charges brought.  I kind of want to volunteer for Sanjay's legal team just so I can play whack a mole with libel orders and these STUPID STUPID news reports.
So, maybe RGV is making this movie, if he is I suspect it will be "Fictionalized" and just turn into some potboiler about a movie star arrested for having guns and being friends with gangsters.  And maybe in his fictional version, his hero will end up going to jail under TADA.  Just like happened in the fictional version of the Sanjay Dutt case that apparently all of India saw in some kind of mass hallucination that has overpowered their ability to understand basic incontrovertible facts.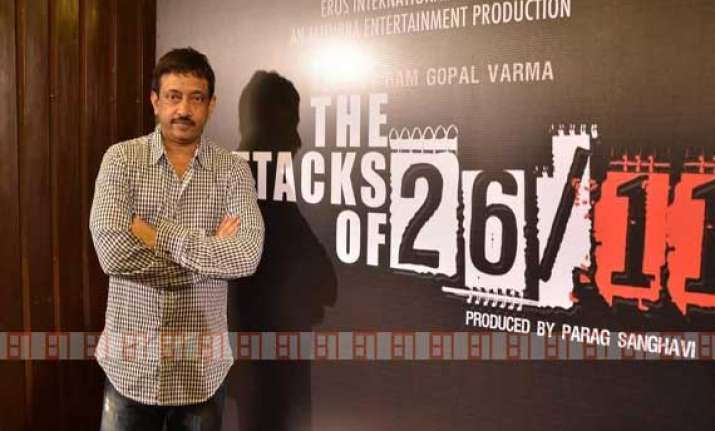 (Remember when RGV wasn't making a movie on 26/11, never never, he swore up and down?  And then he did?)
Madhavan Signs a Film I Am Excited About
Nambi Narayanan, a scientist for the Indian space program with an impressive career, was falsely accused of espionage.  Arrested, tortured, interrogated, etc. etc.  And then eventually declared completely innocent and framed by the Intelligence Bureau in an effort to smear his department.  National Human Rights Commission took up his case, it was a big thing. (full article here)
Also, he might secretly be Santa:
He just wrote a book on the experience last year, and now a movie is rumored with Madhavan to play him at many stages of life.  So, probably a flashback to him being young and brilliant and excited in the 1970s, and then middle-aged and settled and wrongfully accused in the 90s.  And maybe also a tag revealing his secret life working with Elves?