These are really stories you wrote yourself.  Or at least started yourself, on the Wednesday post I had a wonderful time coming up with ideas based on the casts you wanted to see. These are those same ideas, just brushed up and expanded a little bit.
Swara in a Spy Thriller with Swara as the Tough Action Hero
(From Emily, who suggested Swara and Dulquer in an action movie)
There is that tradition of the gritty tough spy/cop and the earnest young local assistant. Maybe Swara is the tough outsider spy with the complicated personal life and so on and Dulquer (or whoever) is her local guide, top police officer assigned to help her? He falls in love immediately, because she is so cool, but she doesn't take him seriously until a series of challenges bring them closer together and she reluctantly comes to respect him. But, after seducing him and sleeping with him, she immediately regrets it and backs off, but he is so earnest and puppylike and keeps coming back every time she kicks him away (metaphorically), and when they say good-bye and she goes back to the Centre, she finds herself missing him. Only to walk into her office and meet her new partner, a fresh recruit transferred in from the regular police-Dulquer!
Alternate:
Swara is the tough outsider spy with the complicated persona life, she is ready to bend the rules and do whatever it takes.  But Ajay Devgan is the local hero cop, who beats up gangsters and drags them into jail.  They start investigating the same case from different sides and end up in a stand off with Ajay wanting to arrest her informer.  They are forced to work together, since Ajay won't let his "prisoner" go out of his sight.  He and Swara and the informer (let's say someone fun to watch, like Kirron Kher.  Ajay wants to arrest her for illegally smuggling in beauty products to use in her salon chain, Swara wants her information because the same smuggling group also brought in guns) have to travel up and down India going to secret meetings and stuff trying to find the Big Bad.  Ajay is terrible at going under cover and pretending to be a gangster, but impresses Swara during a massive fight scene on a train when some bandits stop it and he fights them all off single-handed.  At the same time, there is a comic track where both their mothers keep calling them trying to arrange their marriages, and they both keep ducking it, Ajay because he is married to the Law and Duty and Honor, and Swara because she doesn't want to be tied down.  They have one passionate night together, then say good-bye and go home, only to be surprised by their mothers who insist on dragging them to a First Meeting, only to of course discover that coincidentally their mothers have arranged their engagement while they were working together.  Tag scene shows that it wasn't a coincidence, Kirron stole their phones while they were sleeping and called their mothers and arranged the whole thing, knowing that this couple of workaholics were secretly perfect together.
(Wouldn't she be an awesome cynical experienced action hero?)
Varun and Bhumi Pednaker as a Rich Boy and Average Girl in a Pretend Marriage
(From Niki)
It opens with Varun and a cameo actress (Shraddha or someone) singing and happy and in love in college. And then he goes back home and his cheerful elderly millionaire grandfather insists that he has to be married for a year in order to get his trust fund. He rushes to convince Shraddha, only he can't reach her in time, and so he ends up taking home the first woman he can find, Bhumi, the sensible office worker who is desperate for a place to stay after her landlady throws her out. They strike a deal, she will live in the house with Varun and his grandfather rent free and get a small pay off at the end of the year. And in return, she will perform all the non-bedroom duties of a wife for a year in order to convince the grandfather they are married.
And then stuff happens, Varun's grandfather makes him feel guilty about how his wife is going to work every day and he only goes to the office sometimes. Varun starts working harder just to humor his grandfather but eventually starts to sincerely feel guilty, seeing how Bhumi is struggling just to make a little money to send home for her siblings' education and how he has had everything handed to him, he works harder and Bhumi begins to respect him and stay up late to give him food when he comes home and so on. Eventually Varun picks Bhumi up from work and sees how her boss is leering at her, picks a fight and gets her fired. Bhumi becomes a "full time" wife, Varun gives her a salary in secret so she has money to send home, and at a big party for his work, he insists on her dressing up in a new sari he bought her and wearing the family heirloom jewels and it seems like they might really be falling in love. But then who should show up at this fancy party, but Shraddha!
Bhumi knows all about her and immediately steps back to let her shine, Shraddha is comfortable in this super wealthy world while Bhumi goes back to the kitchen and helps the cook with the food. The grandfather sympathizes with her, tries to convince her that Varun and Shraddha are just a boy-girl thing and Bhumi is his real partner. But Bhumi doesn't believe him, and tells Varun that night that he should spend time with Shraddha, she's the one he really loves. Shraddha and Varun go around, but it's not the same. And finally they have a heart to heart and admit that it was just a college thing, out here in the real world she wants to go to clubs and art exhibits and things, and he just wants to go home at the end of a long day at the office. But! Varun goes home to find his grandfather telling him that Bhumi has left him! He is devastated! He rushes to the train station (the same place where they first met) to stop her, gives an impassioned speech, and then learns that she was just going home to visit her family, not leaving him. His grandfather lied because he was trying to make sure Varun learned how he really felt. Happy Ending with a big real wedding.
(Hey, I found a photo of them together!  Plus Karan Johar and some other guy)
Ayushmann and Alia in a Burned Out Bureaucrat and Spitfire NRI Romance
(From Niki Again)
She is an NRI that is all fired up about being asked for a bribe, and goes to report to the anti-corruption office where Ayushmann is uninterestedly shuffling paperwork around. He starts the investigation just to have an excuse to see her again and has to arrange for his friends to fake an elaborate conspiracy so he has an excuse to keep seeing her, even though he knows it was really just the same guy who always asks for a bribe because he is trying to pay for his daughter's wedding. Eventually they stumble into a real conspiracy, Ayushmann tries to convince her to leave it alone, Alia discovers his tricks and is furious and yells at him up and down, it inspires him to actually investigate, and when he successfully brings the major smuggler to court, Alia is so impressed that she goes back to him. Or maybe he investigates and discovers the big smuggler is her father and agrees to look the other way as his dowry? Pretending to blackmail her to make her agree to marry him, but really they both know she wants to anyway and it is just to save her pride.
Anushka Sharma and Arjun Kapoor in a Advertising Office Rivals Romance
(From Filmilibrarian)
Anushka as a made-it-on-her-own advertising intern and Arjun as the owner's son both competing for the one choice promotion. They end up working together and pleasing the client and becoming friends, but Anushka is dating her long term boyfriend and Arjun gave the go ahead for his father to arrange his marriage with a perfectly nice young woman as part of a business deal. Arjun and Anushka finally realize they are in love during on overseas ad shoot.  In Philadelphia, because that's where Filmilibrarian lives.
There is something about how they have the contract with an Indian brand that is trying to break into the American market, and they have a whole "You fought the British, we fought the British" connection worked out around the Philadelphia Revolutionary War landmarks and stuff. And then the celebrity who is supposed be the lead in the ad (Ranveer, because I want to see him cameo with Arjun) doesn't show, so they have to sit around and wait for him, end up seeing the city, getting a little drunk, staying up all night talking, falling asleep together, waking up in the morning feeling in love, and finally confessing their feelings to each other just as the plane is landing back in Bombay and they have to face the reality of their respective fiances waiting for them.
They decide to approach it like an advertising campaign and use guarilla marketing and stuff to convince Anushka's guy that he wants to experiment and date other girls before settling down, and to convince Arjun's girl that she should be the one running her father's company, it shouldn't just be given away to Arjun because she is marrying him. It all falls apart last minute when Arjun's father (Boman Irani) figures out what they are doing and is furious, but then Arjun stands up to him and says he is willing to give it all up and start over on his own so long as he is with Anushka and Boman realizes he has finally grown up and forgives him. WEDDING SONG.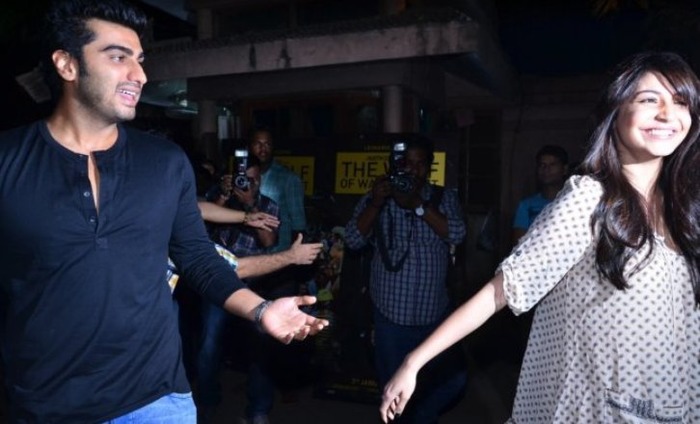 (Look how cute together!!!!!)
Varun and Parineeti in a Wacky Screwball Comedy
(From me, with encouragement from Reflects on Life)
I want to see Varun and Parineeti in a light-hearted comedy.  They fall in love in an initial misunderstanding, something crazy like they are vacationing at the same resort and she thinks he is a top gangster because her local friend pointed out the man sitting behind him at the restaurant as a gangster and she thought it was Varun.  And he thinks she is a prostitute because he overheard a scuzzy businessman talking about the escort he hired for the week and how he is waiting for her to come out of the bathroom, and then Parineeti comes out in the tiny dress her friend lent her, and the actual escort comes out dressed like a fancy businesswoman so Varun ignores her.  They meet again on a tour bus and are thrown together through the day long tour and can't help liking each other, with each thinking they are "saving" the other, and they end up spending the rest of the vacation together.
Wacky misunderstandings abound, including the real prostitute and gangster interfering with their lives.  And then it is finally understood when Varun proposes and gives an ultimatum that after marriage she can't "work" any more and she says he can't "work" any more either and they run through euphemisms until finally he comes right out and says "have sex for money" and she says "kill people for money".  They are about to have a big fight when they realize what the other thought of them, but then the real prostitute and gangster come running in in the middle of a fight scene (they have fallen in love as well and her employer objects.  Varun and Parineeti overhear their passionate confessions of love and how they just wish they were an average couple in love and it makes them realize how lucky they are.  They return to India in love and ready to be married.  INTERVAL
But, her father Nana Patekar only wants her to marry a poor man who knows the value of hardwork, so Varun has to hide his riches and pretend to be ridiculously poor with a lot of spoofs of other movies with the poor boy and rich girl.  And meanwhile his doting stepmother Sushmita Sen only wants him to marry an experienced woman who has had a lot of boyfriends so she knows what love is and his father Anupam Kher agrees, so Parineeti has to rope her gay best friend into playing her ex and do a lot of in jokes referring to her previous movies while she makes up romantic escapades.
They are helped by Anil Kapoor in support as Varun's wacky uncle and Tabu as his wacky Aunt.  Plus, they meet up again with the gangster and prostitute, now ex-gangster and prostitute, Sonu Sood and Lisa Haydon who are now running a cafe and let Varun live upstairs in his poor boy garret, and let Parineeti pretend this is where she meets all her lovers.  After many wacky misunderstandings, it all culminates at a ridiculous wedding sequence where Varun has to pretend to be terribly poor to the point of not being able to afford a wedding shirt, and Parineeti has to pretend to have a roomful of ex-boyfriends (actually a group of male strippers Lisa hired for her).  The truth comes out in the end, but the parents are convinced by an impassioned speech from Sonu and Lisa about how they are starting their life together with nothing but love, Varun and Parineeti have such a wonderful family who love them so much, no matter what they will be happy.
Now, here's the real question:
Which of these films should we make first?  Which do you most want to happen?