Well, that was boring.  It's been a boring season in general, but this one was particularly energyless. Aamir really needs someone with him, I loved him last year with the two actresses, and his Kiran episode is adorable, but this was mostly just bleh.
First things first, Karan is wearing ANOTHER floral jacket! And black shirt.  Which would make me suspect all these episodes were filmed in a row and he just changed the jacket, except that some of the content of this episode shows it must have been filmed much later.  I guess he just has a style system this year, black pants and shirt, and bright jacket.
His opening monologue this week is pretty weak, he says he has a "confession" and it could have been another one of his clever teases about coming out of the closet, but it isn't worded quite as cleverly as it could be and so I know it isn't that and I am just waiting for whatever boring non-confession it will be.  Turns out, he is confessing to "FOMO" (Fear of Missing Out), how he always has to do everything and be everywhere so he won't miss it.  The one interesting thing in the monologue is that he casually refers to his best friend Aditya Chopra who is the complete opposite and says he wishes he could be him and just stay home and not care for a while.  It's the "best friend" that I find interesting, thanks to Adi's habit of always staying inside it is hard to get a grasp on how close he is too people, Karan naming him that way is a big thing.
And then he moves on to introducing Aamir, describes him as the man who made Hindi cinema better.  Which is interesting, not talking about him as a great actor but as someone who sort of drove the whole industry forward.  He did, of course, but it puts him on a different level from the other guests, an industry wide influence not just "hit film this year" kind of influence.
Aamir comes out dressed funky, casual plaid pants and black shirt, soft brown cardigan/jacket and glasses.  The whole look says "I'm casual, I'm smart, I don't care what I look like."  Well, except for the shoes.  Which have the usual 3 inch heels on them.  Oh Aamir!  I see what you did there!  No shade, he knew he would be standing next to Karan for part of the show and it's just courteous to the cameraman to make the difference less.  But, on the other hand, you can't quite pull off "I just wear whatever because I am above clothes" as your style when you also are trying to hide your height (or lack there of).
The first question Karan puts is just sort of clearing the decks, straight up asking Aamir why he comes on Koffee.  Because it does seem a little beneath him and unlike him, so we are all wondering.  Aamir handles it smoothly, says of course it is very fun, and also he has a movie coming out.  So, fine, we can believe Aamir is sincerely enjoying himself, but he is also upfront about his movie.
Karan takes the hint and starts talking up Thugs on three talking points, it will be BIG, it will be fun, and it will have Aamir and Amitabh together.  He also sort of angles towards a comment on how Thugs will be different from Aamir's other movies because there is no obvious social message.
Aamir ducks that, which is odd.  Because, I mean, NO DUH all his films have a social message.  But no no, he says, he doesn't care about society, he just picks based on the scripts.  He isn't lying necessarily, a strong social message is generally part of a strong script (you need a universal talking point).  But it's a little obvious how he is avoiding that box in his effort to get us in to see Thugs after Secret Superstar semi-flopped (did great in China, but then they aren't watching Koffee, this show has to sell Aamir to the Indian and diaspora audience that is a little turned off).  "Don't worry folks! I'm just an entertainer! This is just a fun movie!"
There is one little moment I found interesting, Aamir says he picked Thugs in particular just for his role, that the character was so interesting he couldn't resist.  He promises us someone totally amoral that we won't be rooting for but will enjoy watching.  Which, hmmm.  That's what the trailer is promising as well, only from the most recent song teaser, it looks like his "hero" will end up fighting with Amitabh after all.  Which makes me think the amorality and stuff is just another tease.  Oh, the other thing I found interesting is that Aamir mentions how unusual it is for him to take a movie just for the role and Karan immediately murmurs "Rangeela" and Aamir says something like "yes, but this one.."  What I find interesting is that they don't even need to have a real conversation about it, they are both so familiar with the dynamics of film and film history that Karan can just say the title and Aamir can fill in the rest of the argument.
Movie promo over with, Karan awkwardly segues into the next section, Aamir's family.  There are three topics they cover in this opening and it feels SO SCRIPTED.  Not down to the exact words, but clearly Karan and Aamir worked out in advance what topics to cover and both figured out the general tone of their remarks.  First Aamir wanted to talk about his movie and tipped Karan off to the buzzwords needed (Amitabh, BIG, fun, this will come up again and again).  And then Karan bargained for something a little personal and a little revealing and Aamir agreed and planned what it would be.  So now it is time for Karan to say that Aamir is "progressive" both in films and in life and toss out an opening for him to talk about his relationship with his ex-wife.  Which is interesting, because it is something we see but Aamir doesn't talk about much.
Aamir, of course, gives the perfect answer.  He says they were married 16 years and it was traumatic for everyone when it was over, but he still respects her very much, cares for her, even loves Reena.  They were very young when they married and grew up together, he was lucky to have her in his life.  Karan hints towards how impressive it is that Reena and Kiran seem to get along, and Aamir says that was all Reena, she is so warm and good, she reached out to Kiran, the two women have a relationship without him in the middle.
So, that's just what you want him to say!  He defines his first marriage not as a mistake but a wonderful thing that he was sad when it ended.  But he also hints towards how they grew up and grew apart at the same time.  Most importantly, he avoids any indication of himself as the dominating husband forcing the two women to get along in some sort of ugly Amitabh-casting-Silsila way, their relationship is between them and it is a good thing.  And all of this is very "progressive" and nice, but also kind of an echo of the traditional way first-second wives worked in polygamous marriages, the whole idea of the first wife being the strong one who helps the husband grow up and so on while also mentoring the second wife.  It's just the faintest whiff of it, but it's smart, makes us all relax and go "oh, okay, divorce and remarriage isn't that strange".  Helped a lot of course by the fact that Aamir has remarried but Reena hasn't.  I want to hear Shahid give a similar speech about how he handled BOTH his parents remarrying.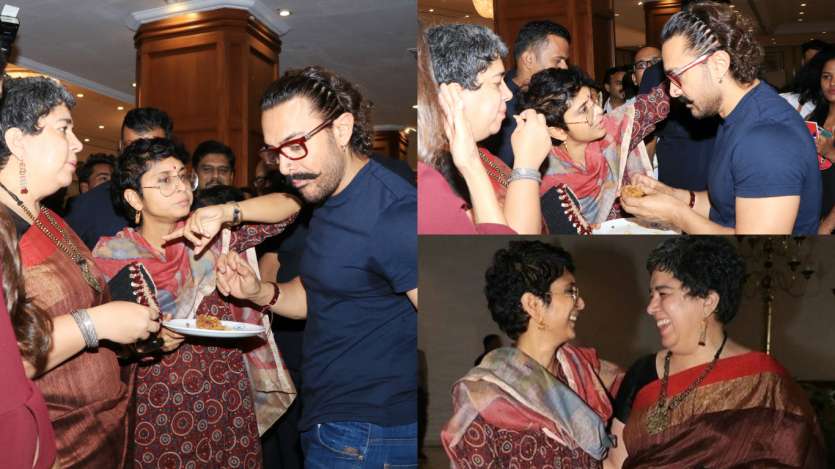 And then Aamir moves on to his kids and, frankly, this is a bit awkward.  He gets a pass from me, but I am a bit irritated that he will also get a pass from everyone else and I don't think he deserves it if you accept the basic premise that nepotism is bad.  Karan leads Aamir to talking about his kids and nepotism, he says Junaid wants to be an actor, but clarifies that he will tell him if he is no good, because he doesn't think it is fair to the films he might work on in future if Aamir helps him and he is no good.  So it's kind of addressing nepotism, Aamir saying "it's unfair for an untalented person to get a job just because he is related to me".  But not really, because the complaint isn't that Junaid is untalented, it's that if he is talented, Aamir or someone else will be giving him a job that could have gone to someone else who is EVEN MORE talented.  Now, personally, I don't mind this because I don't care about nepotism.  But Aamir is spinning it as this "I am objective and perfect and good" when really all he is saying is "if he's no good, I'll tell him, but if he's good, I'll help him" which is still nepotism.
And then the exciting topic!  Topic 3! #MeToo !
Which brings up the question of when was this filmed?  Because none of the other episodes have dealt with it at all.  But at the same time, this episode seems to be a bit old (comments about how Thugs still isn't coming out for several weeks).  So I guess it was right at the start of things.  Kind of cocky, assuming nothing would change drastically in the 2-3 week gap before the episode aired.  Although, that might also explain why they spoke in such generalities.
Both Karan and Aamir go back and forth saying variations of 2 points: 1. This happens everywhere in society, it is not a film problem  2. It is good that the film industry is getting this clean-up and clear out
I think those are both really good points and also good spins on the issue.  The worst case scenario for the film industry is if this turns into a storyline of the dissolute horrible film industry that needs to be burned to the ground.  Which would also be a bad (not worst case, but bad) scenario for women, because burning down the film industry doesn't actually solve anything.  So Karan and Aamir repeating many times in many ways that this is just a reflection of the rot at the center of Indian society everywhere is good.
The spin of "good that we are cleaning house" is also nice, because it leads into the possibility of the film industry eventually being the BEST version of Indian society, if they are reacting and cleaning house while no one else has really looked at themselves yet.  Honestly, I also think this is true.  The Hindi industry has reacted very aggressively and quickly to everything, and it is also the place where accusers are most likely to be listened to (because everyone reads stories about film people and no one will be offended if you accuse them).  So I would still feel safer on an Indian film set than many other places in India.
But then Aamir nods towards another point and I get mad at him.  He takes responsibility for his own part in this, sort of.  He says he was part of films that he looks back on and sees that they encouraged objectification.  Which, WAY TO BE STUPID, AAMIR!!!!  First, wasn't exactly your fault that you were in films that objectified women, you weren't all powerful Aamir back then, you were just an actor, don't buy into the premise of this argument.  And second, objectification is not exactly the major issue with your films.  Oh, and third, maybe instead of picking out examples from way way early in your career you want to look at something a little later and take responsibility for when you actually had responsibility?
The example he uses is the "Khambe Jaise" song from Dil.  Which, huh?  It's a fun song that has his character teasing and chasing Madhuri on campus.  Not the most exploitative song in the world.  More importantly, Dil has the major attempted rape plot point, that is what he should be apologizing for.  Who cares about a catchy song with a boys versus girls choreography!  You wanna talk about the rape scene there?  Or maybe the rape song in Tum Mere Hai?  Oh, or how about Ishq?  When you forcably kiss Juhi and it makes her fall in love with you and meanwhile in real life Juhi stopped talking to you after the shoot?  Oh, and you also pretend to rape her later in the same film?
Aamir is either being really stupid about the actual toxic elements of society (the overall messages that reinforce the patriarchy and rape culture, not a song here and there) or he is being smart and avoiding them because it is way easier to apologize and be forgiven for some song you did when you were 25 than for multiple movies that have rape and sexual assault as a major plot point that help you win the heart of the woman who says she doesn't love you but really does.
Karan and Aamir are both confident in their sort of generalities at the start of the conversation but then get a little believably lost and confused when talking about specifics.  Karan mentions that Aamir took the lead in taking a stand, by dropping that movie with Subhash Kapoor.  And Aamir, sincerely, talks about what I talked about in my first post, without any criminal cases being filed in these situations, then you have to take a personal stand because it is the only stand left.  But it's agonizing, because he made that decision and he ended a man's career and he could have been wrong.  And I believe that he is agonized.  And I also believe Karan when he responds with his own challenges.
Karan mentions the issue of all the technicians and people he sells rights to and so on.  And I get what he means, Dharma is a big company but most of the people Karan "employs" are still going to be contract project to project types.  He can't call them up to his HR department, he can't fire them, all he can do is never hire them again and spread the word for no one else to hire them either.  But he has to do that without an investigation, the police aren't investigating most of these accusations (because no charges are filed) or even the unions (because no complaint is filed).  And you can't have your HR department look into things because the accused doesn't work for you on a regular basis and neither does the accuser.  So you are left with the option of a) ignoring the whole thing, b) choosing not to work with this person again, or c) not working them and making sure no one else does either.  And the real issue is that it is almost impossible to do B) without doing C) if you are in Karan's situation.  If it's an assistant cameraman or a casting agent or something who worked on a Dharma production and Dharma isn't willing to hire them again or give them a reference, that essentially ends their career.  Karan can't just make the decision for himself, he is making the decision for the whole industry because that is the kind of power he has.  And he is making it for dozens of people, wholesale, because that is the number of people he works with.
(Big big company)
The other thing that feels sincere is both of them saying, in different ways, that they had no idea this was happening and it is scary.  Aamir puts it as "we all think people are like ourselves".  And I know what he means, when you are in a conversation with someone and they say "I like this actress, you should hire her", if you are Aamir you translate "like" to "she is talented and smart".  If you are Karan, you translate "like" to "she is cute and fun to hang out with".  But the person they are talking to could have meant "I am sleeping with her".  And it's scary, to realize that all those little translations you always made could be wrong, the world could be very different than you think.  Karan puts it as "you think you know someone, but you realize you just know them professionally not personally, you have no idea".  And it's the same thing, you work long hours with someone, joke with them on set, trust their business judgement, and don't think about it.  And then you discover this darkness inside and it makes you think "do I really know anyone I work with?  Do I really know anyone at all?"
And then there is a commercial break and everyone takes a breath and comes back for a complete change of topic.  Which is too bad, that was the one part of the episode where I really felt like the two of them were connecting a little and Aamir was opening up a bit.  But this is the Thugs episode and it is supposed to be "fun", so we can't have too much social message.
Back from Break, Karan moves on to two more talking points, one for Aamir and one for him.  The first is Amitabh, talking about their relationship to help promote Thugs.  Aamir says the first time he talked to Amitji was while filming Jo Jeeta Wohi Sikander in Ooty, there was a message at the hotel and he thought it was a joke.  And then Amitabh called again and talked to him, it was about trying to get him to join a show in London.  So, I guess that is mildly interesting, that once again it was the shows and non-film stuff that lead to the industry connections.  Oh, and it's also mildly interesting that Karan and Aamir both agree that when you are talking to Amitabh on the phone, you stand up, just naturally.  It's only mildly interesting because I've heard that before and it feels a bit like a retread.
(This might be a photo from that tour, Amitabh and Salman and Sridevi and Aamir and Neelam)
Karan then tries to get in his bit, to get Aamir to talk about that instagram party, but Aamir doesn't really have anything interesting to say, Karan gives him openings, mentioning how he was so reluctant to come and then stayed the latest.  Aamir says "yeah, well, I was working" which isn't very interesting.  And Karan asks Aamir if he acts different with Ranbir-Ranveer versus Shahrukh because they are different generations and Aamir says "no".  Fascinating Aamir (sarcasm)!
Karan tries a new game then, has Aamir call 3 numbers he gives him of non-industry friends of Karan to see if they will believe it is him calling.  It's not a great game.  The problem is, the numbers were pre-selected and we hear all of them.  So, it's people who already know Karan, you can't say they are truly non-industry folks, they aren't going to get super excited or unbelieving like I would.  And second, there is no weeding out and editing.  When radio shows do stuff like this, they find the really fun phone calls and play them over and over.  But if it is just 3 calls and we see them all live, there is no editing and it's kind of dull.  It's also pretty obviously just because Aamir wouldn't do the "Hi Karan it's me…." game that has worked really well on the other two episodes.  Either because it's no good without a competitor or because Aamir doesn't know anyone, or because he just refused.
And then Karan has the first game that he plays with Aamir.  And that doesn't work either.  You really really need the Karan and two guests format!!!!!  Karan can be there making the snarky comments and faces, and the guests can turn on him when they need a shared enemy, and it is just more fun.  So they do "coffee shots", which is to take a drink if you have done something.  But Karan is both moderating, reading the questions, and drinking.  The rhythm is off and there's no conversation of "what an unfair question" or anything like that.  Just dull.
Although it does bring out the only mildly interesting personal things Aamir says.  One is "have you ever worn make-up to cover a hickey" to which Aamir says "I don't cover my hickeys" with a mildly naughty smile.  He also says he takes joint showers with Kiran all the time, but in a matter of fact way that makes it kind of dull.  The big one, that if Karan were moderating he would have underlined and picked up on, is that Aamir says yes he has cheated and two-timed.  Which, no duh!  His (maybe) secret white baby was (possibly) born before his first marriage was fully over.  Plus the whole era between Reena and Kiran seems a bit murky and messy.  But Karan is playing not moderating, so we don't really dig into that and it just slides by.
And then Malaika Arora Khan is brought out to moderate the rapid fire round and there is a little bit of energy added.  She is fun!  But not fun enough to fully wake up this episode.
Aamir's guilty pleasure-poker.  Boring!  The trend he doesn't understand is people caring about trolls instead of ignoring them. Also boring!  What would SRK and Salman borrow from his house?  SRK would borrow cigarettes, Salman would just walk in and take (I think that's what he said).  Boring!  That was a great opening for something like "my box office skills" or "my cool fashion", and instead it just went with dull dull options.  The only one that came close is him saying that Amitabh would borrow his height, only he doesn't phrase it right and both Malaika and Karan are like "wha?"  Again, on a different episode this would have been an opening for some mild teasing about a failed joke, but here instead they just wait for Aamir to explain and go "oh, okay".
Aamir given the choice between food or sex, will pick both.  Which is a lie, he never eats and with the showering with Kiran, I assume he has good sex.  When asked to finish the sentence "I dance like" he says "like someone swatting a fly", which is pretty good.  Also kind of interesting when asked by he is on social media, says because Amitabh made him, years ago they were together at some show in New York or London and Amitabh asked if he was on twitter, he said no, so Amitabh tweeted out "I am with Aamir and he is about to join twitter" and then he had to.  That doesn't feel like an inserted Thugs promo story, that feels sincere.  One of the few moments that does.  And maybe that's why he loosens up and says something actually clever in his next answer, would he push Shahrukh or Salman out of a boat, "Salman, because Bhai will never sink".  And then he pulls back again with a series of "who would you rather act with?" "who has the brighter future?" questions and he just completely passes, refusing to rank or pick one over the other.  Even with simple stuff like if Shahrukh or Salman is a better friend when we KNOW it is Salman.  Not that he hates SRK, but there's two decades of evidence that Aamir and Salman know each other and hang out socially more than Shahrukh and Aamir.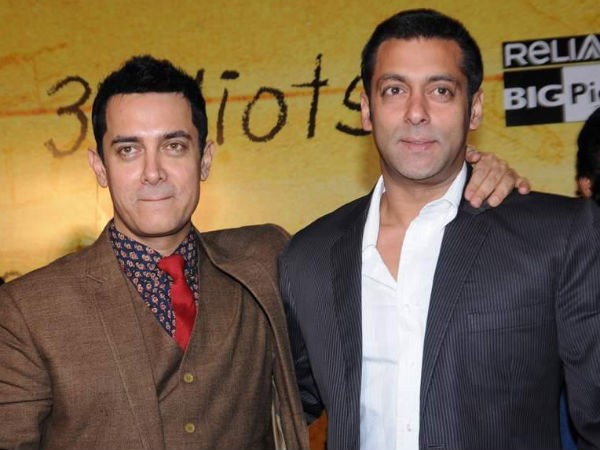 And then it's time for Karan to do rapid fire for the first time ever.  And he is also, mostly, very very dull.  Asked if he would want a lot of friends or to make a film masterpiece, picks film masterpiece.  Shopping versus gossip, which would he give up?  Picks shopping.  Again, if he had a good co-player or if he was moderating, there would be little teasing remarks in response to these answers, but instead they just land and die sadly on the ground.
There were a couple of things I found interest.  He is asked who is best friend is and he says "Aditya Chopra" which picks up on his opening monologue.  Everyone looks slightly surprised but doesn't say anything.  I believe him, because I think he thinks of Shahrukh and his family as family, something beyond friendship, and Adi right behind that.  But it's kind of weird Adi came up twice in one episode, I am going to assume it is because Thugs made YRF and therefore Aditya come to his mind.  Similarly, when asked who he is closer too Kareena or Twinkle, he picks Kareena.  And then explains that Twinkle is his oldest childhood friend, but Kareena is the woman he would have married "if things were different".  Makes total sense to me, again Twinkle is kind of beyond friendship and closeness because they have that childhood connection, but Kareena is someone he is close to now.  Also, while I am very very glad Karan did not feel the need to get married and therefore destroy two lives, I am also just the slightest bit disappointed that we missed out on the Kareena-Karan power couple.
And then the final thing, which kind of goes back to the #MeToo and the Junaid conversation, Karan is asked to choice between three directors, all of them Dharma in house talent and passes saying "I can't choose between my children".  See, Aamir and Karan are devastated and confused by all these people in their circle who they thought they knew.  But the flipside of that is someone like Junaid or these directors Karan handpicked and mentored.  They really truly do KNOW these people. That's why "nepotism" works and started and continued.  If you want to be sure you can trust someone and know them, really really, then you need to know them personally and not just professionally.  And if something bad does come out, then you can be much more sure about your reaction.  Either absolutely knowing it could not be true, or being able to find out it is true very easily (like Anurag Kashyap and Vikas Bahl, it was his behavior at a wedding outside of work which made Anurag truly know he was no good.  He knew him professionally and personally and could see it).
And then there is the final game, a simple game where a computer gives you something and you have to come up with three of that thing and the challenge is how many you can answer within 3 minutes.  This is just a terrible game.  There is no wit to it and no surprise.  Nothing even worth making notes about.  Plus, Karan has to stand there with headphones on so he can't hear in order to be able to play after Aamir, so we don't even get his reaction to the answers.  It is a sort of okay ad for Google Home (the main reason it was included) since the google home speaker gets to control things since Karan can't moderate.  Aamir does his turn, then Karan does his, and then the show sort of ends with a whimper instead of a bang.  It's just not a good episode!!!!
Actually, thus whole season so far has been kind of bland.  I blame the new set, it's all sleek and darkly lit and stuff, doesn't bring up your energy and make you feel relaxed but competitive the way the brighter more comfortable sets did.  Needs a softer couch and more throw pillows and stuff.