This is so exciting!  A big box office story after far too long!  And all over the world, America to Germany to Malaysia, everywhere is interesting!  Well, if you are a number obsessed person like me. (as always, numbers from bollywoodhungama)
Let's start with some basic information factors to keep in mind:
1. Thugs released on a record number of screens worldwide.  Meaning the overall box office is skewed based on things like "there is no other movie playing in this theater so I have to watch Thugs".
2. Thugs released on IMAX, meaning the ticket prices were automatically greatly increased.  Based on my market, even if you didn't want to watch it in IMAX, you might have been forced too because it was easier to find on an IMAX screen than regular, essentially putting a gun to your head to make you to pay more money for something you didn't need/want.
3. The newer markets have a built in increase in tickets and guarantee of a certain number of audience desperate for the rare Indian film on the big screen.  In places where it was only playing thanks to the very wide release, an Indian film would be a special event and theaters could both force people to pay more money, and force them to reserve seats in advance before word of mouth and other information filtered out.
4. It released on a holiday weekend, especially important for sales in places where there is no other way to celebrate Diwali.  In places in the world where Diwali is not a major holiday (so, everywhere except South Asia) the easiest way to celebrate is just to go to a special movie with your family, since there are no parties or religious events necessarily available for you.
All of these factors are specific to the international market.  Yash Raj and Aamir Khan are kings of the international market, and they definitely released the film in this particular way keeping all these elements in mind.  Diwali might even be better than Christmas just because of the lack of competition for screens.  IMAX is far more important internationally than in India (where there are fewer IMAX screens and you can raise tickets just randomly instead of needing IMAX as an excuse).  And newer markets are very good for both Aamir and YRF, if you are the first one in there you can build brand loyalty for years to come, and you can guarantee a certain boost based on the curiosity factor alone.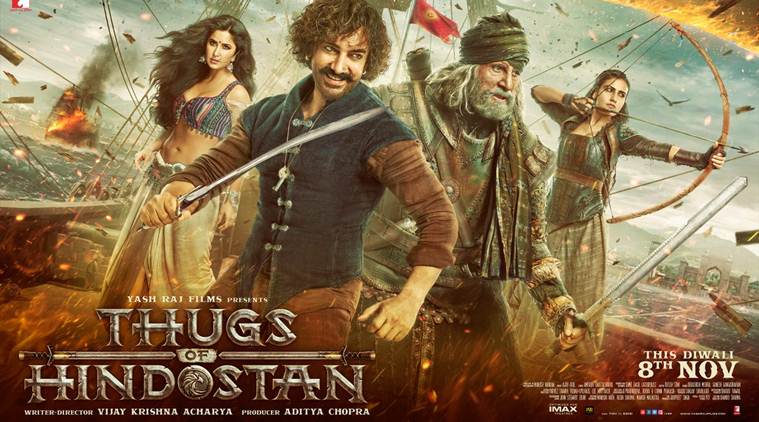 Let's start with the steadiest market, America.  Thugs released on 335 screens in America, which is very very high but not unheard of.  Releases of this level (Tiger Zinda Hai, Sanju, Padmavat) regularly average around 300 screens.  The IMAX release is a little less common, so figure an increased ticket cost versus what Hindi films of this level usually do.  And with all of that in mind, look at the per screen box office: $2,578.
In this case, the midweek release actually severely damaged the box office.  Those figures are for the weekend only.  There was an additional $193,245 collected on Thursday.  I'm going to assume (based on what was the case in my market) that there were far fewer screens on Thursday, simply because the Hollywood films released on Friday making it difficult to adjust the schedule and free the screens.  And a midweek release is difficult in America unless there is a holiday, since we all have to work the next day.  But even so, I am going to guess that enough people saw the film on Thursday, both in America and India, to warn off the weekend viewers in America.  If opening night was Friday, then the maximum number of screens and audience members would have been available before word of mouth spread.  This is the same factor that usually drives Aamir's box office up and up in America, the midweek release is enough for the GOOD word of mouth to spread and lead to an even bigger weekend than at home.
Aamir's last film, Secret Superstar, did not do that good in America, but still did better than this.  It also released on a far fewer number of screens with far less promotion.  All of which is a sign that Aamir does not have the pure star power and name recognition in America that the other two Khans do, and he knows it.  This film was calculated to be a big family holiday hit, something people would see just because it was there and it was a holiday.  And with the IMAX ticket prices added on, there was a surety that it would set records.  What was not expected was that the word of mouth would be so incredibly destructive that it would overwhelm all the other factors and turn the midweek release from an advantage to a disadvantage.  Especially in America, a market that has shown itself to be very word-of-mouth aware (probably due to the same large desi population which makes it such a popular market), Stree and Andhadhun and Badhai Ho riding high on good word of mouth and Race 3 sinking.
Now, let's look at the very other end of things, Germany.  Thugs released on 50 screens in Germany, which is very very high for that market.  And it made a solid $1,100 per screen which is also very high for that market.  In Germany, word of mouth is not a factor.  First because tickets would have been reserved and sold in advance.  Second because the audience community is more cut off from from word of mouth, because of smaller and more isolated pockets.  If Thugs had released 20 years ago when the diaspora was more spread out, and the internet hadn't brought people so close, it would have done the same all over the world as it did in Germany.  In a way Germany is a little time capsule showing is what would have been.  And not so coincidentally, 20 years ago is when YRF first started it's international domination and discovered the strategies that work for the global market.
(Shahrukh in Germany, being mobbed by the German fans who are desperate for any touch of India)
Most other markets fall somewhere in between these two extremes.  Canada, 37 screens (very high for that market) and only $6,102 per screen.  Which is low for Canada opening weekends that regular crack past $8,000, especially with IMAX prices for this film.  But Canada isn't quite as flooded a market as America, again the word of mouth would be less painful.  More isolated communities buying tickets in advance just for the rare chance of seeing a movie on the big screen, fewer word of mouth sources.
The UK was a little more like America.  YRF went heavy there, the UK is also their home market, where they have found their greatest success.  And the use of British actors, and softening of the criticism of the British, was another advantage in that market.  YRF went very heavy for the UK, 175 screens, which is not something that is seen often unlike the 300+ in America.  And the end result was $2,081 per screen.  The UK per screen is usually horrible, so $2,081 isn't as bad as there as it would be in other places.  But based on the screen count, YRF had very high expectations which were not met.
Now, let's look at Australia.  Usually a good market for action films, and would also get that little British Commonwealth boost like the UK.  Thugs did well there as well, $7,000 per screen on 71 screens.  But still not as good as it could, Australia hits regularly top out at $10,000 per screen, and that is without the IMAX boost.
And then there's the overall global numbers.  Thugs had the 4th highest opening weekend of the year, behind Sanju and Padmavat.  It made slightly less than Race 3, and one crore less than Sanju and half of what Padmavat made.  It made about 2/3rds of what Dhoom 3 made in opening weekend.  And, the really fascinating one to me, only slightly more than Talaash.
(Talaash.  In the 6 years since it's release, Aamir has broken box office records, multiplexes have taken over India, and ticket prices all over the world have crept up and up.  And yet this small film with a strong cast and story and look to it made almost as much money opening weekend as Thugs)
I can see where the Thugs figures came from, the pure number of screens meant a decent overall profit even in places like the USA.  And the UK, Australia, they were average if not a total flop.  And so if you look at the overall global box office, it still appears to be a hit.  The problem is, it isn't the BIGGEST hit.  It was positioned to follow up Dhoom 3, anything less than that is a failure, and it was far far less than that.  Once you add in all the manipulation YRF did, from IMAX releases to screen count, Thugs becomes somewhat embarrassing.
Padmavat is what it should have been, an IMAX release with good overseas market appeal and a very wide release.  That's the model YRF was looking at, an Event film with the overpriced tickets that implies.  To not even do better than Race 3 is a severe embarrassment.  Especially since Race 3 was a far worse movie objectively speaking in every way, and with a fare smaller promotion campaign.  It shows that YRF was foolish to bet on Aamir's star power and audience loyalty, and on the whole period action adventure genre, instead of on Salman and the regular modern action film.
Sanju, that was the usual Aamir film, a strong simple story idea that would attract the audience, a "high quality" stamp to bring in the audience that would normally turn their noses up at Hindi film.  And with an elaborate marketing campaign.  Even that did not do as well as other Aamir-style films have done, although it still did very well, perhaps showing that the global audience was beginning to be tired of this style of film.
The film I find most interesting in terms of global box office this year is Baaghi 2.  It did not get an IMAX release, it did not get an insane number of screens, it did not get a crazy marketing strategy, and it did not have a major name brand studio (YRF, Dharma, Excel) behind it.  And yet it did very well.  Similarly Talaash years ago was Aamir's last solid hit without a crazy marketing strategy and screen push.
(Even the Baaghi 2 songs weren't that remarkable.  It was a hit purely because the audience wanted to watch this movie)
The overseas market can be manipulated, sometimes more easily than the at home market.  And the challenge is to carve out the manipulation and see what is left.  Once that is done for Thugs, what I am left with is a general excitement over seeing a Hindi film on an opening holiday weekend, and not much else.  Nothing specific to THIS FILM that made people excited.  YRF could have released any other film this weekend in the same way and gotten the same response.  It was a matter of simply filling in the blank in the marketing strategy memo with the title of the film.