Huh.  Well, the season is really going now, and it looks like this will be season of interesting personal stories and connections.  I am down with that!  After Saif-Sara and Janhvi-Arjun, we have another very private and unusual connection between two people.  Actually, three people.  Because Karan is part of it this time around.
Okay, another one that requires backstory!  Back in 2016, Ajay Devgan and Karan had movies opening opposite each other (Ae Dil Hai Mushkil which was surprisingly good and Shivaay which was shockingly bad).  And there was a very complicated story with Garbage Person Kamaal R Khan (KRK) at the center of it.  Garbage Person KRK contacted Ajay's team and offered to sell them a good review of their movie, claiming that Karan had already offered him such-and-such amount for a good review and challenging them to beat it.  Decent Person Ajay promptly recorded the conversation and made it public.  Garbage Person KRK immediately tried to backtrack and claim it was a lie and he would never actually sell a review.  Now, Ajay in all his talks said nothing about Karan directly, just about the practice of selling reviews.  And as I read the transcript and the story, Garbage Person KRK was clearly lying about having made a deal with Karan in order to help himself make a deal with Ajay.  If he really had made that deal, why would he bother with Ajay?  Plus, KRK is a Garbage Person and nothing he says is reliable.
Anyway, in the middle of all of this, Kajol retweeted a tweet about Karan buying reviews with something like "Shocking!"  It broke Karan's heart and he declared (in writing in his memoir) that their friendship was over.  And then he forgave her like 6 months later.  Because being Karan's friend is EXHAUSTING.
So, that's part of the backstory here.  The other part is that Kajol and Karan have always been friends, and Ajay has not been friendly.  With anyone really, especially Kajol's friends.  Which has lead to a whole bunch of rumors, the popular perception of their marriage is that Ajay is withholding and controlling, has affairs with actresses, doesn't let Kajol act, doesn't let Kajol be with her friends, tries to come between her and Shahrukh.  And, of course, that Shahrukh and Kajol are Meant To Be and Ajay and Gauri are just killjoys coming between true love (this last is a pretty rare rumor only believed in little corners of the world).
So, that's what this episode is dealing with, showing us how Kajol and Ajay's marriage works on the inside, not just from the outside.  And putting the finishing touch on resolving the Karan-Kajol beef.
But first, something completely unrelated!  Karan's stupid buckles.  It's like a normal black jacket, but with little leather buckle touches at the shoulder and pockets and just STUPID.  I hate it and it should burn.
(BURN!)
Moving on, Karan and his stupid buckles talk about the problems he had with Kajol, that he thought they could never be friends again, but in fact it is just like it was before, no cracks, same as they have been since they were teenagers.
With that out of the way (for now) Kajol comes out with Ajay.  Ajay looks kind of mature-hot, glasses and graying stubble.  Kajol looks freaking AWESOME.  Simple black dress, big slit up the leg, plunging neckline, it's simple but it makes her look amazing.  Only downside, her shoes are clearly too high for her.  The make her legs look great, but she is very tippy as she walks over to the couch, definitely needs Ajay holding her arm.
After they sit down, Karan starts by talking about when Kajol first told him about Ajay, that she was doing a movie with this guy but didn't want to, she liked the script but he was so boring and all.  And Karan told her to do the film because he is and up and coming star and it would be good for her career.  And he saw her a month later and it was all about how wonderful Ajay was.
To which Ajay's response is "Not in a month".  Which is partly a cute thing that he remembers there falling in love so well that he knows it took more than a month.  But then also he follows it up (and Kajol agrees with him) that it took them a year to fully break off with the people they were dating before.  So maybe that "not in a month" clarification is for people who might still feel a little burned by them falling in love.
I wonder who Kajol was with?  Ajay won't say who he was with, because she is "married and not married and married" which makes me think Karisma.  Plus, of course, he was dating Karisma.  But I have no idea who Kajol was with back then!
So then Karan asks why is it that Ajay is not friends with Kajol's friends, even Adi.  They tried back then and through to today and they just can't seem to get connected with him.  What I find most interesting is that Karan makes a point of bringing Adi into it.  Shahrukh, by the way, is almost never mentioned in this whole episode.  I don't think there is a big big reason behind it, no conspiracy theory, I think Karan just wanted to make it about him and Kajol and Ajay, not about him and Kajol and Shahrukh, for this once.  But he does bring in Adi here, to show he isn't just talking about himself, but all of Kajol's friends.
And then we get the first joint story between the husband and wife.  And as will happen through out the episode, Ajay starts the story and Kajol jumps in and cuts him off and finishes it.  Cute enough story, Ajay has some work event he has to go to, says "I have to, it's for work", Kajol gets all dressed up, and then at the last minute Ajay says "Oh, I don't feel like I can do it, I'm sick, can you go for me?"  Which is how Kajol ends up going to so many events and picking up awards for Ajay.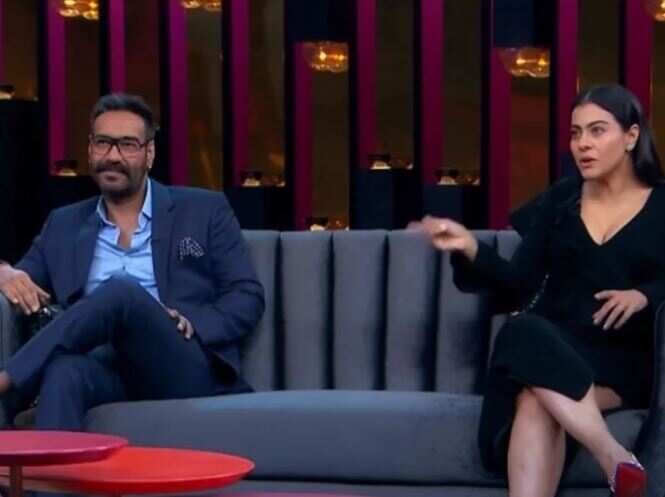 Ajay comes back in at this point to point out that Kajol loves it, she comes back all happy saying "she wore this, she wore that".  Kajol agrees, says that for her the rest of the industry is like a gossip channel she tunes in to she loves just popping in and catching up.
Karan swings back at this point to saying again he wants to be Ajay's friend and Ajay saying "yeah, sure" and Kajol jumping in all "no no no no no no!"  So now this makes sense!  Now that we had the whole exchange right before.  Ajay doesn't care, Ajay wants to stay home.  Kajol likes going out alone and having her free time and fun.  No wonder she doesn't want her friends to be friends with Ajay, she likes her alone time.
Karan moves on to sincerely apologizing for breaking with her for a while, for not talking to her, for badmouthing her in his book, and for snubbing her at a Manish show.  Kajol just laughs and says that she remembers that and knew he was picturing it like a film shot, dramatically walking past her.  And then right after, she stumbled and he started to jump up and help her and stopped himself.  So yeah, Kajol is the best possible friend for Karan because she just laughs at his nonsense and forgives him.  Oh, and she also says that the whole time Ajay was saying to her "Why don't you just call him up and talk?"  It's just tossed in there, but it's another part of building the picture of this marriage as not about "controlling man who keeps her from friends" but more "deeply introverted man who cares about her but doesn't interfere in her life".
They move right on to a story that Karan leads them to, about how at Diwale they took a photo and then Ajay hated it that Kajol spent the next several hours playing with the image on her phone, Kajol argues that it was Nyssa not her, teases Karan and Ajay for being old.  It's cute, but mostly I find it interesting for how it shows the way Kajol and Ajay interact, she leaps in and bubbles around and chats and he just sits back and smiles and doesn't interrupt.  And it ends with her "winning", declaring that they are the old ones, she is sitting there with two old men.
Oh, and in case we missed the point, after all of this Ajay points out how Kajol always jumps in and she says "because he doesn't explain his answers!"  Ajay will say something straight forward, and Kajol will want to add on to it.  That's how their marriage works, Ajay is simple and straightforward and she is bouncy and all over the place.
And it is very private, that's the other part of it, their marriage works because they don't care about the way other people's marriages work.  Karan tries to introduce another section and Kajol really resists him revealing their personal business, and it turns out he is talking about the way she shops!  All deals, all cheap.  She used to shop at the regular stores, now she gets it all online.  Ajay agrees, he comes home and there are boxes and boxes of things.  And she is so excited to tell him how little she paid for things, 600 rupees or 400 rupees or 1200 rupees (approximately $15, $10, and $30).  Karan will try to give her a designer bag, and she asks if it has a zip pocket in the back.  She wants things how she wants them and doesn't care about if they are expensive or not.  And she won't spend money on herself, even today Karan asks if her big diamond earrings are hers and borrowed, and of course they are borrowed.  Ajay agrees, she won't spend money on her self!  He will give her a gift, and her response will be to get excited about the box.  So now every year he gets her a new car, but she just drives it for a few days, and then is done with it and it's his car.
That's the first of a series of stories.  It goes on to confirming that Ajay really doesn't care about being part of society and out in the world, he just wants to do his work and come home to his kids.  He is more worried than Kajol, about everything to do with the kids.  He is the one staying up until curfew to make sure Nyssa gets home.  But on the other hand, Kajol is the one who is closer to his parents, his mother really loves her.  But then, Kajol loves all older women, Karan remembers that she had the best time at his mother's birthday party, surrounded by 70-80 year old women.  Kajol agrees, so does Ajay, and adds on that she always does best with people under 10 and over 60.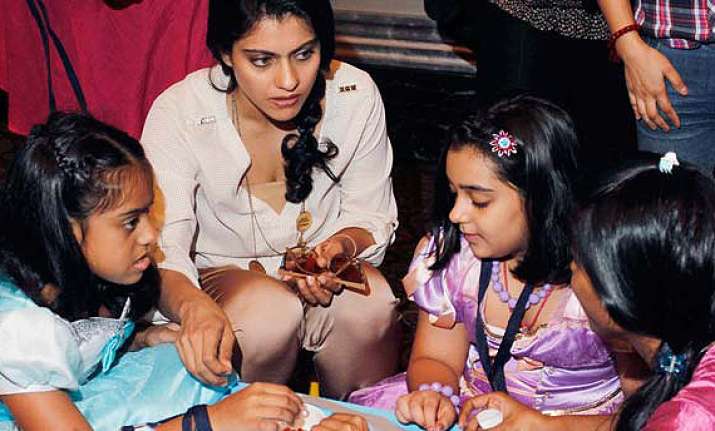 So that's the mysterious Kajol-Ajay marriage.  Ajay isn't keeping her home, she doesn't want to go to things, she doesn't want to spend money, she isn't into the whole movie star thing.  And when she does go out alone, she has a better time than if he were there.  And Ajay, he doesn't hate the world, he just wants to come home to his kids every night and wait for his teenage daughter to come home.  We are just seeing it from the outside and it is hard to see that way, from the inside it's buying cheap purses online and hoarding boxes, and pretending to be sick so he doesn't have to go to award shows.
Karan has set the stage with these stories, and now he is ready to head towards the two big rumors about their marriage: that Kajol doesn't work because Ajay forbids her, and that Ajay cheats.
Kajol has a really interesting description of what she looks for in a script, "speed".  Something interesting, something that grabs her attention.  And if it isn't there, she won't take the role.  And then she and Karan and Ajay all confirm that Ajay doesn't care if she works or not, it's up to her.  Kajol asks Ajay's opinion, but then feels free to ignore it if she wants.
Karan then heads towards the Ajay cheating rumors, asks if there is ever "insecurity" and they both skate away from it.  Instead, Kajol leaps to point out that she is the one out at all the shows!  He never leaves the house!  If anyone, HE should feel insecure about her!!!!
Now, I don't know about this part.  I believe everything they are saying, but we can't know someone else's marriage, and it's highly possible that the whole "leave work at work and then come home and be with the kids" part of Ajay's life includes some workplace flings.  So long as he leaves them at work and comes home.  I mean, those rumors are really really common.  Or, it could just be that no one can believe Ajay is really such a perfect husband and therefore the rumors started up out of nothing.  But I do like the method chosen to avoid the topic, pointing out that Kajol could even more easily be having affairs than Ajay, as she is wandering around at the award shows.  It's great to point out that she is vibrant and attractive and sexual and just as capable of stepping out on the marriage as he is.
But Karan responds with something that I think is true, and also interesting, telling Kajol that he knows she is truly the ideal wife (using the old fashioned Hindi term for it), loves her husband, really does think of him as God like she is supposed to.  Kajol is laughing a little in embarrassment, but based on this whole episode, and what I have heard elsewhere (including Kajol's first Koffee appearance, where she picked "my husband, hands down!" as the sexiest man in India), I think this is true.  She is out there at awards shows, she is laughing and loud and talkative, but she also truly thinks her husband is the best man in India and will not criticize him or go against him in any way.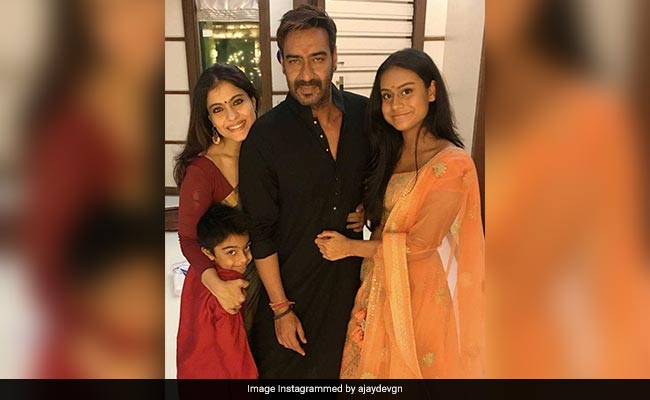 (This is that Diwale photo they posted, notice how the whole family is kind of leaning on and around Ajay?  Seems like that's truly how it is in their household.  Also, Yug is gonna give Taimur a run for his money in terms of loving the camera)
And then, Rapid Fire!
I only picked out a few answers as interesting.  Asked about 90s heroes, Kajol picked Saif as most likely to have a tantrum, Shahrukh as most likely to be late on set, and Ajay as most likely to lie about being busy.  And as for who is still wearing 90s fashion, Kajol herself!  Now, what I find mostly interesting is Saif throwing a tantrum.  I knew it!!!!  I knew he was a little baby back in the floofy hair era!
Next answer I find interesting, especially in the context of the whole wedding extravaganza, Kajol picks PC as the one who has the best PR in the industry.  And she gets a little snarky when asked who has the best body, suggests they are all the same and you might as well ask who their doctor is.  Which made me suddenly realize that Kajol and Ajay are one of the couples with the most natural bodies in the industry.  Banging amazing bodies, but not slimmed down and 0% fat or any of it.
And continuing the "no Ajay love triangle issues" story, Karan asks who Kajol would consider a friend to today among the actresses, and she considers for a while, says that she is friendly with a lot of people, before finally landing on Karisma.  So, HUH!  Ajay's rumored ex is the one person Kajol would consider a friend.  Based on the other stories I've heard (for instance, going out of her way to greet Kangana on an airplane in the midst of Kangana giving interviews about her affair with Ajay), I think this is Kajol's policy.  Whenever possible respond to these rumors with friendliness to the other party, it's the best way to handle it.
Speaking of rumors, the final question that Kajol answered which I found interesting, Karan asks her to pick between Fanaa and My Name is Khan.  Kajol laughed and kind of looked toward Ajay and said "On this couch, my name is definitely not Khan!"  Which is as close as they came to even acknowledging the "Kajol should really be with Shahrukh" stories that are always flying around.  As a joke and a thing to laugh at.
Then Ajay's rapid fire!  And he does well, mostly.  Karan asks him who he likes opposite Kajol in the new batch and he says "as a son?" which gets a big rise out of Kajol.  Karan asked what the most common lie actors tell is, "I love my wife".  Kajol reacts a bit to that, and Ajay points out that it's not something he says.  Which is true, they have a very private unusual marriage, not about big public statements or gestures at all.
There was a funny moment when Karan asked Ajay who he would arrest for certain crimes, like "gossip" or "crimes against fashion" and Ajay had to look to Kajol for confirmation because he truly does not know these people in the industry and has to use her as his lifeline.
He answer that what makes him blush are compliments except from his wife.  Because she is always telling him nice things so it doesn't count.  Same comment came up earlier, if she trusts her judgement on his films, no he doesn't because she just loves everything he does.
He was on firm ground when picking an underrated actor and went with Saif (which is probably sincere, but also because they are currently filming together).  And for a fellow non-dancer, he went with "my neighbor Sunny Deol".  I am assuming he knows him far more from being a neighbor than from being famous.
And then it was time for the Quiz!  Newlywed show style, Karan asks them questions about the other one.  Stuff like "what color are Kajol's shoes?" which Ajay gets immediately.  Actually, all of the questions they get really easily.  Which says something right there, that there is no stumbling for answers.  The only time Ajay gets it completely wrong is when he gives the wrong date for their anniversary and Kajol makes a big fuss and Ajay just smiles and says "I was just testing you".  Oh, and then it ends with the usual "Hi Karan" challenge, Kajol is stumped looking at her phone trying to think of someone famous she knows, and then it rings and picks up and it's Ajay calling her, she says "Hi Karan" and he wins.  Karan is a little "but, why would you do that?  Now he has the points!" but Kajol and Ajay just don't care.
That's the point of this whole episode to me, Kajol and Ajay just don't care.  They have a marriage that works for them.  And it involves Ajay seeming a bit of an ogre from the outside.  He never goes out in public, he never makes friends, Kajol doesn't have nice things or nice clothes, doesn't get to work, and so on and so forth.  But what we see here is that they like it like that.  Kajol is the one who objects and doesn't want him to be friends with her friends.  Kajol is happy going to events alone and coming home and talking about them.  Ajay is happy to have a wife who constantly fusses and abuses him and doesn't mind.
It's the kind of marriage you see some times that looks different the closer you get.  From a great distance, Ajay seems to be an abusive demanding spouse who cuts her off from things.  From a little closer, Kajol seems to be the one in charge, making a big emotional fuss about everything (like Ajay forgetting their anniversary date) and always cutting him off when he starts to speak.  But when you get right into the heart of it, as Karan makes a point of saying, Kajol truly does think of Ajay as the head of the house and all she wants and the center of everything.  She may cut him off in a conversation, but she thinks all his movies are perfect and compliments him so much in private that he doesn't even get embarrassed any more.