Thank goodness, nothing that really changes what I already knew, which means I don't have to update this post. But I did learn a few more details that were interesting.
Aseem Chhabra wrote the book, he is a legitimate journalist/writer, has been around Bombay and the film industry for generations, he got a few really solid interviews with folks like Shashi's kids and James Merchant. And he pulled together quotes from other earlier interviews to fill out the picture, along with analysis of Shashi's work as an actor in certain significant films, especially later in his career. What he avoids entirely is anything from gossip magazines, or any discussion of Shashi as a star personality. But then, it's Shashi. There is no gossip, and there was no star persona, he was always just himself. And so this fairly short and respectful sweet little book is appropriate for who he was.
What becomes even more clear in this book is that the most important part of Shashi's life was always his wife Jennifer. Their first meeting is legendary and repeated over and over again. Shashi was a teenager working as stage manager for his father's Hindi theater company, Jennifer was 4 years older and working as the leading actress of her father's Shakespeare company. One night Jennifer and a friend came to see a play at Shashi's theater, he looked through the curtains and saw her in the front row and fell in love. He offered a backstage tour of the theater, they met the next day for lunch in a Chinese restaurant, and that was it for the rest of their lives.
Shashi and Jennifer were always a matched pair, born and raised the same. Both of them were children of struggling dreamer owners of a traveling theater company. Both of them had childhoods that combined being part of a family and part of a theater troupe. And so this relationship struggled with the duel challenges of leaving families and leaving theater troupes. Shashi was stuck in Bombay working for his father, Jennifer was about to leave for another months long engagement in Pune. So Shashi took a risk and, with Jennifer's encouragement, applied to work in her family's theater company so they could spend the tour together.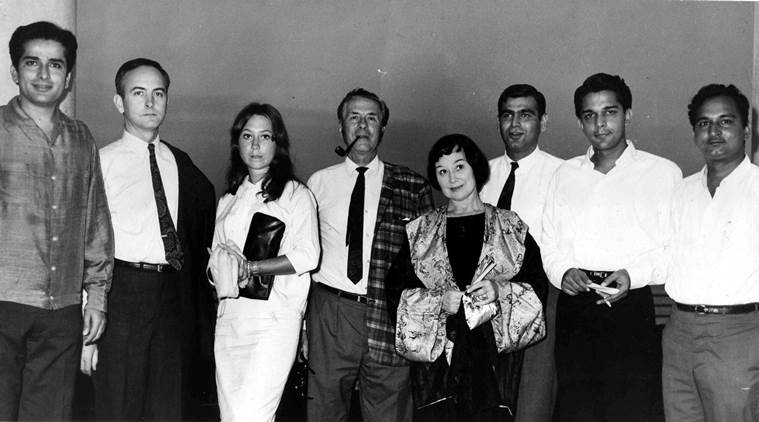 Shashi wasn't a dashing confident young man of the type he would later play onscreen. He was a terrified teenager who managed to overcome his fear of his father, of Jennifer's father, and (most terrifyingly) of the English language in order to be with the girl he liked. They traveled up and down India, sneaking time together behind the back of Jennifer's father, and Shashi struggled with going from a mediocre English speaker to a Shakespearean actor in the course of a few months. He told his daughter later that he it was the worst time of his career, it felt like trying to act with marbles in his mouth.
Jennifer's family did not support them, or even know about their love, but Shashi's brothers stepped up for him. First Shammi and his wife Geeta Bali, who had their own romantic love story and elopement a few years earlier. They encouraged Shashi to bring Jennifer to Bombay and look for support from his parents. But Shashi was too scared, instead he took her all the way to Bombay, and brought her to Shammi's house at the last minute. They were lovely to the young couple gave them support and acceptance, slipped Shashi money and loaned him their car so he could take Jennifer out on proper dates (they used to just walk up and down the streets together splitting a single paratha for dinner). But Jennifer's father Geoffrey had now learned of the romance and was entirely against it. He didn't want Jennifer to get married and leave the theater company.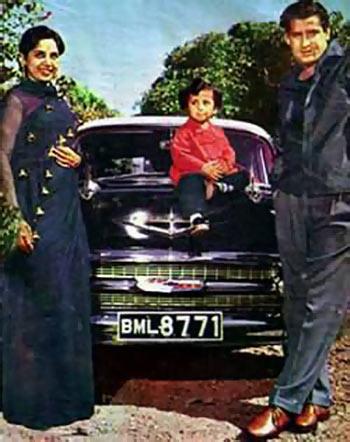 In the end, there was no clean clear easy answer. Shashi and Jennifer secretly applied for performing jobs in Singapore and, when they were accepted, told Geoffrey they were leaving the company and getting married. Jennifer tried to embrace her father, and he turned away from her, sending her off sobbing into a taxi cab and an uncertain future. And then they landed in Singapore to learn their jobs had evaporated and they had nothing. Shashi, with nowhere else to turn, wired his oldest brother Raj Kapoor for help and Raj promptly sent them two economy tickets and ordered them to come home to the Kapoor family who was waiting to welcome them. Shashi and Jennifer were married in Bombay, in the Kapoor family house, and moved in to Shashi's tiny bedroom. Shashi was just a few months past his 20th birthday. His first child would be born less than a year later.
Perhaps because of how her father had rejected her while Shashi's family supported them, Jennifer tried to build a life with Shashi that kept her children grounded in their Indian heritage, even more than other star children. Once Shashi started to make a regular income, they moved out of the Kapoor household to South Bombay, leaving the cocoon of the film colony in Bandra-Juhu for the uncertainty of downtown Bombay. Jennifer would take her children on public buses, go shopping at the Chor Bazaar, and insisted on family breakfasts every morning at 7:30 sharp (Shashi was expected to attend no matter how late he was working the night before). Every Sunday they would do the long drive from South Bombay to Bandra and the Kapoor family home for family dinner.
Eventually, Jennifer forgave her father and they started spending every summer in England, so they could see their other half of the family, now that the Kendal's had settled there and shut down their traveling company. During other school vacations, they would go to their big vacation home in Goa. This was before Goa was such a tourist destination, instead it was a sleepy forgotten beautiful corner of India where Shashi could be just "that guy who lives down the street", could play with his children on the beach, could walk with them to the market. In Bombay, they remember that he would take them to the Zoo sometimes because the zoo owners would let them come in early, before the crowds. But they had to hurry and leave before it got too late, or the regular public would arrive and Shashi would be mobbed and family time would be over.
Shashi was one of the first stars to begin the multiple shifts and multiple films tradition. And that was for Jennifer too. Vacation home in Goa, apartment in South Bombay, and time in England, it was all expensive. Other actors held out for more money for every film, borrowed money, lived off family, or simply cut corners in their household. Jennifer didn't want to live like that. She wanted stability. So Shashi worked 15 hour days and then came home for a few hours sleep before dragging himself out of bed for breakfast with his family at 7:30. And he scheduled his work so that, when he needed to, he could be fully present for his family. 3 films at once for 4 months, and then a long 3 month break to go on vacation with his kids. While other film children remember their fathers from brief glimpses between parties, or film sets they were dragged along to, Jennifer's children had a father who was always there for them, put the needs of his family above the needs of his career.
This book also helped crystallize for me how much Shashi's artistic ambitions were all for Jennifer too. Shashi learned English for her, became a Shakespearean quality English actor so they could be together. And a few years later, when he was a struggling young movie star, he accepted an English language role in the movie The Householder because Jennifer liked the young director who brought him the part. Merchant and Ivory had no money back then, offered Shashi less than he could have gotten elsewhere, but they were the only film people Jennifer would allow in her house, so they were okay with Shashi and he did their movies. Yash Chopra was the only other exception (because he didn't drink), and Shashi worked with him more than any other mainstream director.
Shashi was always a people-pleaser, it was his gift and his curse. And it was why he was a failure as a producer. He would pay for first class plane tickets, luxury hotels, everything for everyone on a set, even for junior artists who had never traveled on anything besides trains until now. And then the movie would release, the distributors would lie to him and hide profits and he wouldn't want to challenge them, and he would lose, lose enormous amounts of money. One of the biggest signs of his love for Jennifer is that she was the only person who could stop him from pleasing anyone else. If Jennifer said he couldn't go out to dinner, couldn't go to a party, couldn't take that film role, he wouldn't do it. She protected him, his life was happy while she was alive partly because she gave him the control that let him be jealous.
Shashi fell apart physically and emotionally and mentally after Jennifer's death, but he still managed to hold himself together for his performances. His directors noticed more mood swings (as his dementia and alcoholism increased), and physical concerns as he no longer seemed able to slim down for a part, or even fulfill some of the physical obligations. But his performances were greater than they had ever been once the camera was rolling.
Maybe it was because he kept trying to please her after she died. He kept working with Merchant Ivory, and any other artistic director that approached him. In his later years, these crossover films didn't seem to bring him any joy, any more than anything else in his life could bring him joy. But he still did them, as a strange tribute to Jennifer, making the kind of movies she would have liked. He got his first National Award for the first movie he made after her death, and responded "the awards mean nothing to me at this stage when I do not have her to share it with me." He went on to sign more British films, and American, anything that might bring together the West and the East in the same way their family had combined east and west.
Jennifer and Shashi had a remarkable bond, but Jennifer was more than just Shashi's wife. She was a brilliant actress in her own right, had just begun to return to performing with 36 Chowringhee Lane shortly before she became ill. If Shashi achieved the difficult feat of crossing over between Indian and Western films, Jennifer achieved the equally challenging feat of building a family that crossed between East and West. If Shashi loved Jennifer and could not survive without her, he was not the only one. Her father after her death said that he felt as though the whole world had suddenly frozen. Her mother lost her faith in God. There was something special about Jennifer, some spark in her that caused those few who had the honor of knowing her well, to give their whole hearts to her.