I've hit a rich stream of B-grade film noirs on TV. The B-grades are sometimes better than the A-grade ones, you could get grittier and darker and weirder when no one was looking. Anyway, there are two that I think would work really well as dark weird gritty Indian remakes. (note for my sister: Don't Read This! We are watching them together when I visit)
Surviving Attempted Murder Gives New Life and New Love
Our hero is a wealthy self-made man, hard driving and confident. He is passionately in love with his clever fun funny younger wife. What he doesn't know is that she is having an affair with a tough guy and they are planning to kill him. Our hero is planning to drive cross-country to a business meeting because he likes the feel of the open road (self-made, still grounded). His wife asks him last minute to pick up her "cousin" and give him a ride part of the way. He does, but the cousin is really his wife's lover. He stops to change a tire and the cousin hits him over the head but before he can finish the job, a passing truck scares him and instead he just steals the car and takes off. The truck finds the hero, who has been injured but is still alive, and gives him a ride to the next town. Meanwhile, the "cousin" drives recklessly and runs into a truck causing an explosion. His body is incorrectly identified as the hero.
The hero, from what the "cousin" said just before the attack, knows it was his wife who planned the murder and is a broken man. Instead of announcing his identity and returning to his life, he starts bumming across country. He stops in a small town and spots a garage mechanic messing up a repair. He jumps in and offers to fix the car instead, not noticing until he finished that the mechanic is a woman. She offers him a job, he is reluctant, but finally agrees to help her out. She doesn't know cars and her workers were hired away by the big new factory, her garage is dying. He is reluctant, but she keeps working away at him, and finally he agrees. A couple of months later he has settled in to his new life but is resisting giving in to his feelings for his female boss. Despite renting a room from her and her mother and sinking happily into the small town life, he is still a little bit torn about not revealing the truth of his past life. Meanwhile, the police back home are increasingly suspicious of his wife. She is confused herself because her "cousin" didn't show up for their assignation. The police arrest her and charge her with her husband's "murder". Our hero is torn, does he even want to save her since she did intend to kill him? And does he want to risk going back to his old life and losing everything he has built up in his new life? After talking it over with the heroine's wise mother, he decides to go back and face his past life.
And, TWIST! He talks to the district attorney and tells his story, then his wife is brought out, learns he is still alive and that her lover is the one who was killed and immediately changes her story, in seconds invents a version in which she begged for a divorce from the hero because she was in love with another man. He seemingly agreed and was going to meet her lover. She now accuses him of killing her lover. And he is stuck, because he has no real good answer for why he decided to travel under a fake name instead of going back to his life after his "death". It looks like a guilty conscience kept him away.
His wife is a good liar and convinces the grand jury, he ends up locked up. Luckily the heroine is still sticking around and partners up with an older police officer who doesn't believe the wife since she switched from being a "grieving widow" to being a wife who wanted to leave her husband awfully quickly. It turns into a stressful court case but after tracking down the maid, who remembers that the wife went out the night of the murder, they are able to find evidence that she was planning to meet her lover to celebrate the success of their murder plan. Our hero is freed, and his life given back to him, he plans to start working again at the head of his company immediately, but asks his "boss" (as he calls her) to come along with him.
Call me crazy, but somehow I see Irrfan in the lead role in a Hindi remake.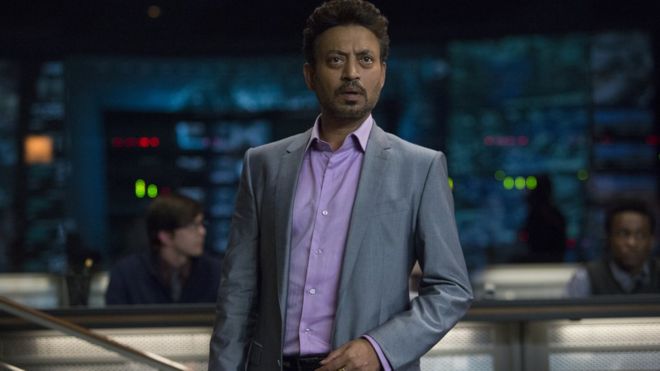 A smart mechanic who invented a thing, founded a company, and became rich and powerful. And then married a pretty intelligent young woman, Illeana D'Cruz. She and her lover try to kill him, the lover ends up dead instead and Irrfan is so hurt and lost that he starts wandering around the country, picking up odd jobs and hitching rides. He ends up in a small town at a small garage run by Tabu, a widow who inherited it from her husband. He moves in with Tabu and her mother and sinks into small town life, until his past catches up with him and he decides he has to go back and tell the truth. Illeana is being hunted by a determined older cop, too old to fall for her tricks, Boman Irani. Irrfan finally tells Tabu the truth and then return to Bombay together. Illeana changes her story on a dime and successfully frames Irrfan. Tabu works with Boman and they manage to find proof that Illeana did it. Finally Illeana is arrested and Irrfan is freed. And then I would change the ending to have Tabu start to walk away and Irrfan chase after her, declare he is turning his back on his company, he will shut it down and use his money for charity, he just wants to go back to working as her mechanic in her small town.
Estranged Wife Finds Husband By Losing Him
This is such a great story idea! A man witnesses a killing, goes to the police as a witness, and then is shot at in turn himself and sees the man who shot at him. Terrified, he runs away from it all rather than accepting police protection.
This is where it gets clever. The police go to his wife for help finding him, she is cynical and bitter, says her husband is running from her as much as the police, he is a coward and a failure. But she still cares enough that after the police leave, she starts trying to look for him. The police are following her, she tries to lose them, and is offered help from a stranger who introduces himself as a reporter looking for the story. She tries to get away from him too, he catches her, and she reluctantly agrees to work with him. Sparks fly, he compliments her and wise cracks back at her, says he wants her to find her husband for the story but maybe after that he wants her to forget her husband.
But as she starts trying to follow clues, she starts to see her husband in a new light. He is a failed artist, which made their marriage difficult and bitter. But at the dull job he found to pay the bills, he is beloved. He stands up for his co-workers, supports their dreams, and talks about how much he loves his wife. At another place, he painted a mural to pay a bar bill and based it on a romantic evening they had together years earlier. Slowly her vision of their marriage shifts from him as lazy resentful man who hated her, to a sad brokenhearted man who missed their closeness.
The chase gets a deadline when she learns from the police that her husband needs heart medication on a regular basis. The police have blocked him from getting it from the pharmacies, she needs to find him and hand deliver his next dose. Also, he kept the heart trouble from her because he didn't want to worry her, another sign of his consideration and love for her.
Now she is searching for him sincerely, desperately anxious to understand the message he left for her, a letter challenging her to understand his code and remember the place in the past that was special to them. The reporter is conflicted, has come to care about her enough to encourage her to look for her husband for her own peace of mind, even if he likes her more and more.
But, TWIST! The audience starts seeing odd things the reporter is doing, pieces that don't fit together. And finally, moments before the heroine figures it out, we realize that he isn't a reporter at all, he is the killer. He was following her trying to find her husband and kill him. She started talking to him, so he invented this story. And now he is almost regretting it, at the last minute he suggests she shouldn't go to her husband, shouldn't say where he is, just forget the whole thing. She doesn't understand, says she has to meet her husband and see if there is a chance of them starting over. She is almost too late, he waited all day at their special place hoping she cared enough to decode his letter and was just leaving. She runs into him as he leaves, they embrace, she gives him his pills and starts to ask about the letter, about his feelings, when she sees the police who followed her. She rushes off again but asks the "reporter" to go talk to her husband in her place. Only after the reporter has left her does she put together the clues and understand he is the killer. She tries to get to her husband in time, hears a shot, runs, and finds that her husband is alive, the reporter is dead. She embraces him and they decide to start fresh.
This is a great twisted plot, right? And that whole "dead marriage, secret love" plot is perfect for India.
As I see it, it is an arranged marriage that has never been consummated. They've been married a year and a half, living almost entirely separate lives. She resents him because her parents forced her into the marriage. She is smart and young and modern, her husband was a little dreamy and old-fashioned and not very successful. She meets up a smart and young and modern reporter and it seems like they are a good match. But then she starts investigating her husband and learning more about him. He is sweet and kind and loyal, and cared more for her than she realized. And while his job my have seemed small and unimportant, he did it well and was beloved and respected at the office, a true "hero" in his own way. Along with being worried about his health without his pills, and the stress of knowing a killer is out there, she begins to feel the stress of being pulled between her new feelings for the helpful reporter and her new feelings for her husband. We can also have some nice flashbacks and dream scenes to flesh out the romance with the husband. Meanwhile the audience knows the reporter is secretly the killer and that he is sexy and bad and maybe softening a little as he spends time with the wife. We are genuinely a little torn between the dark and dangerous romance with the bad boy who she doesn't know she is bad, versus the good guy she never knew how good he was. It's resolved when she meets up with the husband and suddenly all her feelings come rushing up and she realizes she does love him. The bad guy sees this from a distance and goes cold and takes aim to kill the husband. But just as he is about to shoot, she finally puts together the hints and realizes he is the killer and pushes her husband down, saving his life and taking a shot in her own arm. The bad guy cries out in misery at having shot the woman he loves, and knowing she loves another, the police find him from his cry and arrest him.
For this one, the story idea is so good I could see multiple casts. The obvious one of course would be Emraan as the bad boy opposite Arjun Rampal as the good husband and someone like Shraddha or Sonakshi as the lucky woman torn between them.
But I could also see a 90s version, Shahrukh as the bad boy tormented killer would be perfect and someone like Raveena Tandon would be perfect as the wife trying to do the right thing, with maybe Sunny Deol as the boring good husband.
Or a southern version. Prithviraj as the dark killer, nice Kunchacko Boban is the good husband, and Parvathy is the woman torn between them.
Or a current day high profile high budget cast, Sara as the wife, Sushant Singh Rajput as the dark killer, Rajkummar as the good husband.
What do you think?