Oh boy, I get to recap the whole Hrithik-Kangana thing again! The only good thing is, I was team Hrithik from the start (go me!) because Kangana's story was always just WEIRD, and his wasn't. So I get a little ego-boost each time it comes up again. But that is literally the ONLY good thing. Otherwise, it is all stressful and exhausting and strangely repetitive. I would much rather go back to Kangana's weird work issues than digging up her work-personal issues.
I am going to write this out in detail, and I am going to be biased towards Hrithik. This story, for me, goes far beyond celebrity gossip or "team" anyone, and well into the line where Hrithik is in clear imminent danger from these people and no one seems to be taking it seriously. That's not me being racist, or classist, or anything else. That is just me looking at what Kangana has said and done and seeing that it follows a pattern that could end with an attack that goes beyond social media and into the real world. This situation worries me, and I am worried for Hrithik, in the same way I would be worried about anyone who had a woman stalking them and harassing them at work and publicly threatening "I will kill you". And I want more people to be worried!!!! I want more people to be paying attention and witnessing this in hopes that witnesses provide some level of safety.
2016, a story goes around that Aashiqui 3 is in development with Hrithik, Kangana was suggested as the lead actress, and Hrithik vetoed her. Kangana calls up Pinkvilla (the equivalent of US Weekly, not the usual legitimate source, and it is also very weird for a celebrity to just call them out of the blue instead of waiting to be contacted) and says that it is all because of a "silly ex" that she is losing the role. Hrithik responded with a tweet saying that to anyone who is saying he dated her, he would rather date "d pope".
And at this point, you can forget Aashiqui 3, because that movie still hasn't happened and was never confirmed anyway. Although that is kind of another odd part of the story, Kangana jumped on the chance to make a comment to a news outlet about a movie that wasn't even confirmed and which she had casually been not-considered for in a very common way (heck, when hiring at my job we say "oh, I don't like that person because we had a fight two years ago, don't hire them"). That, along with calling Pinkvilla out of the blue, was one of the first red flags for me that maybe Kangana wasn't in the right.

Ther r more chances of me having had an affair with d Pope dan any of d (Im sure wonderful)women d media hs ben naming. Thanks but no thanks

Oh Hrithik! So pretty, terrible grammar, but still kind of weirdly a gentleman
Kangana started making a few more statements, and pretty quickly Hrithik's lawyers mailed her a legal cease and desist letter. Which Kangana chose to make public. At which point Hrithik issued a statement saying that it was a misunderstanding, Kangana had been catfished by someone pretending to be him, he filed a police report 3 months ago and his laptop and other computers were with the cyber crimes unit. Kangana said it was a cover up, and also refused to give her computers to the police, claimed the only reason she had no emails from Hrithik were because he hacked into her accounts and deleted them. But things did die down for a bit.
In 2017, Kangana was in a movie called "Simran". During the promotional campaign, Kangana was the only star (and she claimed a screenwriter credit) so she did interviews all over. And every interview turned into a rant about Hrithik and how he used her and dumped her but ultimately she is stronger than him. She had a very specific timeline for her version, they started dating during Krrish 3 (so, before his divorce was announced), they were in love, in December of that year he flew her to Paris and proposed and gave her a ring, and then he dumped her. A few media outlets bothered to point out that this was shockingly obviously a lie, Hrithik can hardly sneak in and out of the country without people noticing. But most media outlets just repeated Kangana without investigation. The film ultimately ended up flopping.
Kangana still had another movie coming out, Rangoon. During the promotion for that, she was invited onto Karan Johar's talk show along with her co-stars and accused Karan of being the "flag carrier" for nepotism and pushed him for an apology for recommending Aditya Chopra not hire her for a movie at some point. Post that appearance, Kangana got a lot of positive feedback for being "fearless" in confronting the scourge of nepotism in Indian film and for a long time that was all she talked about, just nepotism and how the establishment was trying to keep her out.
But somehow Hrithik kept coming up too. Until finally, through her sister's twitter account, she released "proof", a photo of him embracing her from behind. Within hours a variety of people, including Suzanne (Hrithik's ex-wife) had released additional photos from the event. It was a house party, they were all very drunk, and Kangana and Hrithik were surrounded by people at all times. Including his then wife. It was hardly a smoking gun.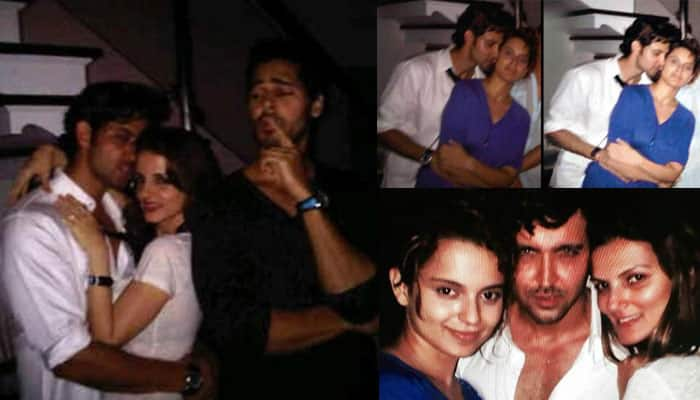 After the photos, Hrithik FINALLY came forward to give his version of events, after being silent for over a year. He gave a short statement saying that he hates to say someone is lying, especially a woman, but she is lying. In fact, she has been stalking him for years, and he has police reports to back up his version. And emails from her. Hrithik followed the statement with a lengthy painful interview (like, he looks in physical pain the whole time) going over the details.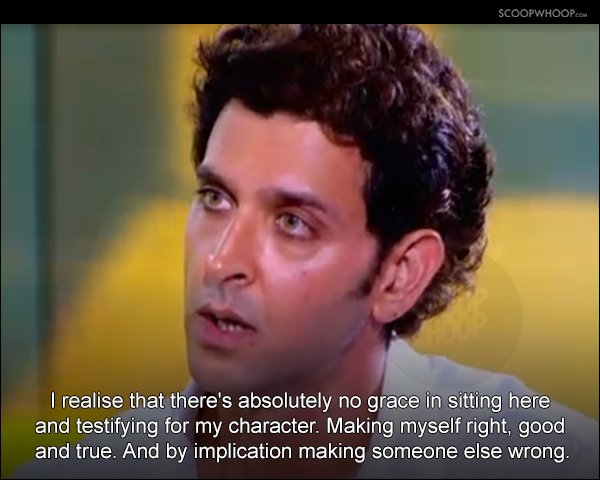 In his version (which is supported by the police, independent computer experts he hired, the publicly available media records of his life, and Kangana's own emails that she does not deny were hers), they were work acquaintances. She came to his hotel room once at the end of the Krrish 3 shoot in the middle of the night in 2013, he called her sister and asked her to come take her away, and then forgot about it. Months later they had a weird exchange at a party where she indicated he had emailed her and he hadn't. He emailed her to clarify (email part of the police record) and her sister responded saying Kangana and he had been carrying on an email relationship for months (this email from her is also part of the police record). He responded saying he wanted to sort this out, they should go to the police or talk it through or something, Kangana's sister was not open to that (again, email exchange is part of the police record). He started getting sexual emails from Kangana that eventually turned abusive, he blocked her account and ignored it and waited for it to go away. Then mutual acquaintances started coming up to him and referring to his "girlfriend", Kangana had been going around telling people they were in love. She even gave a magazine interview about it, which is when he finally opened up his spam folder and discovered hundreds of obsessive emails from her including many that day asking if he had seen the article, they could be together now. He freaked out, and that is when he sent her the lawyer's letter and why he reacted so strongly to her out of the blue Pinkvilla comment. And hired a cyber security firm to find and organize all her messages and provide them to the police, police have them and the security firm is ready to testify.
And none of this, including the police investigation going on, seems to have shaken Kangana's confidence that she did have a relationship with Hrithik, that he did propose to her, and that he has wronged her now and deserves to be punished. That is what is terrifying to me. This is the level of delusion that can easily lead to acts that go far beyond abusive and sexual email messages. Especially since no one seems interested in stopping her, instead encouraging her in her insane vendetta. Meanwhile, Hrithik has retreated from public life, is primarily seen at school functions with his kids or with his family. He hasn't had a movie release in well over a year (admitted in the interview that he was waiting to give his side of the story until between films so he couldn't sign anything else). He doesn't go to award shoes, he doesn't do live performances, he doesn't give interviews, he doesn't even go to parties. And during the 6 year period that Kangana has been stalking him, his health has visibly worsened, gaining and losing weight and other evidence of stress.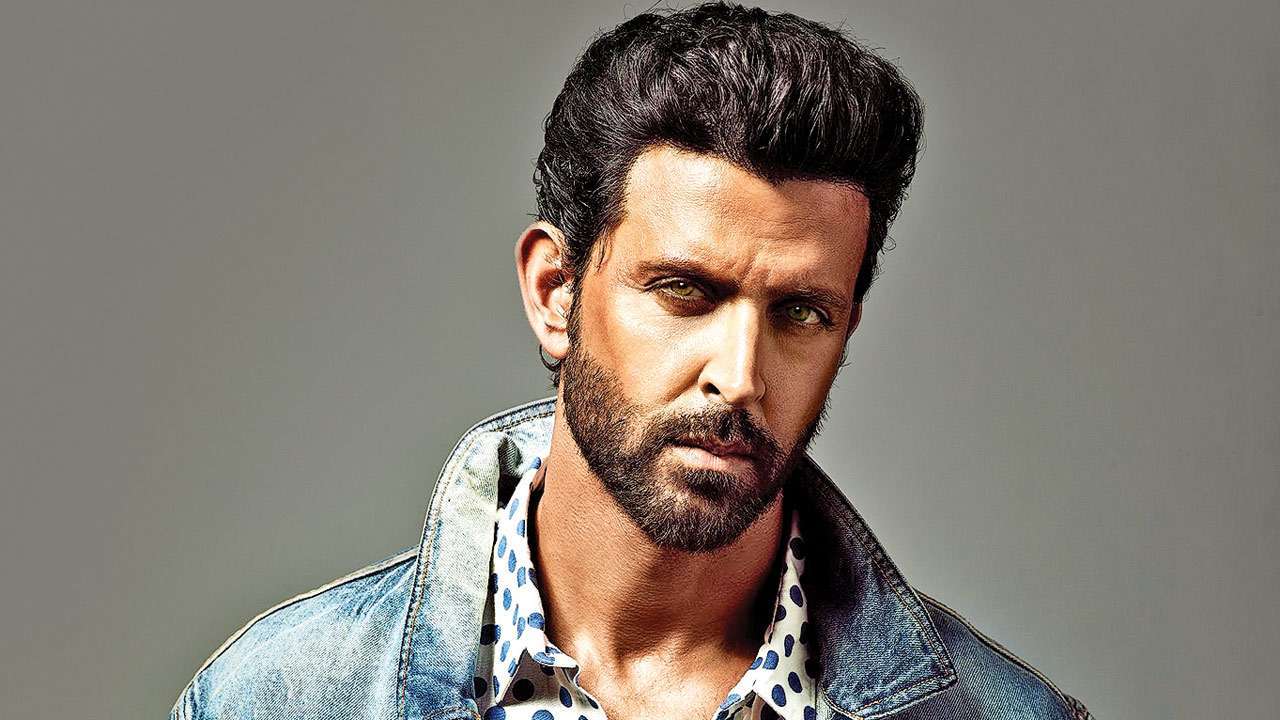 After Manikarnika, Kangana's ire was turned first to her director who betrayed her, and then to her rival actresses (Alia and Deepika). Hrithik has escaped her fury for a bit. At least publicly, no idea if she is still sending him abusive/sexual emails (in India, you cannot even file a case for stalking against a woman, it is a gendered crime, only men can stalk). And now Kangana's next movie, Mental Hai Kya, has been moved to be opposite Hrithik's next film. Almost immediately people started pointing this out and that it could hardly be a coincidence. Ekta Kapoor, the producer of Mental Hai Kya and a close family friend of Hrithik's family, released a statement carefully avoiding mentioning the whole situation and instead saying it was purely a matter of having a good release date.
And then she put up a tweet asking people not to attack her actors, and saying she had instructed her actors to do the same.
I suppose it is possible there were ugly tweets about Kangana related to Hrithik, but I certainly didn't hear or see of them, and there was nothing from Hrithik's official account. In contrast, after Ekta's statement, Rangoli, Kangana's sister and "spokesperson" on twitter, unleashed a stream of tweets directed at Hrithik.
And she retweeted "proof" of the conspiracy against Kangana by Hrithik, an unaccredited unconfirmed screenshot with no address or anything else on it besides text, supposedly giving orders to a PR team. Like the photo proof of Hrithik and Kangana, the very fact that this is supposed to be "proof" makes me trust them less.
The only thing I feel better about this go round is that, even on twitter, everyone seems to be taking Hrithik's side. The replies to Ekta's tweets are almost universal in saying that it is her own actress who is starting this fight, and her own decision to move the release date that set it off. Even the replies to Rangoli's account are pretty firmly "what is happening? Why are you crazy?"
Anyway, that's my take on it! You can give your own opinion in the comments.