Thanks to Procrastinatrix for giving me the idea for the title! As soon as I read it, suddenly Farah's whole career clicked into place.
Indian film has had female directors before Farah. Hindi film even, for instance Sai Paranjpye who made Chashme Buddoor (1981). But they tended to be of two types. Either they were actresses who eventually got so big that they had the power to direct their own movies, just like male stars do, because being a director/producer/star means you finally have total control and total profits. Or they were artists and dreamer types like Sai Paranjpye, ones who had funny little visions and managed to find folks to share those visions on a very very low budget. What Hindi film has not had before Farah, heck what Indian film from every where has not had, is a female director who made the most successful film in Indian history. Om Shanti Om wasn't just a hit, wasn't just fun and fresh, it set records. Farah did that. She showed that a woman could do that.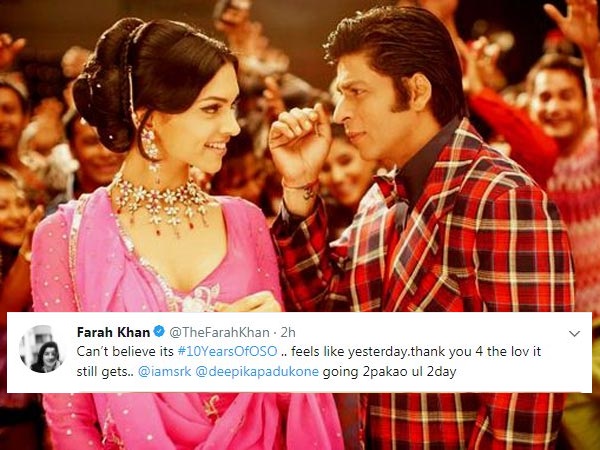 How did Farah get there? How did she reach the place of being the top director in all of India, despite her gender? She did it by being very very tough.
Farah came from a film family. Her mother and her two aunts were all child actors, her aunt Daisy was the top child actor for a while in the 50s and 60s. Her father was a producer. Her uncle was Javed Akhtar.
Put it another way, her aunt Daisy was raped by a producer/agent/manager/uncle when she was 6 years old. She dedicated herself from that time onward to protecting her younger sisters and doing whatever it took to keep them from hurt. She married her sister Menaka off to what seemed like a good safe reliable man. She helped her sister Honey get to an adult career as a comic actress. Menaka's husband, Farah's father, had a few bad years of flops, lost his money, lost his pride and confidence, and eventually the marriage got bad enough that his wife fled the house with her two small children. Farah spent her childhood roaming from house to house, living off of relatives. Javed Akhtar, Honey's husband, is an alcoholic who drove her out of the marriage with her two children. By the time Farah was a teenager, she and her brother were squeezed into the same house as her cousins Zoya and Farhan, sharing hand me down clothing and trying to get by on the little money Honey was bringing in selling script ideas around town. It wasn't the best childhood and definitely wasn't the easiest start in life. Daisy tried to protect her sisters, but 20 years later her baby nieces and nephews were right back to struggling and scrambling for a life at the mercy of the unpredictable film industry.
Farah grew up hiding in the films that played on the TV set. Her parents might be fighting, later her aunt and her mother might be fighting, Farah might be moved with no notice from one temporary home to the next, but when there was a movie playing they could all smile and be happy and forget the life they were in. Farah loved those movies, the silly bright happy films of the 1970s that got her through some very dark years of life. They were her home, they were her family, they were what was good in life.
When Farah was in college, a local college that her family could afford, she saw Michael Jackson dancing in a fuzzy video and suddenly her mind opened up. She saw something she could do, a way she could use her talents and her passion, and also (most important) send some money back home to her mother and younger brother. While in college, she started a little dance troupe.
I know people who are part of dance troupes in America. It's hardly a way to make money. But then, we don't have nearly as many opportunities for dance troupes here, you won't find them hired for the opening celebrations of a little shop or for a 50th wedding anniversary or any of those other events. But in India, you might hire a troupe for something like that. Founding a dance troupe as a sideline while in college isn't a bad idea at all. And finding folks to be in it, coming up with original moves, getting noticed around Bombay, that's talent but that is also ambition and just plain being smart.
Farah is very smart. 5 years after she set up that college dance troupe, she was connected and respected enough to be offered a last minute job choreographing a small movie when Saroj Khan, the top choreographer in the industry, left in a huff. She took her shot and made it count, she came up with a unique idea for how to shoot the "Pehla Nasha" music video from Jo Jeeta Wohi Sikander, an idea that worked artistically but also as a career move. It was cheap (shooting with the song playing double time and then slowing down the film) and effective, and different. Farah suddenly became the first call on everyone's list when you needed a last minute substitute.
Farah's biggest lesson from this chance was to NOT make the same mistakes as Saroj Khan. Saroj is talented, she started as a back-up dancer and worked her way up to choreographer. It took her decades to make it. And once she was on top, she enjoyed being on top. She dropped out of films, or showed up for work days late, and she didn't worry too much about getting along with people.
Farah also learned a lesson from her aunt Honey. Honey made it as a comic actress, then quit working and married Javed. Everyone, Javed included, agrees it was his fault the marriage ended and Honey was right to leave him. He's a different man now, he doesn't drink, but back then he didn't deserve to be a husband or a father. What I find more interesting is what happened with Honey after she left him. Javed was a mess, his life was falling apart in all sorts of different directions, Honey needed something to do and she needed money. She hadn't acted since Javed Akhtar proposed to her on the set of Seeta Aur Geeta, that career was gone. But she had some ideas in the back of her head, and she went and talked to some old friends about them, and suddenly she was a scriptwriter for Yash Chopra. Honey wrote Lamhe, and Parampara, and Darr. She didn't write the dialogue, the pretty poetry part of it, she wrote the big broad strokes of the story ideas. With input from Yash and Pam Aunty and everyone else in the family, they took her big broad strokes and turned them in to films. But Honey didn't work with the Chopra's again after Darr, didn't let her kids talk to their old friends Uday and Aditya, even went and yelled outside their house in the middle of the night. She claims credit for the script idea of Dilwale Dulhania Le Jayenge, that Aditya Chopra stole it from her, and will not let it go. I am sure she believes she is in the right, but the decision to attack the child of her closest personal and professional friends was not a smart decision. The Chopras never worked with her again. Honey became yet another scriptwriter for hire, her big ideas shrunk down without a producer to believe in them.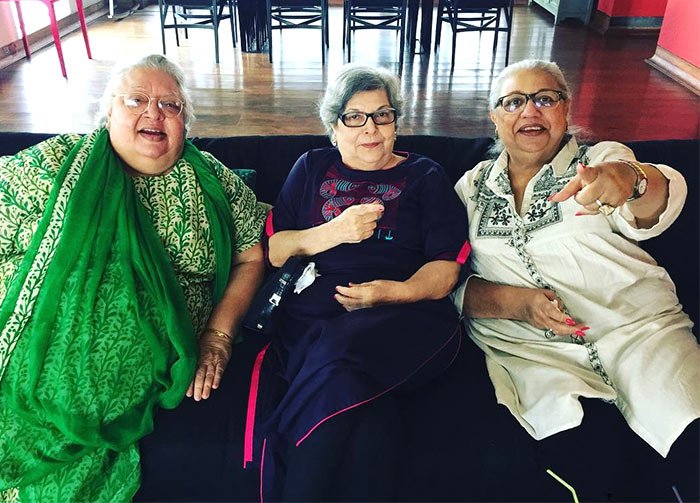 That could have been Farah. Still could be, if she isn't careful. A woman trying to survive in the world can't be too "difficult", can't insist on her rights too loudly, can't ever risk losing the support of those loyal to her. No one, man or woman, should be too confident in burning their bridges behind them. Especially in an industry ruled by handshake agreements and verbal promises. But a woman is extra vulnerable, consciously or subconsciously everyone is watching and waiting for you to fail.
Farah was smart. When she showed up on those first film sets, she was strong and funny and friendly. She was everyone's friend and no one's girlfriend. She was "one of the boys". Approachable, nice, fun to work with. And that's why when Saroj Khan was two days late showing up for a shoot for DDLJ, Shahrukh suggested the name and number of his new friend Farah, and she got the shot at doing "Ruk Ja". That's one example I know about just because everything related to DDLJ has been repeated and discussed over and over again. I imagine that for this one example we know about there are dozens we do not, dozens of times when Farah's easy going friendliness paid off with job offers. And then her talent proved she deserved those offers.
Farah has gone farther and done better than almost anyone else in any Indian film industry. It's not just that her second film broke all previous box office records, she was brought over to Hong Kong to choreograph a film that became their official entry for the Academy Awards. She was nominated for a Tony Award for her work on the musical Bollywood Dreams. She choreographed a song for Jackie Chan's most successful movie ever. And she did all of this while also founding her own production company and giving birth to triplets.
She isn't perfect, as an artist or as a person. She's made some movies that got a little lost in their own ideas and forgot the audience. She's done some songs now that she is on top that are a bit lazy. And she's said some things in interviews and done some things at parties that seem like they might be a bit unkind. And her brother is a garbage person. But none of that takes away from what she has accomplished, all on her own.
Farah was the only woman in the room for a long long time. Saroj was a respected powerful choreographer, but she wasn't friends with people. She didn't hang around after work, tell jokes, drink. Farah did that. She broke the social boundaries and forced her way into the old boy's network that ran Hindi film. It wasn't pretty and it wasn't easy and I am sure it left some scars one way or the other. And it got her a chance as choreographer, and then a director, and finally a producer. But now there are so many more women on film sets, and at parties, respected as fellow workers and liked as people, women who have the luxury of letting themselves be women instead of just one of the boys.