Super fun movie! If you like Vijay movies, you will like this one. It is right in his usual wheelhouse. If you don't like Vijay movies, you will not like it. Choose wisely!
IMPORTANT WARNING!!!! Jackie Shroff is naked but for underwear for 5 minutes! YOU HAVE BEEN WARNED. Is there anyone reading this who is going "oh boy, naked Jacke Shroff! Sexy!"? Surely not. Surely we have all learned from Rangeela that a Jackie without long pants and a shirt is not a Jackie we want?
Beyond that one unfortunate eye searing sequence, this is a fun movie! Not as fun as it could be, I wanted more action sequences and more big song numbers and more love stories and more Vijay roles. Basically, I wanted Mersal over again. But of course I did not want Sarkar because I hate speechy self-satisfied Vijay. And this movie is far far closer to Mersal than Sarkar. So if you liked Mersal, watch it! It's fun! And feel-good and happy and inspiring and so on and so forth.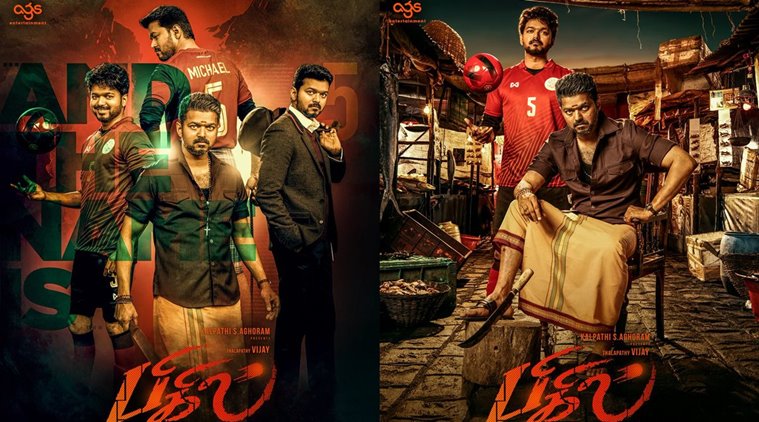 Vijay plays Vijay, essentially. 3 different versions of Vijay, but all the same. Weird hand waving, bendy dancing, cocky romance. One of them stutters, but that's really the only difference. He's very good at playing himself, and it's not an easy thing to do. Being a superstar is a skill that very few people have. I've seen loads of movies built around a male hero that made me go "bleh", I was tired of seeing the same guy onscreen all the time, I couldn't buy into how beloved he was and all the girls falling over themselves and so on. I still don't find Vijay that attractive (although infinitely better than a naked Jackie Shroff), but I am never bored when watching him onscreen, he carries his films so effortlessly at this point that it is easy for me to say "he is just playing himself" and forget that "himself" is a role as well, a created star identity to please us.
Even when a star is very very good at being a star, there is a danger with a film being all and only about him. You need some kind of general message or theme that the star is supporting in order to give the film a backbone. In Tamil cinema in particular, politics and message movies have entered in so strongly that a message is as required for this kind of film as a romance or an action sequence. It's how the whole big star film is structured, you have an overall issue that ties it together.
In this case, the issue is "women! They're awesome!" In sort of a generalized everything-at-once-way. And they are so committed to this "Woman! They're awesome!" message that Rahman wrote a whole female anthem, and even appeared as himself in the song video. Of course, women are only awesome in a very specific glory-to-Tamil-Land kind of role, with the permission and support of their families and the guidance of a man. But at least they get to be a little bit awesome all on their own for a few brief moments. And the heroine is strong and neat all the time, Nayanthara, definitely cast to be more than the regular heroine (picture Mersal if Nithya had been there the whole time). As always with these films, it's the less obvious messages that I find more powerful. Forget all of Vijay's speeches about woman and stuff, what I like is that he lives with a spunky naughty cute little niece, that the woman are first introduced not as "women" but as a sports team made up of the best players they could find who happen to be female, and most of all this one little moment in a song when the woman get to do the dance with Vijay. Not as delicate classical dancers, or as slow sensual dancers, but the same rowdy style dance he is doing, free hip thrusts and knee kicks and all the rest. That was GREAT. I wish it had gone on longer.
Oh right, don't get too excited about the songs. One big Vijay song, the whole Woman Anthem song, and then everything else is kind of abbreviated. We don't even get a "Tamil Land and Language is the Best in the World" song. I am left to assume that Tamil Land is not actually the best in the world, and their language is no great shakes.